Now, I'm not a baller raking in tons of dough off of this little blog, but I do make a little cash from it. Since it's on my 101 to make money blogging, I wanted to share how I have monetized this site.
I haven't gone over the top or pushed the blog to be a major money earner, since I really make a comfortable salary at my day job. I just like to make some cash to cover the expenses of the blog (I pay for the URL and for hosting fees) and a little fun money to justify the hours that I put into it. Not a lot of fun money – we are talking tens of dollars here. But, enough that it's still exciting when I get that direct deposit in my bank account!
Here's the break down of what I made in 2014: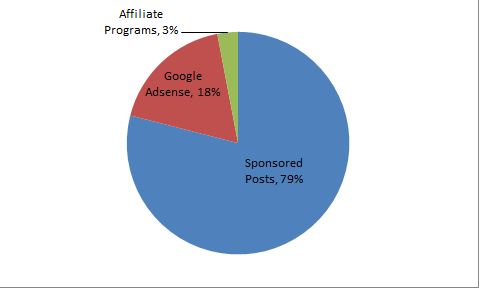 Sponsored Posts
By far the way that I make most of my blogging income in via sponsored posts. I am a member of several blogging groups that connect me with sponsors, but the one that I use most frequently is Clever Girls. They work with sponsors who are looking to reach consumers via medium to small sized blogs. Instead of spending $5,000 on one blog post with one big blogger, they pay 100 smaller bloggers $50 each for sponsored content.
I know that people don't love these posts, and that they can seem like TV commercials, but they really are the big money maker. I try to not do too many and only feature products that we actually like. I'll never give a fake review for cash – I give my honest opinions. And I try to keep these posts as fun and light hearted as possible.
Google Ads
I have a few Google ads in my sidebar. I get paid based on the number of people that view them, and a little bit more for people who click on them (pennies, people. Very few pennies.) I know that to make more money off of them, I should make them more prominent, but I really don't want to, so this number will likely stay low. Google pays out once you hit $100, so I only get this paycheck a couple of times a year. It's a happy bonus when it arrives!
Affiliate Links
I use a few affiliate programs to link to products that I share. There are two big ones: Amazon.com and Shop Style. For Amazon, I make about 4% if you make a purchase that I referred you to. That usually adds up to about $20 a quarter. Shop Style is a little different in that I make a commission (literally 2 cents) if you click on any of my links, and a bigger percentage based commission if you actually buy something that I link to. Shop Style has really nice widgets and can link to tons of brands, so I love that. They only pay out once you hit $100 and that's 5,000 2 cent clicks, so needless to say I don't get paid out by them very often. I will never be one of those blogs that links to zillions of affiliates, but I do try to use an affiliate link if I am referencing something in a post.
So, that's how it works, at least for me. It's nice to make a few hundred dollars a year (yes, really, that's all it is) and it makes me *almost* feel like a small business owner!