Want to decorate your home this Winter? Here are the biggest winter home decor trends this year!
Winter is a weird season to decorate for. So much of winter is over-shown by Christmas and the holidays,
But, there is something to be said for winter interior design. Cozy winter decor is just… comfortable.
If you are trapped inside during the cold weather, you want to have a living room and a bed room that you love.
You should always decorate based on what you prefer, but trends impact what is available in stores and what will be inspiring you in magazines and online.
Here are some decor ideas for this winter based on popular trends!
When should you start decorating for winter?
Winter is a hard season to decorate for and that's because of holiday decorating taking over!
I usually say that Christmas decorations shouldn't go up until after Thanksgiving. Sorry, I'm old fashioned!
On the other hand, I like to take Christmas decor down immediately after the holiday and replace it with winter decor. So, that would be the end of December or very beginning of January.
If you don't decorate for Christmas, you can start with winter decorating in December!
Here are some of this year's biggest fall interior design trends!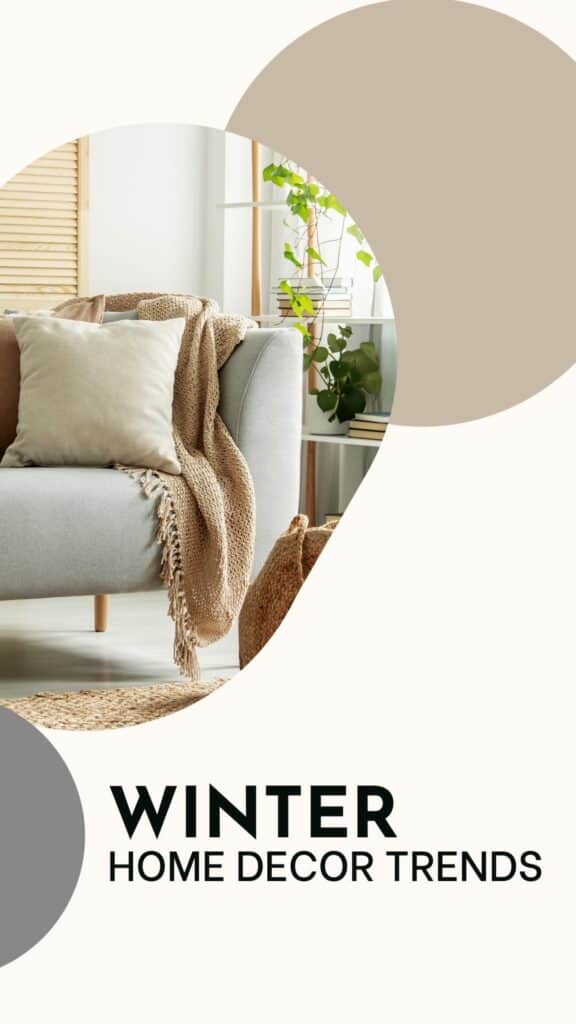 Winter Home Decor Trends
Here are the best winter design trends to get in on this year!
Cozy ambiance
Winter is all about getting comfortable and cozy. How does that translate into your home? The same as it does in your clothing – with lots of layers.
Consider cutting down on the number of colors or patterns in your space and instead layering tone-on-tone textures for a cozy, lived in look.
Layer multiple rugs (jute or neutral grass rugs look great for bottom layers here). Hang curtains over blinds. And please, please, pile on the pillows and throw blankets.
Want to add a little texture? Look for frames with textured mat board and add a simple black and white photo or print. Instantly cozy!
Natural elements
Winter is a time of beauty in nature. Bring some of that nature indoors as a way to incorporate more neutral texture into your space.
This could include decorating with branches, unfinished wood furniture, or accenting with natural stone accessories. This natural accents are a great way to add interest to your room and give it a winter aesthetic without breaking the bank.
See all of the year's hardwood flooring trends here!
Matte metallics
Glam is in on the runway for winter and will be making appearances in home decor, too.
However, tone down on the glitter and look for more matte metallics. You can update old decor with a matte metallic (think champagne bronze or a warm brass) spray paint.
Don't forget the OG metallic – a mirror. Hang or lean a mirror for instant light-bouncing drama.
Earth tones
Earth tones are here to stay and perfect for winter. These are deeper shades of maroon, earthy green, rich browns. Even mauves are on trend!
You can use dark earth tones for small accents in a more neutral space or go bold and paint an entire room – even the ceiling!
Knit + quilted materials
Knit and quilted materials feel instantly winter-y and there was a lot of quilted elements on the winter runway. These are easy to bring in with pillows and throw blankets as a way to make the space feel layered and cozy, too.
Sherpa and boucle are other materials that aren't quite knit but still have a textured, winter vibe.
Light colored leather
If you use leather, consider adding some lighter leather elements. It doesn't have to be a whole couch. Even just a basket with a leather pull or a pillow with leather piping can bring in that accent without feeling overwhelming.
What is your favorite winter room decor?