Are you looking for a free turkey for Thanksgiving? Whether you are looking for a charity give away or just a good deal, here are all the best options!
Thanksgiving is a favorite holiday for a lot of Americans – and usually that's because it's food-centric (and family focused).
However, all that food can get expensive. The turkey is an especially important – but pricey – part of the thanksgiving meal.
So, here are some ideas for getting a free turkey for Thanksgiving dinner.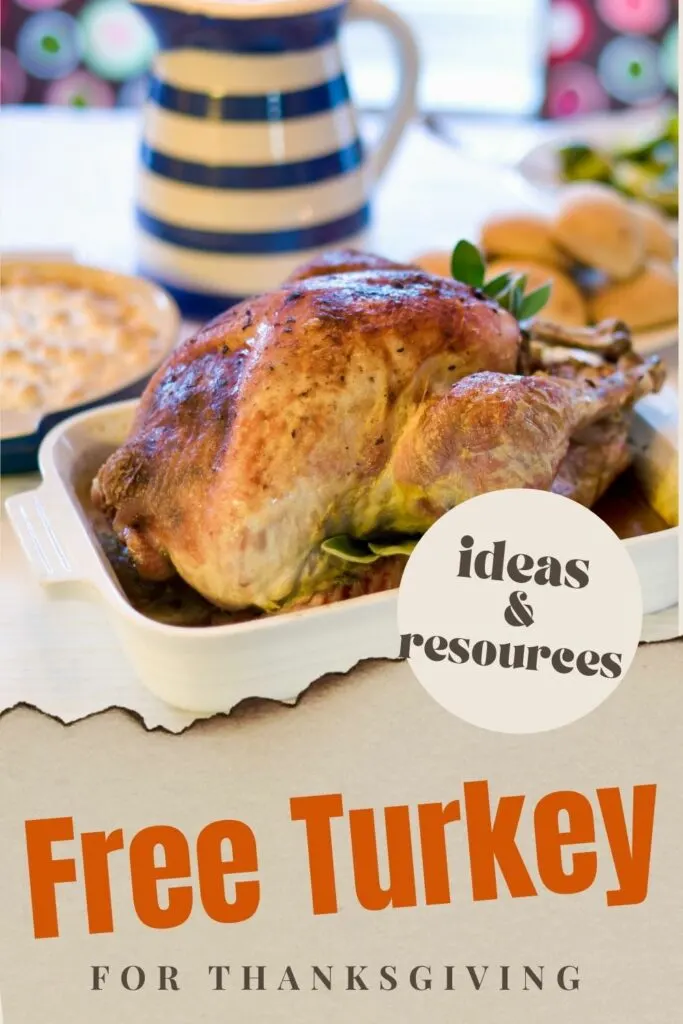 How can I get a free meal on Thanksgiving?
If your family qualifies as in-need, many organizations are giving away turkeys. There are also lots of ways that anyone can use coupons, points, and discounts to get a free turkey.
Organizations that give free turkeys to those in needs
There are many organizations that give away free turkeys. Some may require you to demonstrate need, while others will take your word for it.
Free turkeys can come as a part of a Thanksgiving food basket, or some organizations give away turkeys on their own.
These organizations are super local, so you will have to do a little investigation to find the best program near you. When in doubt, google "free turkey near me" to find something right in your area.
Be sure to check out my list of all of the best Thanksgiving assistance programs.
Qualifying for a free turkey might require:
Income Thresholds: Income thresholds are a common qualification criterion for assistance programs.For example, certain organizations may provide free turkeys to households with income below a certain percentage of the federal poverty level.
Family Size: In addition to income, many programs consider family size when determining eligibility.
Proof of Need: Some organizations may require applicants to provide documentation or proof of need, such as pay stubs, tax returns, or proof of government assistance.
Geographic Considerations: Eligibility criteria can vary by location, as different organizations may have different guidelines based on the local community's needs and available resources.
Special Circumstances: Sometimes there are special circumstances or exceptions to the eligibility criteria. For instance, some programs may make exceptions for individuals facing unexpected financial hardships or emergencies.
Food pantries
Food pantries often offer Thanksgiving boxes for the needy. They can include turkeys (that need to be cooked) as well as side dishes.
Food pantries are an excellent resource as they often serve as a hub of the community. They should have bulletin boards or coordinators who can help to point you to any other resources available.
Check with well-known charities like the Red Cross, United Way, or Feeding America in your area.
Research smaller, community-based charities and food banks that may offer assistance during the holiday season.
Reach out to your nearest community center and ask if they are aware of any local initiatives, food drives, or assistance programs for Thanksgiving.
Visit the websites of these organizations or call their local offices to inquire about their Thanksgiving assistance programs.
Reach out early to ensure you are able to get a free turkey.
Churches
Many churches or religious organizations do turkey give aways at Thanksgiving, and some serve hot meals. Ask around (food pantries might be able to help guide you) to find the best program in your area.
Newspaper articles, especially in the community section, that may highlight upcoming holiday assistance initiatives.
Meals on Wheels
Meals on Wheels provides meals to those who are home bound. If you or a family member are homebound, give them a call.
They offer plated meals as well as some companionship while eating.
Salvation Army
Salvation Armies usually offer hot dinners for Thanksgiving. Definitely call ahead to see if there is any kind of registration or sign up requirement to make sure you secure a seat at the table.
Other options
Turkeys are also distributed through community events, school programs, or employer initiatives.
Check local calendars for your area. Often times there are twitter accounts for local events, or check a radio station or newspaper's page, where local events are often listed.
If your child is in school, reach out to the counselor to see if they have resources for help. Many organizations reach out to schools directly.
For organizations that require proof of need or have specific application processes, ask them what documents or information individuals might need to provide when seeking assistance for a free turkey.
Usually you will need to show proof of residency in an area. You may need to show that you qualify for government benefits.
Availability and Deadlines
These free turkey programs typically start accepting applications 30 days out and often distribute the turkeys the week before Thanksgiving. It's important to reach out early and plan accordingly.
Free turkeys for couponers and deal-seekers
If you aren't in need of a free turkey per se but just trying to get a deal, there are a few options.
Turkeys usually go for $1.25 a pound, making a 20 pound turkey about $25.
Here are some programs that have offered free turkeys in the past.
Ibotta + Walmart
This app allows you to track grocery receipts and redeem points. In the past, they've had a free turkey and sides from Walmart as a redemption option around Thanksgiving.
Grocery Stores
Most grocery stores with points programs allow you to accumulate points leading up to Thanksgiving and redeem them for a free turkey, and sometimes sides, too!
Free turkey promos usually begin in October and run through Thanksgiving.
What other ways are there to get a free turkey?