Sean & I love to travel & I have been looking for ways to decorate the condo with travel-themed decor, other than framed photographs. We've already shared our beach memory jars and some sentimental map art.
For my next travel themed DIY decor, I decided to take some inspiration from pinterest to create a way to track our trips and travels.
I started with a large roll of cork (purchased from Michaels, with a coupon of course!) I also printed out the following picture. I printed it on tabloid sized paper, which is just like two pieces of regular paper attached together.
Next, I cut the map out of the paper. I taped it to a square of cork and used a sharpie to trace the map onto the cork. I then tried to cut the cork. It was really crumbly! So, after a little googling, I decided to steam the cork to soften it up.
So, I taped the paper cut out of the map to the cork sheet and traced it using a sharpie.
See how the edge got crumbly and gross? Not ideal.
I got a big pot of water & got it to a rapid boil. I then held the cork over the steam for a couple of minutes. I then cut this section of the cork while it was still warm. The steam made it cut neatly without crumbling. I had to keep resteaming it as it cooled down.
Next I cut out the map. It took a while because I kept having to re-steam the cork every 5 minutes, but it was worth it to keep it from crumbling.
Then came the really tedious part. I left the map taped to the cork & used it to draw the state lines. I tried to push hard with a sharpie, but ended up using a scissor blade to gently rip the paper along the state lines, then traced it with sharpie to get a faint line, I then ripped off the state and re-traced the line with a thick sharpie line. It took forever but it was the most precise way that I could come up with.
I then glued the two cork pieces together using hot glue & used black craft paint to paint the edge to give it a finished look.
Then, when Sean was visiting, we pinned the places we have been. I am the white pins, Sean is black, and places we have been together are red. I'd love to paint the pins more fun colors soon, but do you know how hard it was to find these suckers? Very hard. Walmart, Target, Michaels, nothing. I ended up settling for boring colors at Staples just to finish the project!
I hung it in the entryway above the coat hooks just to remind us of the places we have been and to keep us excited for where life will take us next!
Do you have any map art in your home? How do you track your travels?
PS- We linked this up to the Young House Love WINTER PINTEREST CHALLENGE! Don't forget to check in on Sherry, Katie, Megan, and Michelle to see what they did too!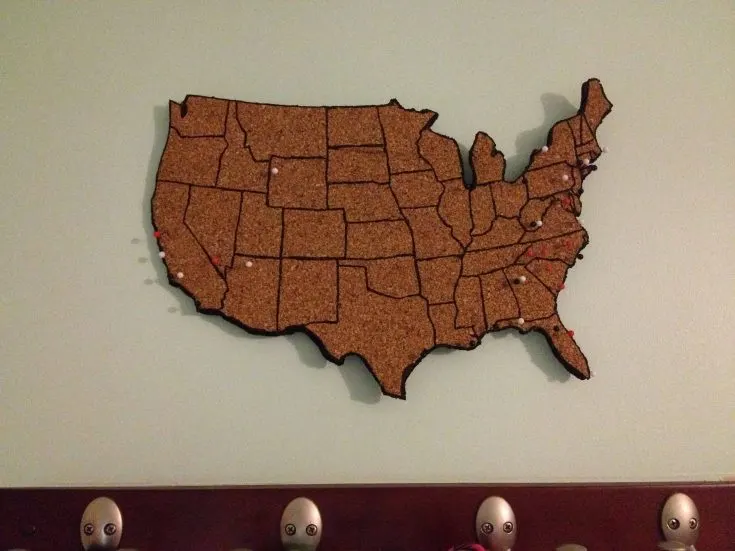 Yield:

1 cut piece of cork board
How to cut cork (without it crumbling)
Cork can be used to make beautiful crafts, but, if you cut it normally it will crumble. Here is how to cut it and get a crisp edge!
Instructions
Bring a pot of water to a boil
Hold the cork over the steam for at least 30 seconds
Cut while pliable
Re-steam if you need to cut more