We're very resourceful people here at Charleston Crafted. We don't like to waste ANYTHING. We hoard anything that we think we can use again later. When we had our kitchen countertops custom made last year, we told them to save and bring us all the scraps they cut off. When they delivered the countertops, we unloaded the scraps and he asked "what are you going to use these for?" We had no idea, but, a year later, we've used them all. Here's the three ways we've used countertop remnants.
Three Ways We've Used Countertop Scraps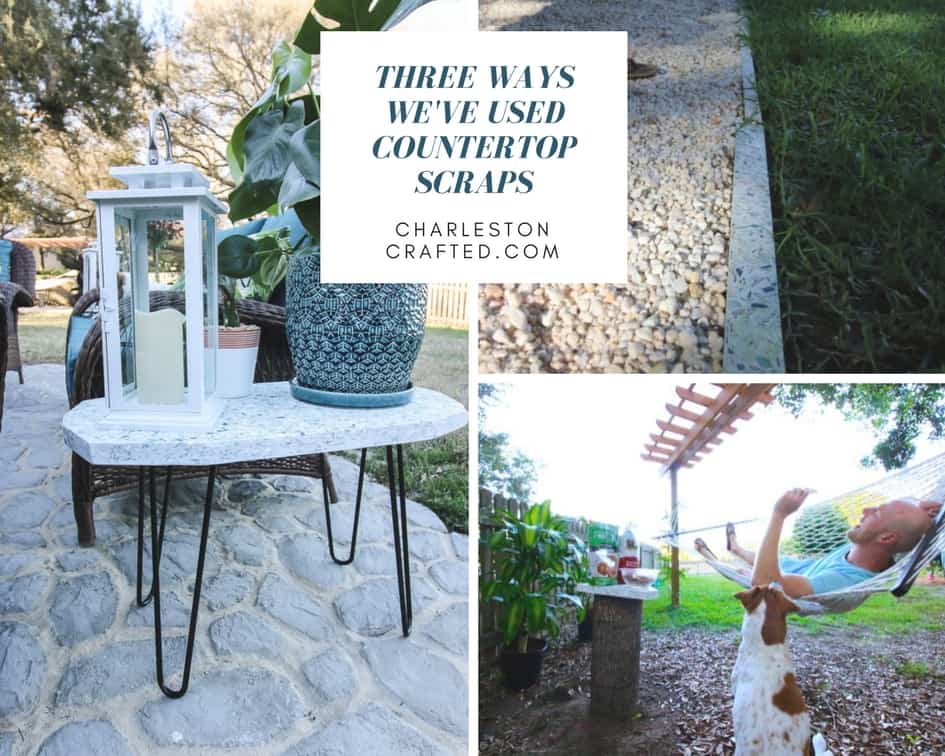 Side Table– we used the biggest scrap that came from our sink hole to make a side table. We buffed down the edges and attached hairpin legs to make a gorgeous side table to go on our new patio. It really helps transition from inside our kitchen to our outside space.

Hammock Drink Stand– we attached a Superman logo shaped piece to a log using Gorilla Glue and sunk it into the ground next to our hammock stand and it serves as a great spot to put a drink while lounging. It was easy and holds up great outside.

Border– we used the long, straight, narrow scraps that were cut off the sides to make a border for our tropical oasis hammock area. They break up the area of pea gravel from our grass perfectly and add to the tropical feel.

Our kitchen counters were custom made with our design and we loved them so much we wanted to use the countertop scraps in other places so we could tie the design together. Our outside space feels tied into our kitchen because of these three simple recycled uses of our countertop scraps. Obviously, you can't mimic these exactly, but remember next time you have new counters done to ask for the scraps so that you can try making awesome projects too!