Today I have a really quick & sweet DIY tile tray for you. Since we got our new bar, I have been looking for ways to style it. I tend to go too blank or too junky with my styling, but have been reading a lot of tutorials lately that suggest using trays to corral small items.
We already had one tray but I wanted another, smaller one with a different look. So, I decided to make my own.
I hope that you enjoy this tray DIY project!
DIY Tile Serving Tray
Click here to pin this post to your pinterest boards!
I started with a tile from Lowes. It was a little smaller than I wanted but it was either smaller or larger. So I went smaller! It's 8×10″ size, but has that glossy look that I was going for.
You can buy single tiles like this in the tile section – just ask! You'd be surprised how inexpensive a tile can be.
However, if you want an even cheaper tile, consider looking at a second hand store like Habitat for Humanity ReStore. They often have lots of single tiles for very cheap.
This project can be made a ton of different ways just by mixing up the tiles. Smaller subway type tiles could be paired with knobs to hold olive oil or soap.
A huge floor tile could make a tray for a whole table. Use your imagination and let the tile aisle inspire you!
You could even use a tile cutter to cut a tile into a specific size or shape, though that is a bit more advanced.
The sky is your limit and different tiles will give you a totally different look!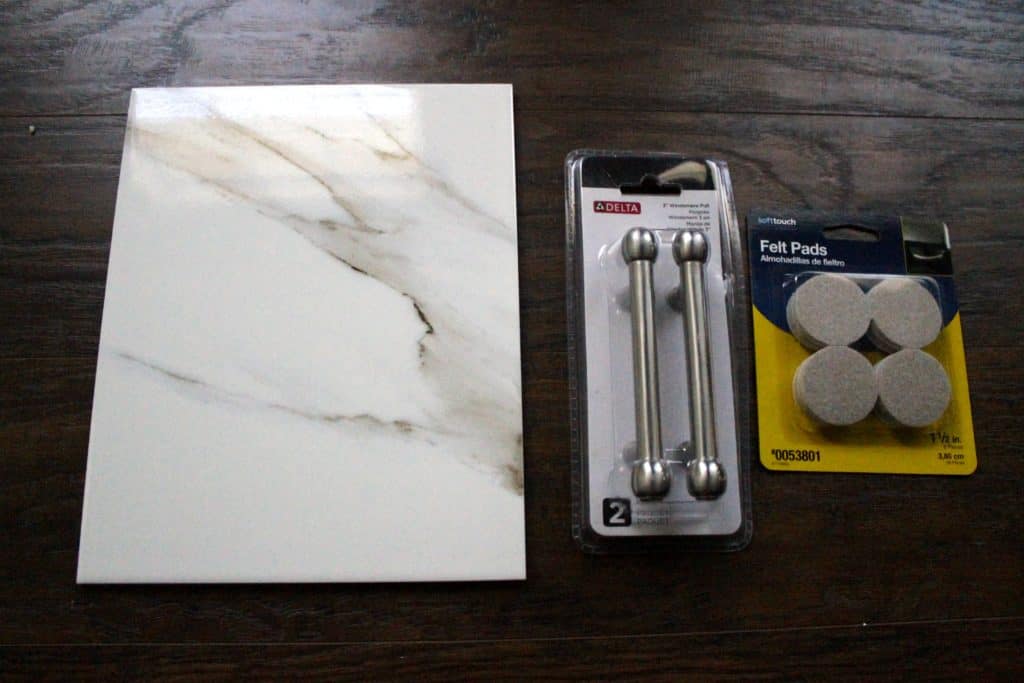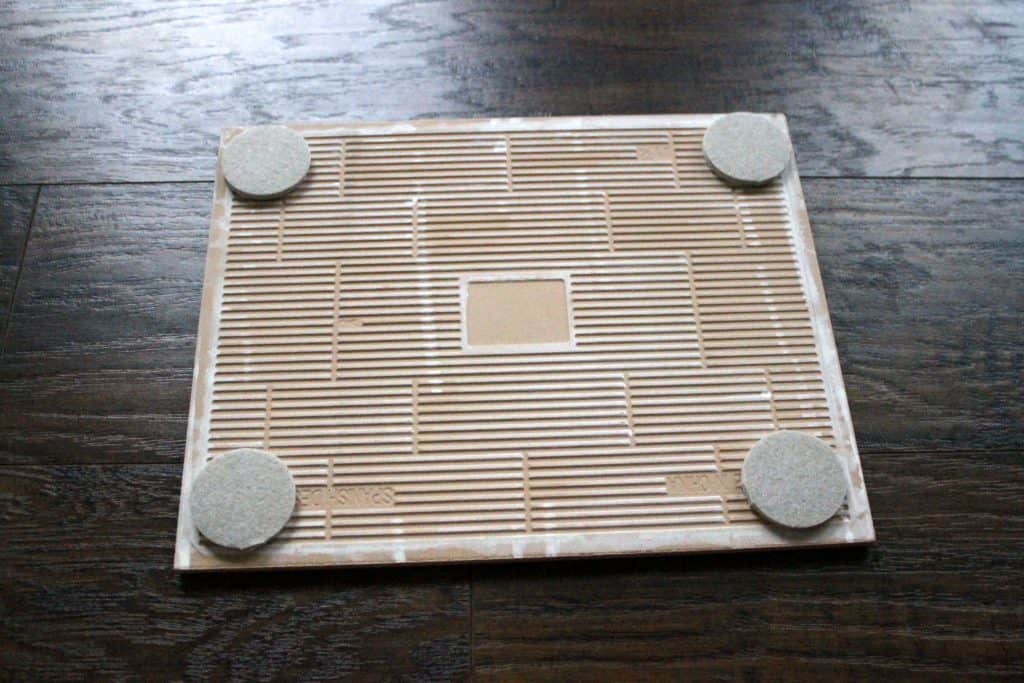 First, I flipped the tile over and attached 4 self adhesive felt pads so that it wouldn't scratch up the wooden bar top. The pads let the tile slide easily on the table and give it a little extra height.
Press the pads into the tile firmly. You might even want to flip it right side up and press down on the top of the tile to be sure they are adhered really well.
This is a small step that makes it a lot more legit tray.
I also picked up a pack of 2 handle style drawer pulls. These can be bought at the hardware store, or at a place like Habitat for Humanity ReStore.
You could use handles, knobs, or any style of hardware that you prefer. There are tons of options and these are surprisingly inexpensive, too!
Take some time to try out different placements of the knobs or handles. You don't have to center them perfectly – play with a few different ideas!
Then, I simply used gorilla glue to glue the handles on where you would normally screw them in on the bottom of the tray.
This is so much easier than having to drill holes in the tile! I am all about an easy DIY project and this one is super duper simple.
This gorilla glue super glue doesn't foam up like traditional gorilla glue. Be sure to buy the clear color! Only apply a small amount of the glue.
If any glue oozes out from under the handle, use a q-tip or paper towel to wipe off any excess before it dries.
Now all you do is let the glue dry completely. You might want to let it dry for 24 hours before picking the tile up by the handles.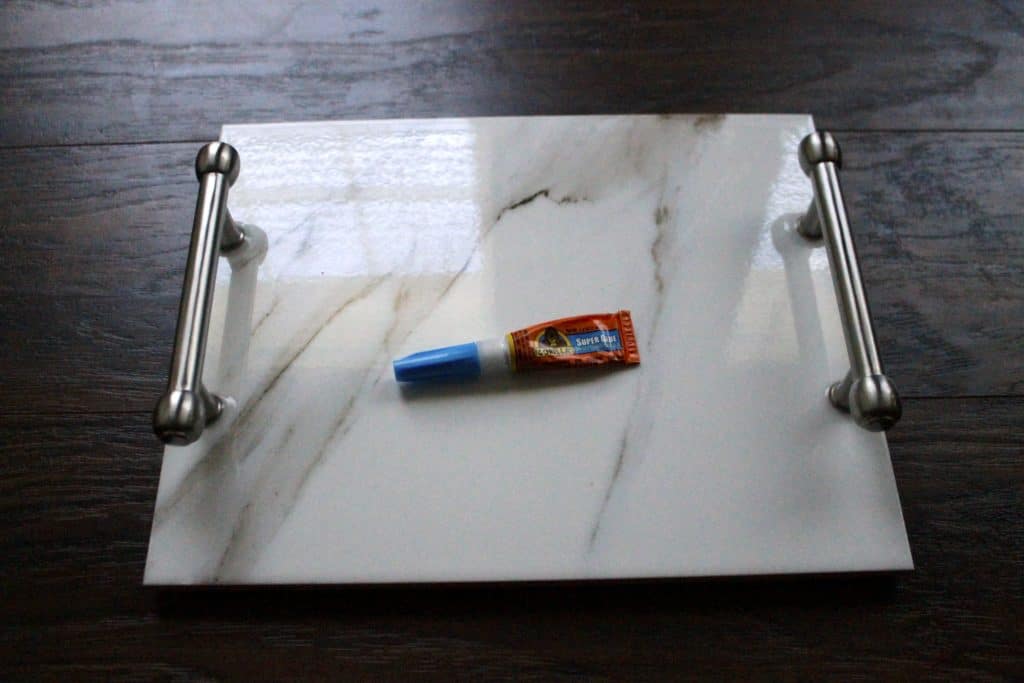 Now this tile tray looks sweet on the bar! It was quick and inexpensive – a great DIY to try! It's the perfect size for holding a couple of drinks or one big bottle.
I love how it looks on our bar and just might whip up a few more! I thought it was a pretty cool DIY way to make a tray with handles.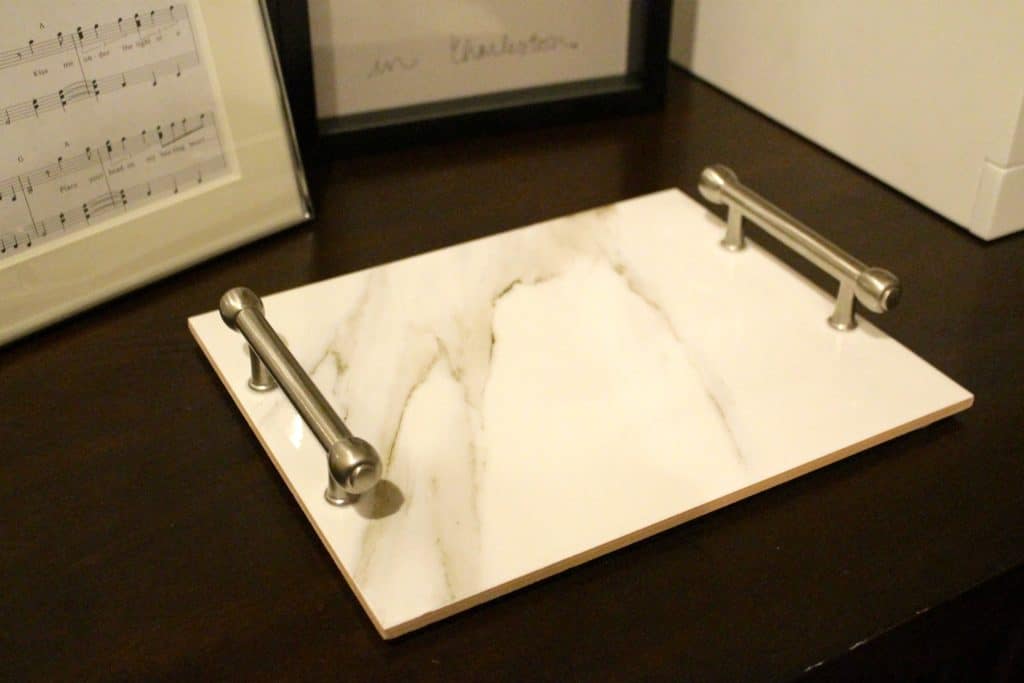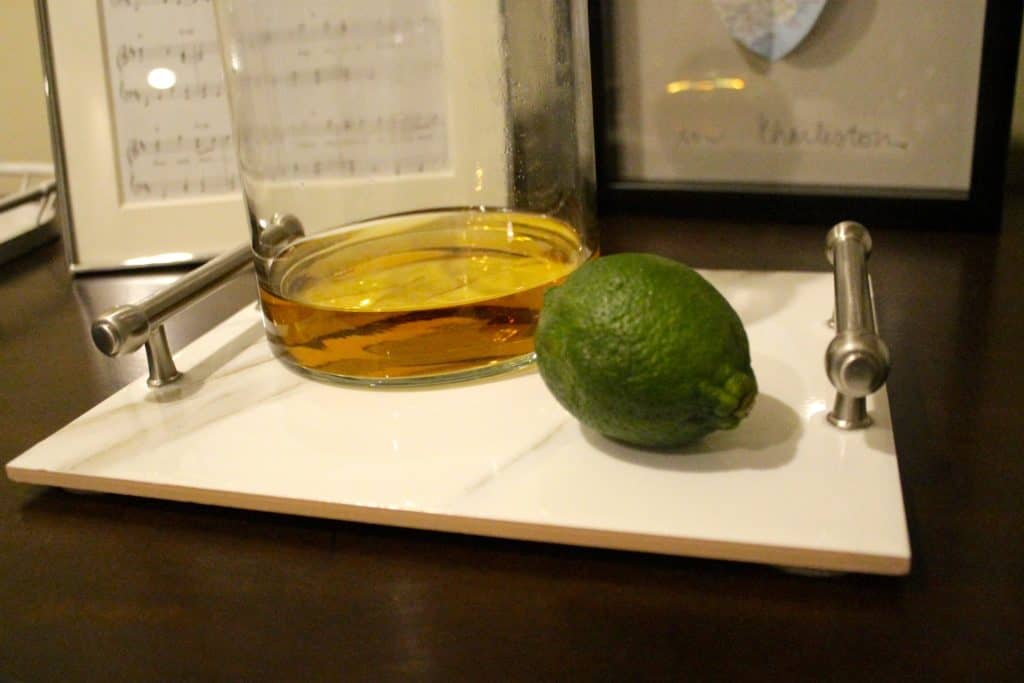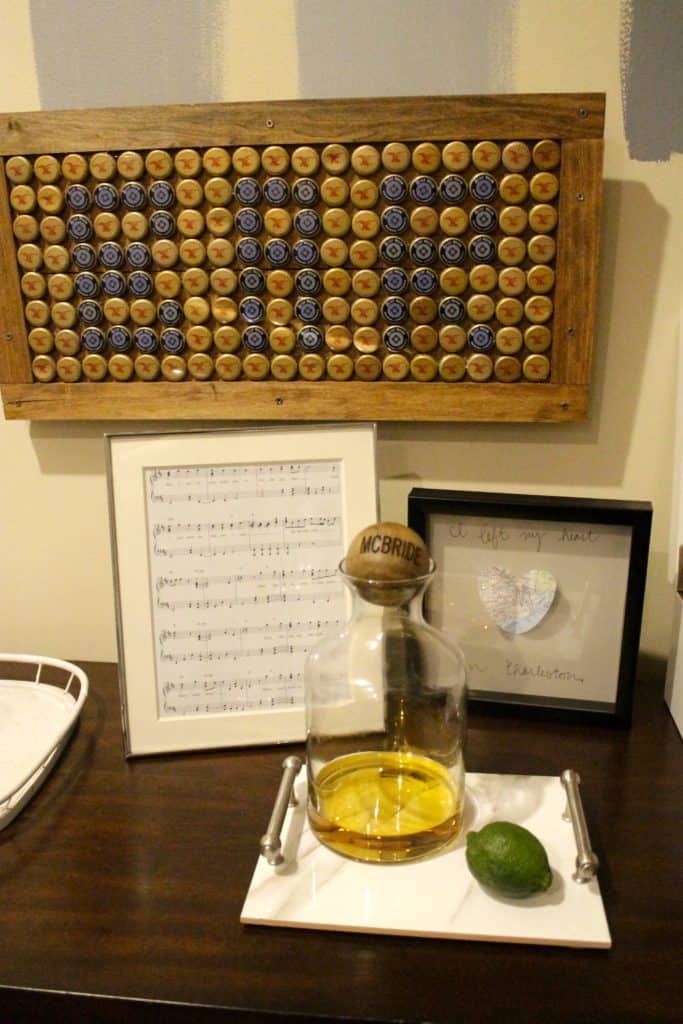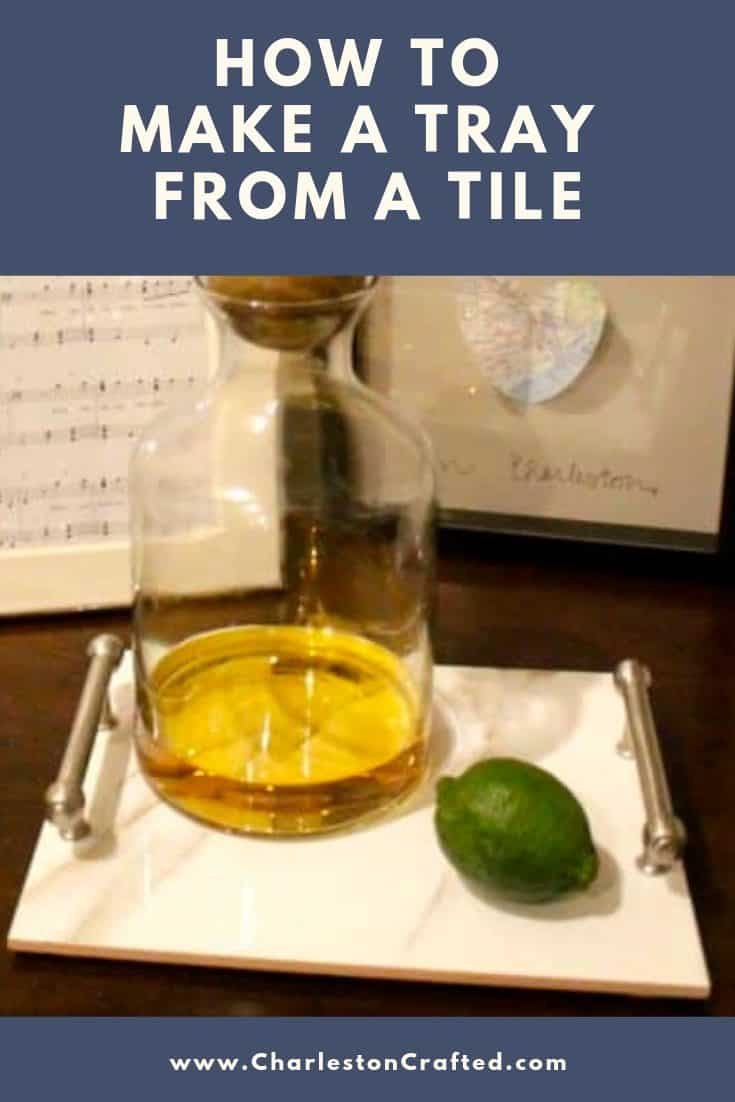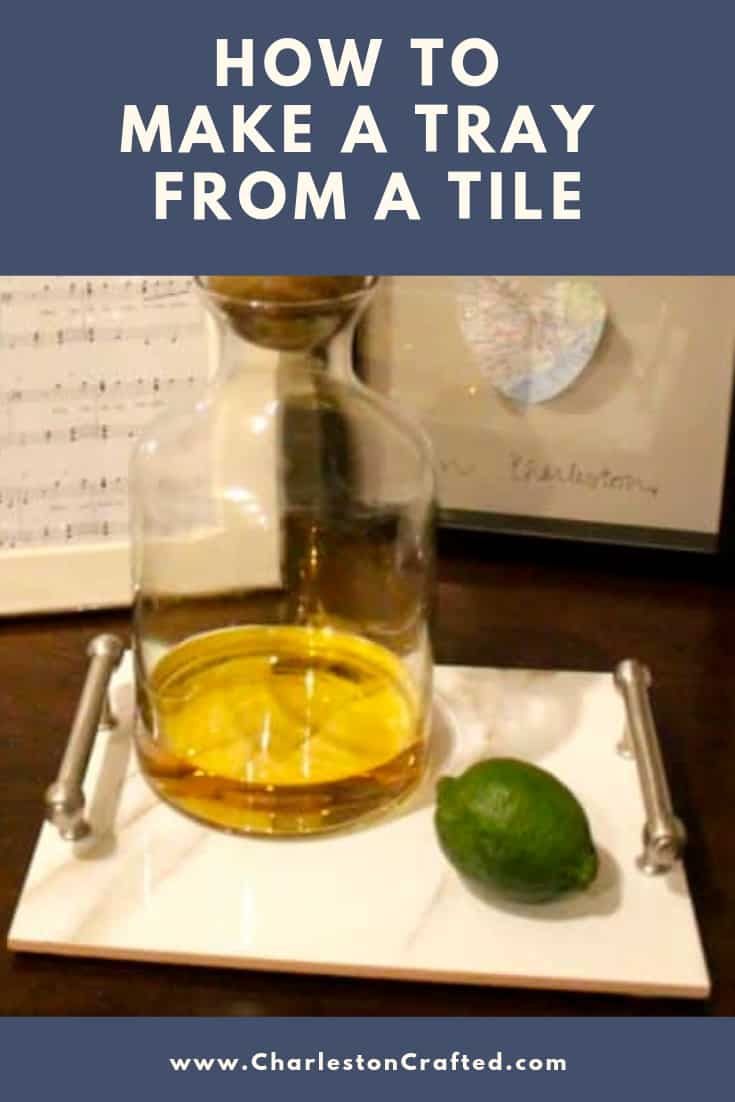 Yield:

1 tray
How to make a DIY tile serving tray
Want a beautiful ceramic tray with handles? Here is a super simple tutorial for how to turn a tile into a serving tray!
Materials
Tile - size of desired tray
2 handles
Adhesive felt pads
Instructions
Add a felt pad to the bottom of each corner of your tile
Flip the tile right-side-up
Place the handles on either side of the tray until you determine your final layout
Use gorilla glue to adhere handles to the tile
Recommended Products
As an Amazon Associate and member of other affiliate programs, I earn from qualifying purchases.
Want more easy DIY tray ideas? If you like this project, you might also like our DIY faux wood inlay tray, a wooden bar tray, and cubby hole desk trays for some wooden tray options!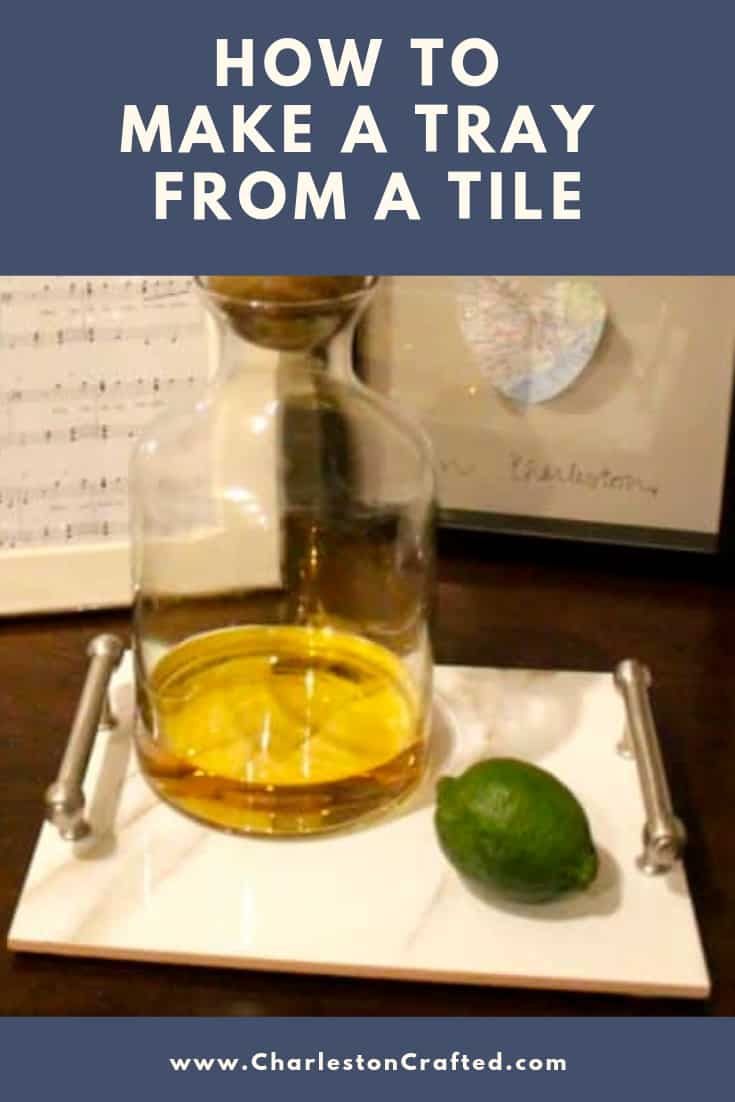 What have you been crafting up lately? Any fun DIY serving tray ideas?
Facebook | Instagram | Pinterest | Twitter | YouTube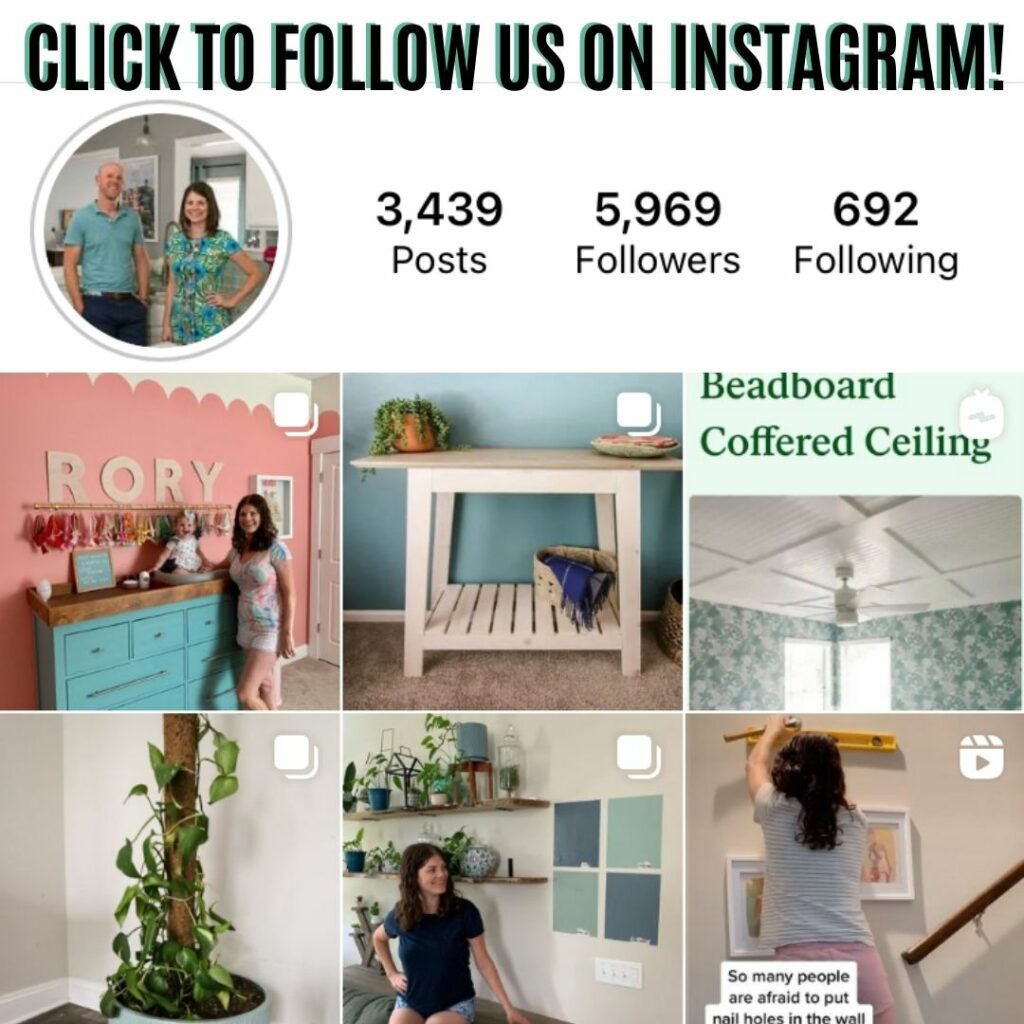 ---
Can we send you our newsletter?
Another great way to keep up with out latest projects is by joining our weekly newsletter! Get alerts of our latest projects and special peeks behind the scenes!
Follow along on Instagram
Join our online community where we share real time behind the scenes looks at our DIY projects and peeks inside our home + family!
---