Hello! We are back today with another guest post while we are enjoying some baby time! Small closets are really hard – of course you are glad to have the storage space, but it is so easy for small closets to become dumping grounds and junk piles!
Amy from amylanham.com lives in Los Angeles and, as you might imagine, has some small closets! Today she is sharing her best tips for small closet organization – you're gonna want to check them out!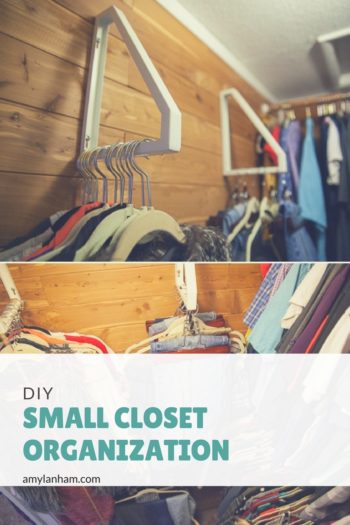 Small Closet Organization
From Amy:
Hello! I'm Amy from amylanham.com and I'm all about making my life easier and less cluttered. One of the things in my house that bothers me the most is the closet.
I don't know who designed closets, but they really never have very good storage space. Where do the shoes go? Why isn't there enough room for my clothes? And why must I always fold my pants and lock them away in some drawer to be forever forgotten about!?
If you have these same problems you are going to love my post on DIY small closet organization. You're sure to find some tips that you can apply to your own closet!
Be sure to click over to amylanham.com to check out this project and many more from Amy!