Maybe it's silly or immature, but I love dressing up for Halloween. I always got really into it as a kid and often had multiple costumes (one for school and one for actual Halloween). In college we usually celebrated "Halloweek" with a variety of parties, mixers, and bar crawls requiring us to dress up half a dozen different times. Since graduation, I've kept it a bit more chill, but I still love dressing up. Halloween is a Friday this year – so Sean & I are going to take it as an opportunity to get out of the house and have some fun with friends.
Of course, then comes the problem of what to wear and what to be. I am all about the last minute scramble, but I hate buying pre-made costumes. I love digging around in my closet, grabbing a couple of supplies from a thrift store, and gluing something together.
I'm predicting that the DIY costume of 2014 is the emoji. People love their phones and emojis are such a fun part of that. I saw a great online quiz recently asking you to pair the emoji with it's actual definition, so I thought it would be fun to share those as well!
There are a few that are so good, I think they'd be majorly recognizable as a costume. Bonus points if you can get a whole group together to hit them all! Here's what I'm thinking:
Cha Cha Dancer
Dancer: A person dancing solo, at a party, club, or ball.
I think that the cha cha dancer would be a great halloween costume – to me it symbolizes dancing and having a great time. Plus, all you need is a red dress! Go for a maxi dress or a high – low cut for maximum cha-cha. Bonus points if you have an old red prom dress that still fits!
Best Friends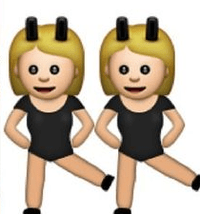 Woman with Bunny Ears: An iteration of the Playboy Bunny known in Japan as a Bunny Girl. Usually depicted as an attractive woman wearing bunny ears, a bunny girl can also be seen in anime as a hybrid human/animal known as Kemonomimi.
So – jokes on me – I never knew that those were bunny ears! I thought they were a bow. This would be a great costume for a couple of friends. I think it would be cool to have ten in a row! All you need is a black leotard/romper and black flats. Top with a bow or ears and prepare to be posing for pictures all night!
Girl with Many Facial Expressions
No Good Gesture: A person with arms forming an 'X' to indicate 'no' or 'no good'.
Face with OK gesture: A person with arms above his or her head, making an 'OK' sign (circle) with the whole body.
Information Desk Person: An information desk person, iconically represented in the Apple emoji artwork as a girl holding out her hand as if she were a waitress carrying an invisible tray of drinks.
So, let's just call this the girl with many facial expressions. I would have never guessed some of the definitions – but that makes it extra fun. Rock a pink top or dress and practice your hand motions in advance!
Running Man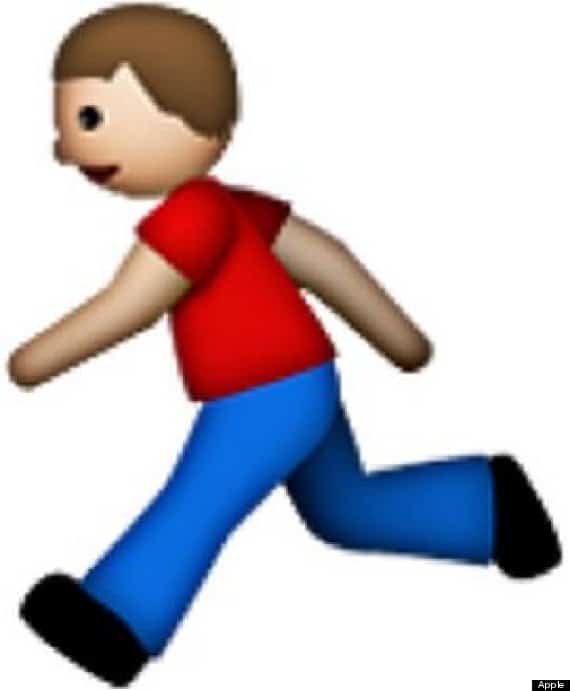 Runner: A person running, with a large stride and arms outstretched.
Know a guy who's always too lazy to dress up? Put him in jeans and a red tee and he's good to go. Bonus points if he can do the running man.
Couple Holding Hands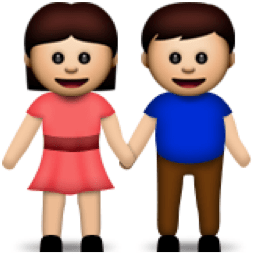 Man and Woman Holding hands: A male and a female smiling and holding hands, most likely due to being in a relationship
This costume is super easy for couples and also comes in boy-boy and girl-girl options. The creepy open eyed smile is a must when posing for pictures.
Hear no See no Speak no Evil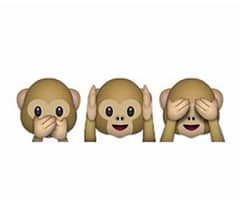 Hear no, speak no, see no evil: the proverb "see no evil, hear no evil, speak no evil".
This is a great costume if you have three people that want to dress up together. All you need is to wear brown and have ears! And, once again, get ready to pose.
All emoji definitions via Emojipedia.
What are you going to be for Halloween?
This post contains affiliate links. Basically, if you click thru and buy anything, we get a (very) small percentage of the sale. Click here for our full disclosure. Thanks for supporting the brands that make Charleston Crafted possible!