A lot of the rooms in our house are done. Not done forever, but definitely in a state of done-for-now. So, I thought that this would be a great time to share all of the sources for our rooms with you! So, we will be sharing a series of shop our rooms. Today, I am sharing the first room that we finished, our front room! This is our formal living room and the entry way to our home. It's very blue and very simple, since we honestly don't hang out in this room very much. We entertain lightly in here (sitting in chairs chatting) and Sean does a little early morning reading in this space on his work from home days. Otherwise, it's Bear & CiCi's favorite place to watch the front door!
You can see the full transformation of this space here. Below are all of the sources and projects in this space.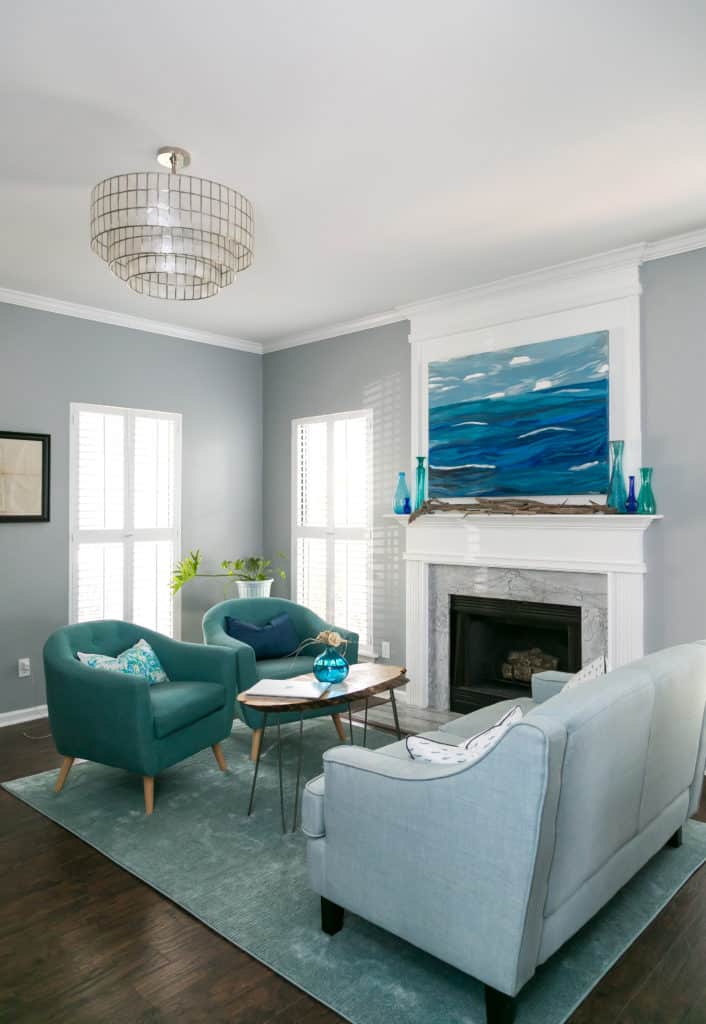 Paint Color: Sherwin Williams Online eggshell finish
Fireplace project: DIY extended fireplace to the ceiling
Chandelier: Capiz Chandelier via West Elm
similar:

Rug: Unique Loom via Amazon, no longer available in blue
similar:

Love Seat: Hazy Blue color from Wayfair
similar:

Chairs: purchased at athome, almost identical dupe on Amazon
similar:

Coffee Table: DIY project – purchased slab here and hairpin legs here
Sea Glass: TJ Maxx mostly, similar below
similar:

Sweetgrass roses: locally sourced in Charleston
Driftwood: locally gathered, similar pieces online
Art: painted by me
This post contains affiliate links, which means that if you click through and make a purchase, we receive a small percentage of the sale. Thanks for supporting Charleston Crafted!