On Tuesday we brought you a list of our favorite projects of 2017. Well, no more living in the past. We wanted to bring you a preview of our projects for 2018. This will be in no way a comprehensive list, but just a general idea of some of what we know we have in store. This will change along the way and we will obviously do much more than this, but take a look. And let us know in the comments if you have anything you like to see from us this year. We're all about empowering you to try DIY, so if there is anything you're wanting to try but need a little encouragement, we'll do our best to help out.
Preview of Projects for 2018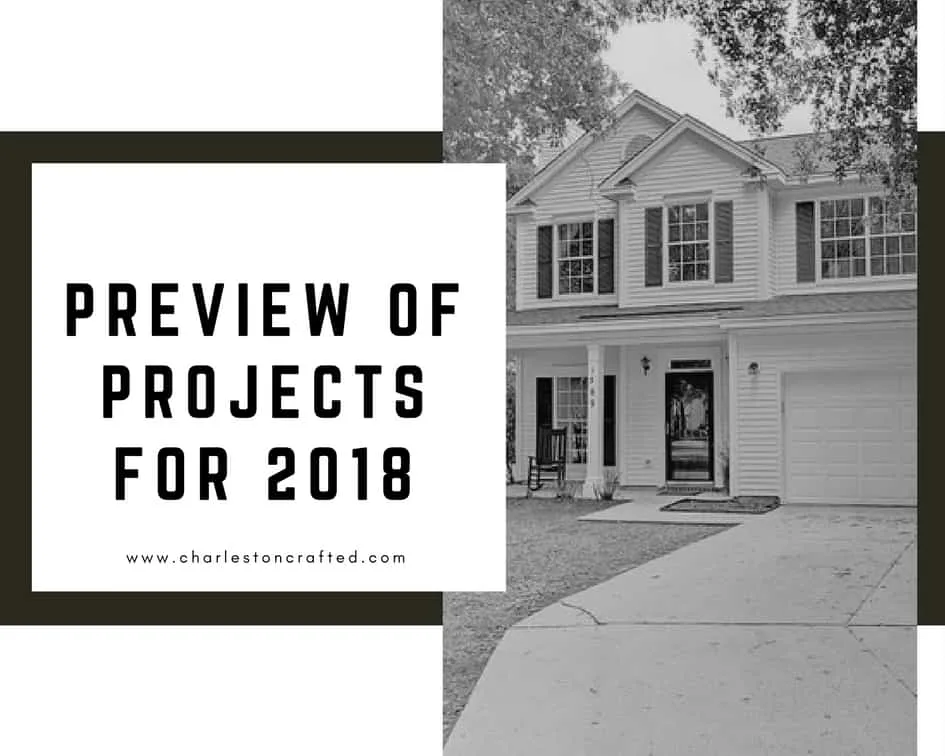 Patio – the patio is going to be our first major project of 2018. We're planning to rip out the busted brick patio and lay down a new, bigger, concrete patio. Then we're hoping to build a pergola over that and build some seating off the end which will overlook a new fire pit that isn't dead center in the middle of the yard like our current one. This will become a luxurious space for us.
Guest bedrooms – we haven't touched the guest bedrooms yet. We've done a few things to specific pieces in the guest bedrooms, but haven't done anything to the room itself. After putting up beadboard in the hallway, we'll probably do that instead of scraping popcorn. We have ideas for some art railings in one room, but the other is pretty up in the air.
Front natural area – this is the last part of nature in our yard we haven't done anything with. It's a cluster of bushes and trees right in the middle of our side yard. The bushes are clumped together and overgrown, so we'll probably trim them out and plant a few new things.
Garage organization – our garage is struggling. We still have plenty of room for a car and the ping-pong table, but we need better storage solutions for scrap wood, driftwood, paint cans, tools, etc. We want to add some shelving and get better organized.
Sponsor partnerships – this isn't a specific project, but we're excited about where we are going with the business side of the blog. We made a huge push in 2017 to start working with sponsors and we have some big partnerships lined up for 2018. I promise, this is not a sell-out move at all. Sponsorships and ads are the only reason we can continue to run this blog because, otherwise, we wouldn't make any money. We never endorse a product or service that we haven't used ourselves and truly love and we'll continue to make sure we do that.
So like we said, that's just a short list of projects. We have an entire year of content to fill for you, so if you have suggestions, we'd love to hear them. We have tackled the huge areas of our home, so now we are refining and taking care of the lesser seen areas. We are very excited to continue sharing this journey with you.