Have a plastic toy truck that you want to give a makeover? Here is the simple step by step process for a flawless finish!
I was recently walking the dog around the block when I spotted a plastic truck next to our neighbor's trash can.
I know these neighbors and I know they have a boy a few years older than Luke.
Luke's not really into trucks yet (so I thought) so I threw it under the stroller to rinse off and see if he liked it.
After giving it a bath, I let him check it out in the backyard.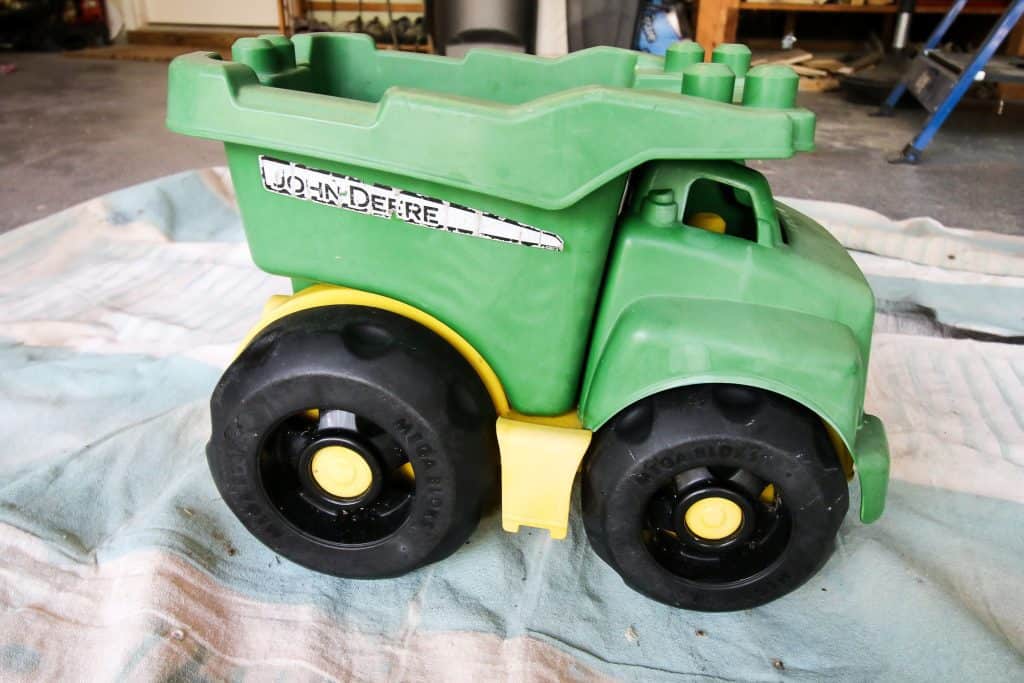 He LOVED it. He stood up to look inside and laughed and laughed.
So I knew that it was a keeper.
But, it was old and faded. No shade, it had just lived a good life with it's previous little boy.
So, being the DIYer that I am, I had to give it a makeover.
I dug into our spray paint stash (now in a handy bin in the garage) and decided to get to work.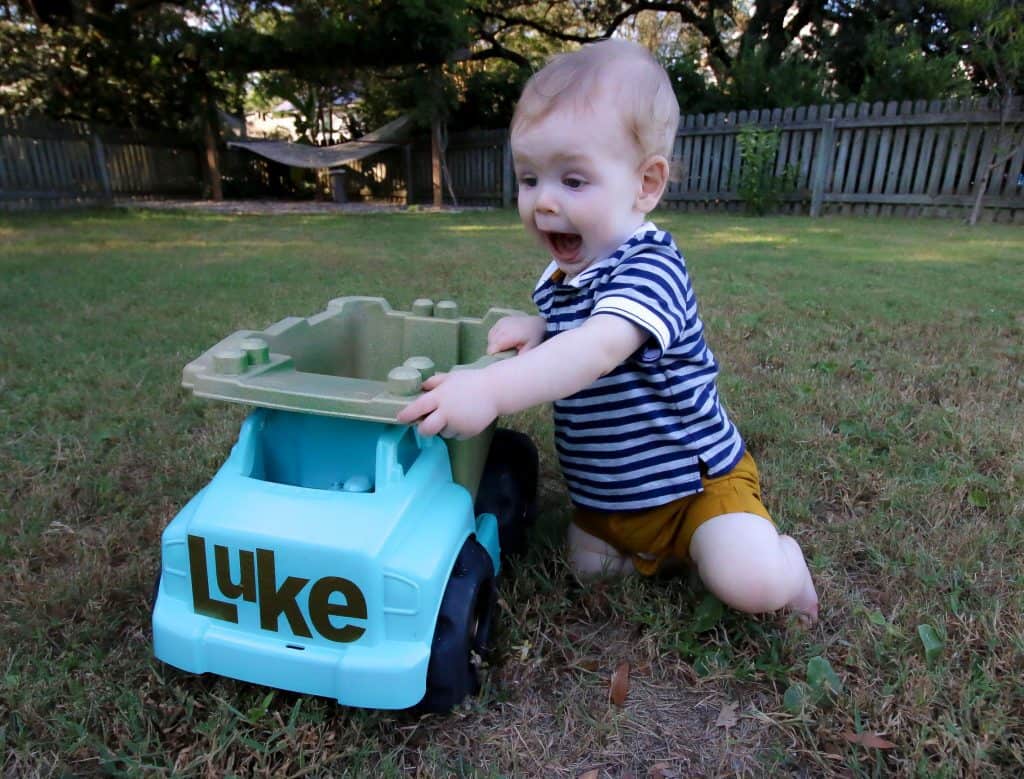 Plastic Truck Makeover
First, clean your truck thoroughly. I used a flat tool to scrape the stickers off, too. Wipe off any remaining residue.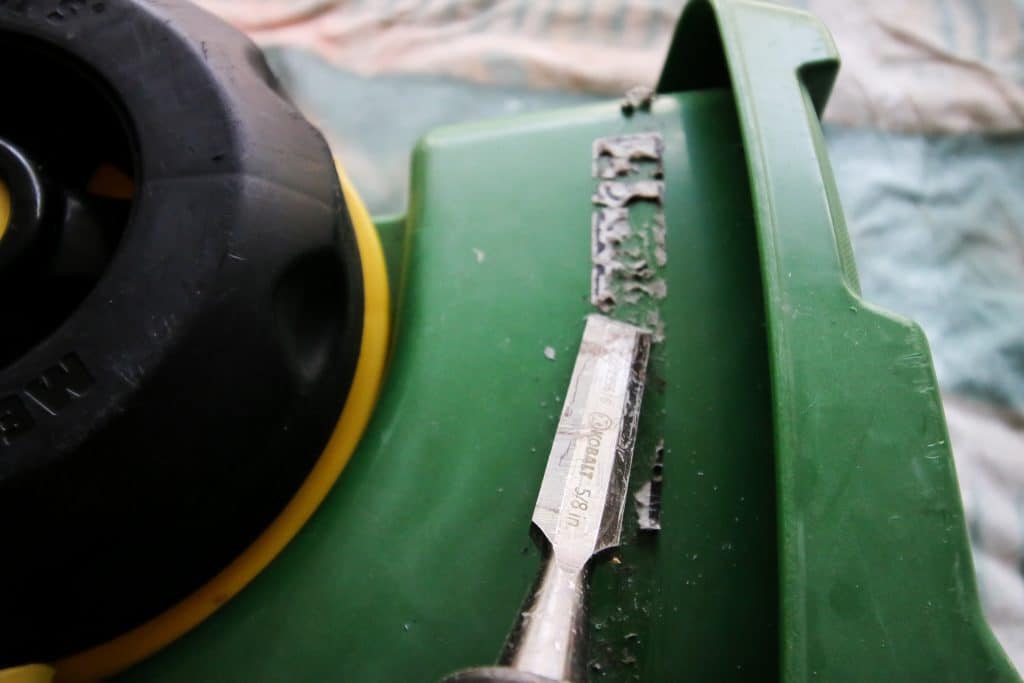 It will be up to you how much you take the truck apart. I was not confident about re-assembling it, so I left this truck almost entirely intact, just removing the top (which pops off easily).
If you don't take the truck apart, tape off anything you don't want to get painted. I tied grocery bags over the black wheels.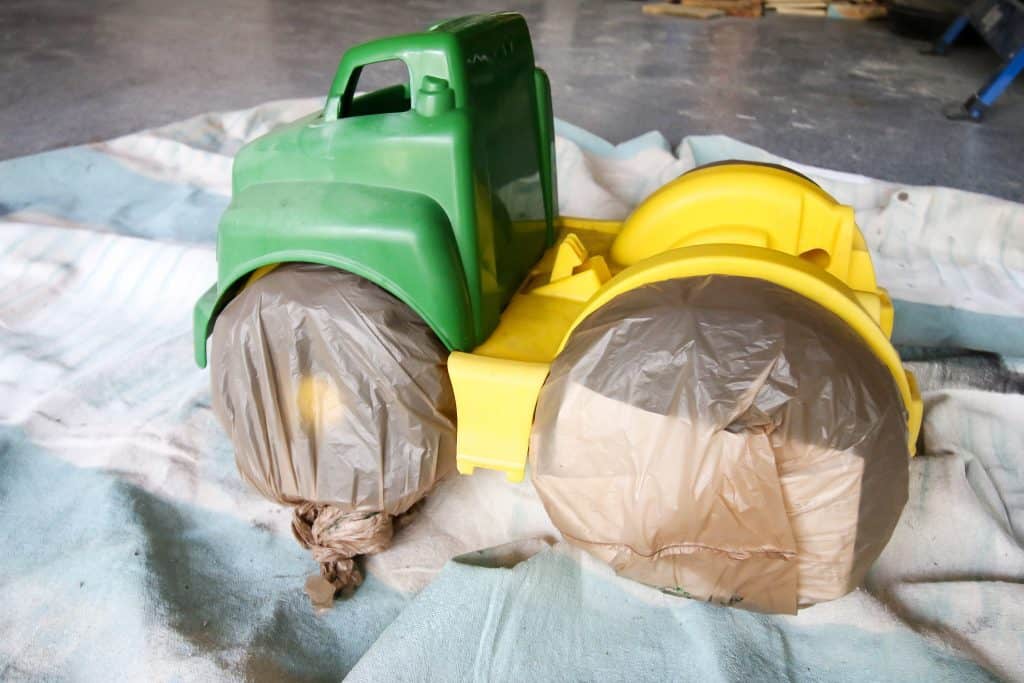 Then, spray paint. You can read my best spray painting tips here!
I used Color Shot paint in Island Girl for the body and Rustoleum gold glitter for the truck bed.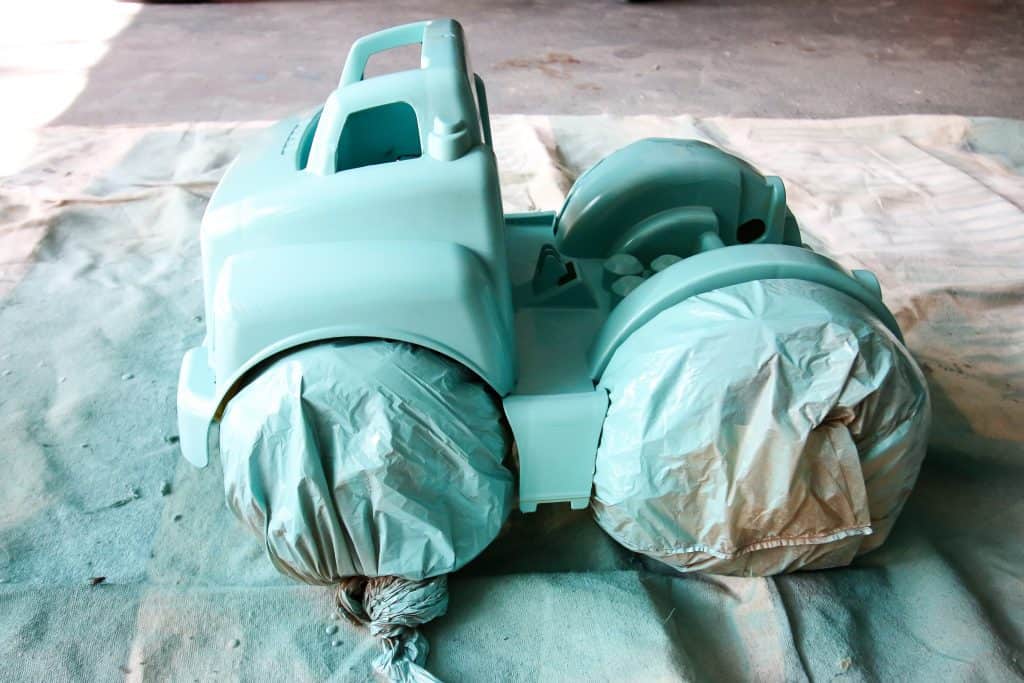 I did not use primer on my truck. However, I wish that I had on the dark green truck bed as it was hard to cover fully with the glitter.
I recommend using primer on anything dark.
Allow to dry and re-assemble.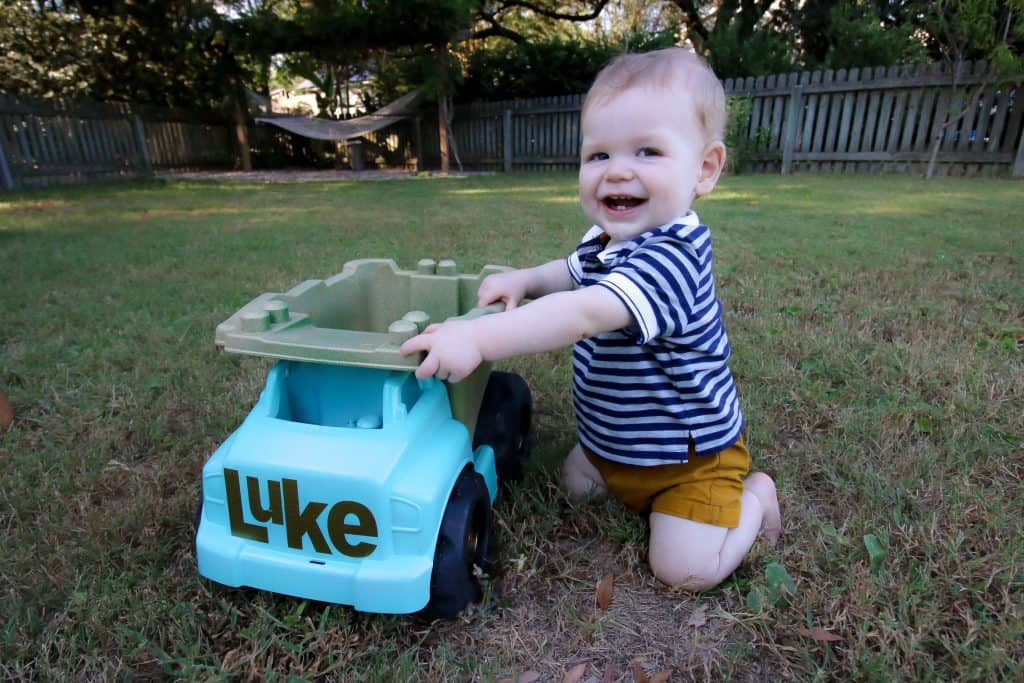 I took it one step further and cut LUKE out with vinyl and attached it to the front. You could also paint or add stickers to personalize!
I am so obsessed with how this turned out! It is really so cute and was totally free to me.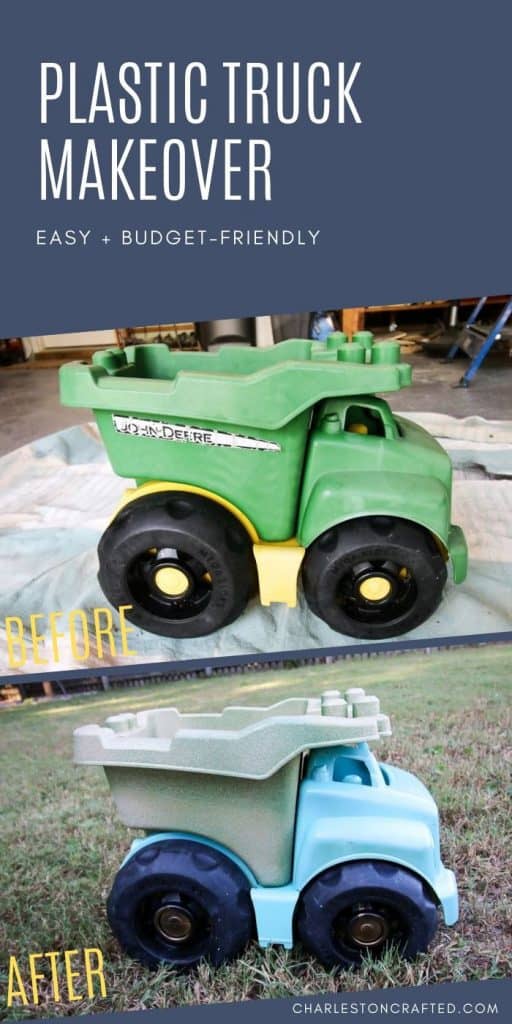 Frequently Asked Questions
Can I spray paint plastic toys?
Yes, you can spray paint plastic toys! It is an easy and inexpensive way to update them.
How do you paint a plastic toy car?
The easiest way to paint a plastic toy car is with spray paint! Be sure that it is clean first and apply thin coats to avoid drips.
What is the best paint to use on plastic toys?
You can use any type of spray paint on plastic toys. Just read the can and be sure that it is labelled for use on plastic. Most are.
If you plan to keep the toy outside, consider an outdoor grade paint.
Do plastic miniatures need primer?
Plastic toys do not NEED primer, but primer helps you get coverage. A coat of primer, especially on a dark surface, means that you will need less coats of your color.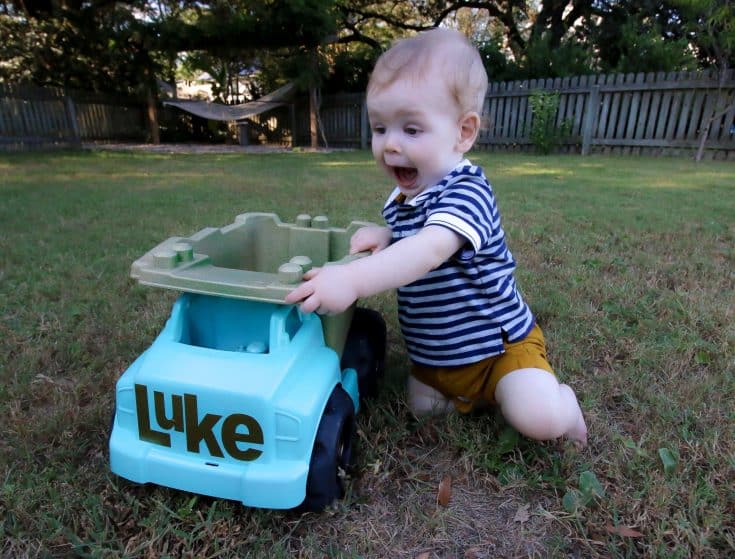 Yield:

1 truck
How to do a Plastic Truck Makeover
Have an old plastic truck that needs a makeover? Here is the easiest way to give it a fresh look on a budget.
Materials
Plastic truck
Spray paint
Vinyl (optional)
Tools
Tarp
Rag
Cutting machine (optional)
Instructions
Wipe the truck clean with a rag. Remove any stickers or residue.
Separate as desired. Tape off anything you don't want to get painted.
Apply primer to any dark surfaces.
Spray paint everything else. Allow to dry 1 hour before flipping to paint the other side.
Re-assemble.
Add vinyl personalization if desired.
Recommended Products
As an Amazon Associate and member of other affiliate programs, I earn from qualifying purchases.