This is our first spring in our home and one thing that I am so excited for is building a garden and improving our yard. The previous owners actually rented the house out for the last 5 years so the yard was in rough shape! Our priorities have been grass, bushes/shrubs, adding some floral color to the front of the house, and adding a vegetable and herb garden. We started planting in March and thought that this would be a good time to check in and let you know how everything is going!
First of all, as far as how to decide what to plant, I have a bit of advice.
Make a list of what you like. Dream big. Your favorite flowers, herbs, and plants.
Walk around your hood. What do your neighbors have? What looks lush and healthy? What looks dead? Compare this to your list and amend as necessary.
Go to a garden center. Honestly a high end stand alone garden center is probably better that the one at Lowe's or Walmart. This might sound shady, but you don't have to buy anything there. Just talk to them and get their advice. Take a soil sample or a clipping of grass. Take your list. Ask them what they think. You can buy a couple of things there or go and buy things elsewhere, but they will likely be the best specialists in your area.
Grass
So this has been an issue. Our grass is extremely patchy because the backyard gets full sun and the front yard gets full shade. Both of those conditions are difficult for grass. We started by spreading weed and feed to try to kill weeds and replenish the grass. Well, not a single weed died. And no extra grass grew. Then we used Scotts EZ Seed to try to plant centipede grass in the bare patches. We picked this product because it touts itself as seed, mulch and fertilizer in one bag. Well, we spread that, water the crap out of it, and nothing happened. They offer a money back guarantee though, so I think we are going to try again and this time just bury some straight up seeds by themselves, water, and hope for the best.
Shrubs
When we moved in, basically every bush around the yard looked terrible. We weren't able to pull them all out this year, but we did pull out five in front of the house, four where the veggie garden went, and seven on the back of the house. That was a TON of work.
In front of the house, we planted hydrangeas to replace the old bushes. We started with 3 hydrangea bulbs which did not take off growing like I thought that we would. I got impatient and added 2 foot tall hydrangeas to the mix.
Florals
Florals are fun because they add color and are pretty, of course! When we moved in we had pretty much nothing flowering going on. I have gone a bit crazy buying plants but am using this year kind of as an experiment to see what works and what doesn't work.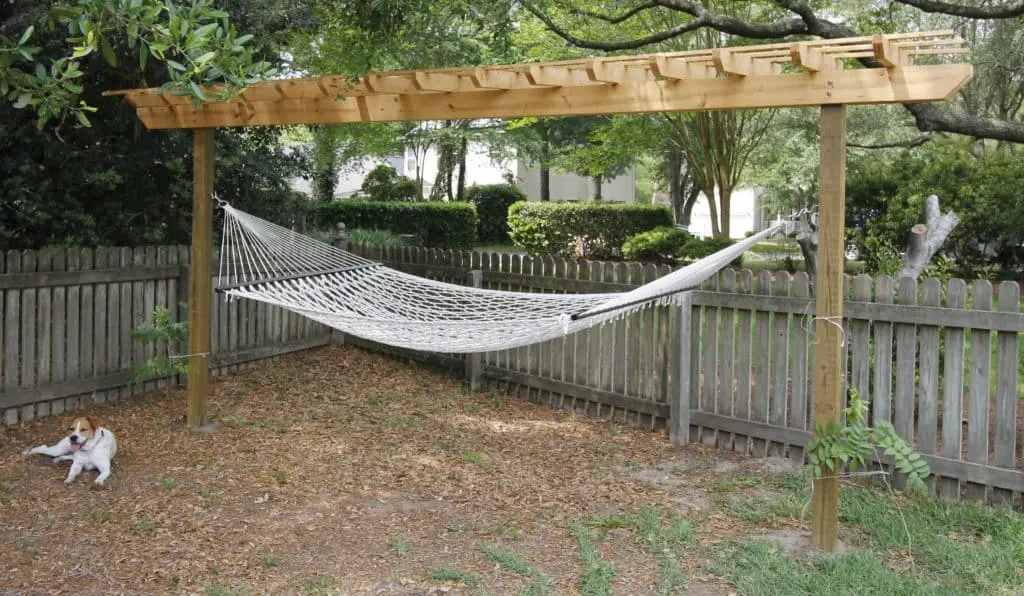 Wisteria – I ordered 2 purple wisteria plants from Fast Growing Trees (I don't see any available right now but their stuff comes in and out of stock). They arrived in great shape but were just sticks + root balls. I will tell you, they have really taken off! The plan is to train them up the sides of the hammock pergola. If you are familiar with wisteria then you know that they have huge purple flowers and smell really really good. We are so excited about these & I really hope that they bloom next spring.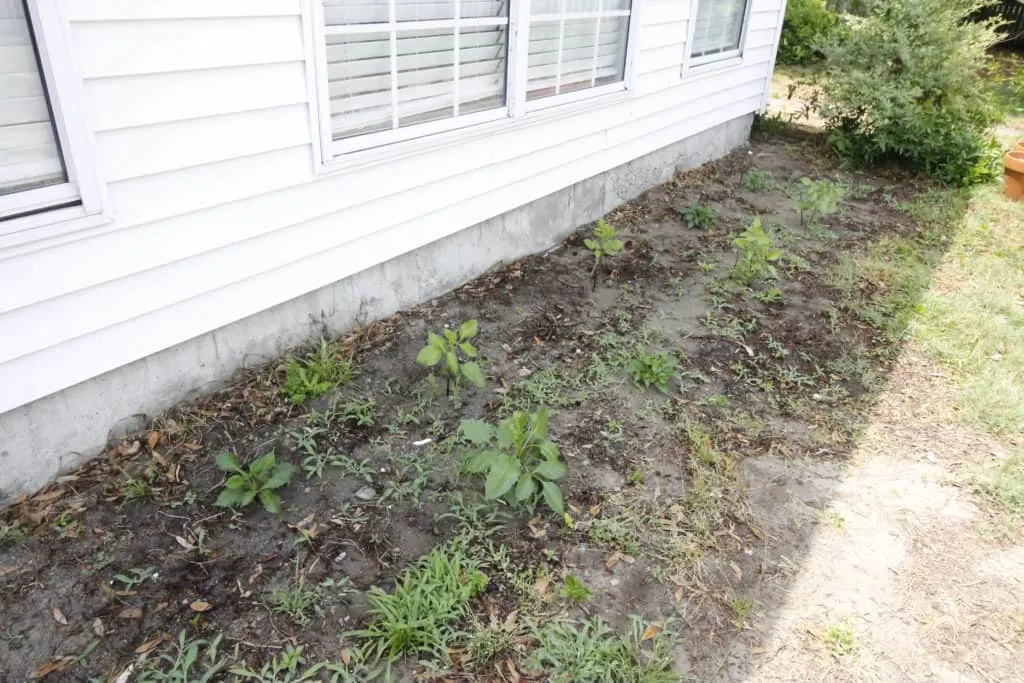 Dahlias – We got 10 dahlia bulbs from Costco early in the planting season. Sean dug out all of the scraggly bushes along the back side of the house and replaced them with these. They are growing slowly but surely. Hopefully in 5 years they will be full and lush, but I have my fingers crossed for blooms before then.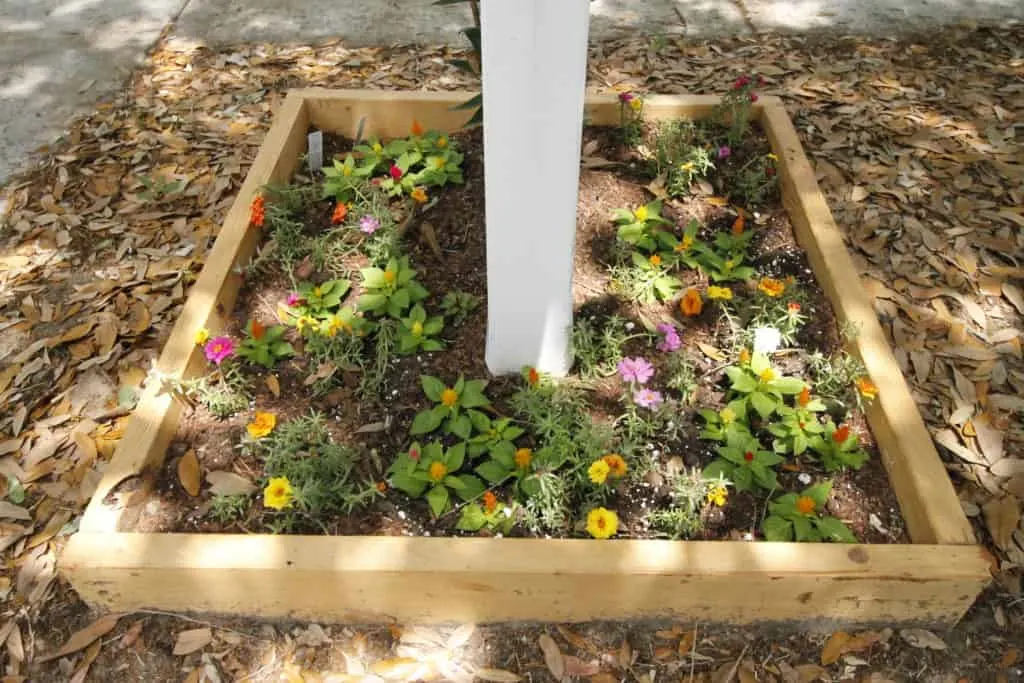 Lillies & Annuals around the mailbox – I picked up this lilly off of the discount rack at Lowe's. I'll tell you – if you are up for a bit of a challenge, the discount rack is the spot to get some great deals. It only had a few blooms left on it (hence the discount) but it will come back every year. So, I planted it in this simple 2×4″ raised bed that Sean build around the mailbox (literally just 4 equal sized boards screwed together in a square). I filled it in with dirt since our soil is terrible and then filled in around it with X and X. They are annuals so they will just last the season but they sure are pretty.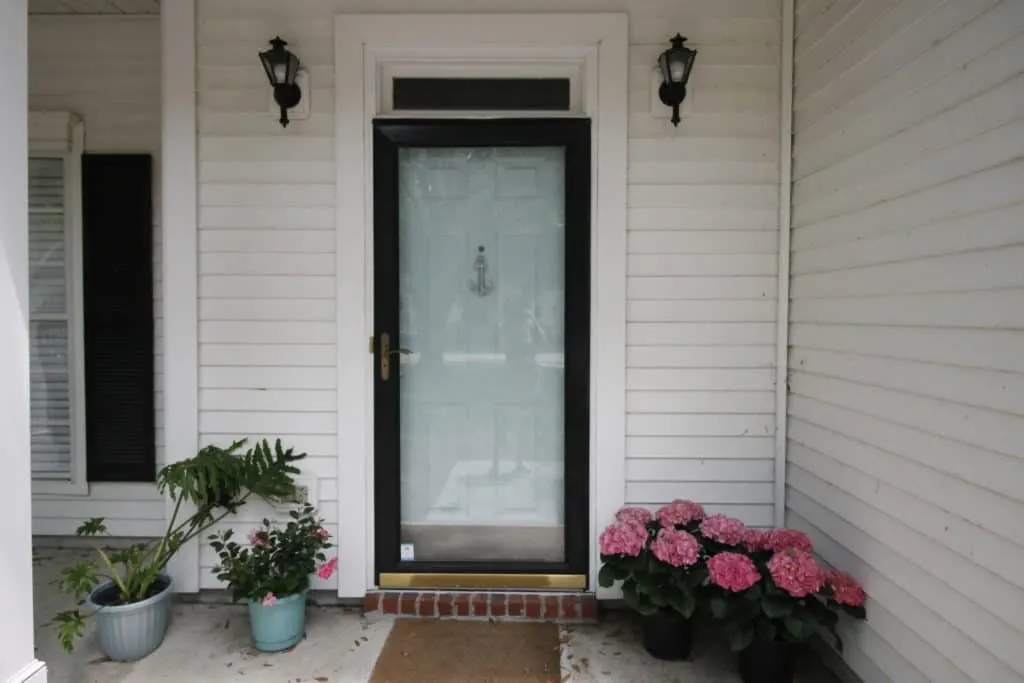 Hydrangeas– We are having a win/lose hydrangea situation. At the beginning of the season, I planted 3 small bulbs in front of our porch (where Sean removed scraggly bushes). They have shown 0 growth. Since they are my fave, I decided to try again with larger (1.5 gallon) plants. They died instantly and are sitting dead in front of our house. I picked up 2 more, actually 50% off the sale rack at Lowes because they were withered. Fun fact: hydrangeas need a TON of water & drink through their petals, so by soaking each flower bunch with tons of water, I was able to revive them. They are staying in their pots & doing great that way. I think that they must hate our sandy soil.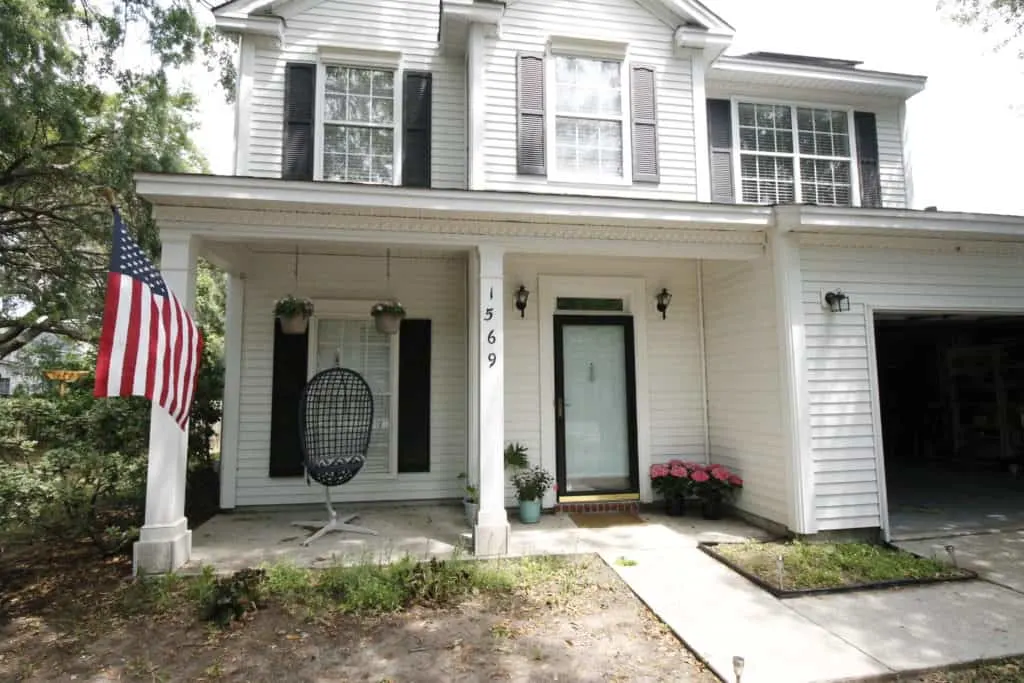 Wild Flowers – One of the first things that we did this spring was toss out some wild flower seeds. They came in a big bag from Lowe's and I was excited for some fun color. Well, they have grown to really look like weeds but are finally starting to bloom a little bit. Hopefully they bloom a lot more!
Avocado Trees – I am hoping to do a line of fruit trees along the side of our fence. I decided to pick up 2 trees a year until I have 6 or so, just with the hope that by focusing on only 1 variety at a time I will have a higher success rate. On the right above you see our Hass and Hearty Avocado trees. I have had them over a month and they've only grown a few inches, but there is no sign of death or disease so I am remaining hopeful for their slow & steady growth.
Vegetable and Herb Garden
Sean built me 2 things for the garden very early in the season – a raised garden bed & herb planters that hang on the fence. Our soil is pretty much 95% sand so we were told that it was important to add new soil, hence the raised and potted edibles. We planted everything the first week of March and then had a super late freak random freeze about 2 weeks later. Everything but the kale died and we had to replant. It was disappointing, for sure. Everything is in the growing stage now, and we will be sure to update you at the end of the season with what worked and what did not.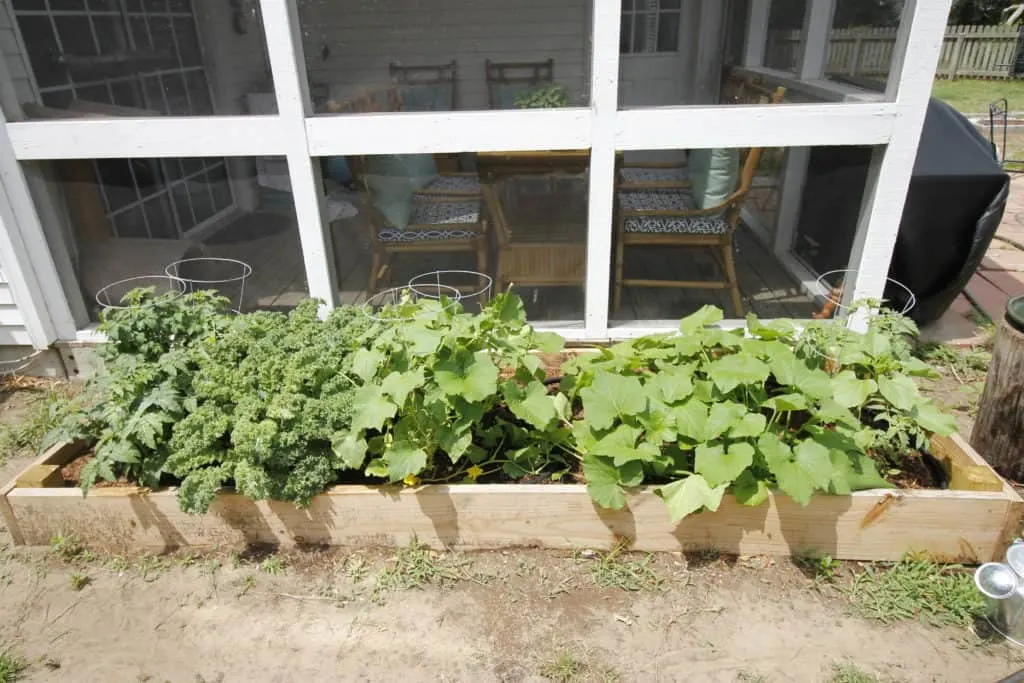 Tomatoes
Kale
Squash
Cucumber
Peppers
Luckily we were able to bring all potted plants (including the herbs) into the house so they lived. The Rosemary and Mint are actually a year old now since they live through winter. We have: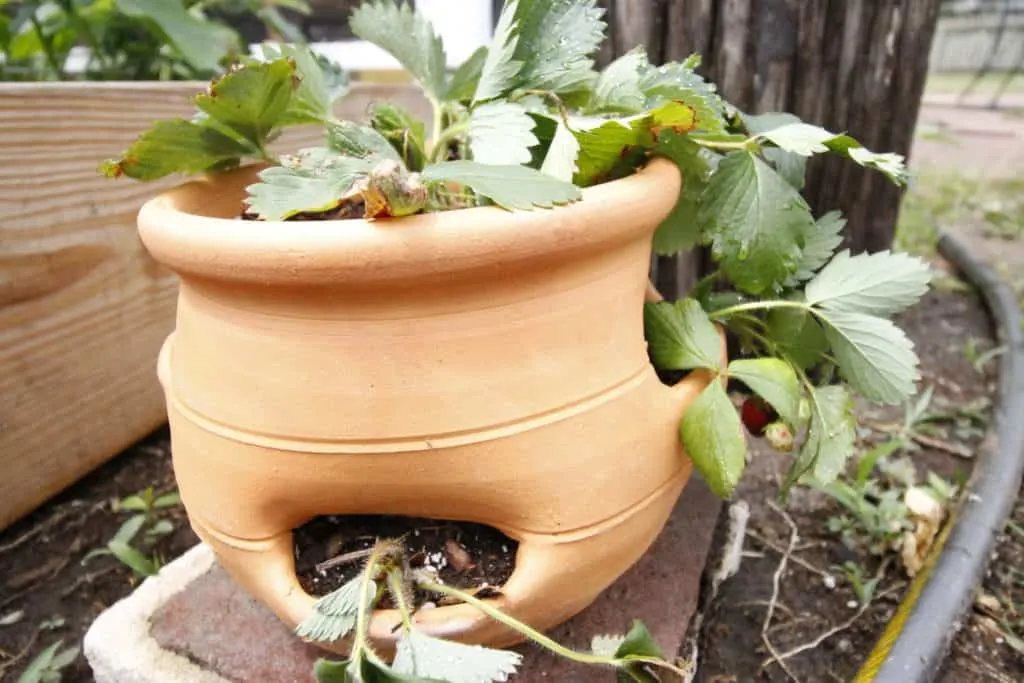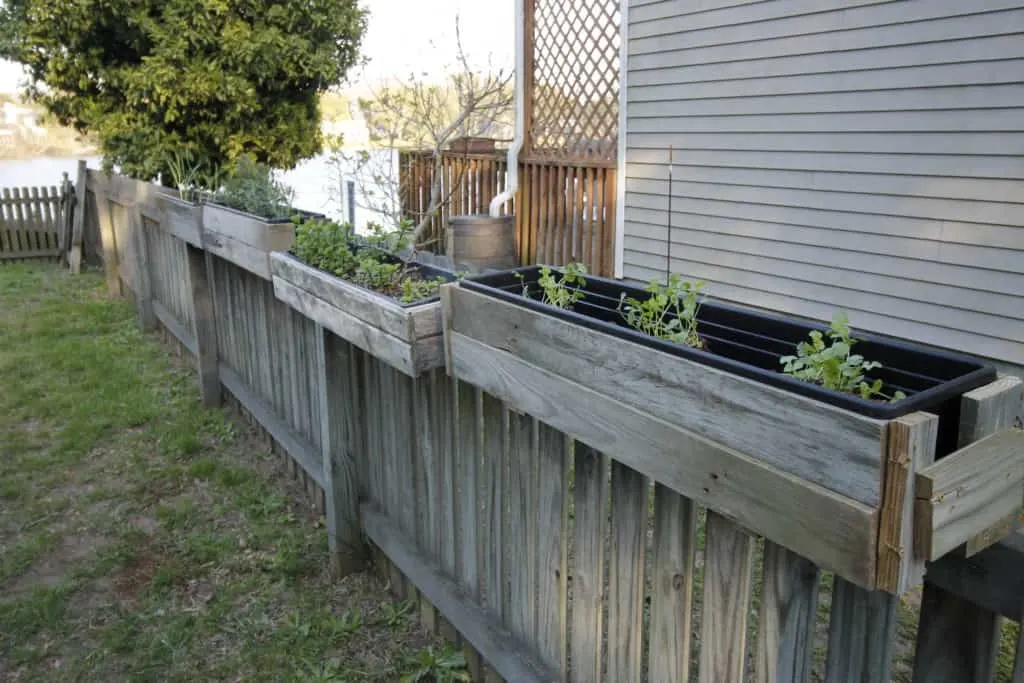 Fence planters:

Garlic – TBD if these grow, you pull them late summer
Mint – doing great
Rosemary – doing good, no major growth
Cilantro – going CRAZY producing a ton

Potted in the porch:

Basil – I cut it all off too soon (I needed fresh pesto y'all) and it didn't come back. Whoops. Planted 3 more and doing good!
Flat leaf parsley – growing strong since maybe November
Catnip/cat grass – Bear is OBSESSED, it's doing good despite her eating it
Chives – growing strong since January
Do you have a garden? We would love ANY advice that you have!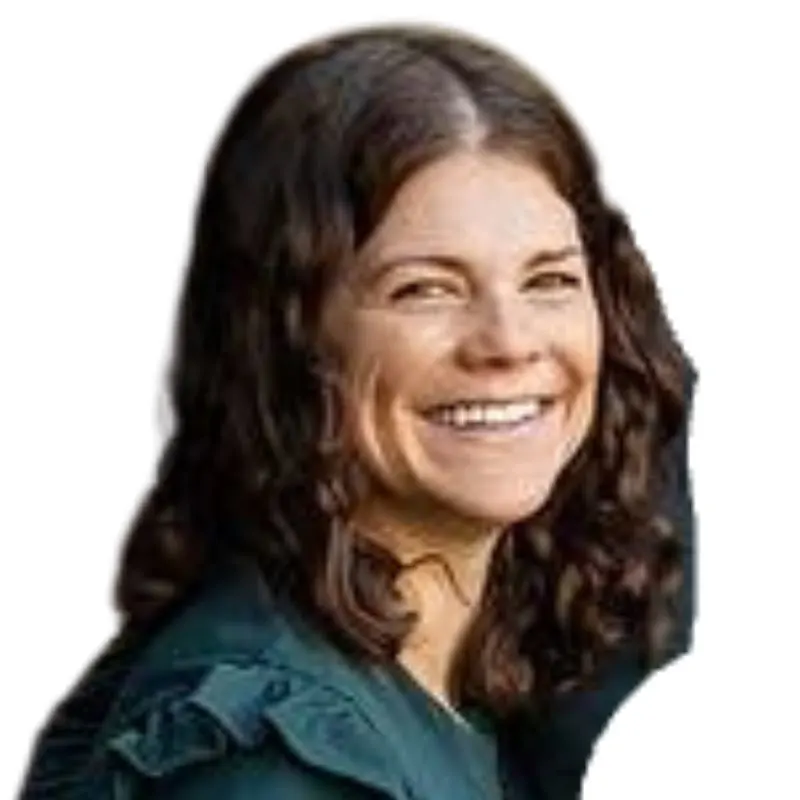 Hello, I'm Morgan, half of the creative force behind CharlestonCrafted.com! With a passion for DIY that dates back to 2012, I've transformed three homes and now I'm dedicated to helping others craft their dream spaces. Let's turn your house into a home together!