I don't redecorate my home for every holiday or season, but something as simple as switching out your pillows or pillow covers and blankets for the season can bring a new layer of coziness and make your home feel more fall. Since the weather doesn't cool down for a while here, adding layered texture in the form of pillows and blankets is my best bet for getting that fall feeling at all. Here are some of my favorite combinations of pillows + blankets for fall.
Cozy Pillow + Blanket Combinations for Fall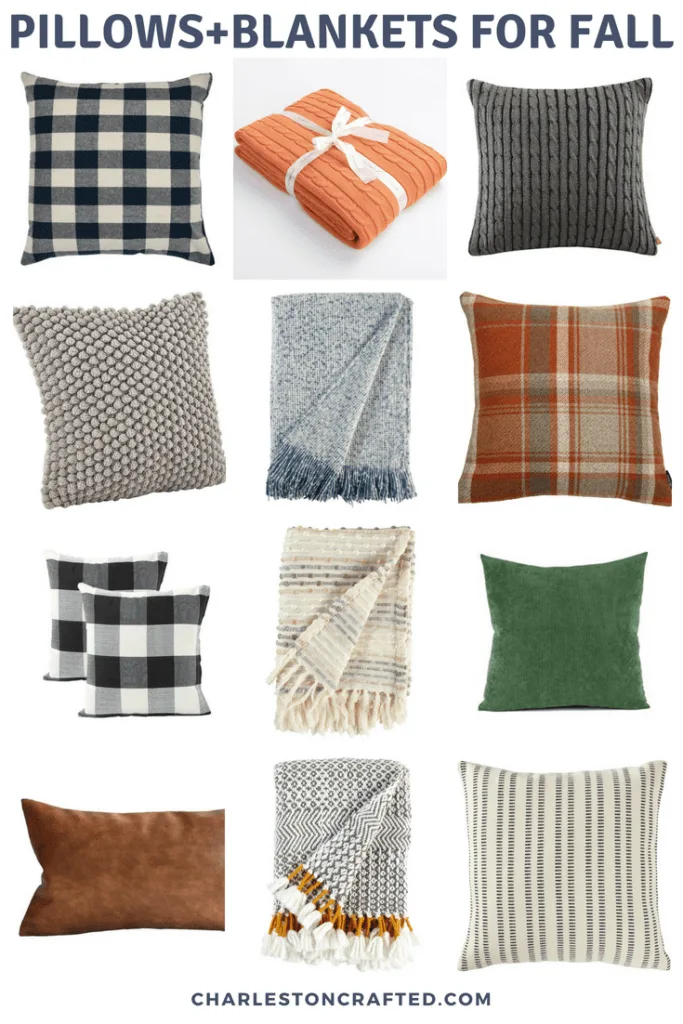 Navy Buffalo Check Pillow // Orange Cable Knit Blanket // Grey Sweater Knit Pillow
I love this combination of grays + whites + a big pop of orange. How perfect for October! Orange is actually a really nice complimentary color to blues + greens, so don't be afraid to try it in your house, even just for the month!
Crochet Pillow // Brushed Weave Blanket // Terracotta Plaid Pillow
Terracotta is another color that is just oh so very fall. This pillow reminds me of a blanket scarf, which already has me feeling cozy! Pair it with a crochet pillow for oodles of texture and a throw that picks up on some of the accent colors in the plaid for total perfection!
Black Checker Print Pillow // Textured Fringe Blanket // Corduroy Pillow
Now I know that a deep green can really read Christmas, but I think that layering it with a checkerboard print graphic pillow and a softer textured blanket keeps it solidly in the Fall category. Plus, it will transition to winter really well! I love the tiny pow details on this blanket, you gotta click over so you can zoom in and see the detail!
This is a bit of a moodier combination. Leather (and faux leather) is a great way to bring in an organic feel to your sofa or chair. Stripes on their own can read a bit summery, but the ticked pinstripe in this pillow feels much more transitional to me. And the pop of rust orange on this tasseled throw pulls out the tones from the leather pillow wonderfully.
Leather Pillow // Fringed Throw Blanket // Pinstripe Pillow
This post contains affiliate links, which means that if you click through and make a purchase, we receive a very small percentage of the sale. Thanks for your support!
What are your favorite pillow + blanket combinations for fall?