This post was sponsored by Wayfair. All opinions are our own. Thanks for supporting the brands that make Charleston Crafted possible!
The first room that you see when you enter our home is our office. It's officially a "dining room," but since our dining table fits in the eat in kitchen, we decided to make this space an office.
A big part of our office is a ton of craft supplies. They are in plastic bins from our old custom craft closet, but they aren't exactly the first impression that we want our guests to have when they walk into our home.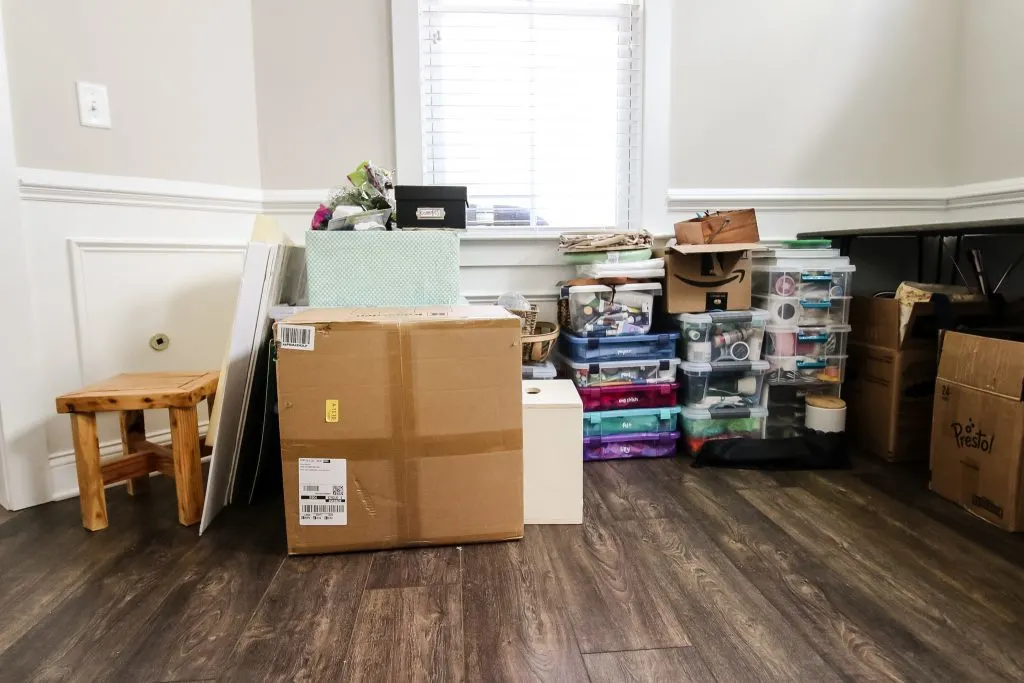 So, when Wayfair reached out and challenged us to give our office a refresh, I knew exactly what I wanted to look for – office storage!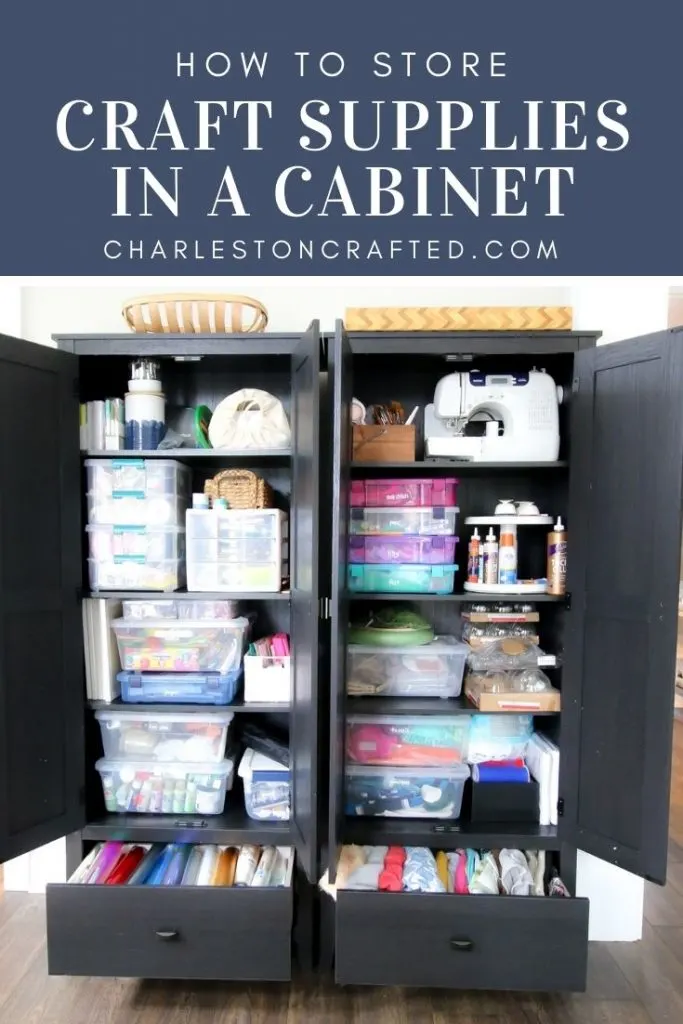 Wayfair offers a ton of beautiful office storage cabinets. We selected the Berenice cabinet because it had cabinets and drawers, as well as a barn door style look to the front of it.
Honestly, normally Sean would build a cabinet for our space. However, we are in quick-fixes mode. With a newborn baby as well as an under-two-year-old, we are trying to get settled in our new home as quickly as possible. We've prioritized our projects and we aren't going to get to the office for awhile, so we needed a solution for the next couple years.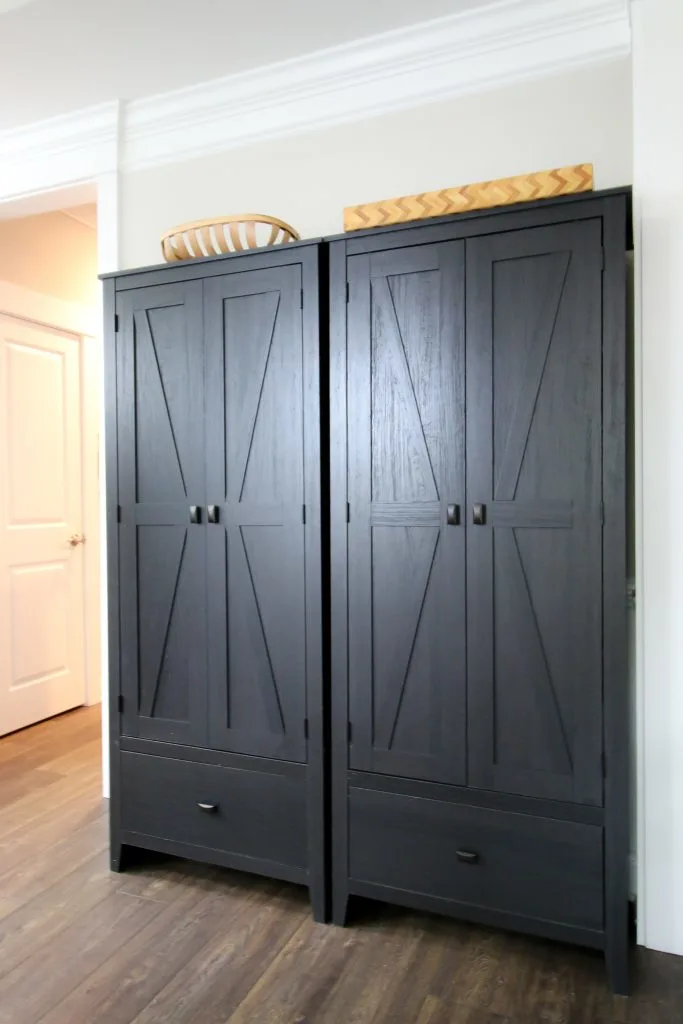 Sometimes, assembling pre-made furniture can be more daunting than building it from scratch. These cabinets had a lot of pieces, but they were simple and straight forward to assemble.
While we fully plan to do a major office makeover in the future, right now we are doing a quick update to get our junky boxes off the floor and to have a clean and organized place to work when both kids are magically napping at the same time.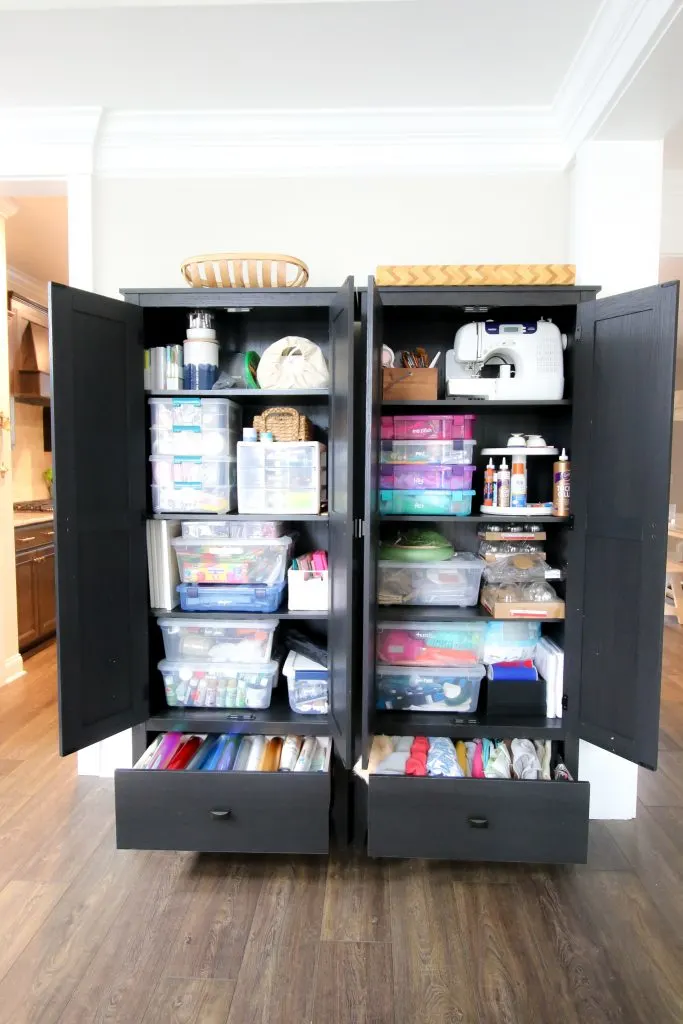 These cabinets were the perfect size for our craft supply bins. I used the bottom drawers for fabric and rolled vinyl, which freed up some of the large tupperware bins from our box pile.
Each of these cabinets has 4 shelves (2 of them are adjustable in height) and one very deep drawer.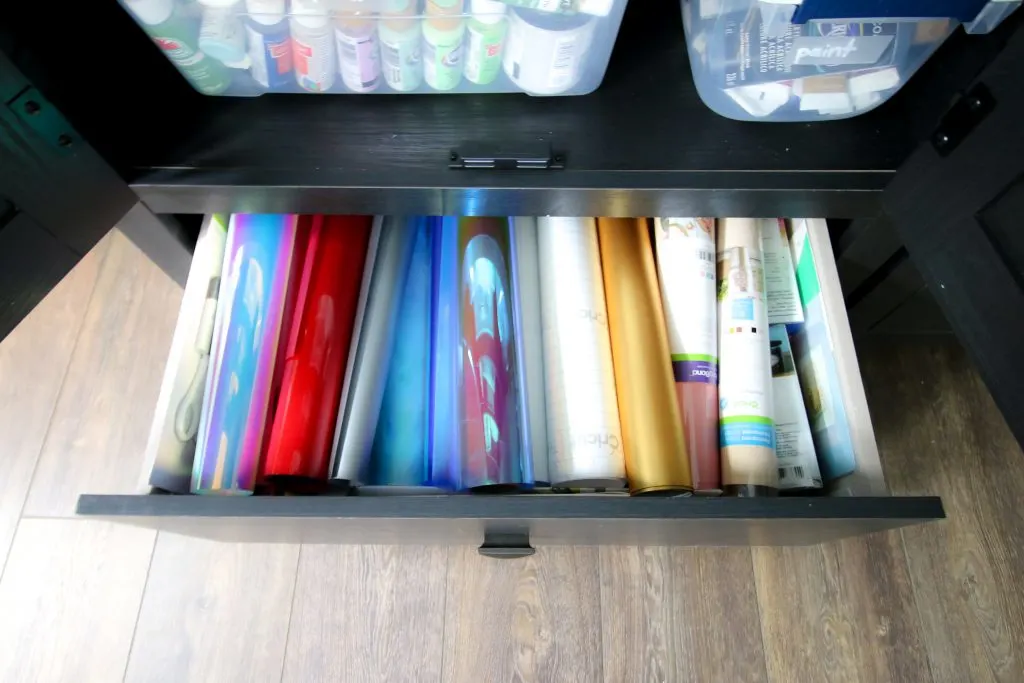 The drawers are perfect for storing my rolls of vinyl for my Cricut and large folded scrap fabric. Fingers crossed that Luke doesn't discover these drawers and start carrying this stuff around the house.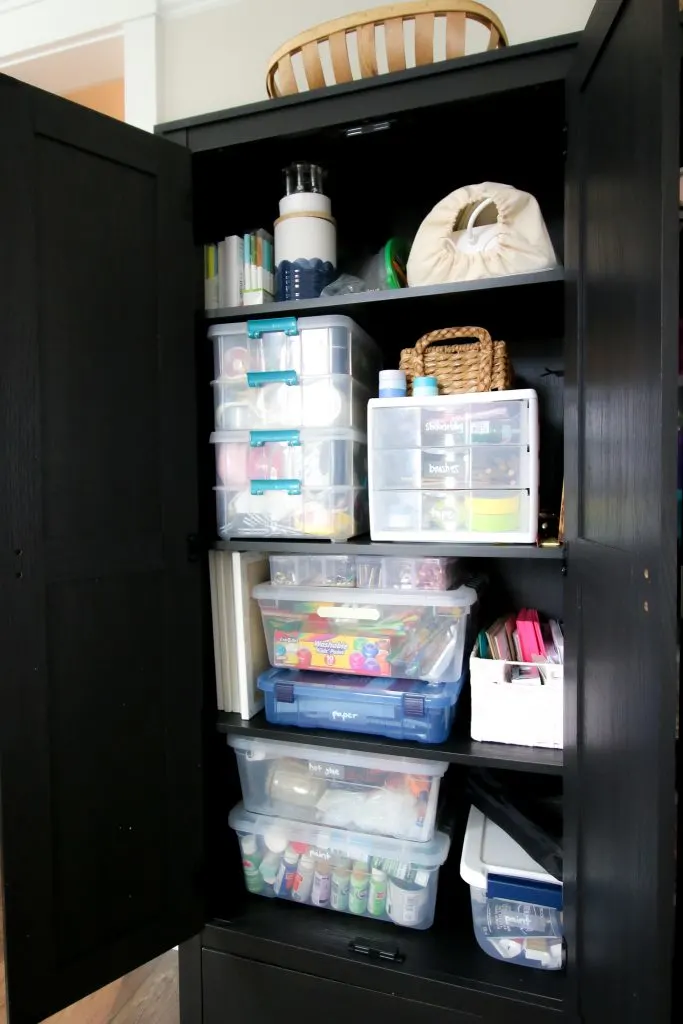 Within the cabinets, I tried to keep as much stuff in bins as possible. These shelves are deep enough to hold 12″ bins.
Bins are also great because you can grab them and take them to wherever you are working on your craft. I think that's a lot easier than grabbing loose paint bottles or glue sticks!
One other quick fix we did for our office was to make a simple, long plywood desk.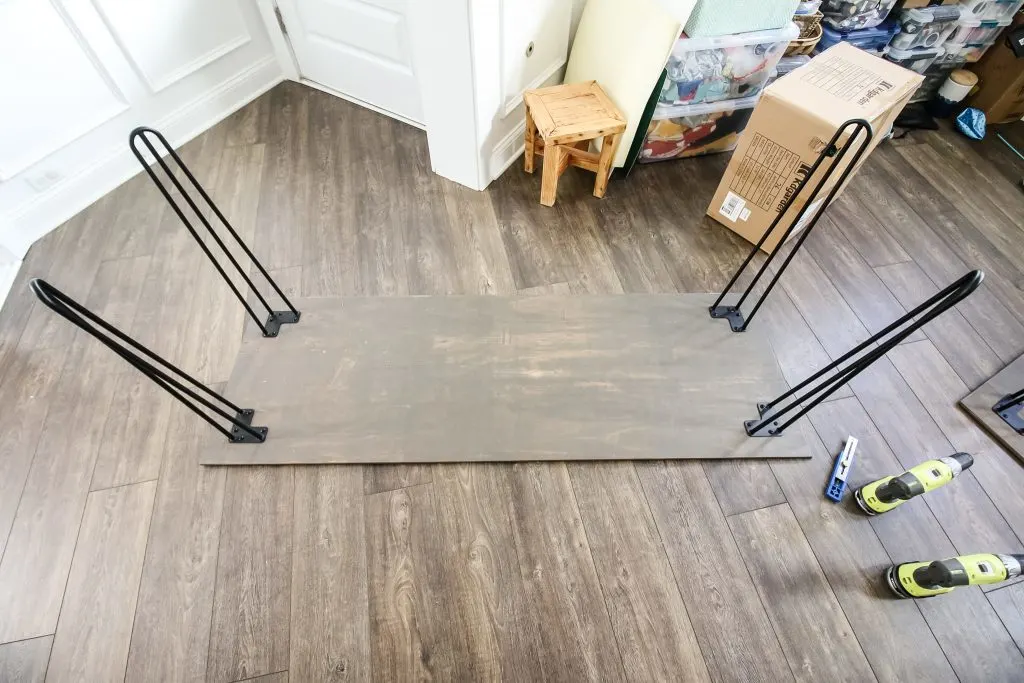 For this project, we cut a piece of plywood in half, stained them, and attached four hairpin legs to each board.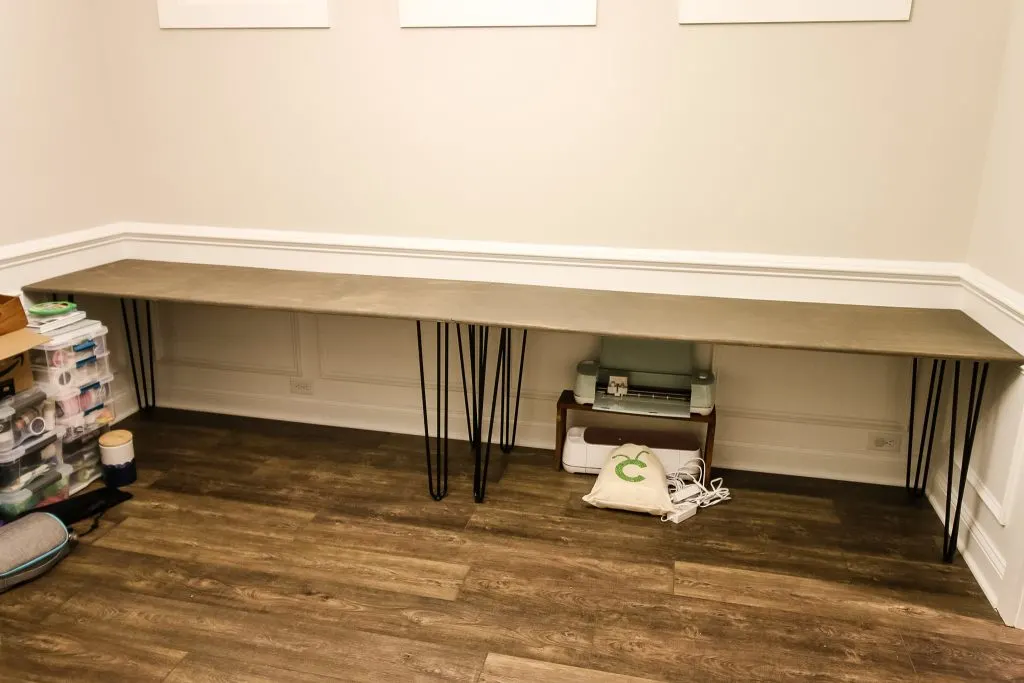 Now that we have the supplies stored in the cabinets, we also have a workspace to get things done.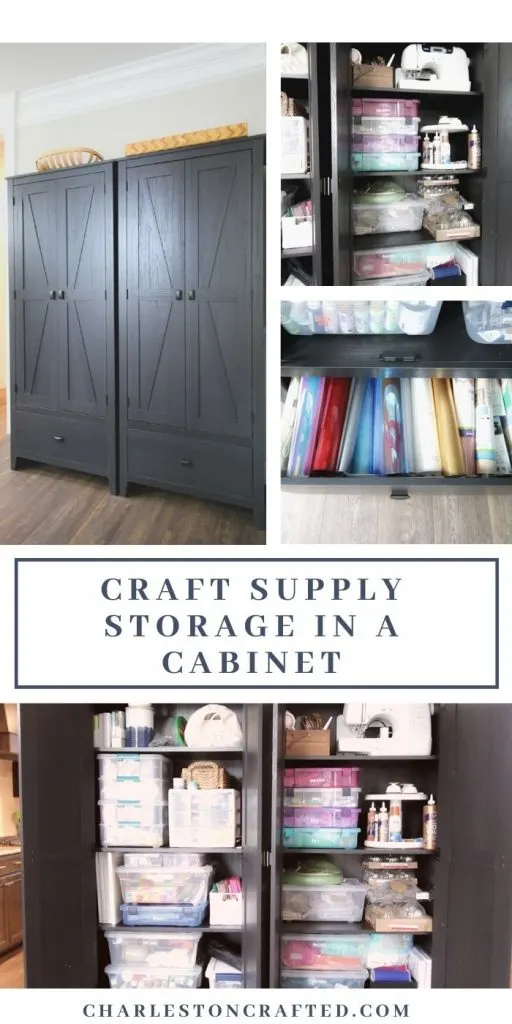 I absolutely love how these cabinets work for our space and am so glad to have our stuff up off the floor and in beautiful cabinets!
Be sure to check out Wayfair for your office storage and furniture needs!