We are so excited to be spending the next 6 weeks fully making over our formal living room AKA The Front Room! Now, you may wonder why I say six weeks? I am so excited to be linking up (as a Guest Participant) with the One Room Challenge this season! I have followed along with the ORC for years and am excited to finally have a room to makeover.
Hosted by the blog Calling it Home, the One Room Challenge™, currently in its tenth season, is a widely anticipated biannual event every April and October. Each round, twenty design bloggers take the challenge and transform a space. Every Wednesday, the designers document their process while sharing their sources and professional advice over the six weekly posts. In addition to following along, everyone with a blog, is welcome to join the fun as a Guest Participant by linking their own room transformations up during the six weeks. Each Thursday, the internet and social media are flooded with interior design inspiration, ideas, and encouragement.
The one thing that we will be technically cheating on for the six week timeline is taking down the walls. We had a contractor come out to open up the space, which was kind of what we were waiting on to get the space painted and decorated. It took his team 2 weeks to compete the project and they finished last Friday, which was perfect timing for this challenge! You can read all about taking the wall down here.
The Front Room is the first room that you see when you walk into our house. It is truly a formal living room, since we have a more casual sunroom in the back of the house. This room will not get a TV and will be more for hanging with guests after dinner, playing board games, or reading a book. I really want to make this a useful space!
Here is how it looked before we moved in: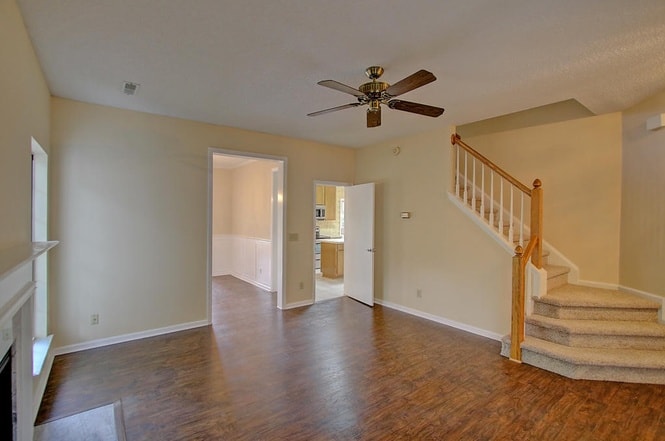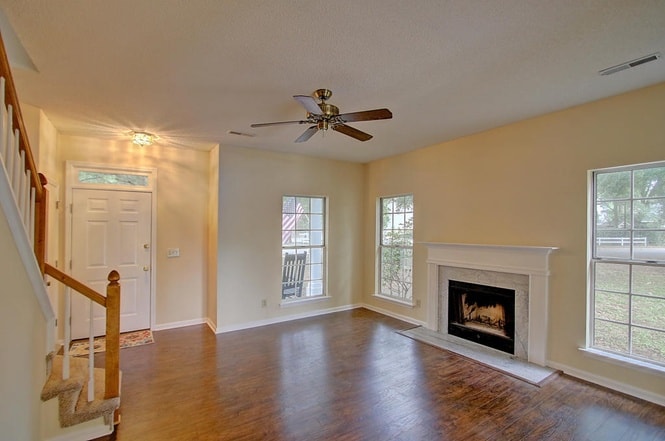 And it has sat empty ever since. Sean has actually taken to calling this space The Trash Room because all that's been in it is stacks of empty cardboard boxes waiting for trash day. I am SO excited to get some furniture and decor in here.
Here is how the space is currently looking: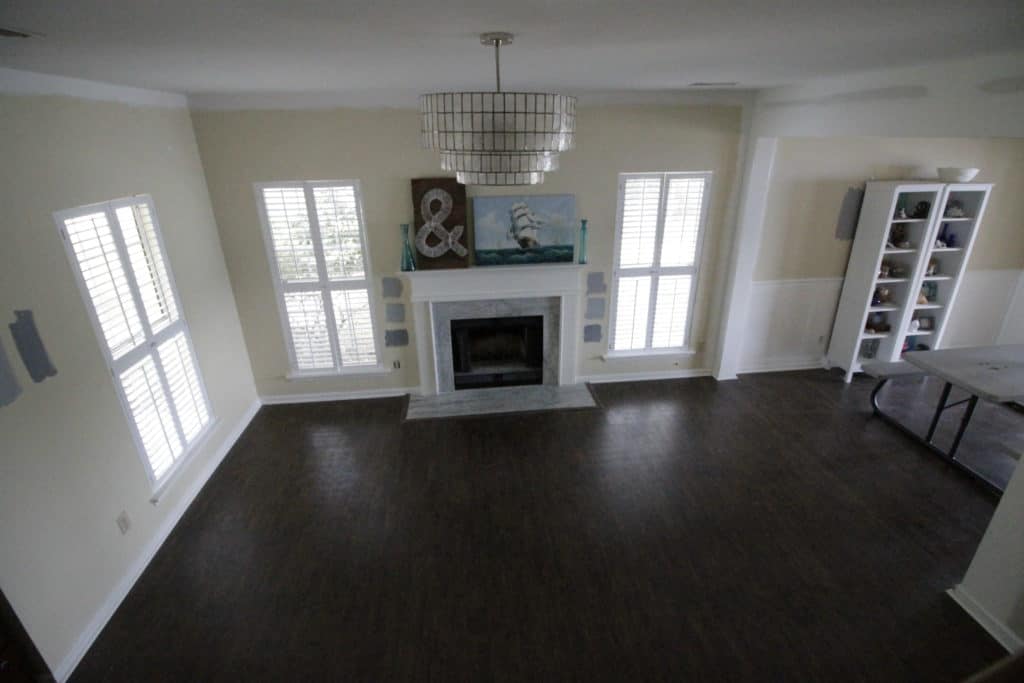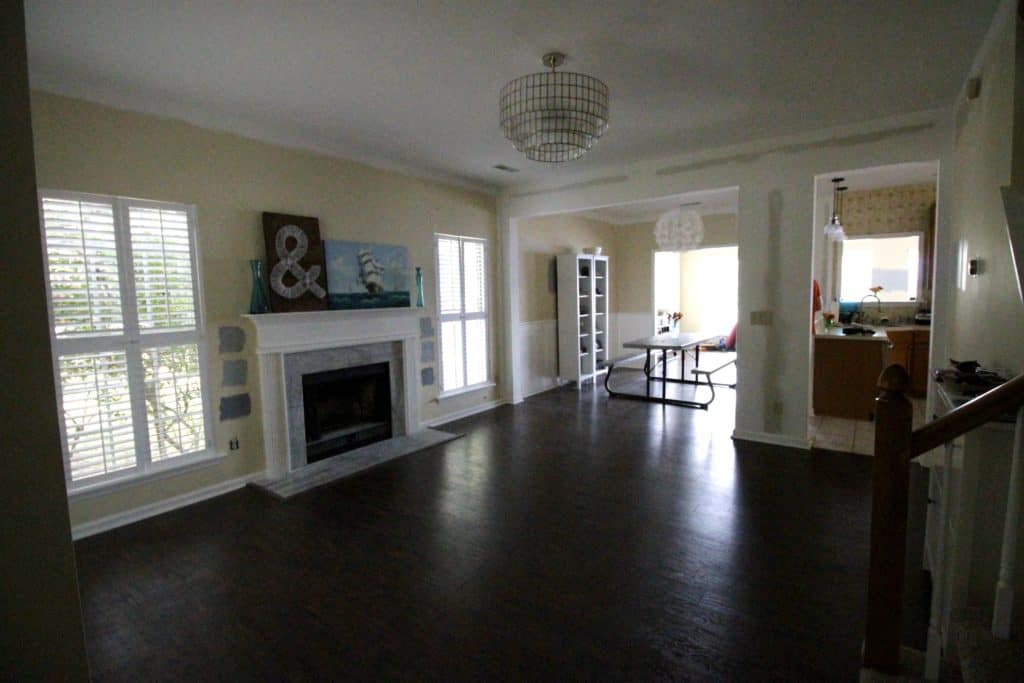 Here is our plan of attack for this room:
Remove wall between living room & dining room
Scrape & paint ceilings
Paint walls
Add crown molding
Update overhead lighting
Extend fireplace to ceiling
Paint art for over fireplace
Purchase couch, chairs, rugs, tables, and accessories
Sew pillows
Create a functional entryway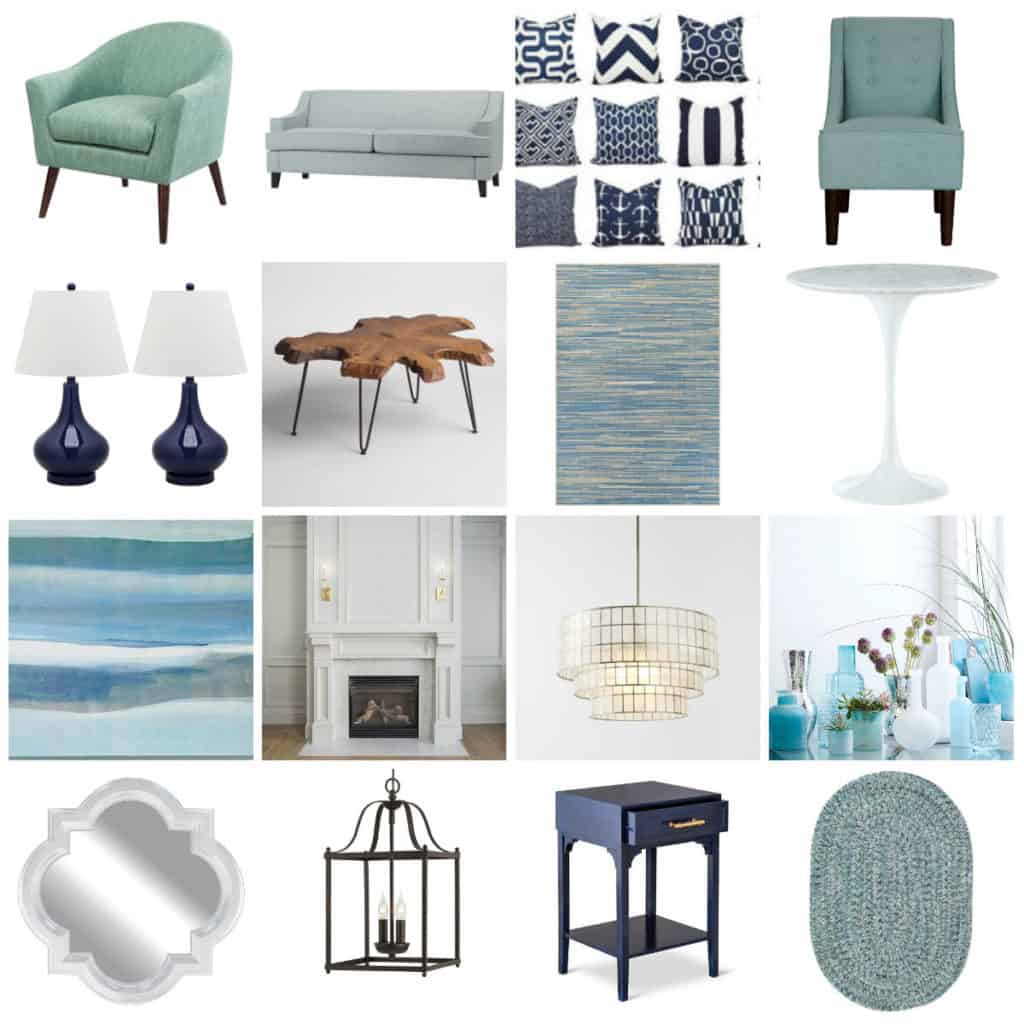 arm chair // sofa // pillows // arm chair
navy lamps // coffee table // rug // side table
painting inspiration // fireplace inspiration // capiz chandelier // sea glass vases
ENTRYWAY: mirror // lantern // table // rug
The biggest hurdle for this room is going to be budget. I have finally come to terms with a $2,000 budget for the space. That seems like such, such, such a huge amount of money (because it is!) but for us to paint, add crown molding and molding to the fireplace, and buy a love seat at least 2 chairs, a coffee table, 2 side tables, a huge rug, 2 large light fixtures, and an entry table… it's going to be a stretch! i will of course be keeping you updated on how that goes, but I really don't want to go over and am hoping that the thrifting gods are in my favor!
I can't wait to share the whole process with you and I REALLY can't wait to have furniture in this room!