One of the things that we were really excited about in buying a house was having a home bar. Not a wet bar or anything like that, just a nice piece of furniture to store liquor and wine and use during parties or even when it is just us.
So, I started trolling Craigslist. I was looking at a wide variety of things – old dressers, buffets, and desks were my main hits. I saw one originally from World Market that I loved but missed out on and was feeling down in the dumps when I spotted this bar, listed as a "server". But, it was listed at $300, which was a little more than we were wanting to spend. After hemming and hawing for 5 days, she lowered it to $280. That signaled to me that she was willing to negotiate. I offered her $200, she countered at $220, and we had a deal. The only bummer was that Sean and his friend John had to drive 45 minutes deep into Mount Pleasant. However, I am calling it worth it!
The piece is solid wood and extremely heavy. I was actually shocked at how good of condition the finish is in. There are a few tiny blemishes, but it honestly looks fantastic. It is my favorite shade of wood – dark walnut. I was totally perplexed because my plan had been to paint it navy. However, upon inspecting the finish in person, I totally didn't want to paint it!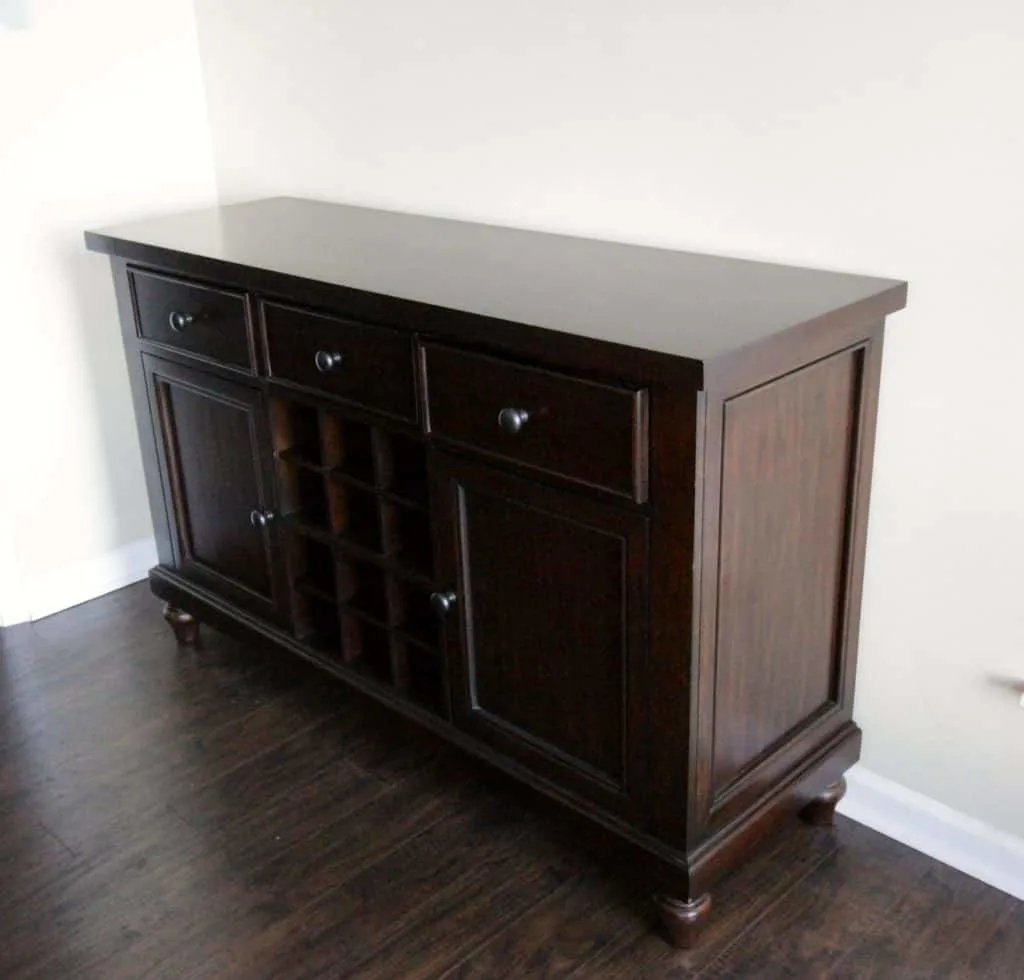 The biggest problem with not painting it is the fact that it is the exact same color as our floors. It's all a bit brown-on-brown for me. Sean had the idea of putting a runner rug underneath it. I wasn't sure if that would look too dinky or weird (I had never seen a runner under just a piece of furniture before) but I knew that we didn't want a big run because we have a run just 3 feet over and this area really serves as a walkway to the living area and screened porch. So, to test it out, I slid 2 bath mats underneath to form a sort of fake runner. I digged the vibe (but you know, not white fuzzy bath mats) so I poked around on amazon for a runner. This one was exactly the right size – 20″ wide by 59″ long.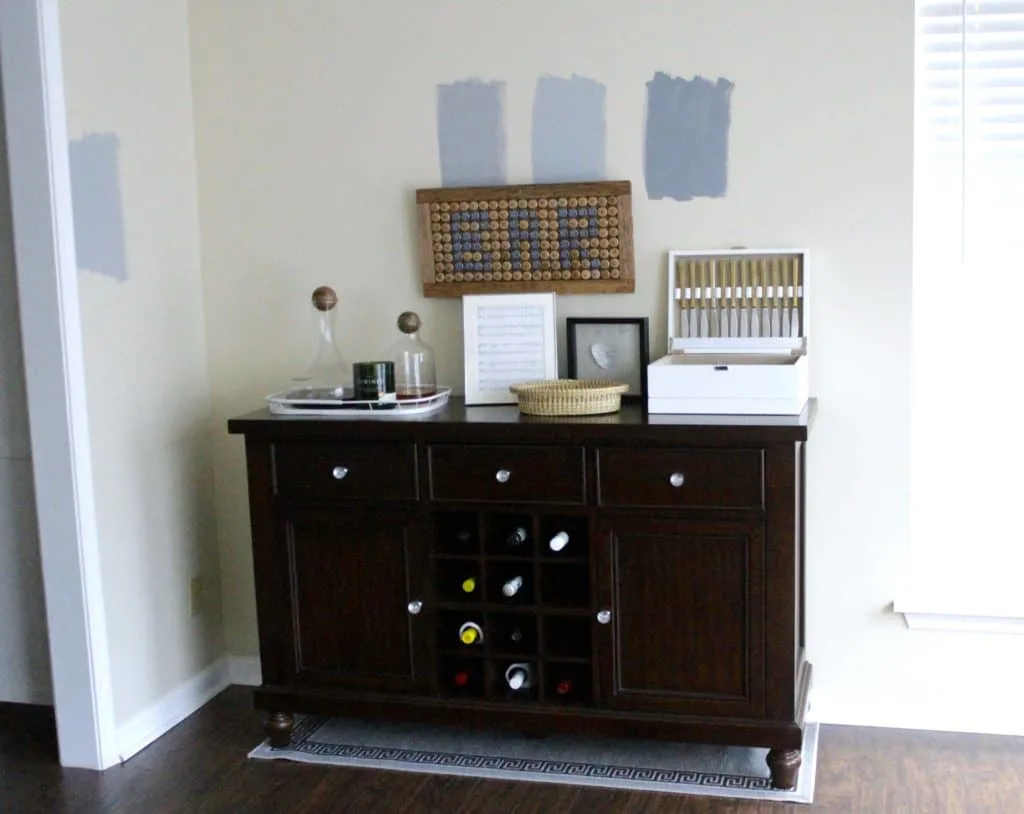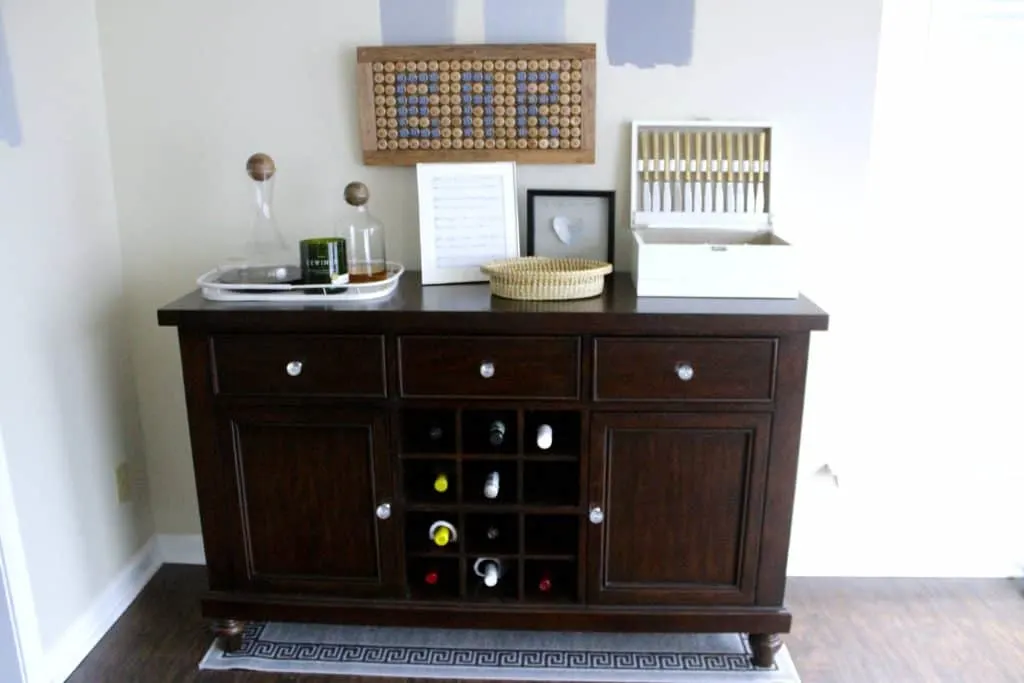 To further personalize the bar, I decided to swap out the knobs. These are the same knobs that we put in both upstairs bathrooms, and frankly we had a bunch of them sitting around (they come in a 10 pack). The seeded glass is so my vibe and I really love the look!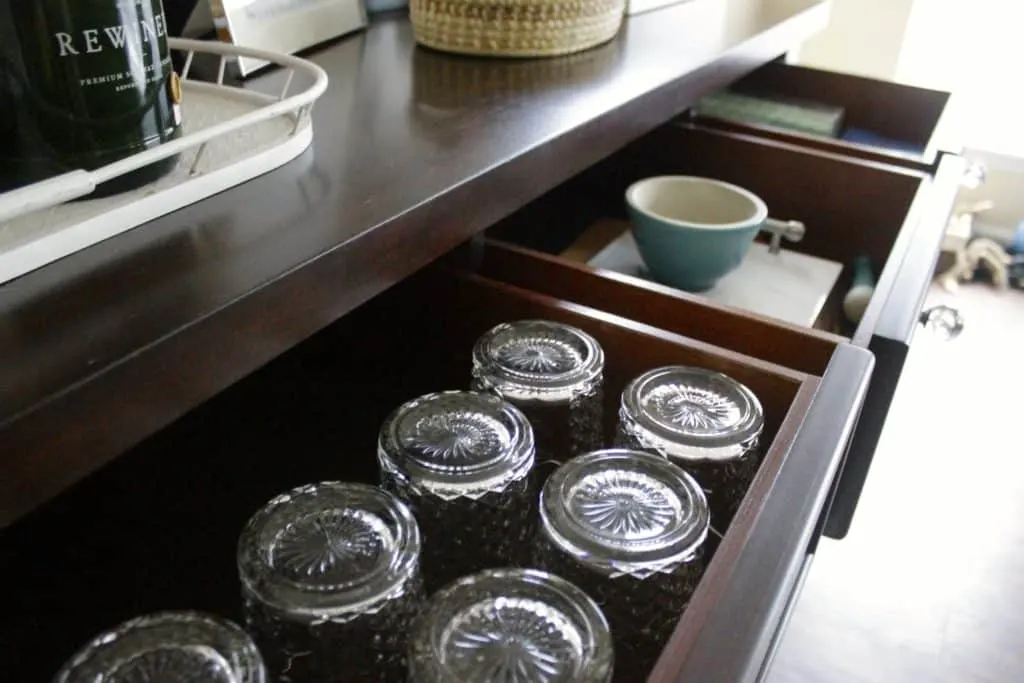 Please ignore the random paint swatches on the wall – we are waiting until the contractor's work is done to paint! But, I would love to hear which color you prefer 🙂
So, now this piece is just going to chill for a while. I promise, I have bomb plans for this wall. We are going to make it beautiful and functional. This is easily our most used room in the house and I can't wait to make it great. It's just a bit down our priority list at the moment. For now, I am glad to have the booze out of the pantry and this beautiful showpiece!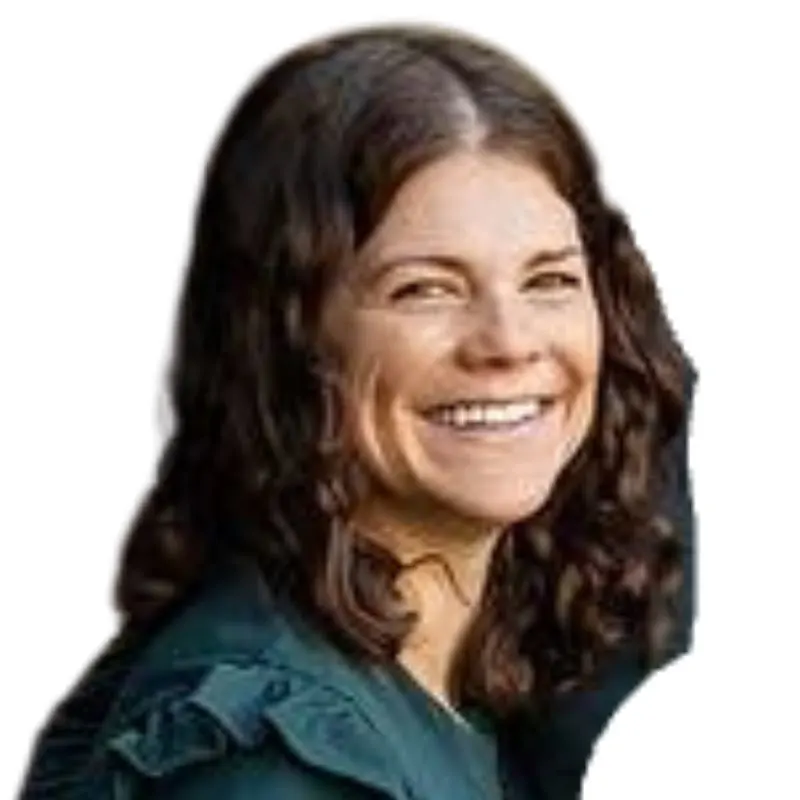 Hello, I'm Morgan, half of the creative force behind CharlestonCrafted.com! With a passion for DIY that dates back to 2012, I've transformed three homes and now I'm dedicated to helping others craft their dream spaces. Let's turn your house into a home together!