We of course are loving the way that our master bathroom mini-makeover turned out! It is the exact refresh that this room needed to start feeling like ours. Plus, it's the first room that we've really made over, and we are feeling fantastic and excited to conquer the rest of the house.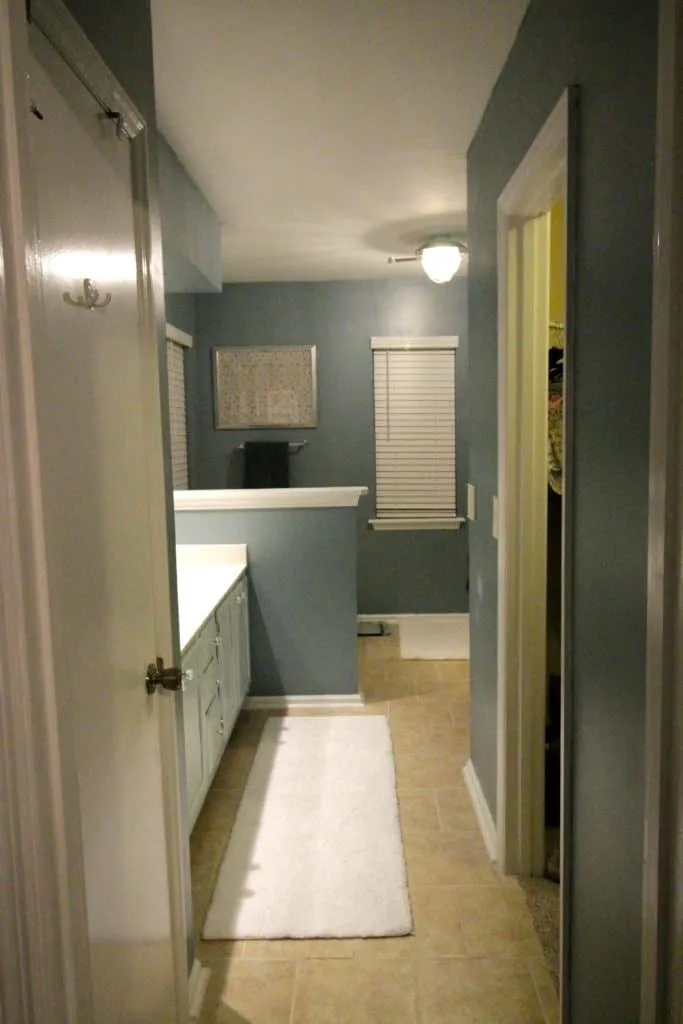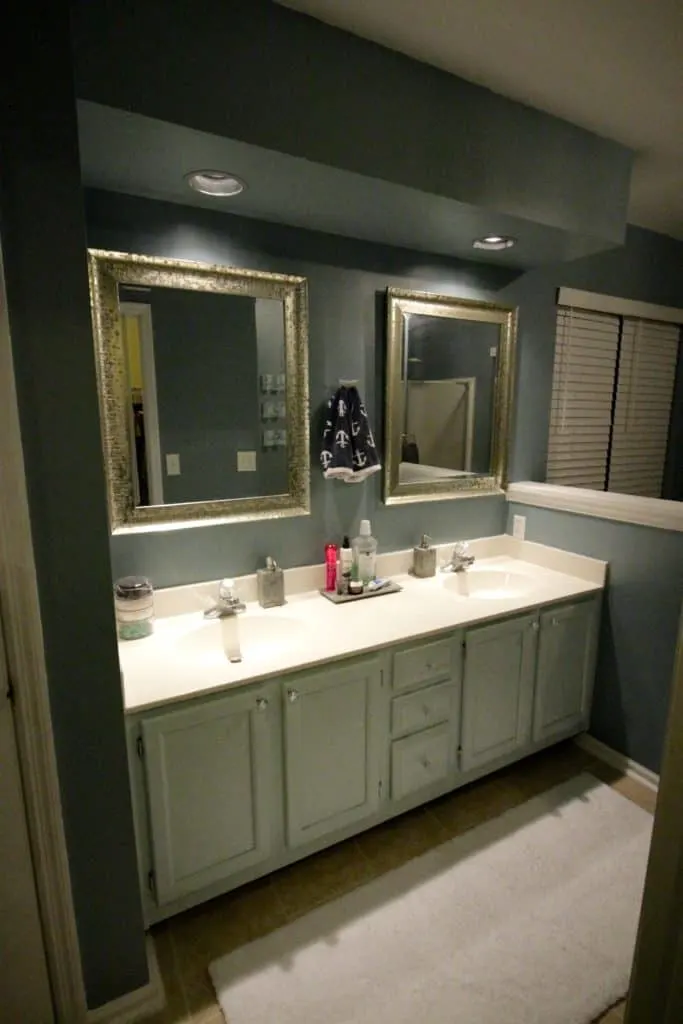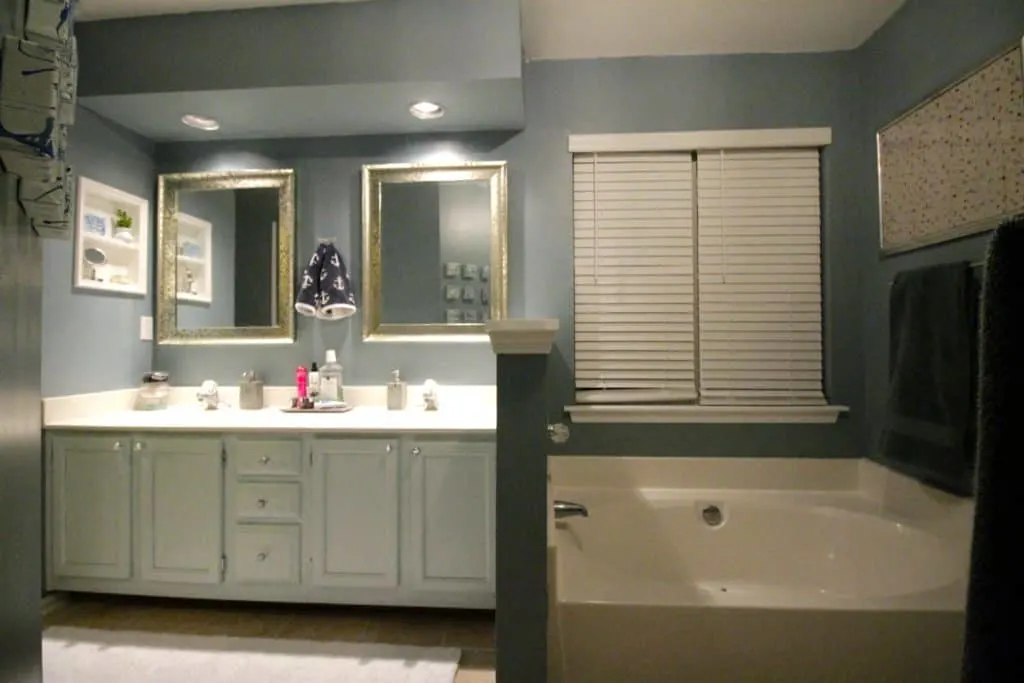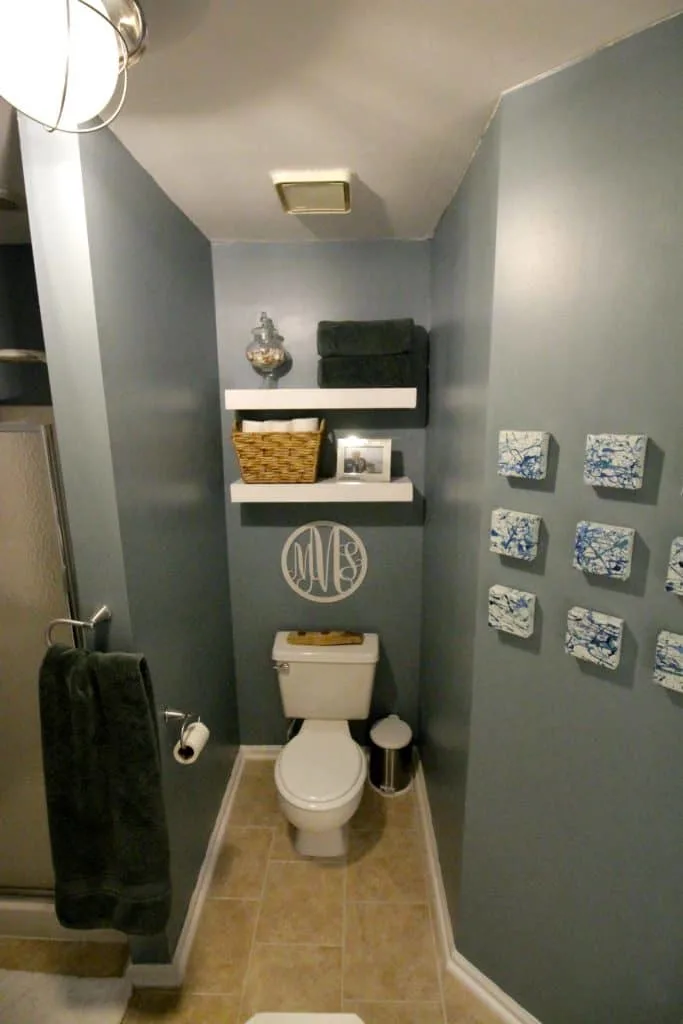 As a reminder, here is what we did with links back to each blog post:
Here's a reminder of what the bathroom initially looked like: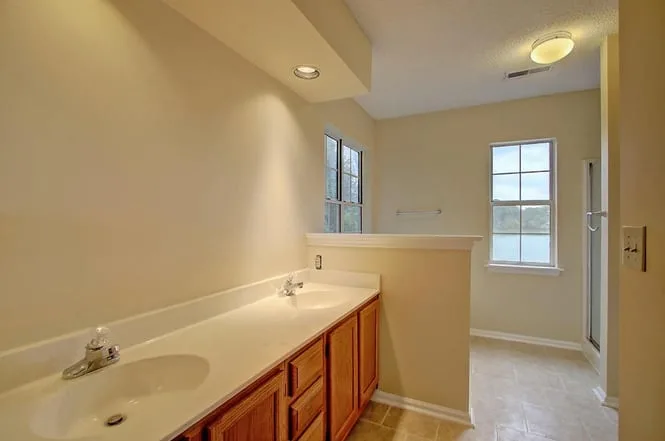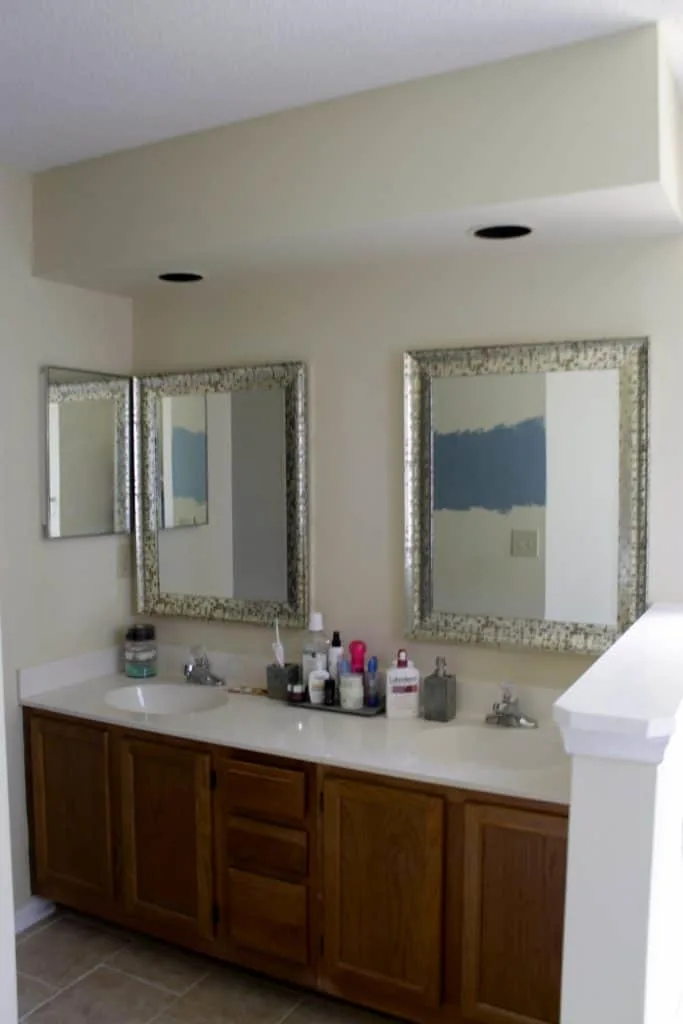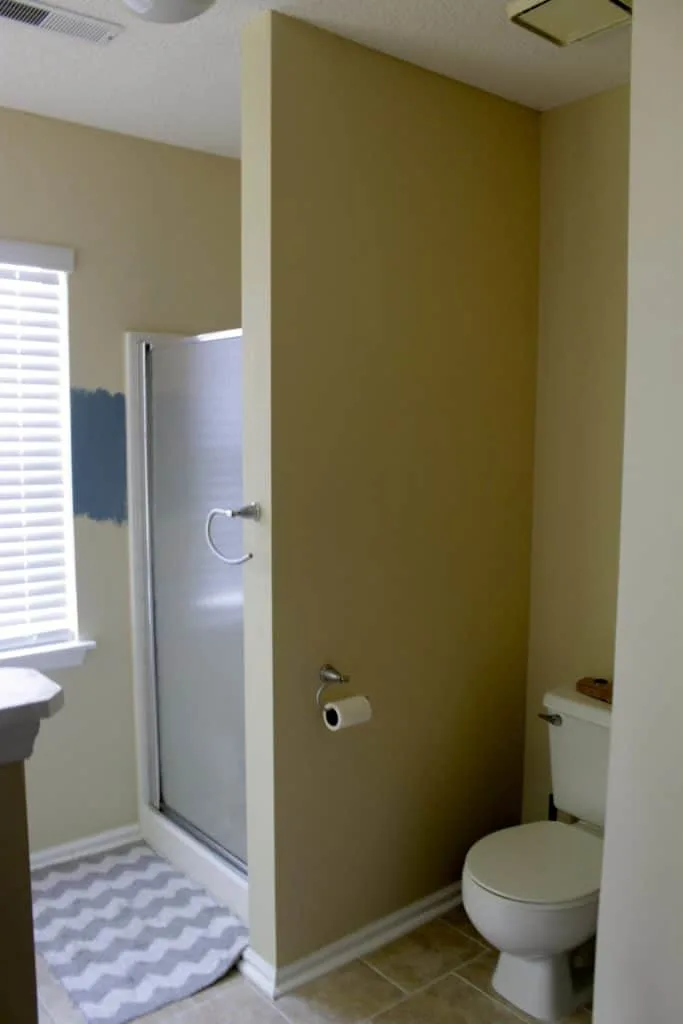 And here is our budget breakdown. We didn't set a budget for this project, but just wanted to make some inexpensive updates that had a big impact. I think that we really succeeded at that!
Ceiling paint: $25 one gallon Sherwin Williams Showcase ceiling paint via Lowes (after this room we bought a 5 gallon bucket!)
Wall paint: $25 one gallon Symphony of Blue Olympic One via Lowes
Cabinet paint: $25 (used half – used other half in guest bath) Valspar cabinet enamel color matched to our bedding via Lowes
Light fixture: $45.75 via Overstock (with 12% off coupon code)
Hook between mirrors: $10.50 via Camilla Cotton
Knobs: $14.50 via Amazon (got 10 used 7)
Bath mat: $14.99 via Target
Bath runner: $29.99 via Target
Painting over bathtub: free (already had frame & wrapping paper)
Splatter art: old DIY
Mini wood painting: free DIY on scrap wood
Faux plant: $5 via At Home
Mini mirror: $12 via Amazon
Re-framing medicine cabinet: $15 in wood via Lowes
Shelves over toilet: $40 in wood via Lowes
Driftwood candle holder: old DIY
Accessories over toilet: already owned – frame was a gift, basket is old from Home Goods, jar old from Home Goods
Total spent: $262.48
Check out how we transformed our owner's bathroom in one weekend!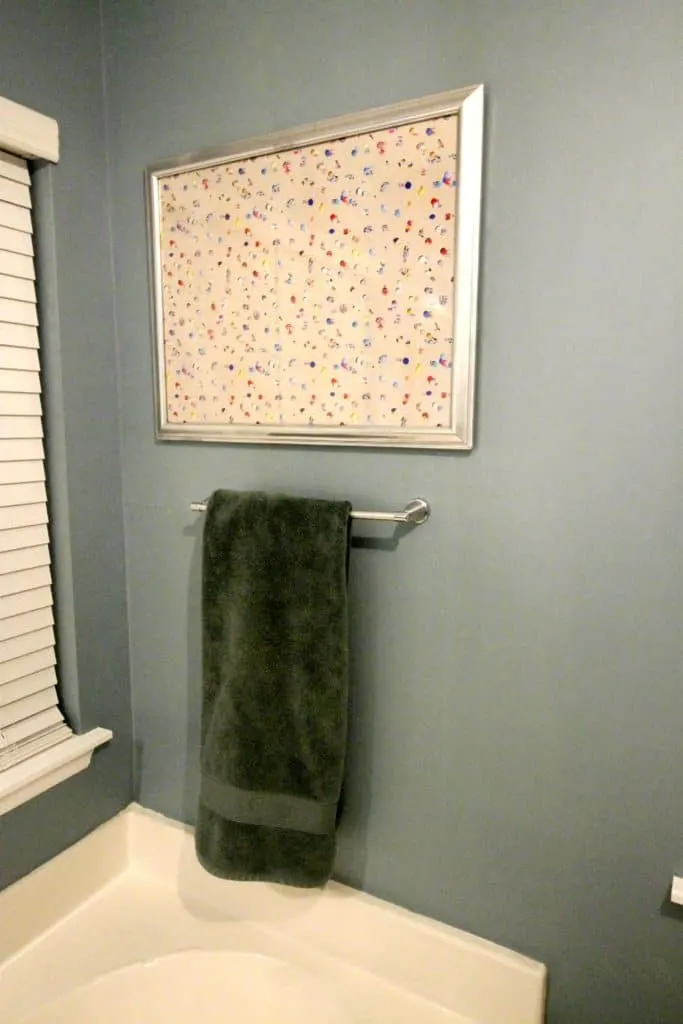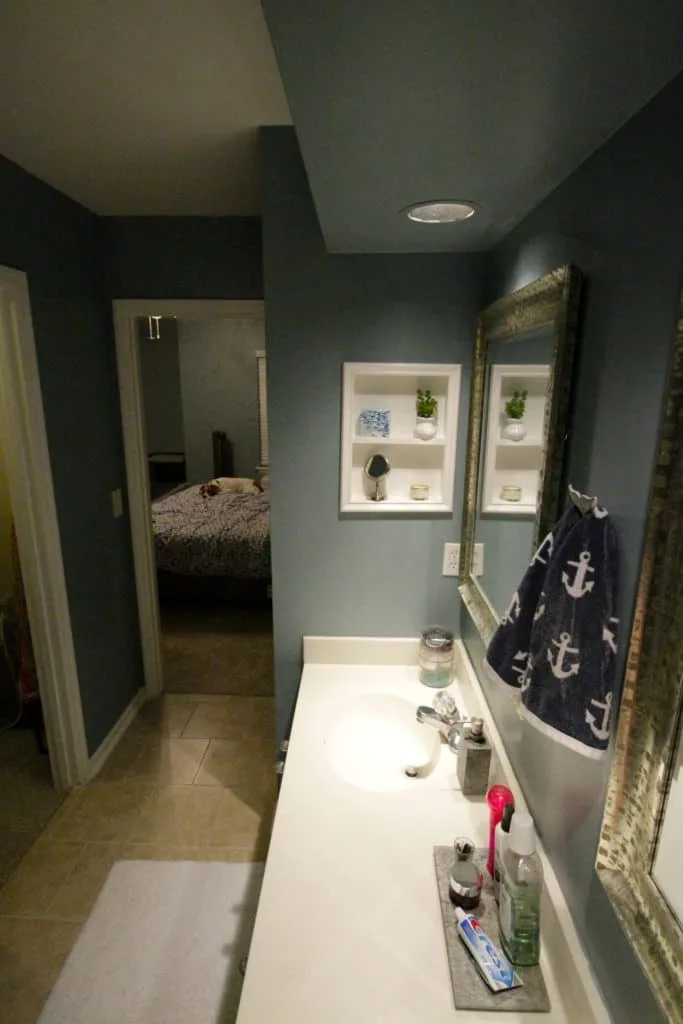 Supplies we had on hand: other painting supplies (rollers, brushes, tarps, tape); ceiling scraping supplies (scraper, spray bottle, tarp, sand paper, sanding block), trim paint, some accessories, towels.
We are loving our bathroom's new look and are proud of doing it on a budget. $270 isn't nothing, but it was a small amount compared to what we could have spent if we had tried to replace the vanity or other fixtures. We still want to gut this space down the road – we really want to lose the tub and have a big shower – but this is a good fix to make us feel more at home for the next few years.
Next up we are getting to work downstairs!