Gifting is hard. Some people really don't want anything, and if they do want something, they just buy it. Gifts can take a toll on the environment and take up space in your home. If you fall into this category (and a lot of adults-gifting-to-adults do) consider gifting an experience this season. Experience gifts are thoughtful, environmentally friendly, and easy to get together at the last minute! They are also clutter free and can create long lasting memories.
Christmas can be so overwhelming and gifts can get overlooked or, honestly, tossed aside. An experience gift will be remembered after the holidays when the recipient actually "cashes it in"!
We have written about this topic before, but wanted to refresh the list with some new ideas! Here are 50 of our absolute favorite experience gift ideas: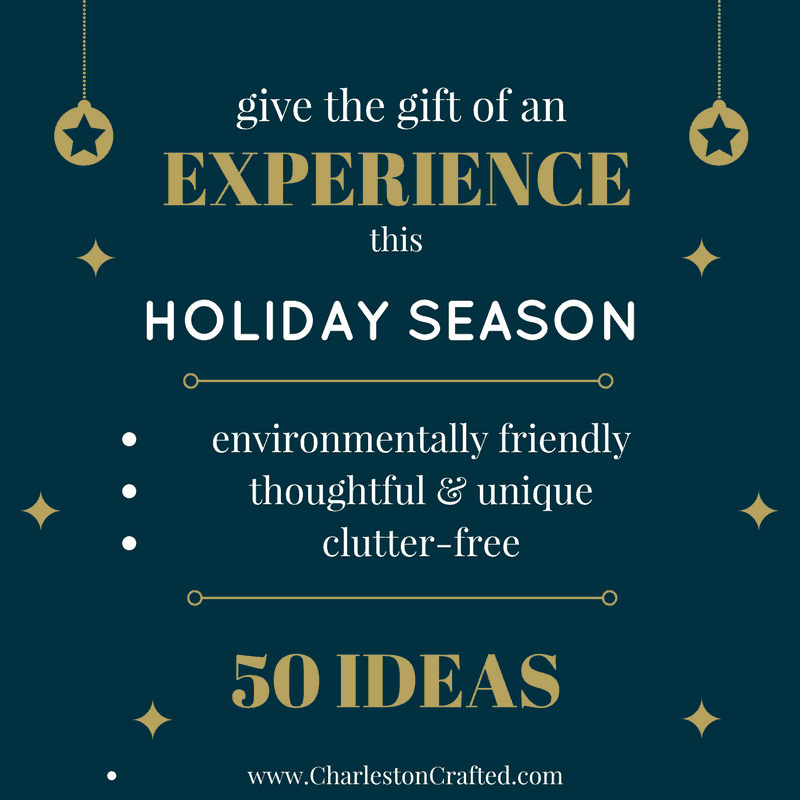 (Last Minute) Experience Gift Ideas
Wellness
Gym membership
Specialty classes (like barre or yoga classes)
Credit with a personal trainer
Dance classes
Spa services like a massage or facial
*Note on all fitness ideas – don't use them as a hint to someone to lose weight – intentional or not, it can be hurtful. Only give exercised themed gifts to people who already love exercise!
Sports & Entertainment
Sporting event tickets
Movie theater tickets (or a movie pass)
Theater tickets
Symphony or other music concert tickets
Painting or art classes (like Wine & Design)
Sign up for an extreme race, like Tough Mudder
Bike rental certificate
Home & Garden
Housekeeper services
Flower arranging class
Landscaping services
Glassblowing classes
One-night babysitter
House powerwashing gift certificate
Eating
Restaurant gift certificate
Cooking class (again – best not used as a hint but for someone who loves to cook!)
Wine tasting class
Brewery tours
Food or drink festival passes
Plan a romantic date night out
CSA membership at a local farm
Dinner cruise tickets
Cook them a meal
Adventure
Skydiving
Theme park tickets
Kayak or canoe rental gift certificate
Boat tour or fishing charter
Entrance to a cat cafe
Putt-Putt tickets
Air BnB gift card (yup, that's a thing!)
Take them on a trip – travel is the ultimate adventure!
Year pass to the local or state park system
Paintball passes
Ninja Warrior course passes
Fortune telling or palm reading certificate
Car racing experience – I did this with my dad a few years ago and it was the most excited I've ever seen him
Flight lessons
Hot air balloon ride
Surfing lessons
Learning
Museum passes or membership
Aquarium passes or membership
Language learning software
Offer to teach a skill
Walking or other tour of their own city – historical, ghost tours, themed tours
Musical instrument lessons
Photography classes
What's your favorite experience to gift?