Hey y'all! I am excited that it is January because that means that we can officially start working on our kitchen! We aren't going to power through it like it's a One Room Challenge, but I have identified one or two sub-projects that we will focus on each month. It will take us the first half of the year, but we will end up with a beautiful coastal kitchen!
Here is some inspiration: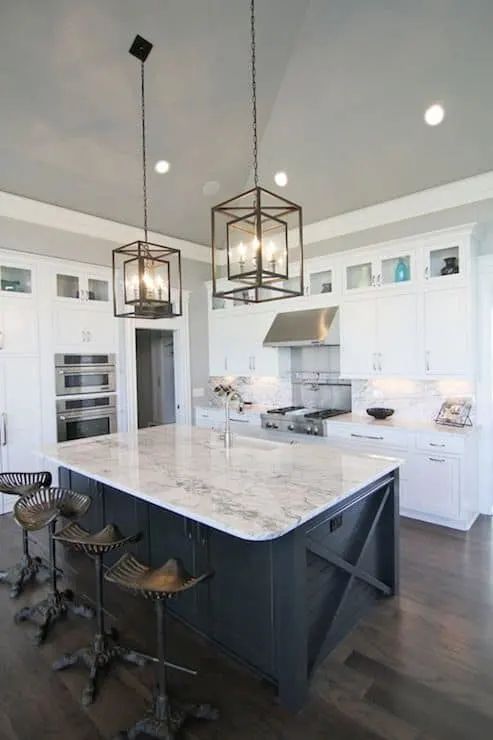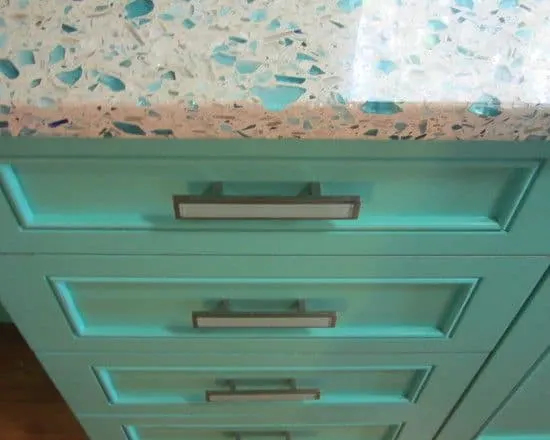 Here's the plan.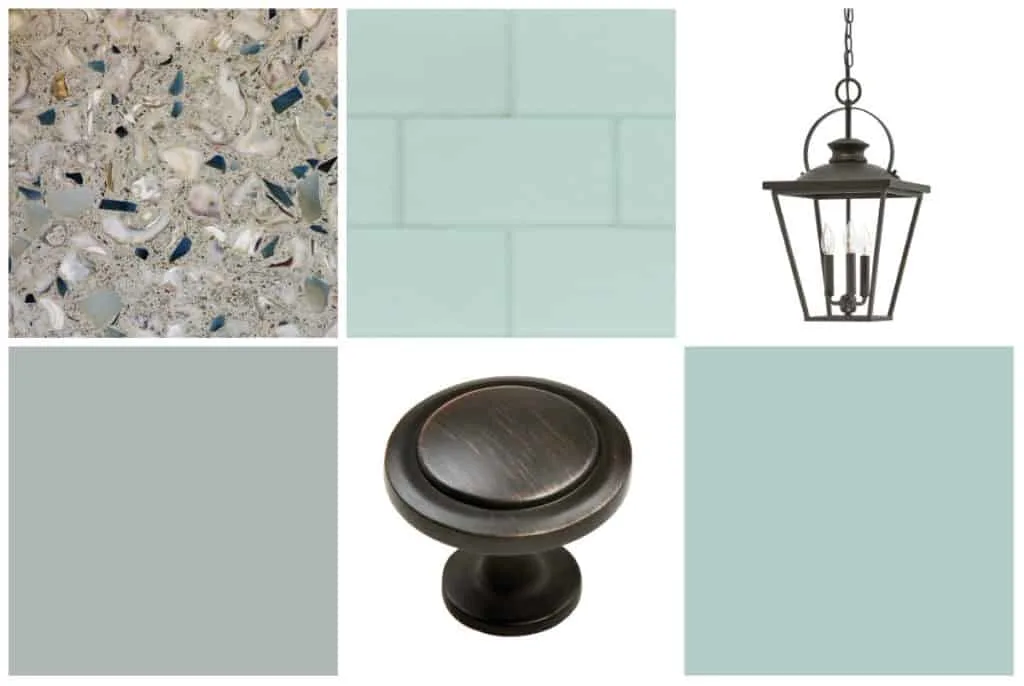 Wall color – We will flow Sherwin Williams Online in here, which is everywhere downstairs and will also flow into the upstairs hallway. I am trying to be cohesive here!
Cabinets – we plan to paint the cabinets white.
Island – we are going with a light aqua color for our island! I am leaning towards our front door color, Sherwin Williams Watery, but might venture one shade lighter to Tidewater.
Knobs – I already got these knobs and these drawer pulls. I am thinking that the dark finish will tie in well with the dark floors (and match the lighting).
Cabinet additions – As a compromise, since we decided to save money by painting our cabinets, we are building 2 additional cabinet add-ons. I will get a bookshelf in the island and a pull out trashcan next to the sliding door. Yay!
Counter tops – I am very interested in going with recycled glass counter tops. We are hoping that we can get them locally within our budget (at least for the island!) but we haven't made it to the show room yet.
Floors – We are going to run the dark wood floors that are in the rest of the house into this space, so the whole first floor is cohesive. This is one of the parts of this project that I am most excited for!
Backsplash – I am SO excited to tile a backsplash. I want to tile the one wall all the way to the ceiling and think that the Tile Bar seafoam frosted subway tile is going to look divine.
Lighting – we actually already put the new lighting in here. When we had walls taken down and the ceilings drywalled, they offered to hang any lights that we wanted, so I went ahead and got new ones then. We have this Ikea light in our eat in area and this lantern over the island.
What about a phase 2? We are going to address the kitchen eat in area as a phase 2 project. For now, we really aren't sure how we want to use this space. I have been toying with the idea of a built in booth for eating, but our new dining room table is so lovely we've been eating there. I want to really think long term with this space so it is just chilling for now! We also want to replace the slider with french doors, but will wait and do that with the eat in.
Here's a reminder of the current state of the space: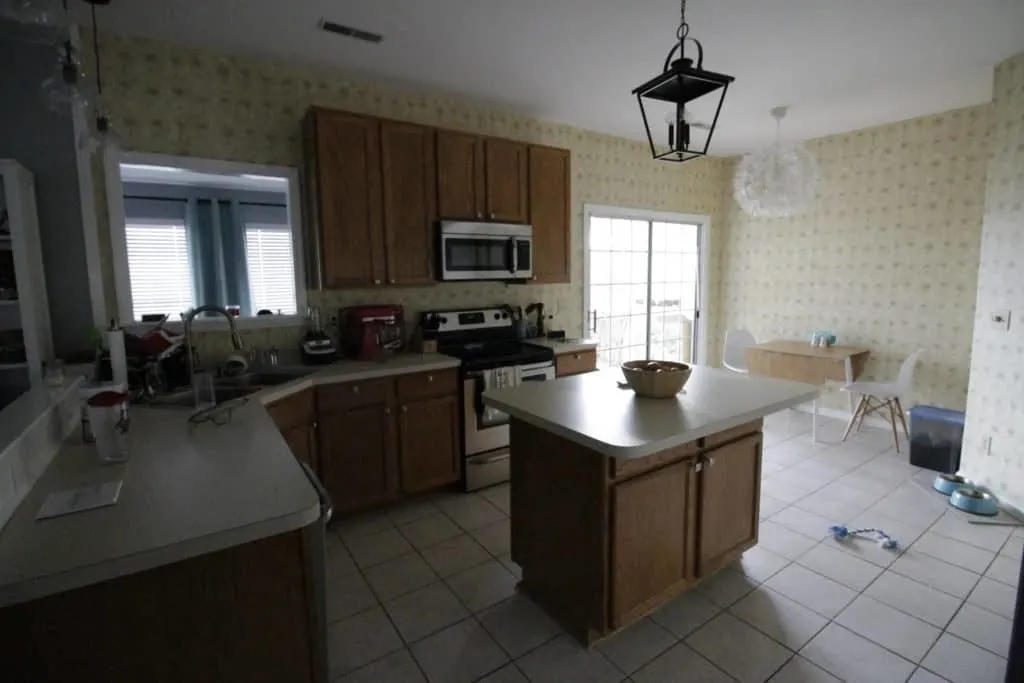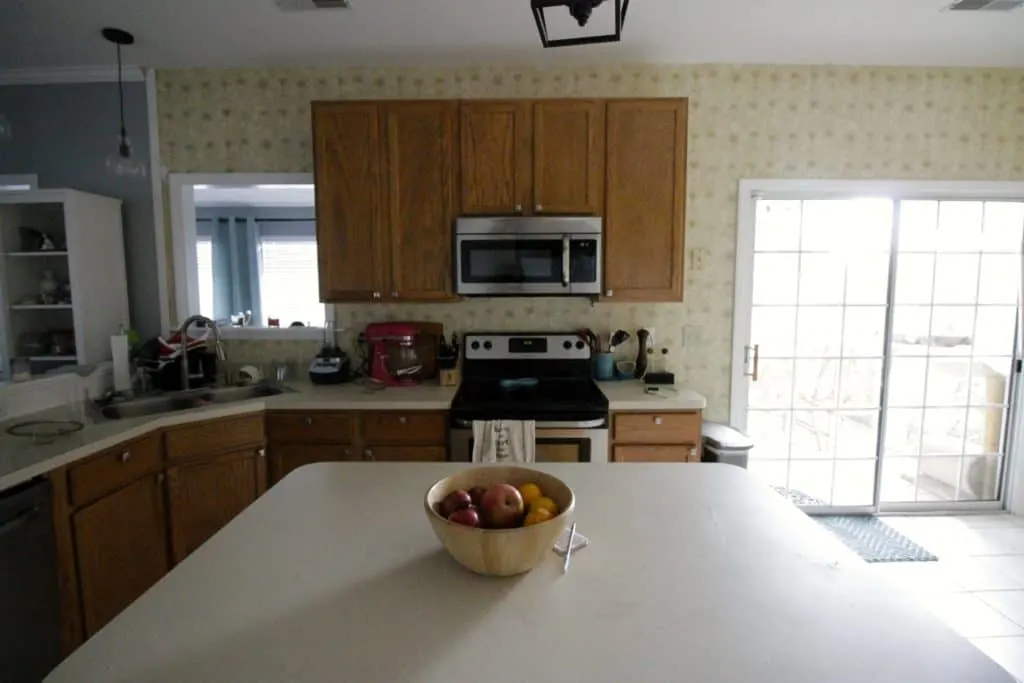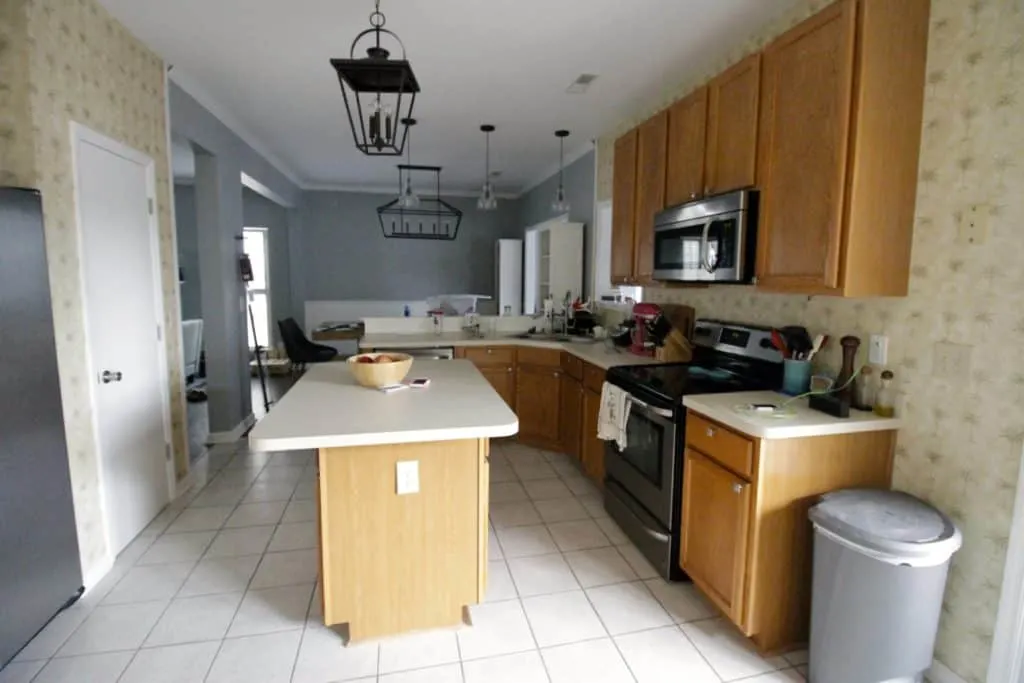 I am so excited for this project and know that it will be one of the biggest transformations in our home. I can't wait to share!