The New Year is a chance for a fresh start. One of the biggest changes that we made in 2014 was in our cooking and eating habits. I now eat a salad pretty much every day. We alternate weeks: one week I take a salad for lunch each day, the next week we have a salad for dinner each night. It was a little tough at first to convince Sean to get on the salad train – when he thought salad he thought little bits of lettuce and croutons.
We've shared some of our favorite salad tips before, but here is my best advice:
Make your own dressing: This is one of those things that sounds a lot harder than it is. I keep old jelly jars in the cabinet and combine a combination of olive oil, vinegar (usually balsamic, sometimes white wine for a lighter taste or rice vinegar for an asian salad), mustard, lemon or lime juice, a dash of honey or maple syrup, and spices such as garlic, onion powder, salt, and pepper. Taste it, see if it needs more sweet (honey) or sour (lemon) or spice, and adjust. You get the hang of it quickly. It takes me less than 2 minutes to make the dressing each night.
Have a high topping-to-lettuce ratio: An all lettuce salad is boring, it just is. We try to have a protein, 3 fruits or veggies, and something crunchy in each salad. Get a balance of flavors and textures for best results.
Don't get stuck in a rut: Mix it up! Anything gets boring if you eat it over and over again. Pick a few combinations that have some ingredients in common, but don't taste the same (like mix up the protein & the dressing or add something bold like red onion & egg) to keep your taste buds on their toes.
Below is a meal plan for five varied salads. Note: we are not nutritionists. This is just a sample of how we might eat for a week. If you are making an extreme diet change, consult your doctor or nutritionist for medical advice.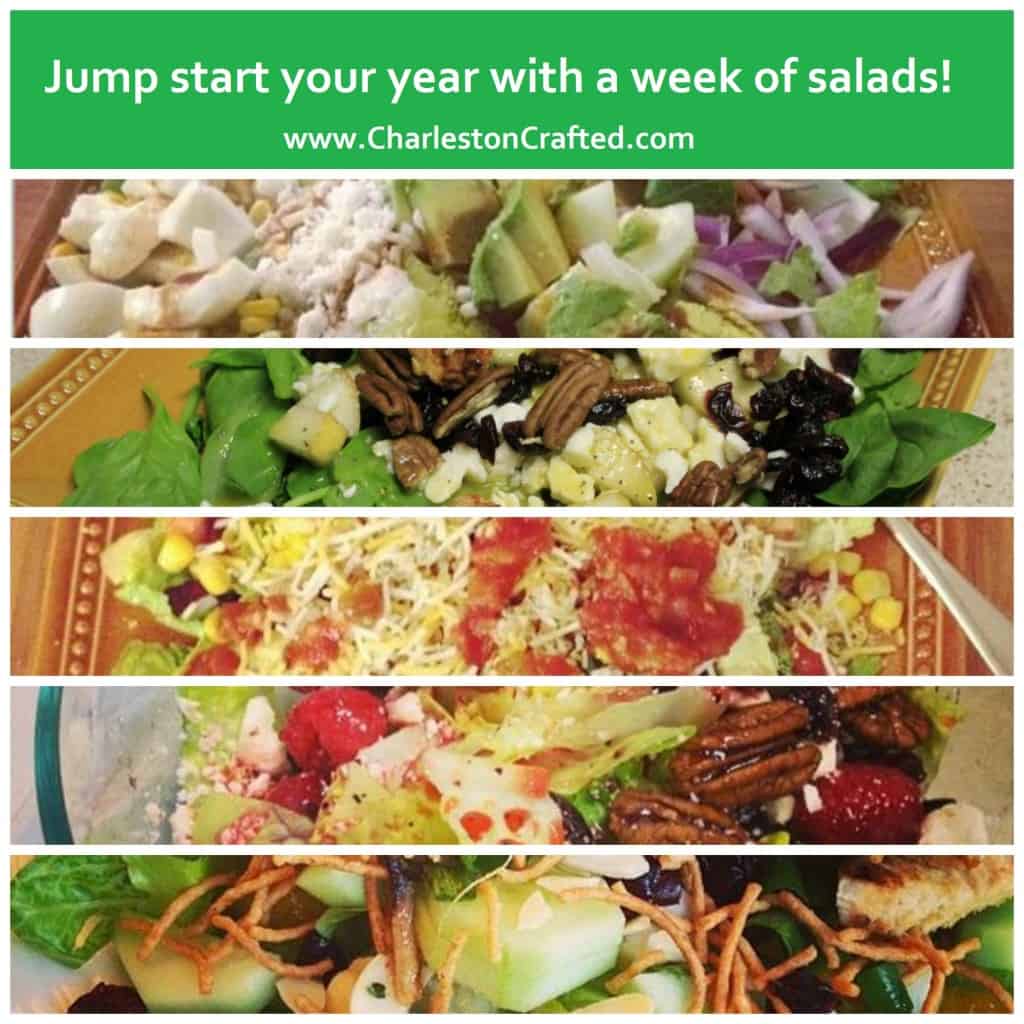 We go through lettuce phases, but lately we have been buying the XL tubs of spring mix/spinach combinations. These 16oz clamshells can make five dinners (serving two people – ten salads total) easily. In general, the greener and leafier the lettuce, the better it is for you.
We try to mix up or alternate the topping combinations, as well. So, if we have a sweet salad on Monday, we will try for something more savory on Tuesday. Little changes can do a lot to keep you excited. However, we repeat some toppings a lot. Almost every salad that we make has feta cheese. We love feta cheese and buy it in bulk at Costco. By mixing up the other toppings, we keep it pretty interesting.
Finally, we eat vegetarian about twice a week, but have another protein such as chick peas (canned and drained) or hard boiled eggs. This saves money and continues to mix things up!
Monday – Vegetarian Cobb Salad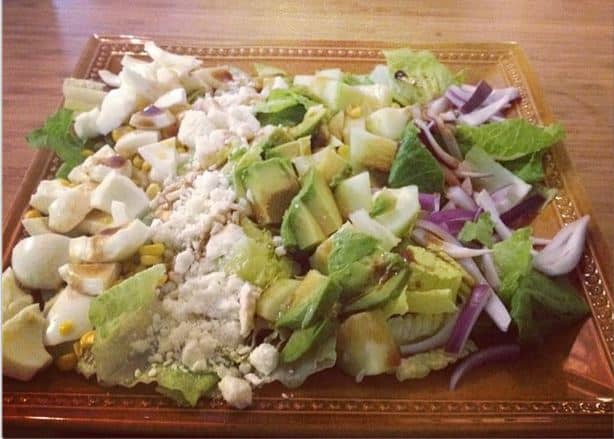 Make a vegetarian version of this classic by leaving off the chicken and bacon. Instead, double up on hard boiled eggs (we do three eggs per person, egg whites only). This savory salad pairs perfectly with a balsamic vinaigrette.
Hard boiled egg
Red onion
Cucumber
Avocado
Feta
For the dressing:
Balsamic vinegar
Olive oil
Minced garlic
Spicy brown mustard
Maple syrup
Tuesday – Fall Harvest Salad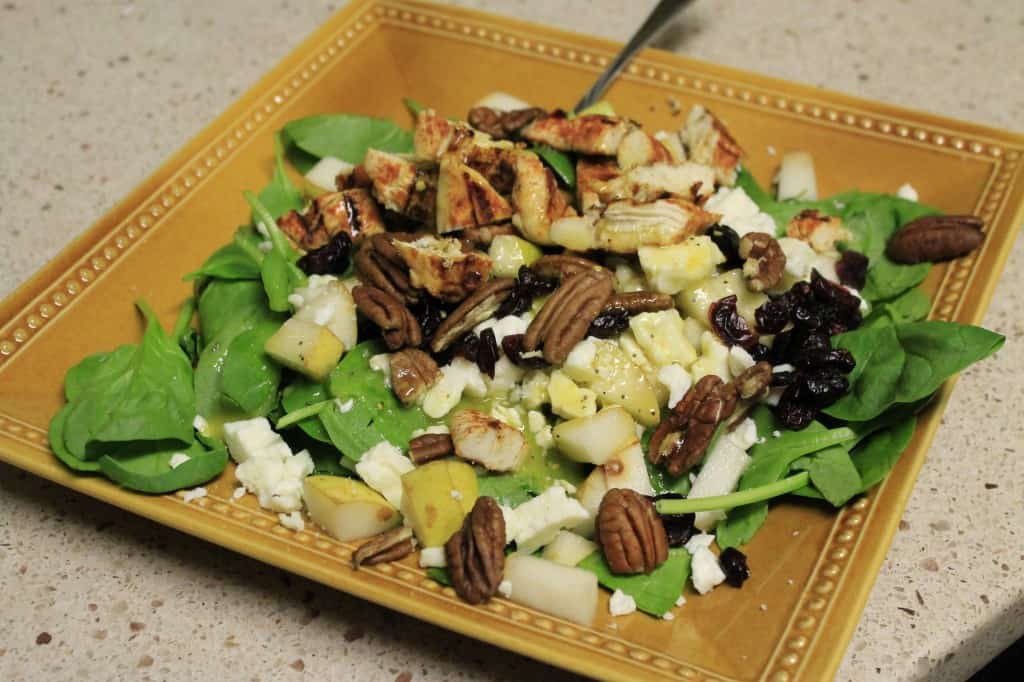 Mix it up (already!) with this sweet salad. The crunch of the pecans and apple combines perfectly with the soft feta and crasins while the sweetness of the apple and the crasins make this a non stop hit. Use pears when they are in season and red apple the rest of the year.
Pear/apple
Grilled chicken
Pecans
Crasins
Feta
For the dressing:
Apple cider vinegar
Olive oil
Minced garlic
Spicy brown mustard
Honey
Wednesday – Meatless Mexican Salad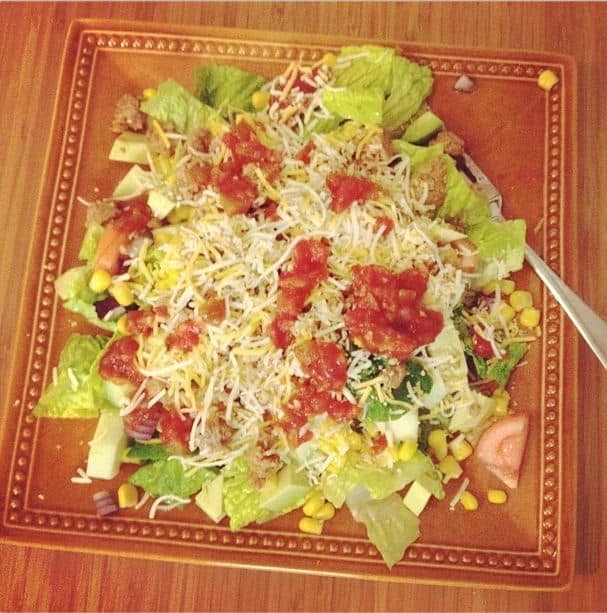 All the goodness, without the meat. Switch it back to savory with this fan favorite. Black beans provide the protein, red onion and corn give you crunch, and avocado and feta give you that smooth goodness. For bonus points, add a scoop of salsa.
For the salad:

Black beans
Red onion
Corn
Avocado
Feta

For the dressing:

Lime juice
Olive oil
Minced garlic
White wine vinegar
Taco seasoning
Thursday – Chickpea Berry Salad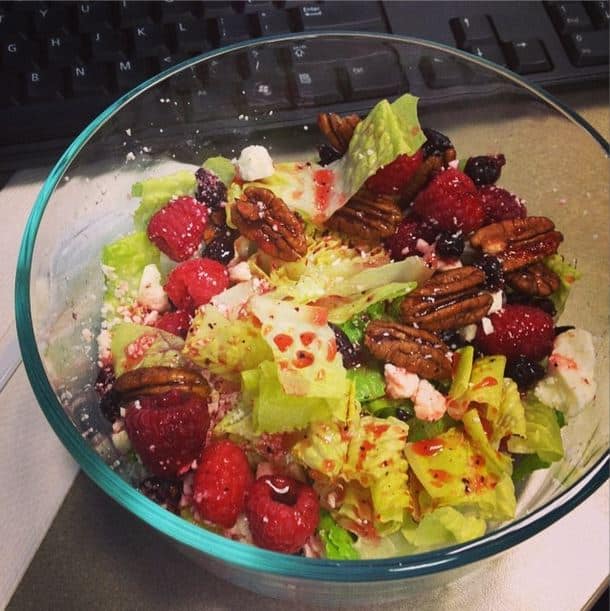 If you're scared to try chick peas – this is a great place to do it first. The sweetness of the fruit complements them perfectly, you won't even miss the chicken. Pecans add that perfect crunch. Warning: this salad is addicting.
For the salad:

Chickpeas
Pecans
Strawberries
Peach
Feta

For the dressing:

Balsamic vinegar
Olive oil
Minced garlic
Spicy brown mustard
Honey
Friday – Easy Asian Chicken Salad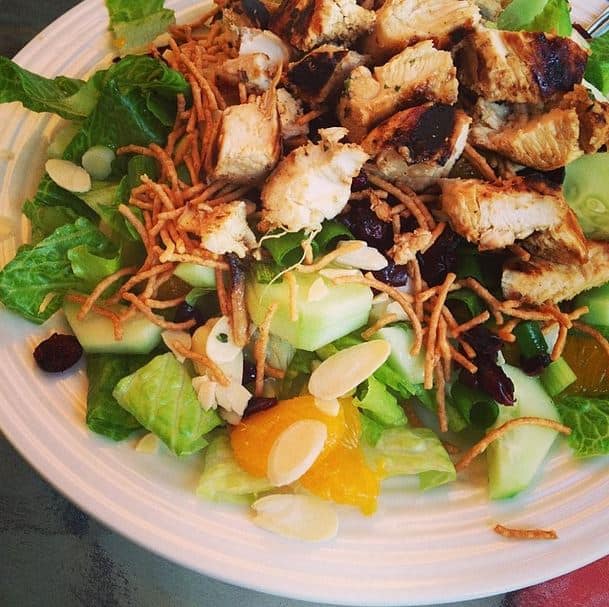 An oldie but a goodie, this salad has flavors unlike any other on this list. It makes a crunchy, delicious Friday treat. Scarf this one down and pat yourself on the back for a week well done!
For the salad:

Grilled chicken
Cucumber
Green onion
Mandarin Oranges
Almonds

For the dressing:

Rice wine vinegar
Olive oil
Minced garlic
Soy sauce
Maple syrup
If you follow this salad dinner plan for a week, you will realize how good salads are and how great they can make you feel! Eating so many salads has helped us lose weight, but more importantly, feel lighter and more healthy. There's nothing cool about passing out every night from stuffing yourself to the brim. These salads will fill you up with energy!
Click here for more salads that we've shared and click here for my super salads Pinterest board!
What's your favorite salad?