Trying to decide what rug to buy? Color is an important part of that decision! Here's everything to consider when choosing a rug color!
This post was sponsored by Wayfair, all opinions are our own. Thanks for supporting the brands that make Charleston Crafted possible.
Sean always laughs at me because I hate carpet, but I also want to put a rug on all the wood floors.
Hear me out – carpet gets gross and worn. It's hard to clean! Rugs are much easier to replace.
Plus, carpet is usually very neutral (since it's hard to replace). Rugs are a better option for bringing color and texture into a room!
I've spent a lot of time virtually and actually shopping for rugs. And while selecting the right size rug is the most important part of picking a rug, color is important too!
Rugs are a huge part of any space – the floor is a significant portion of the surface area of any room!
We recently picked this rug from Wayfair for our living room. I picked a light beige color because the floors are dark colored and the walls will be dark in this space.
I chose a rug with a blue pattern because I wanted a little texture and interest, and the blue will tie to our accent color!
The geometric pattern and nubby texture of this rug give it an instant boho vibe, which is the look we are hoping to achieve in this space.
I really love this rug and it inspired me to talk about picking the right color rug for your space.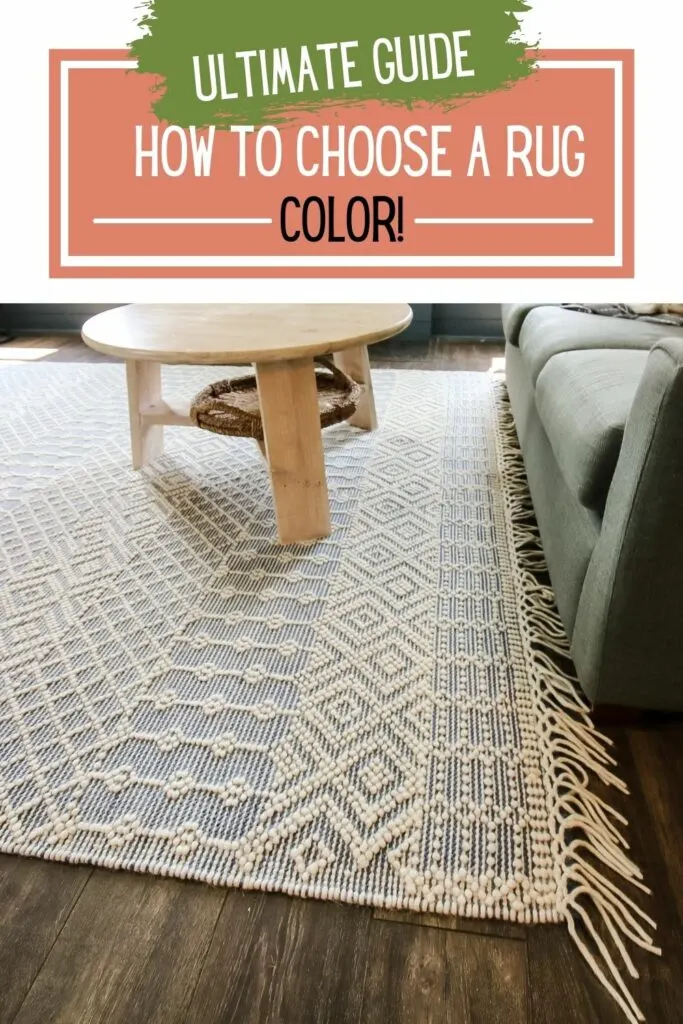 How to select rug color
If you are wondering how to choose an area rug color, here are some things to consider!
Decide on a vibe for your room
The first thing to do is to choose a vibe for your room. Is your style farmhouse? Modern? Boho? Eclectic? Traditional?
My best tip is to do a search on pinterest for your style name + rugs. Scroll through and look for the general rug that matches your style.
This is not an end all be all (though you might just spot the perfect rug!) but narrowing down the rug style will instantly point you towards a color palette.
Write down the features that you like – a certain texture, material, color, mix of colors, or pattern. Take that list with you when you go shopping!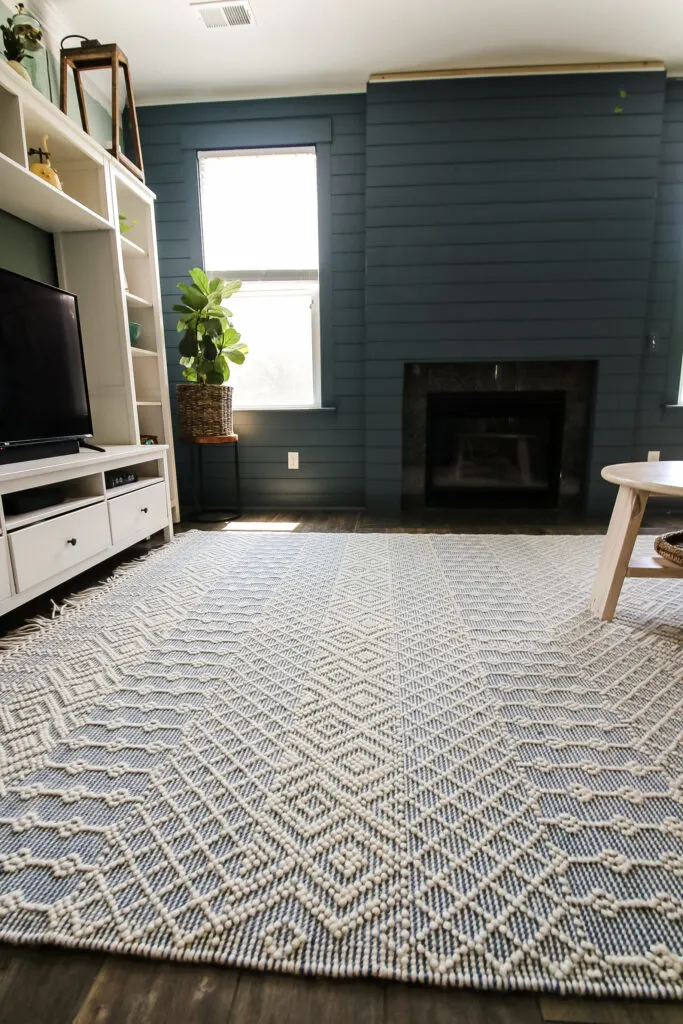 Look at the colors and patterns that already exist in your space
Now, look at your room. Unless you are decorating a room from scratch, you will have existing elements to work with. This could include wall color paint, flooring, furniture, and accessories.
Look for the colors that already exist in your space. If the room is mostly all one shade, you could match it, or you could choose a complementary color.
If your room has multiple colors, you should narrow your search down to a few colors that flow with your color scheme.
If possible, take samples of your colors – like a pillow case or paint swatch – shopping with you.
Consider your lifestyle
It's important to pick a rug that will work with the lifestyle you have. Rug material has a lot to do with durability, but color matters too.
Do you have messy kids or pets? Maybe don't get a stark white rug!
Have a white cat or dog? Probably steer clear from black or navy rugs!
I'm not saying you can't have a crisp white rug one day, but be realistic about what will and won't work with your lifestyle to avoid disappointment.
Click here to read my best tips on picking the best rug pad for hardwood floors.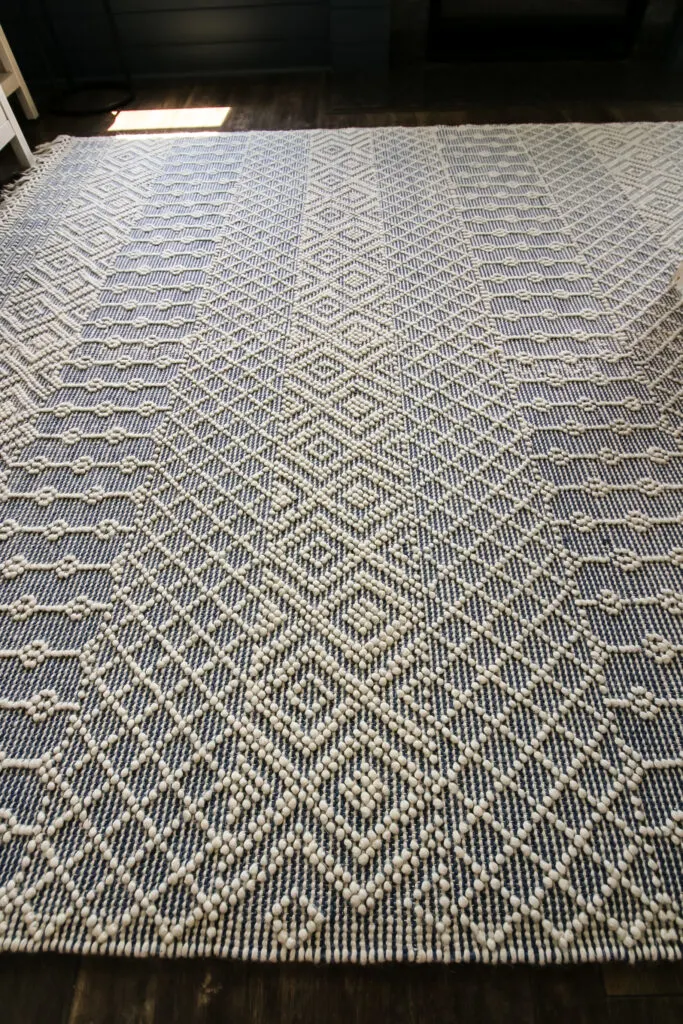 Do you want the rug to blend or be a focal point?
You also need to decide if you want a rug to blend into your decor or stand out. A multicolor rug or a rug with a pattern will always draw the eye.
On the other hand, light colors and neutrals, or colors that match the couch, will blend more.
If your room has a bold focal point – an accent wall, a big fireplace, a colorful headboard – stick to something more neutral. If the room feels boring – a rug is a great place to bring in that bold pop.
Should a rug be lighter or darker than couch?
It doesn't matter if the rug is lighter or darker than your couch – you just want contrast. Unless you have a monochromatic home, look for something at least 2 shades different.
Imagine taking a black and white photo of your rug + couch next to each other. In grayscale, you want the colors to be noticeably different!
If you choose a multicolored rug, you should match the secondary or tertiary colors to your couch or other large furniture or accessories. This allows a little contrast while the items still flow together.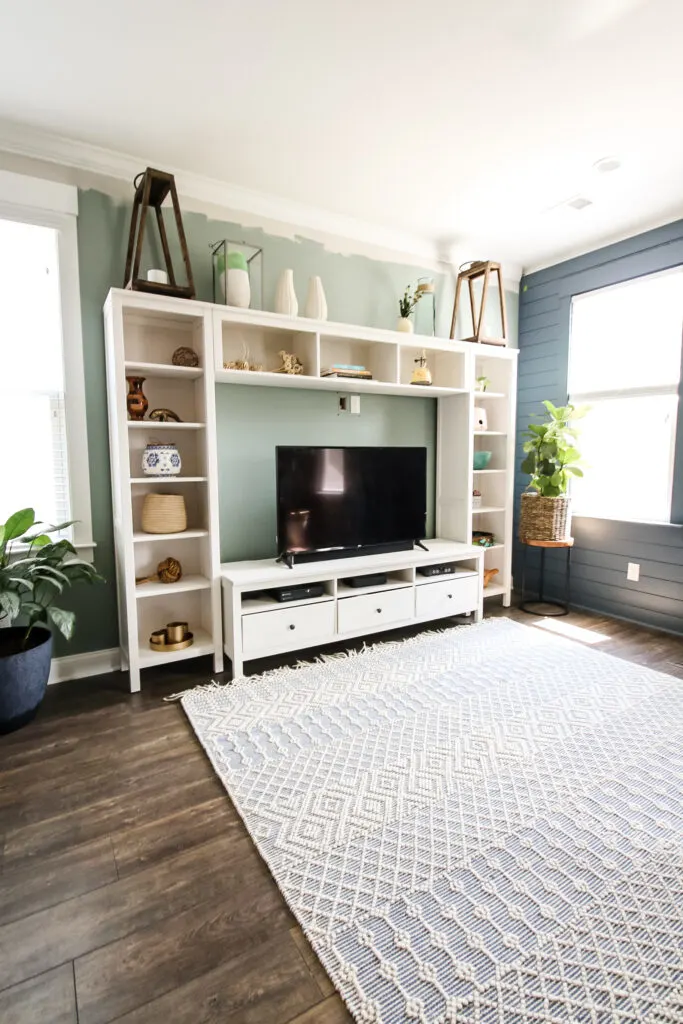 Should all the rugs in your house match?
The rugs in your home certainly CAN match but they do not need to. Instead of getting five of the same rug, instead focus on a flowing color scheme and similar vibe to be sure the style flows from space to space.
What color rug should I get?
In the end, you have to pick the color or pattern of rug that you love the best! However, by using the above deciding factors, you can make an educated choice!
One warning about rug shopping online – a lot of times returns are NOT free. Be sure to clarify this before ordering a bunch of rugs hoping to test them out. Trust me on that one!!
Choosing the right color rug is hard! Any other questions about picking a rug color?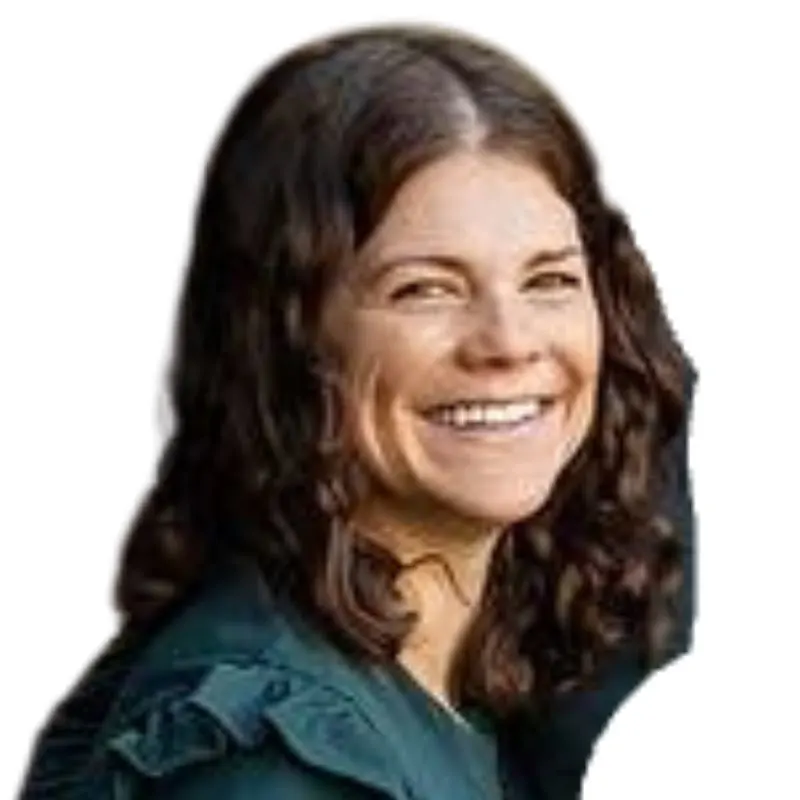 Hello, I'm Morgan, half of the creative force behind CharlestonCrafted.com! With a passion for DIY that dates back to 2012, I've transformed three homes and now I'm dedicated to helping others craft their dream spaces. Let's turn your house into a home together!