I am excited to share this post with you today. We share a lot of projects, builds, and products on our blog. Most of our posts are about how we love something, but then you might never hear about it again. Today we are going to share an update on some things in our home and share how we are likeing them now!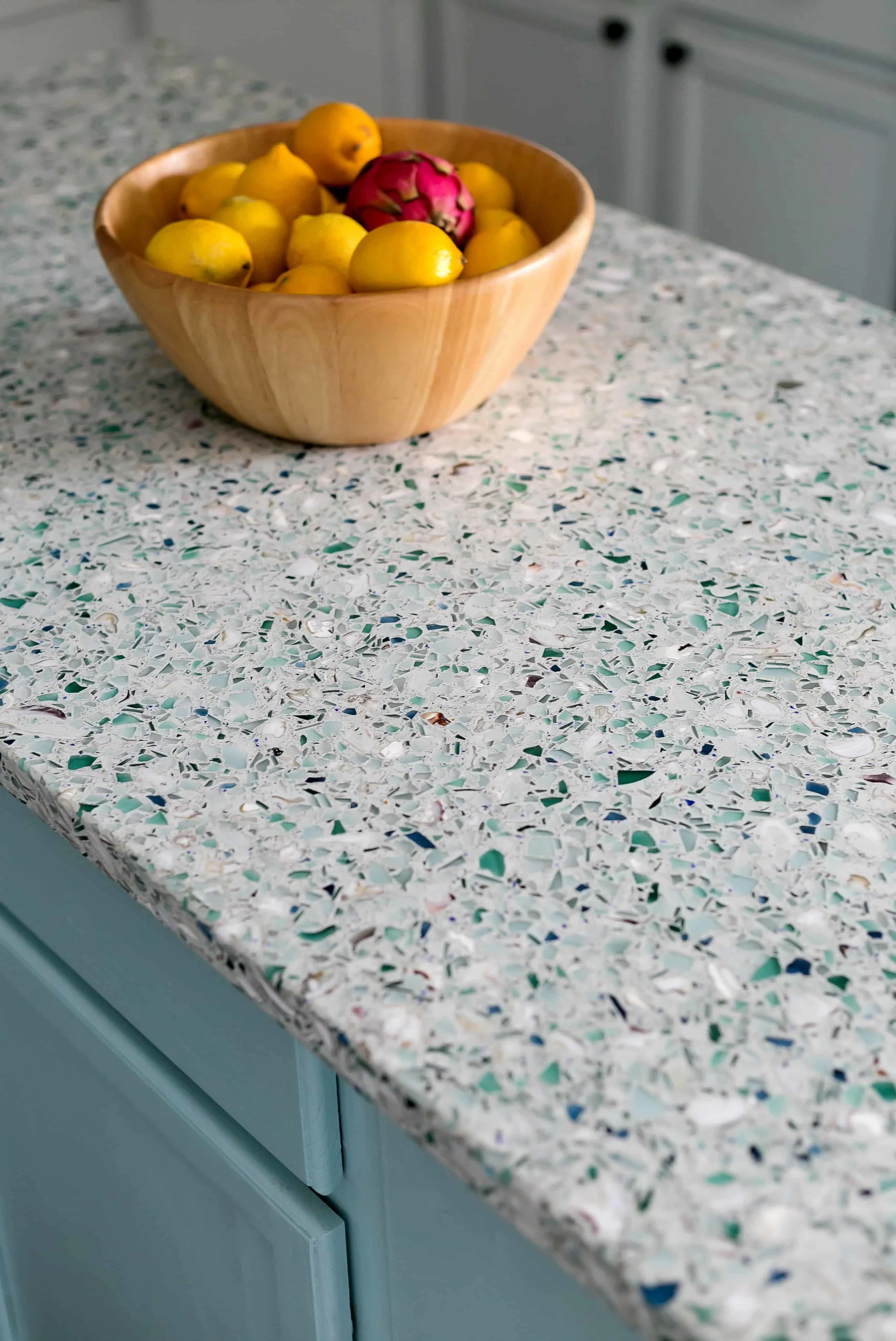 Recycled glass counter tops – A+
Our recycled glass counter tops are one of our most asked about items. That's understandable – they are unusual!
I am still totally in love with them. They have had zero issues with staining or damage. They are a show stopper and the first thing that people comment on when they visit our home.
I would 100% do these counters again!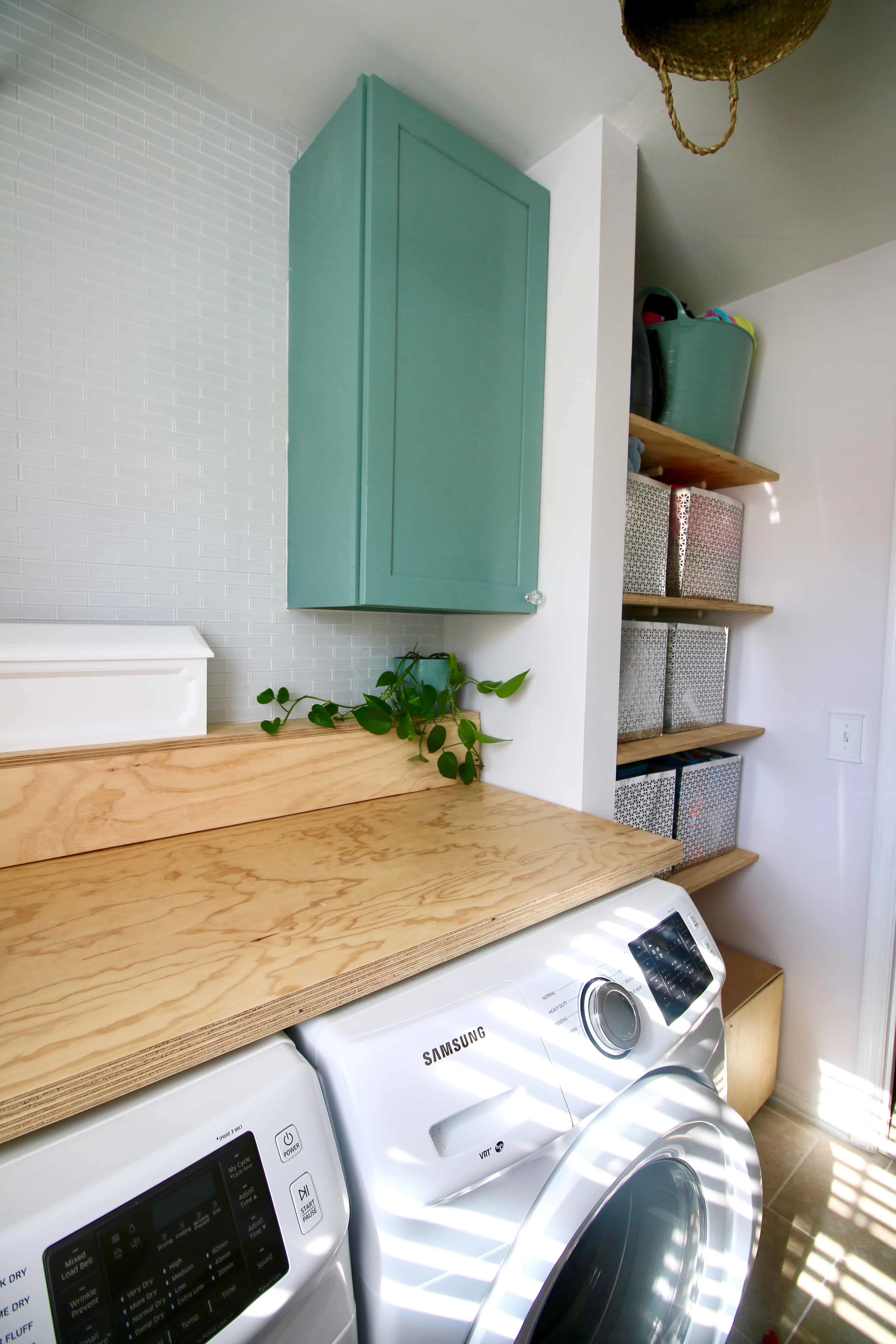 Plywood counters in laundry room – A
Speaking of counter tops, we get questions about the plywood counter that we put in our laundry room.
I love this project and would definitely do it again. In fact, I helped my co-worker plan to put one in his laundry room, too! You can't get a better counter for the price and I just love the look of the natural wood.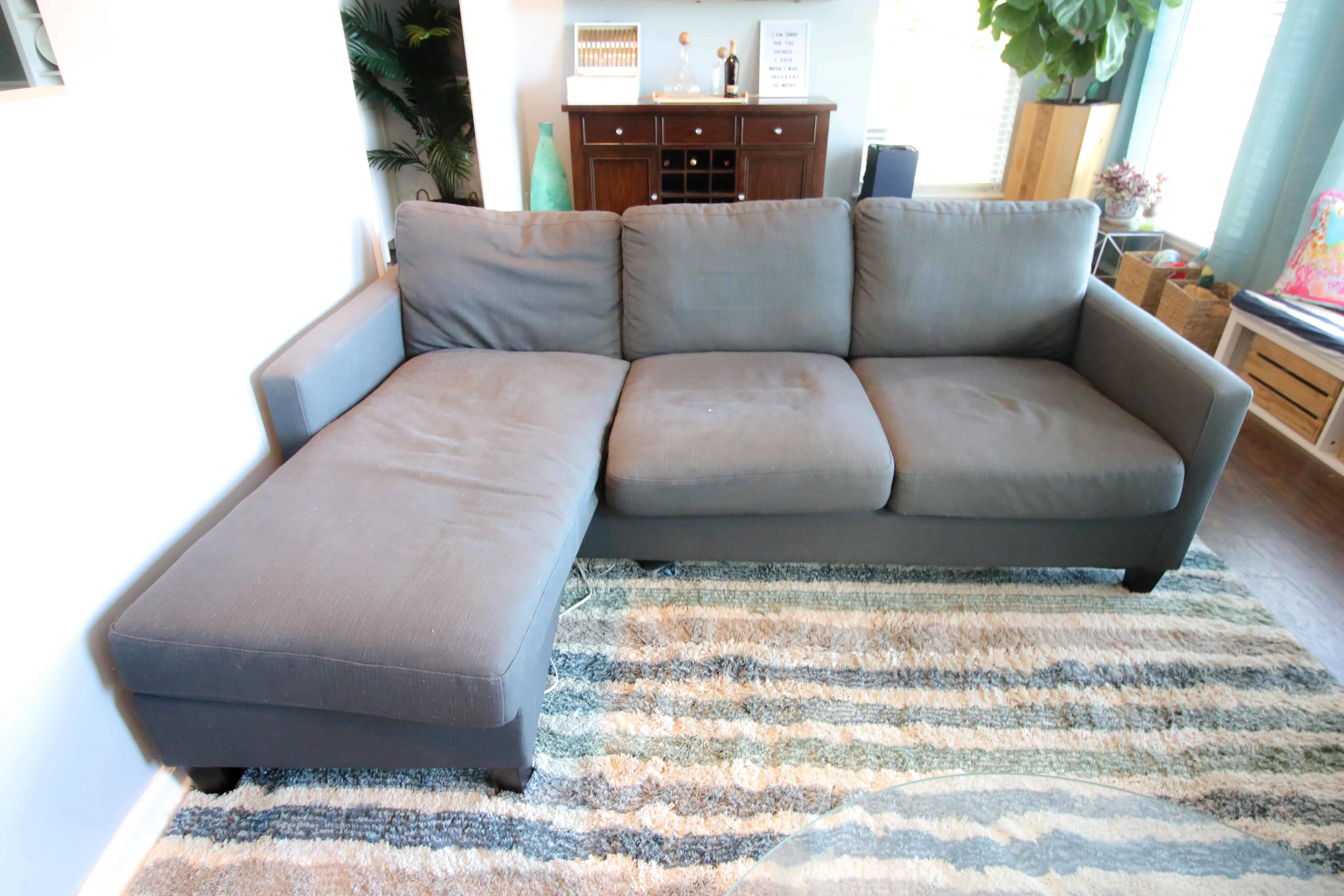 World Market Abbott sofa – D-
I'm just gonna be brutally honest here. I hate our sofa. We have had it for 3.5 years, which I guess is a long time for a cheapo couch.
About 6 months ago, the springs were poking out so badly that I had to add new foam to re-stuff the couch. That made the seats less uncomfortable, but only marginally.
This couch has just gotten really worn. The cushions can't be swapped so you can tell where we sit. The fabric stretched and looks saggy. The fabric also picks easily. It just doesn't look good or sit well.
I am hoping to get a new sofa this year.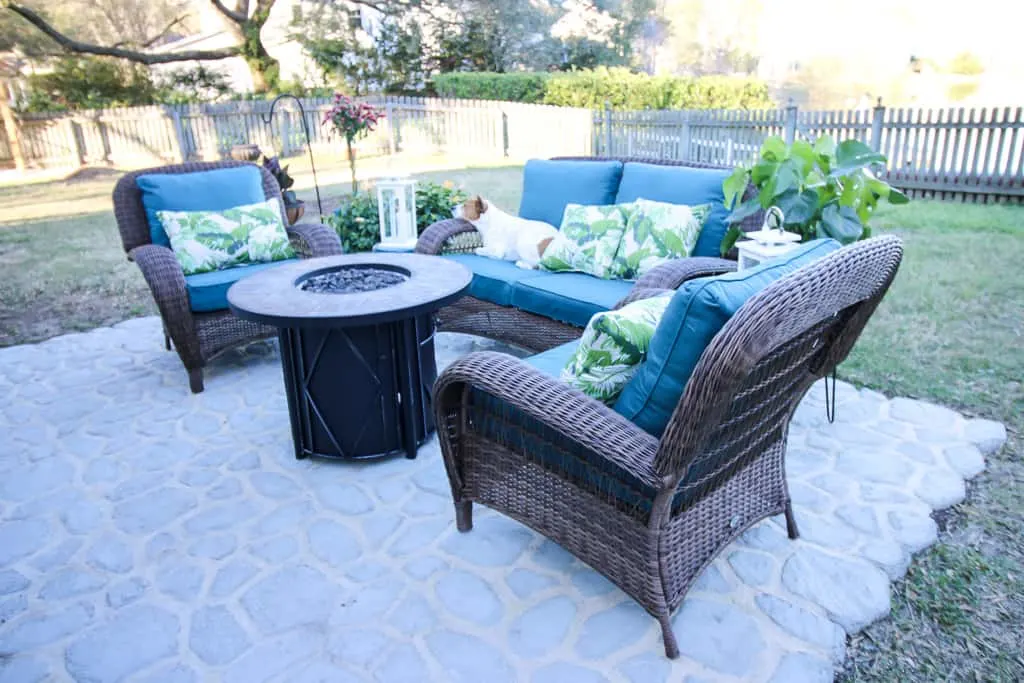 Quikrete Patio – B
I really enjoyed the process of making our Quikrete Walkmaker patio and am glad that we have it. However, it's not perfect.
There is one section where we didn't get the smoothest finish and it drives me crazy!
The ground is also not quite level right where the roof overhang ends over the patio. I'm not sure if this was our doing or if it has shifted over time, but water does tend to pool there.
The biggest disappointment with this patio is that we just don't use it that much. That's not the patio's fault, but it is very hot and sunny for a big portion of the day. We have contemplated adding a pergola, but aren't sure if we would use it enough to be worth the cost.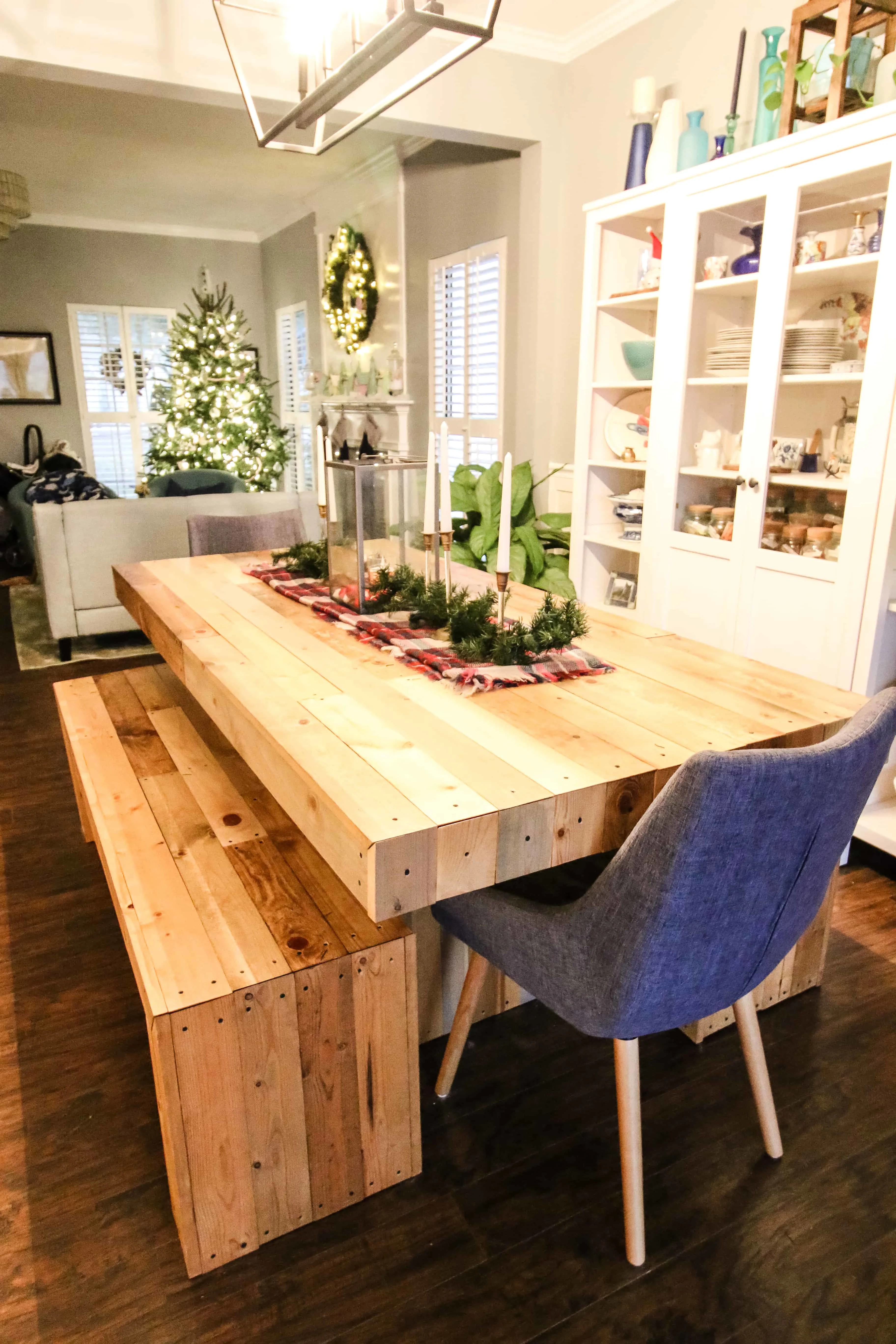 Dining Room Table + Benches – B-
I love our dining room table and benches and how they look. But…. the construction is pretty meh. I don't blame Sean – he knows this and agrees. It was his first big build! He made them in an extreme rush, too.
For example, the top is not at all even. Any plate you put on the tabletop sort of wobbles back and forth.
The edges are sharp and could have used to be sanded more. They are a bit pokey on your arms.
If he made them now, he would have had the skills to make it more precise and sturdy. For now, it's just…. rustic. 🙂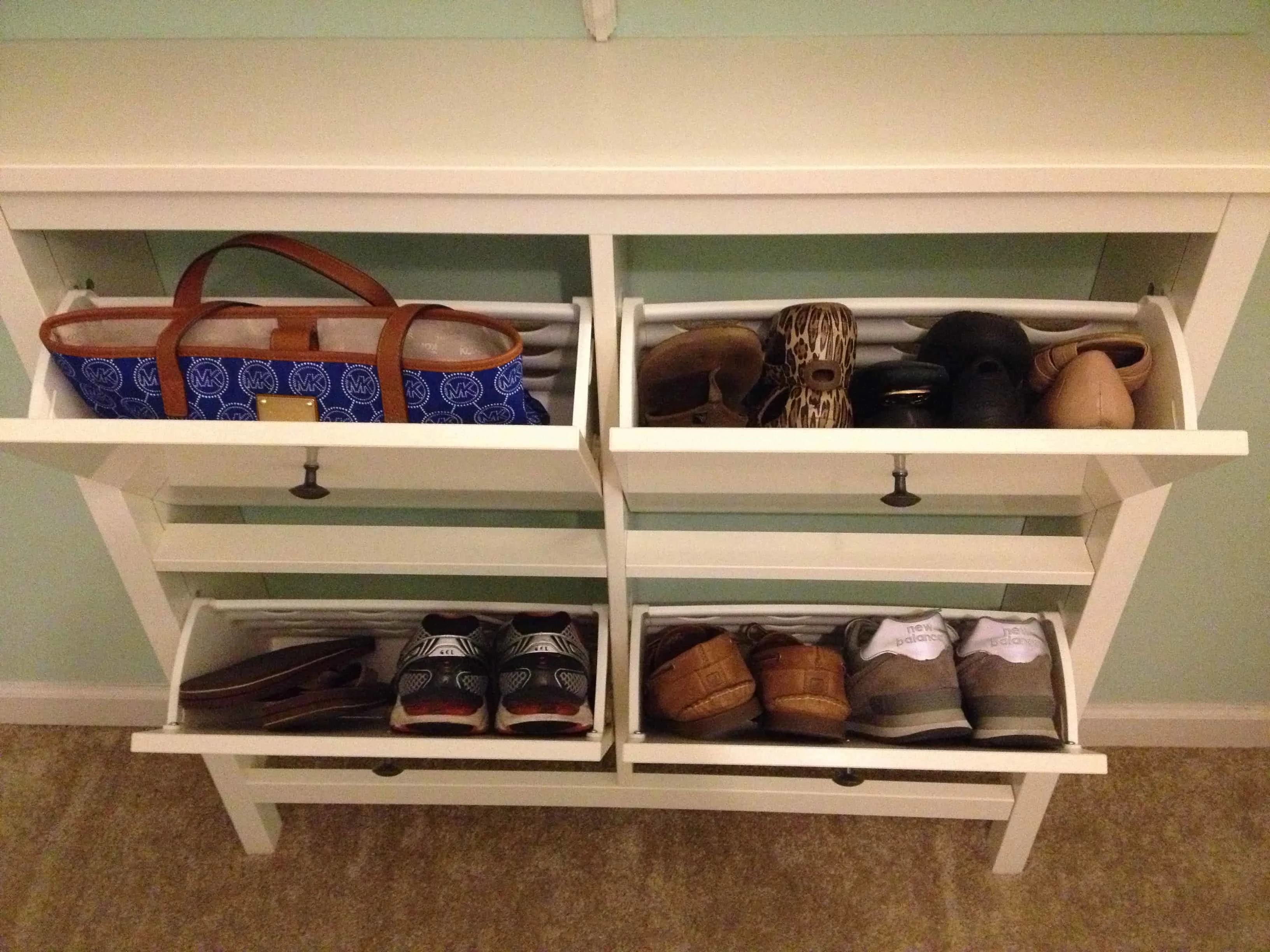 Ikea Hemnes shoe storage – B+
We have had the Ikea Hemnes shoe cabinet since we lived in the condo. I absolutely love it and think that it keeps us very organized.
I honestly wish that it was slightly bigger so that it could hold my purse or a few more pairs of shoes, but otherwise I have no complaints!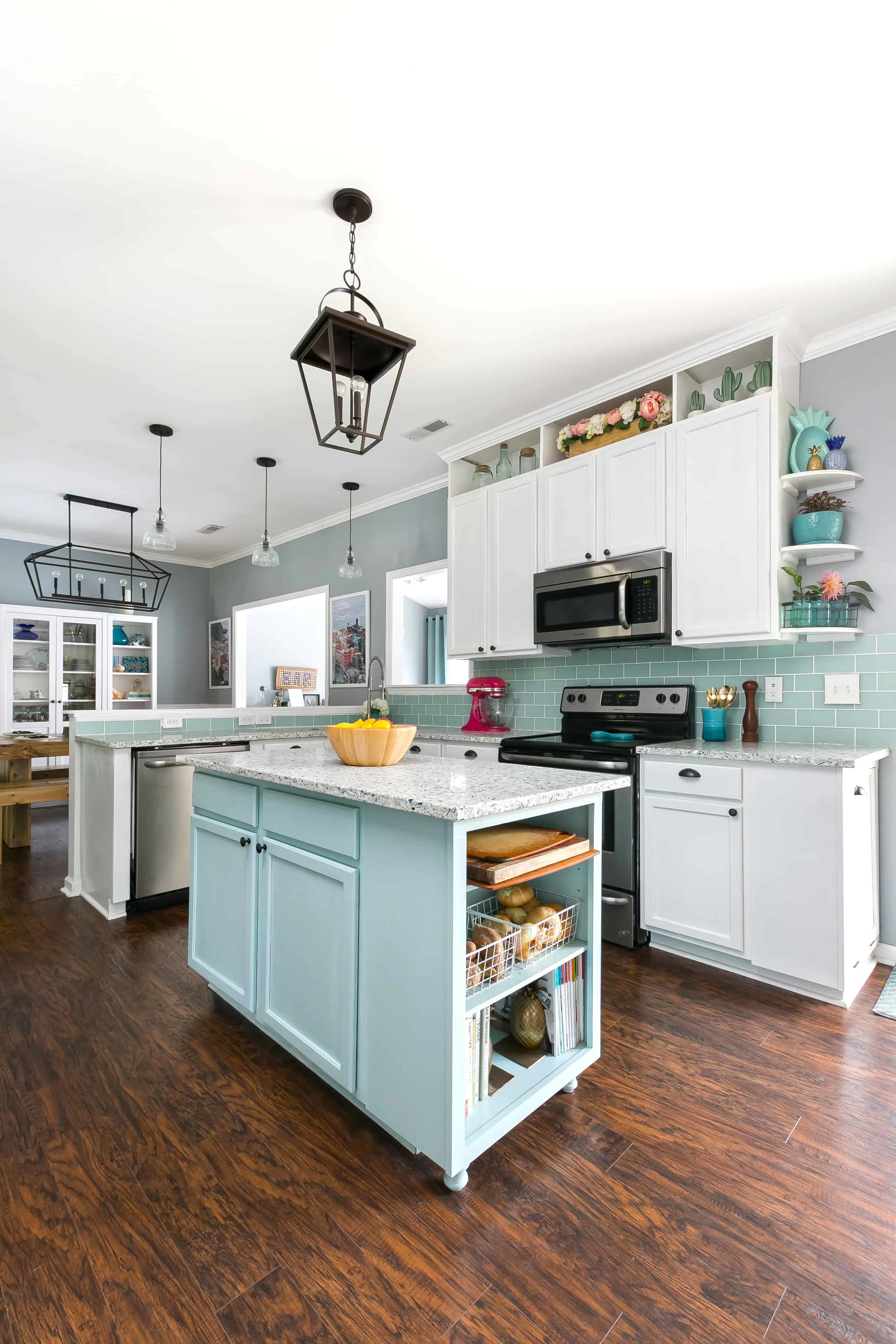 Laminate flooring in the kitchen – A+
We got a lot of comments when we decided to extend our laminate flooring into the kitchen. It seems that a lot of people think that you need tile in the kitchen due to the proximity of water, but we have had zero problems with our laminate flooring.
I really think that having the flooring run continuously throughout the entire first floor makes our space look much more open.
What things in our home would you like updates on?