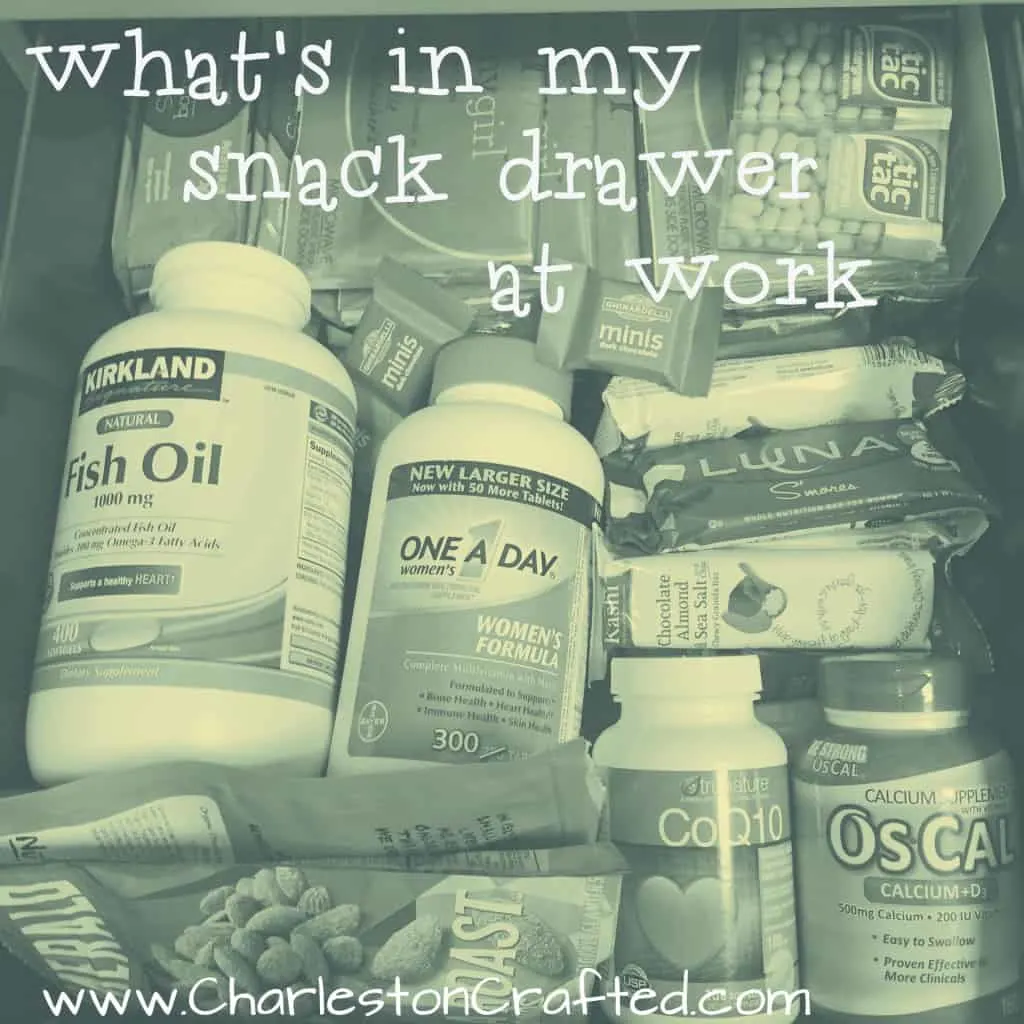 When you are really trying to eat healthy, you might think that you should not snack. I happen to disagree. I think that being hungry is really bad – it can make you grouchy and mean and it can lead to binge eating or eating something naughty.
I keep lots of snacks around, especially at work. On days when we have a protein smoothie for breakfast, I eat a snack around 10am. I almost always also have a little snack around 2:30 or 3, especially on days when I work out before dinner.
Here's my snack drawer: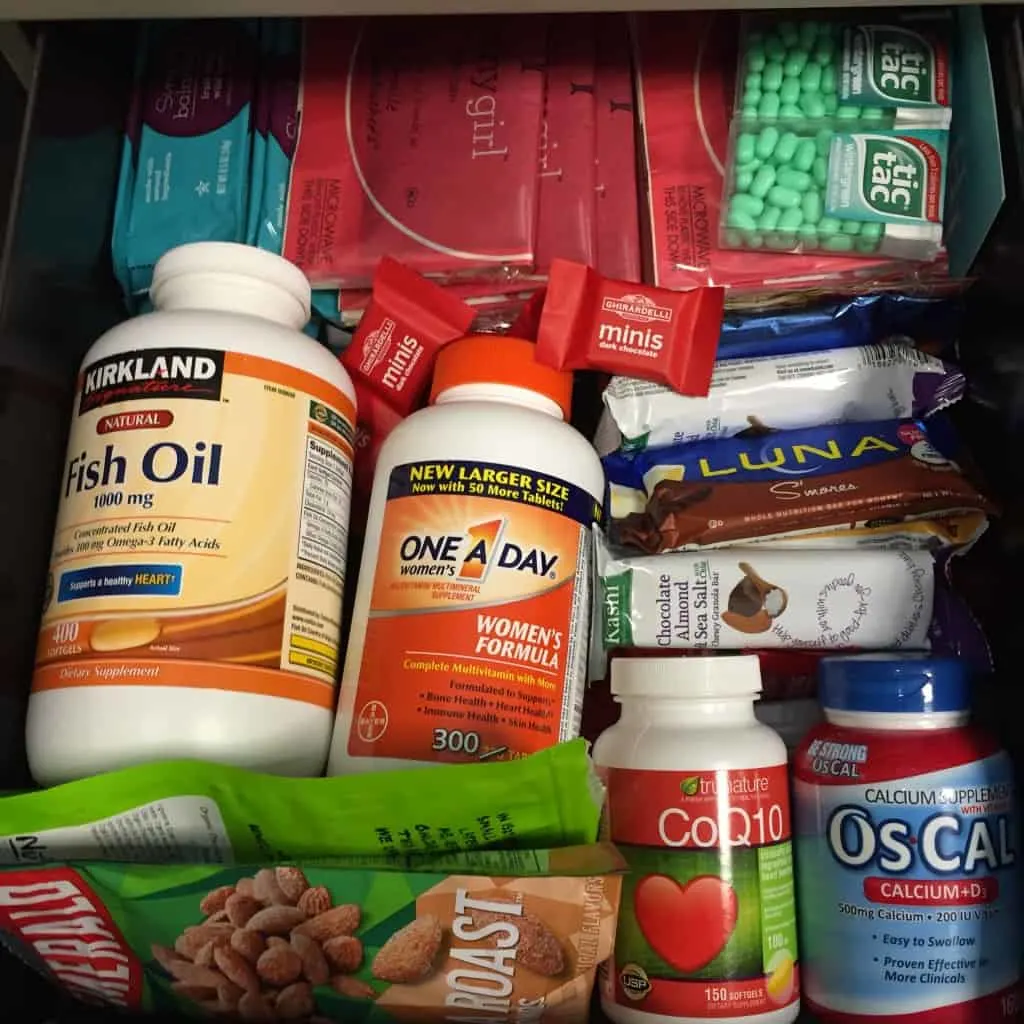 Sweet:
I like keeping small pieces of dark chocolate on hand for when I get a chocolate craving. I prefer dark chocolate because it has a stronger flavor so you savor it more and it's easier to eat just one piece. Dark chocolate is also a powerful form of antioxidants! My favorites: Ghiradelli minis, Dove Promises
Sometimes I crave something a little fruity. While having fresh fruit is ideal, it isn't always possible (like when I don't plan ahead!) I have recently gotten really into fruit leather for that sweet, fruity flavor. Make sure you look for brands that use all natural ingredients and no added sugar. My favorites: Simply Balanced, Stretch Island
Whether I ate an onion-filled salad or if I just want to have a fresh taste in your mouth, I love having mints on hand. Gum is considered unprofessional, but a mint can be quickly crunched if the boss comes around. My favorites: wintergreen Tic Tacs, Ice Breakers
Filling:
Sometimes I snack because I am really hungry. In that situation, my go to is a granola bar. Something with whole nuts and a drizzle of chocolate always perks me right up. I eat one of these almost every day at 10am. My favorites: Kashi Chocolate Almond and Sea Salt, Special K Chocolatey Pretzel
If I am really hungry, I might go for a protein bar. These can even replace a meal in a crunch, but I usually save them for when I plan to workout and then run to a meeting after work and know that I will have to eat a late dinner. Go easy on these – they can be high calorie for an every day snack, but are great as meal replacements or on work out days. Or, break one in half for a more manageable snack. My favorites: Luna bars, Detour bars
When I feel like I need a blast of protein, but I'm not hungry enough for a protein bar, I like to grab a handful of nuts. They are an easy way to feel full and get a blast of healthy fats, just watch the serving size as they can also get out of hand quickly. I count out a serving on my desk and then put the pack away before munching at my desk. My favorites: Emerald Almonds, Wonderful Pistachios
When I really feel like munching a lot, I make popcorn. It makes everyone around me jealous (unless I burn it, in which case it makes them hate me.) I grab the mini bags and it's the perfect snack because it takes a long time to eat and leaves you feeling full but still light. Get lightly salted or buttered, not movie theater. My favorites: Skinny Girl Mini Bags, Orville Redenbacher Smart Pop Mini
Vitamins:
Also, not the point of this post, but I keep my vitamins in my snack drawer. I take them right after lunch on a full stomach. I take a daily vitamin, fish oil, CoQ10, and calcium. Talk to your doctor about any vitamins that might help you!
As with anything, the trick is portion control. If you have trouble with this, pre-package your snacks (IE bring one chocolate a day in your lunch box or count out your nuts into baggies and leave the rest at home.) You will quickly realize that it doesn't take much to satisfy a craving! Now, I have to know, what do you snack on?
Some of the links in this post are affiliate links. That means that we get a very small percentage of any purchase that you make via our links. Thanks for your support!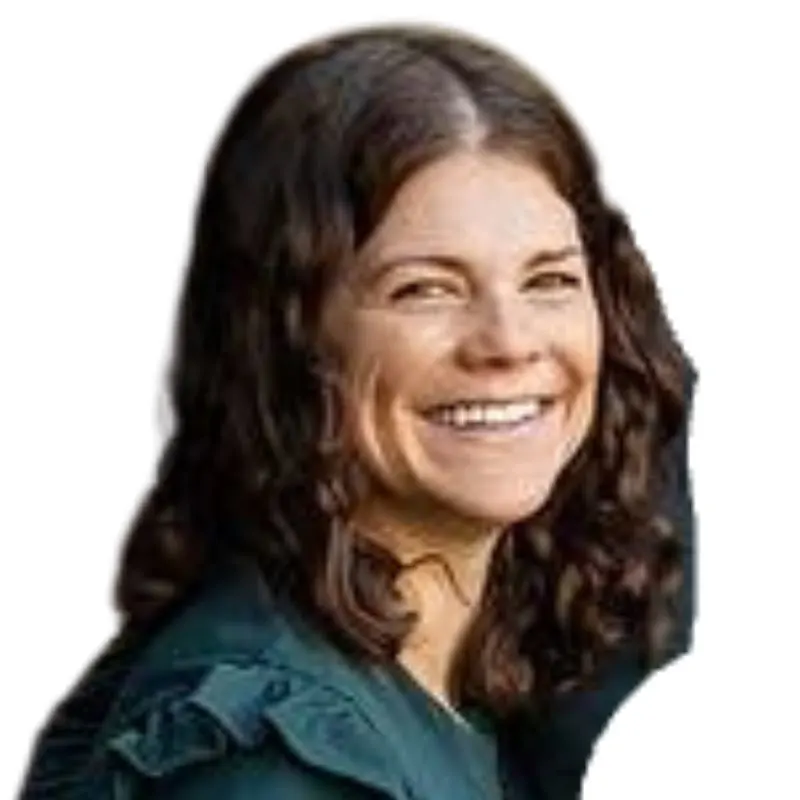 Hello, I'm Morgan, half of the creative force behind CharlestonCrafted.com! With a passion for DIY that dates back to 2012, I've transformed three homes and now I'm dedicated to helping others craft their dream spaces. Let's turn your house into a home together!