Summertime is the number one time that we have guests come to visit, which totally makes sense since we live at the beach. As I used to say in college, my life is your vacation 😉 Our guest bedroom is one of the spots that we have not yet made over or decorated at all and when we made our year 2 in the house plan, we pretty much decided that we aren't going to get to it next year either. So, I decided that it was time to spend one evening giving the space a quick refresh just to tide us over for a while. If you are looking to do a small refresh on your guest space, check out how much of a difference that getting fresh bedding and hanging some art on the walls can make!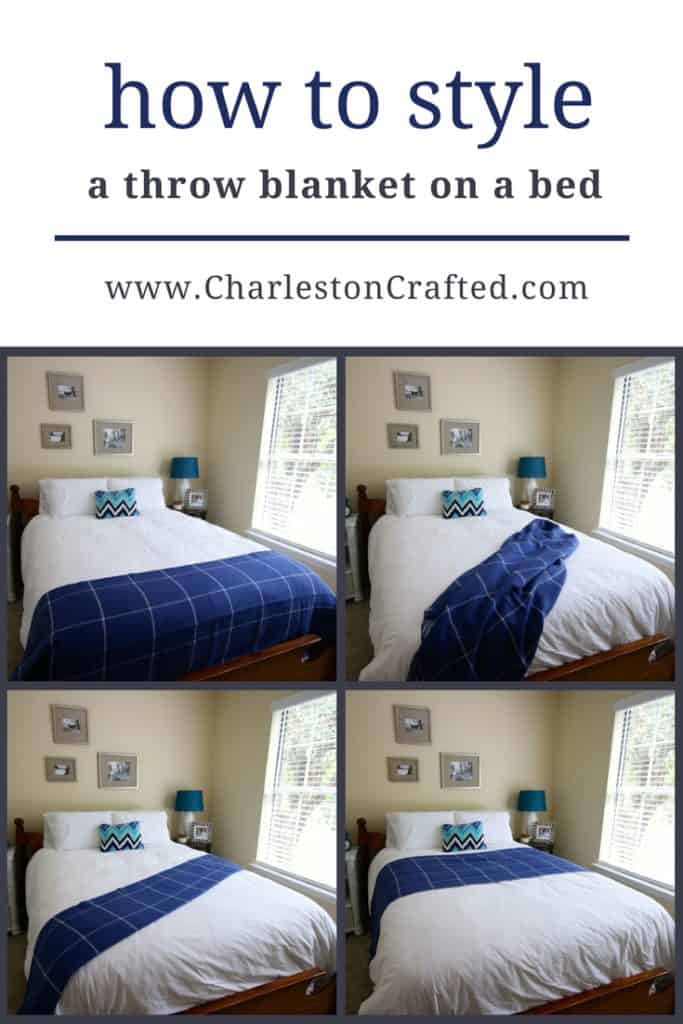 This is a double bed, and I would really prefer to have a queen bed for guests, but since we don't have any plans (or, frankly, budget) for a new bed and mattress in the immediate future, I decided to just work with what we had. The old duvet was actually a king sized comforter inside a duvet cover (I don't even know how that happened) but replacing it all with all white bedding in the actual correct size for the bed really made a huge difference in appearances right off the bat!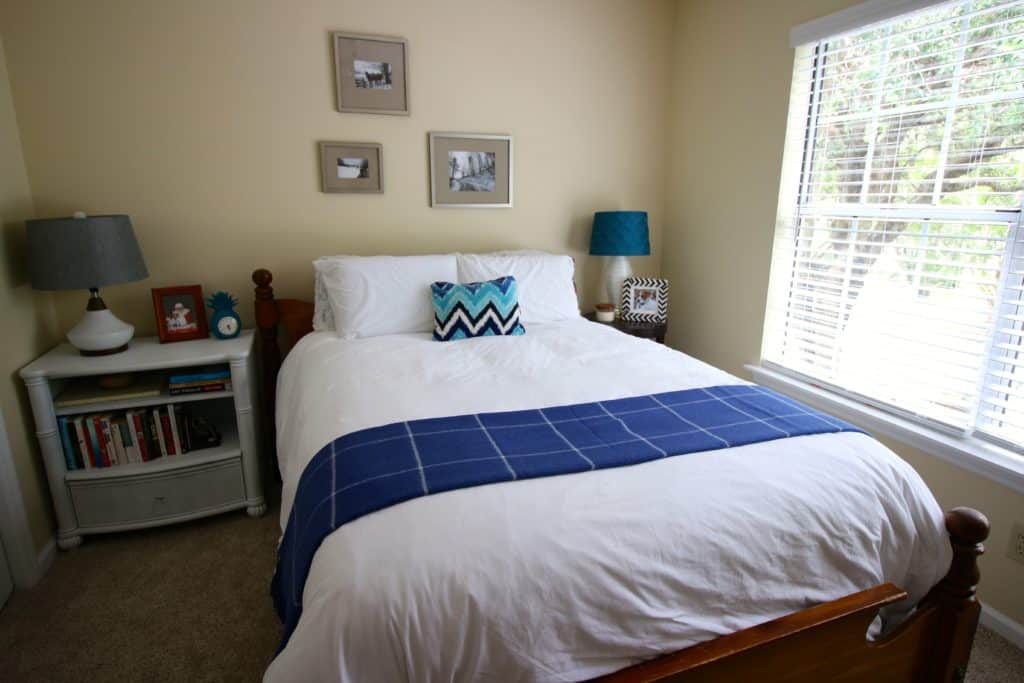 Serena & Lily generously sent us this gorgeous throw blanket and I think that it adds the perfect pop of color to the white bedding. It is luxuriously soft and a wonderful treat for our guests. If you're interested in checking it out, it is the Dover Alpaca Throw, and this is the cobalt color. I played around a bit with styling the blanket – I'd love to know, which look do you prefer?!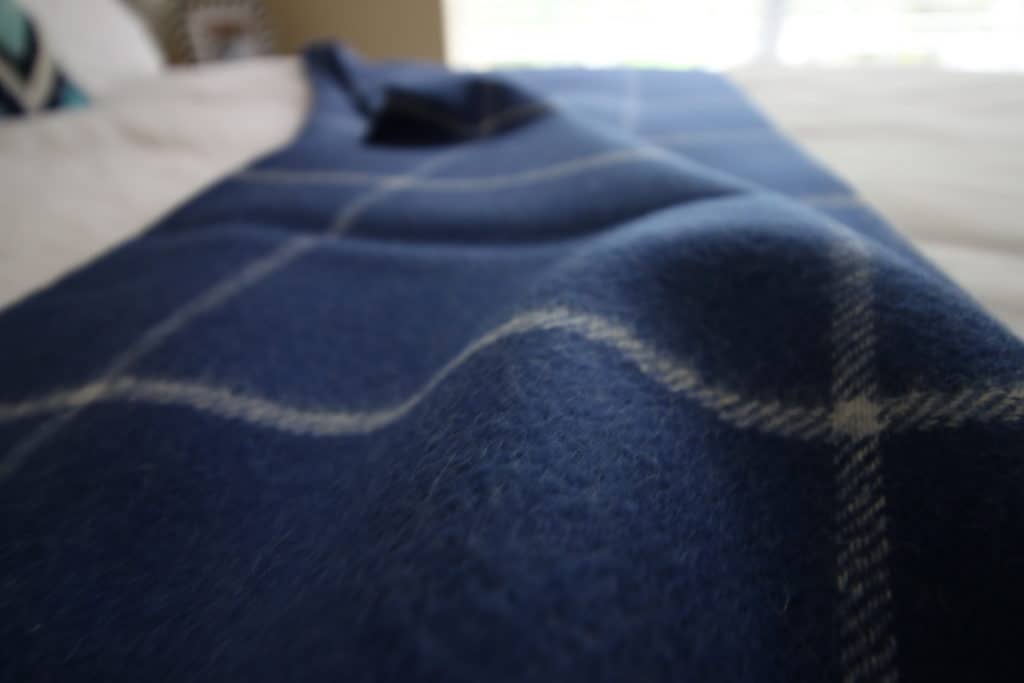 The final step in our mini guest room refresh was to hang a little art on the walls. These 3 frames are stunning and actually were a wedding present… from 2015! They have been in the box in our closet ever since and we knew that we wanted to finally get them hung up. I love these frames for their brushed metal finish and the luxurious linen matting. We also hung up our string art ampersand we made wayyyyy back in the condo days because it was just sitting on the floor as well. Why not?!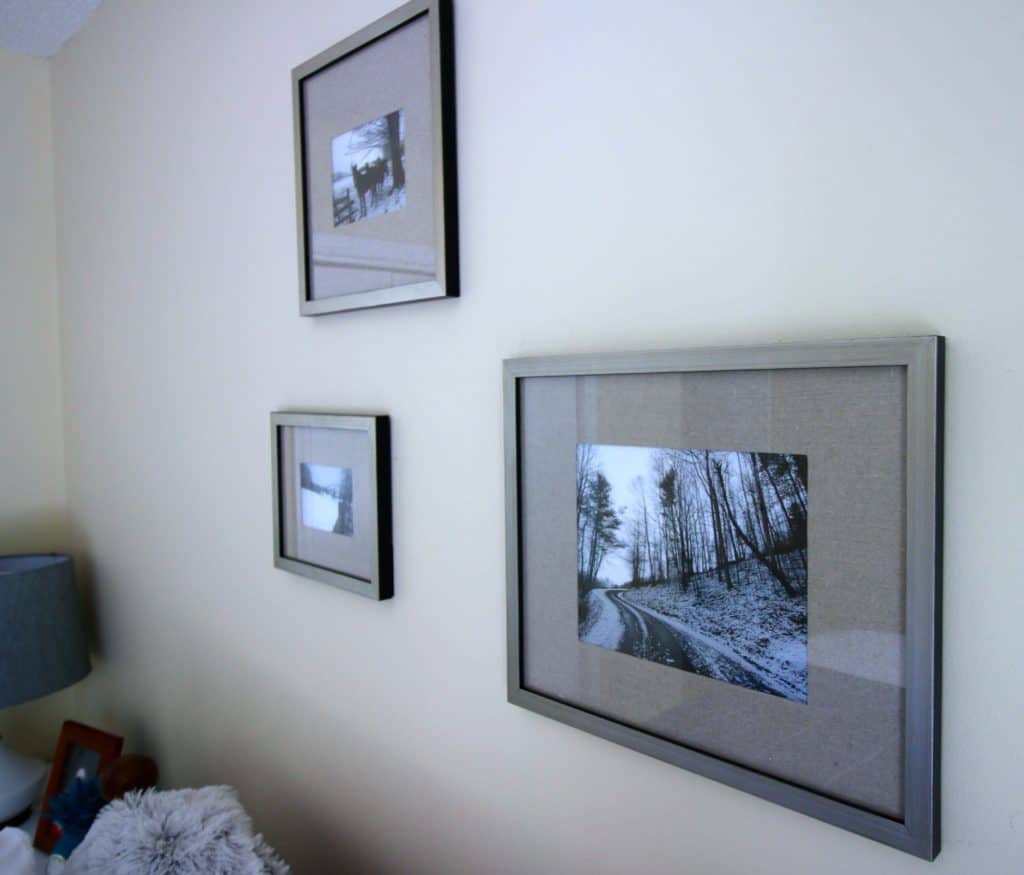 If you're curious about the side tables, they were both thrifty makeovers. The white one was a Goodwill spray paint project and the wooden one was a dumpster dive of Sean's from many years ago!
Have you been doing anything in your home to get ready for guests? I'd love to hear about it!