We previously shared a guest bathroom mini-makeover with you and I said that we wouldn't touch it again for a while. Well, that was a lie. It was fine how it was but I wanted to add a little bit of decor as well. A lot of this has been going on for a while but I realized that it hadn't made it to the blog, so here is everything that we did!
Check out my tips for how to make a small bathroom feel luxurious!
Paint – the wall color is Symphony of Blues by Sherwin Williams in an Egg Shell finish. We split a gallon with the master bath and absolutely love this color.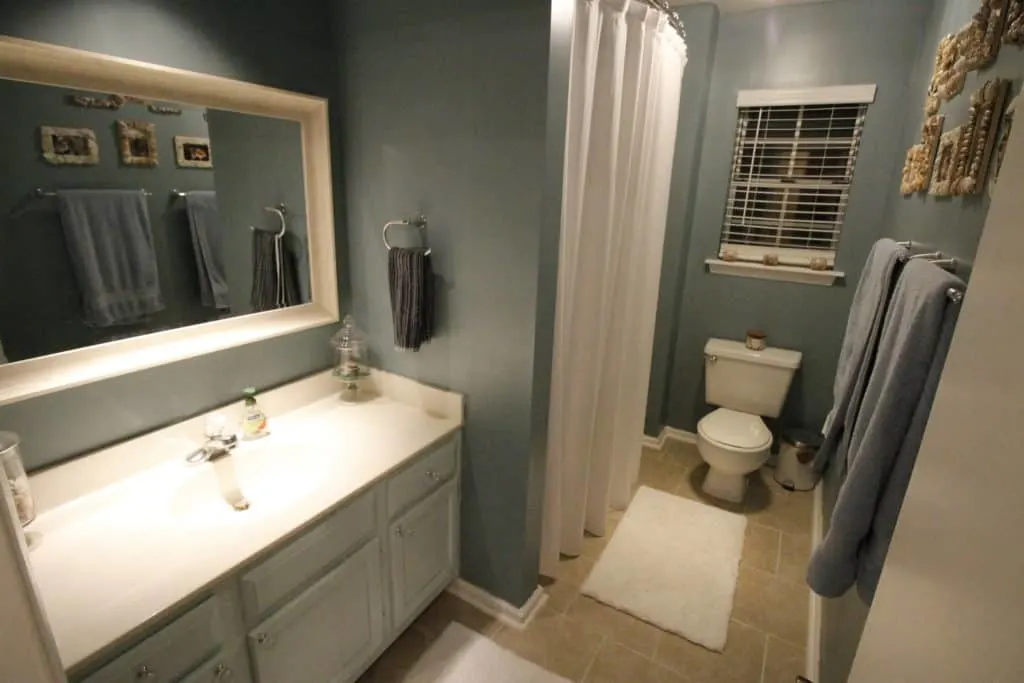 Replace the mirror – we swapped the builder grade mirror for this one from At Home.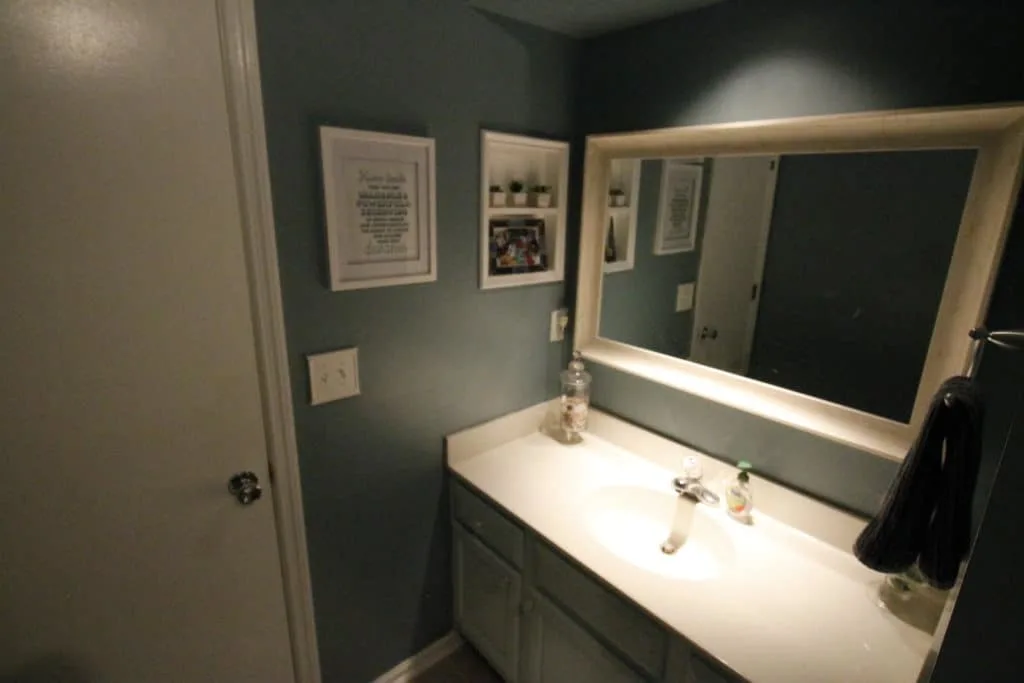 Replace the medicine cabinet – we shared a tutorial for how we replaced the medicine cabinet in our master bathroom with open shelving and then we did the same thing in the guest bath. These cute and easy shelves are a perfect replacement for old school mirrored cabinets.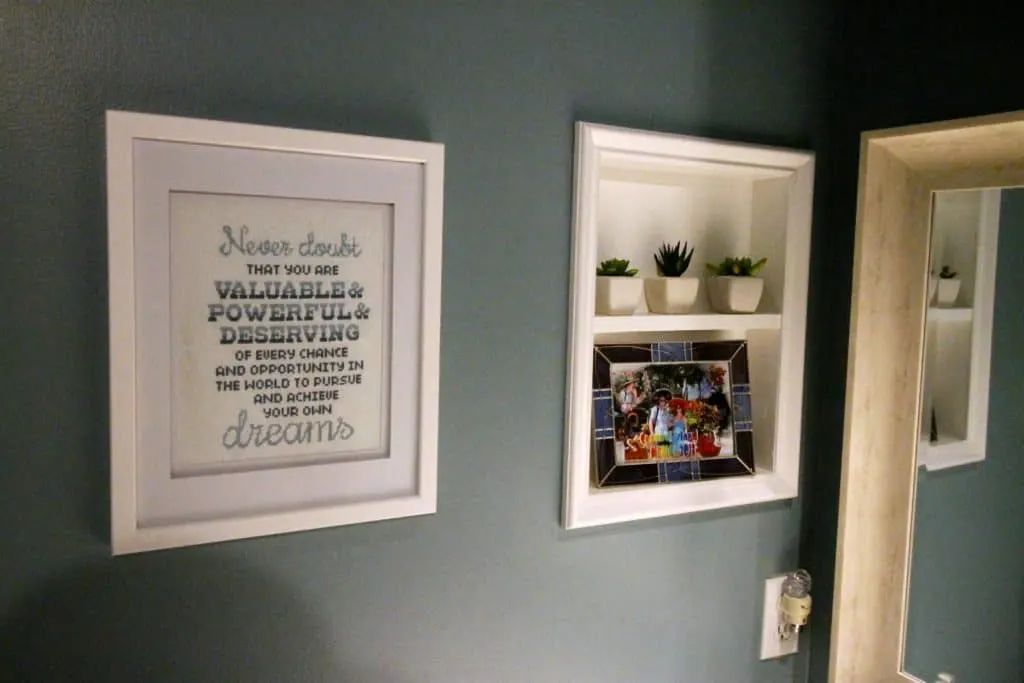 Cross Stitch Art – I had a great time doing a stitch n bitch with my friends – where we all cross stitch the same project at the same time and chat while we do it! I did this quote in a blue ombre and love it in this space. Here's the link to the frame.
Hang a seashell gallery wall – we previously had these frames hanging in our condo hallway, so it was simple to re-hang them here. We wanted it to feel a bit like a beach house (since many of our guests come to go to the beach!) so it was a great fit alongside some jars of shells.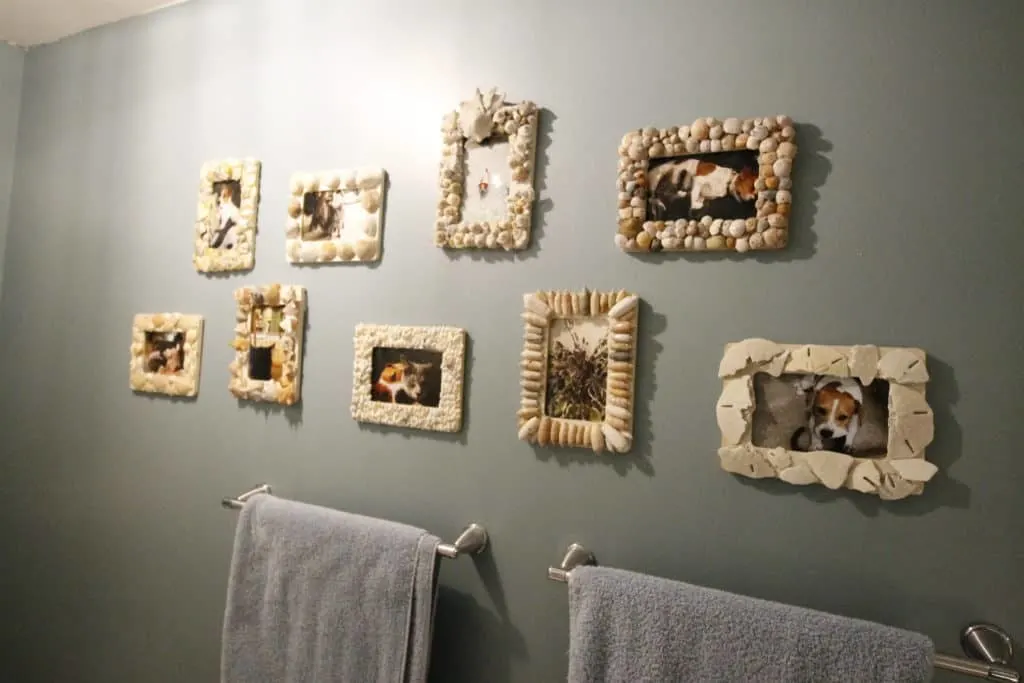 Swap the switches – we are slowly changing all of the switches & outlets in the house from beige to white. It's a really simple DIY just be sure to cut off the power!
Check out how we transformed our owner's bathroom in one weekend!
Any new updates that you want to share?