[wp_ad_camp_1]
About a month ago, we bought a pair of Fitbit Flex fitness trackers. We have worn them every day since and have mixed thoughts on them. We are excited to share our thoughts in this Fitbit Flex review and hear of any experiences that you might have with similar products!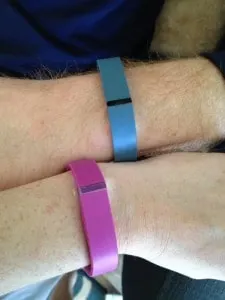 The Fitbit Flex is a fitness tracking wrist band that we bought at Target for $99. It has a silicon band and appears kind of like a Livestrong bracelet. It has a snap, sort of like a watch. There is a fob – about one inch long – that slips inside the band which is your tracker.
You wear the Fitbit all the time, unless you are in water. It is "water resistant" but we have been taking ours off to shower, just to be safe, and so we can wash underneath it! Sean was specifically told not to swim with it on and to enter that activity manually.
The Fitbit tracks your steps, distance, and calories burned. It syncs via Bluetooth to a free app on your smartphone or to your dashboard on fitbit.com.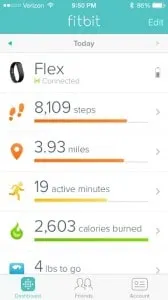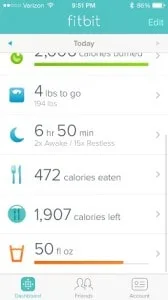 You can also use the Fitbit app to track caloric intake (the food you eat), the amount of water you drink, or other activities and exercise. I have been using My Fitness Pal (a free app) for a long time and was glad to see that it would sync to the Fitbit app. So, I enter my food on My Fitness Pal as usual, and it appears on my Fitbit tracker. Instead of sending individual foods, it just groups them as "breakfast," "lunch," or "dinner" and has a total for the whole meal. Sean uses the Fitbit app to track his food. It's very easy to use, though Sean says it has a less robust food inventory than My Fitness Pal.
The biggest reason I bought and like my Fitbit is accountability. Having my step data at my fingertips makes me so aware of my fitness levels. For example, I have realized that, if I had a normal work day, came home, watched TV and went to bed, I could easily have less than 2,000 steps a day. But, if I go walk outside for only 15 minutes on my lunch break (something I've started doing since getting the Fitbit) I can easily get over 1,500 steps! The preset goal on a new Fitbit is 10,000 steps, so that is huge.
Pros:
Battery Life – they say the battery lasts five days. I think that it might be closer to a week. It also recharges in just a couple of hours. It charges on a USB outlet, which we have in our wall but you can also use in a laptop. It's great not having to charge often so you don't miss sleep or steps!
Ease of use – the app and the actual Fitbit are super easy to set up and use. You really don't have to mess with it all day. It does the work for you!
Data at your fingertips – I am a number cruncher, so having minute to minute step counts on my phone is crucial for me. I check it pretty often, and seeing the count allows me to make goals – 1,000 steps before lunch! 1,500 during lunch! Walk the dog for 4,000 steps! It really does motivate me to do a little extra.
The lights – The Fitbit Flex has a small screen with five lights – they light up progressively as you step towards your goal. Since my goal is 10,000 steps, each light represents 2,000 steps. It makes it very easy to monitor my progress without even having to look at my app! There is another version of the Fit Bit (the Force) that has a screen with numbers on it, but I didn't think it was necessary.
Sleep Tracker- when you go to sleep each night, you can turn the Fitbit on sleep mode and it will track your movement throughout the night, allowing you to see in the morning how many minutes you were restless or awake. Sean likes this feature best because he uses it as proof that the dog and cat bother him throughout the night.
Cons:
The wrist snap is hard to hook at first. However, if you place your finger between the band/latch and your inner wrist and gently push up on the band, this works every time for us.
My purple band (I call it Radiant Orchid, so trendy, so 2014) already looks slightly faded/dirty. I was warned about this with the bright colors, but couldn't resist. Replacement bands come in a pack of 3 for $30 (you just slip in your tracker) so I will probably have to replace it in a few months. Black might be better if you didn't want to worry about this.
I'm not 100% sold on its accuracy. Sean and I have huge discrepancies in our steps – even when we walk together. I know he has a longer stride, and since he is bigger than me he burns more calories doing the same thing, but I still sometimes think it's not quite right.
Sean isn't sure how much value he is getting out of it. He works out on a regular basis and having a Fitbit hasn't changed his lifestyle. He thinks it's interesting to see some of the statistics, but believes that if you are already working out a lot, this isn't going to change anything.
(This post was not sponsored by Fitbit. We bought them at Target fair & square. We read a ton of reviews and talked to friends about a variety of products before selecting these and wanted to share our two cents with our little slice of the internet!)
Do you have a fitness tracker?
[wp_ad_camp_2]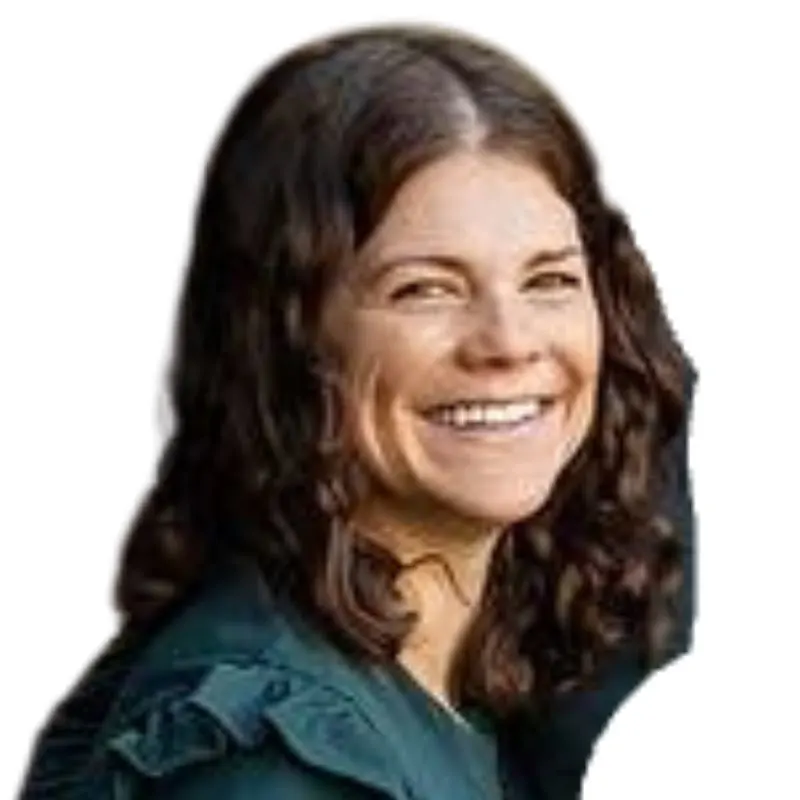 Hello, I'm Morgan, half of the creative force behind CharlestonCrafted.com! With a passion for DIY that dates back to 2012, I've transformed three homes and now I'm dedicated to helping others craft their dream spaces. Let's turn your house into a home together!