New year, new nothing around here 😉 But, the new year is a natural time to get your home a bit more organized. I encourage you to take some time in the coming weeks (ain't no time like a snow day!) to make a list of areas in your home that stress you out. Lay them out and tackle one drawer a night, one closet a week, or one room a month until you have a stress free home. Here are some of our favorite organization tools.
Click here for all of our organization projects
Our Favorite Organization Tools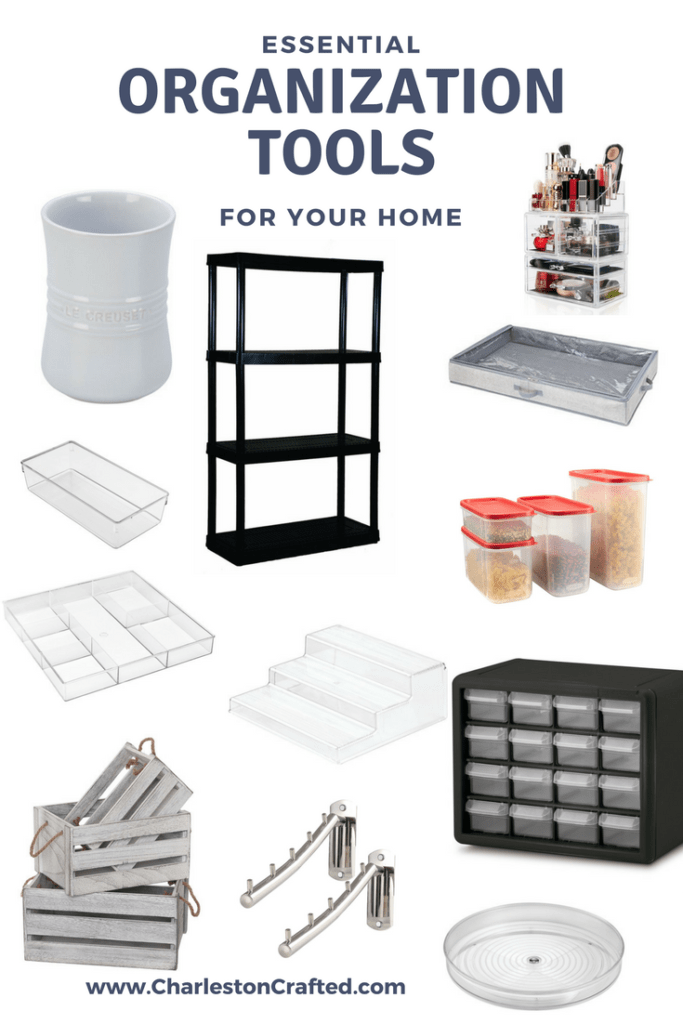 Mini Drawers – these compact drawers are perfect for the garage or craft room (we have several!)
Turntables – my favorite solution for a corner or a deep shelf (we had them in our previous pantry and inside our current bar)
Valet Hooks – the perfect way to get temporary hanging space. I use ours when I am putting laundry away or planning outfits, but they are also awesome for guest bedrooms where you might otherwise use the closet space for year round storage.
Clear Bins – use these anywhere. You can get them to fit inside a drawer or to sit out. My favorite uses are to corral small handbags or sandals and in the pantry or fridge. Perfect for that Home Edit look!
Under Bed Bins – the space underneath the bed is often over looked. Don't just cram things in there – simple fabric bins are an easy and organized way to take advantage of this dead space. I use mine for wrapping paper and love the setup!
Drawer Dividers – simply adding dividers to a drawer makes you 98% more likely to put something back where it belongs. OK, so I totally made that statistic up, but it totally rings true!
Canisters – Canisters can get really pricey, which is why I love this Rubbermaid set. I've had them since my baking cabinet in the condo and love their depth and how stackable they are. And, of course, the price!
Freestanding Shelves – they aren't the prettiest things in the world, but few things add to the utility of a space like adding shelves. I have sets similar to this one in our garage for Costco bulk items and in the office closet for my Etsy inventory.
Risers – perfect for the pantry or inside any deep cabinet, risers make sure nothing gets lost in the back and keep you from re-purchasing supplies that you forgot that you had. PS – here's how we made our own!
Makeup Organizer – I really need to clean up my vanity, and I totally have my eye on this organizer. Keeping everything put away but visible would make getting ready so much easier!
Utensil Crock – I love keeping my favorite utensils out on the counter at arm's reach when cooking. This crock is fabulous and comes in a ton of colors (my color is Caribbean!)
Crates – a great way to corral larger items, and also a cool way to bring a variety of wood tones into your decor! Match them to a piece of furniture that might not otherwise match your space to tie everything together.
Click here for all of our organization projects
What are your favorite organization tools?
This post contains affiliate links, which means that if you click through and make a purchase, we will receive a small percentage of the sale. Thanks for making Charleston Crafted possible!