Since buying my Cricut, I have had big visions of using it for out-of-the-box home decor projects. Don't get me wrong – I'll be making cards and vinyl t-shirts, too, but I wanted to get it to make more unusual things for my home.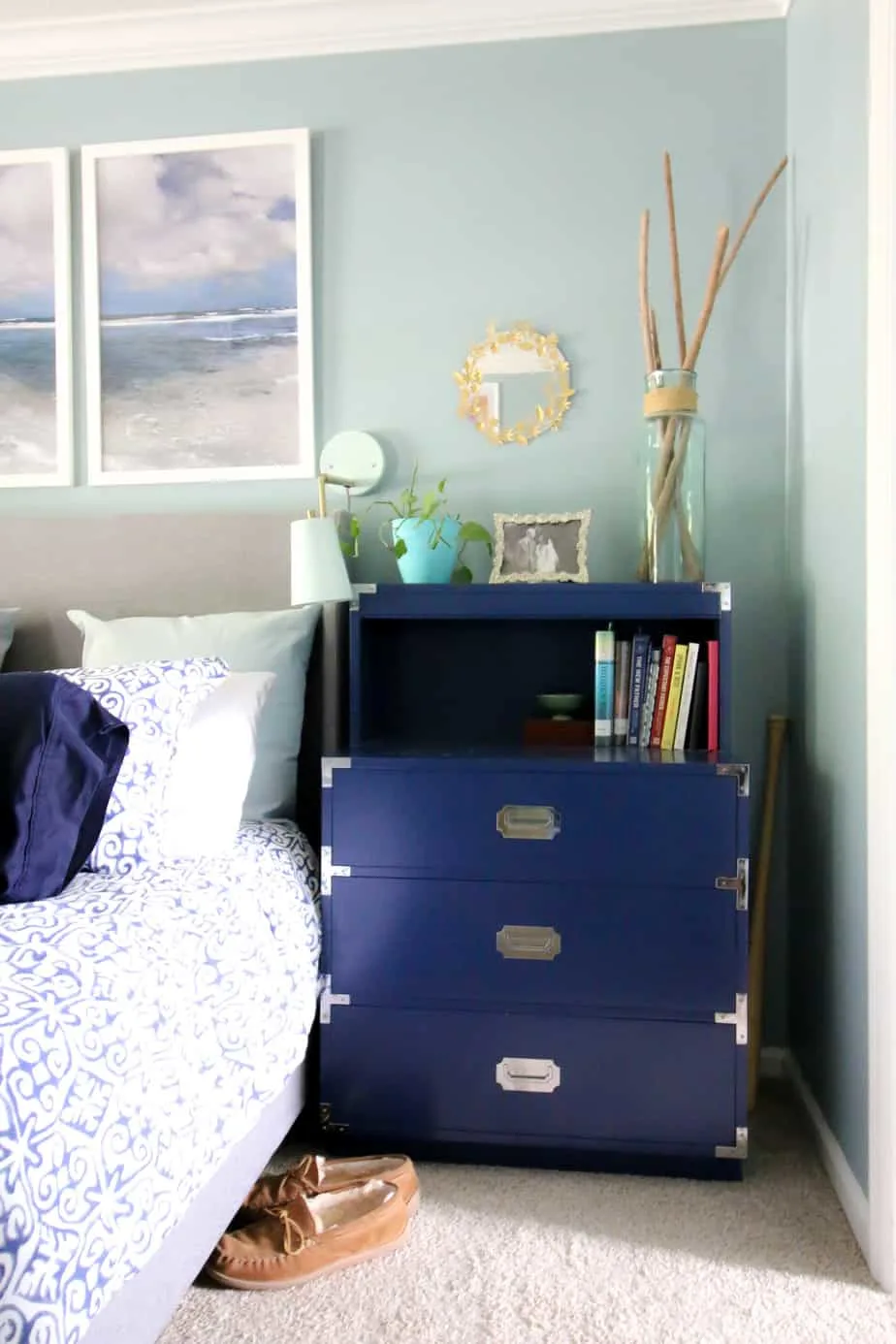 I was inspired for this project by a sponsored Facebook ad. Way to go Mark Zuckerburg, you got me again. I was targeted with this Paradiso Large Mirror from Anthropologie. I love the vibe, but this mirror cost $400-500, depending on the size. No thanks! Of course, I had to DIY my own, inspired by the Anthro version.
This project had a lot of trials and tribulations. If you follow me on Instagram stories (and you should!) you know that it took me 3 weeks to get this to work! That's 3 weeks of limited, nap time work time, but still. It was rough.
Cutting soda cans with the Cricut
My initial idea was to try cutting my flowers + leaves out of thin metal. I discovered that the Cricut can cut soda can material. So, I diligently drank several Dr Peppers and did not crush the can. It's harder than you might think to resist that urge.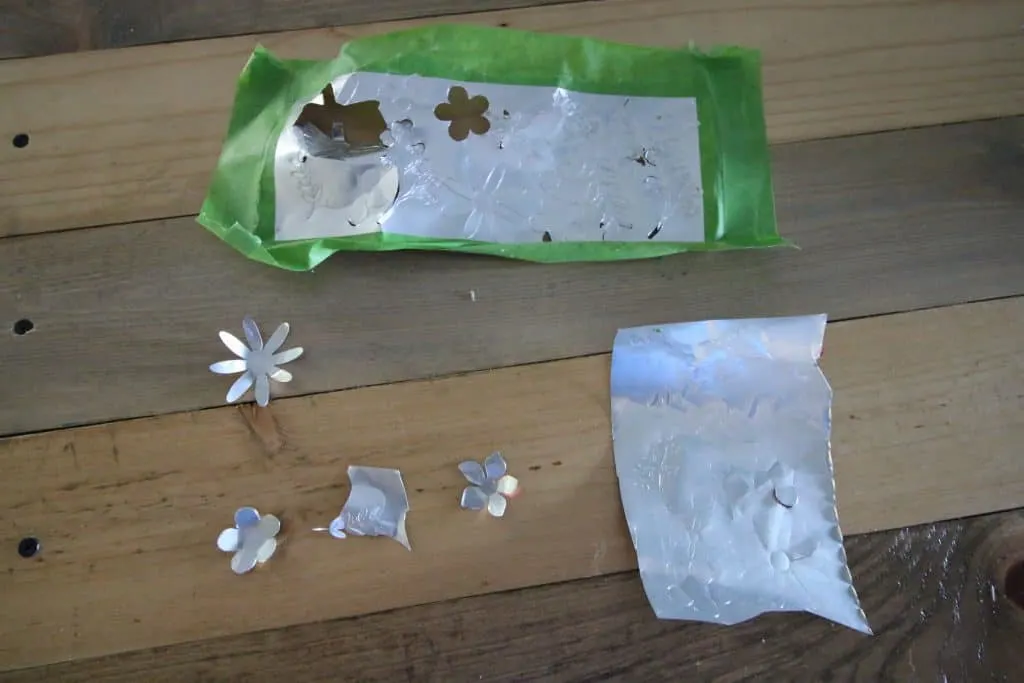 I used an exacto knife to cut the can into a rectangular sheet of metal. I rolled it flat and taped it to my mat. Online, I found that I should use a fine point blade + 325 pressure setting x2.
When I tried this setting, it did not cut all of the way thru the metal of the soda can.
I was advised to try the knife blade, but the knife blade cannot cut any pieces more narrow than a pencil, and most of my pieces were more narrow than that.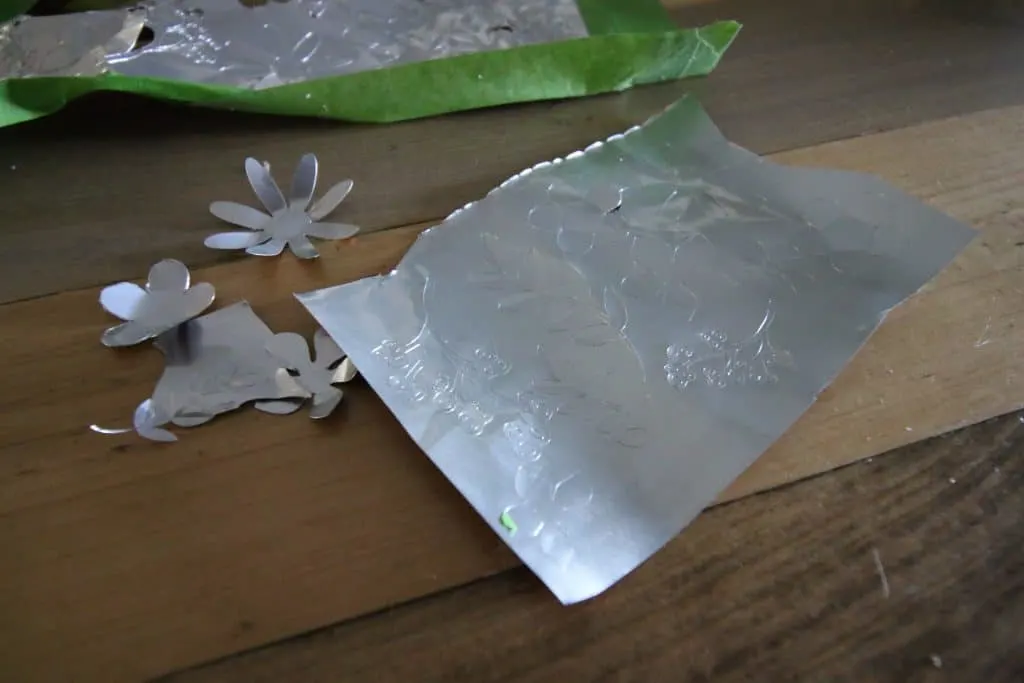 Instead I tried multiple passes with the fine point blade, but that just tore up my metal.
I finally discovered that people online were using the 325 setting x2 and then gently wiggling/bending the soda can to complete the perforation and pop out the pieces.
That was not going to work for me. My pieces were too delicate and tore. Also, I had way too many pieces to do that much manual work!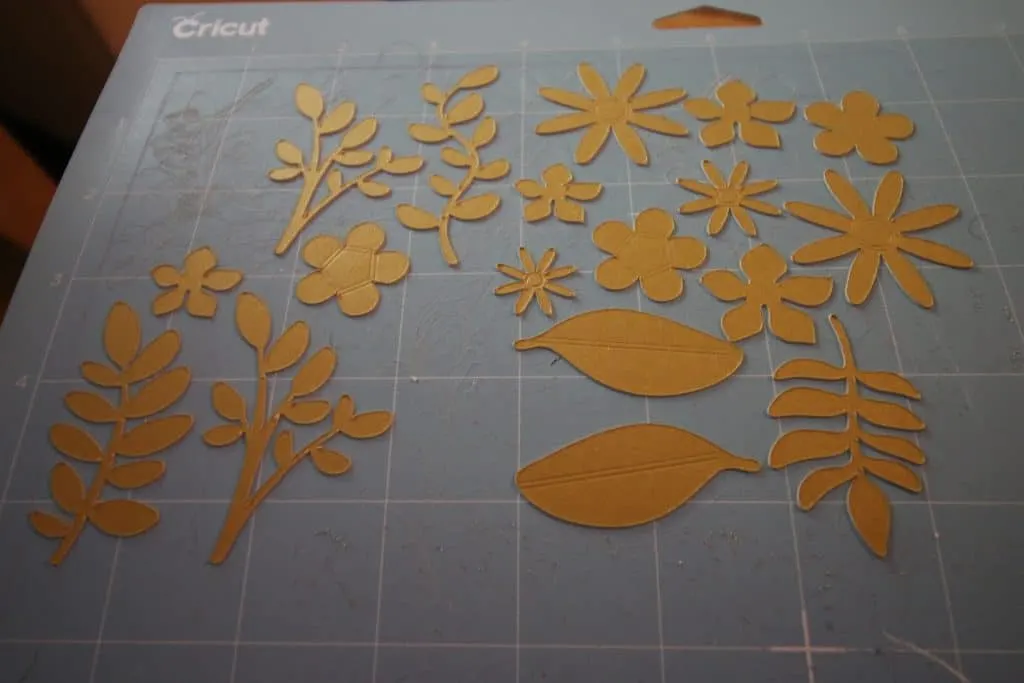 Cardstock
So, it was time for plan B. I ordered double sided gold shimmer card stock on Amazon. Thank goodness for 2 day shipping!
This cardstock is 250gsm thickness and I was able to cut it perfectly with the metallic poster board setting.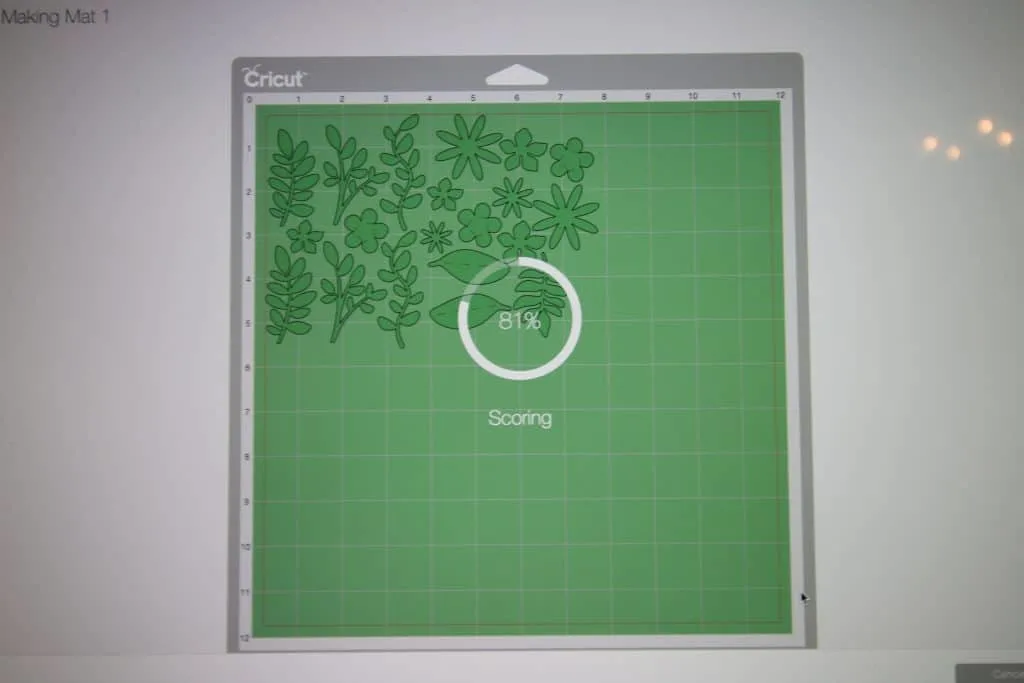 I love the cut file that I designed. It is a series of flowers and greenery that are thick enough to cut without tearing but also delicate enough to evoke the look of the inspiration mirror.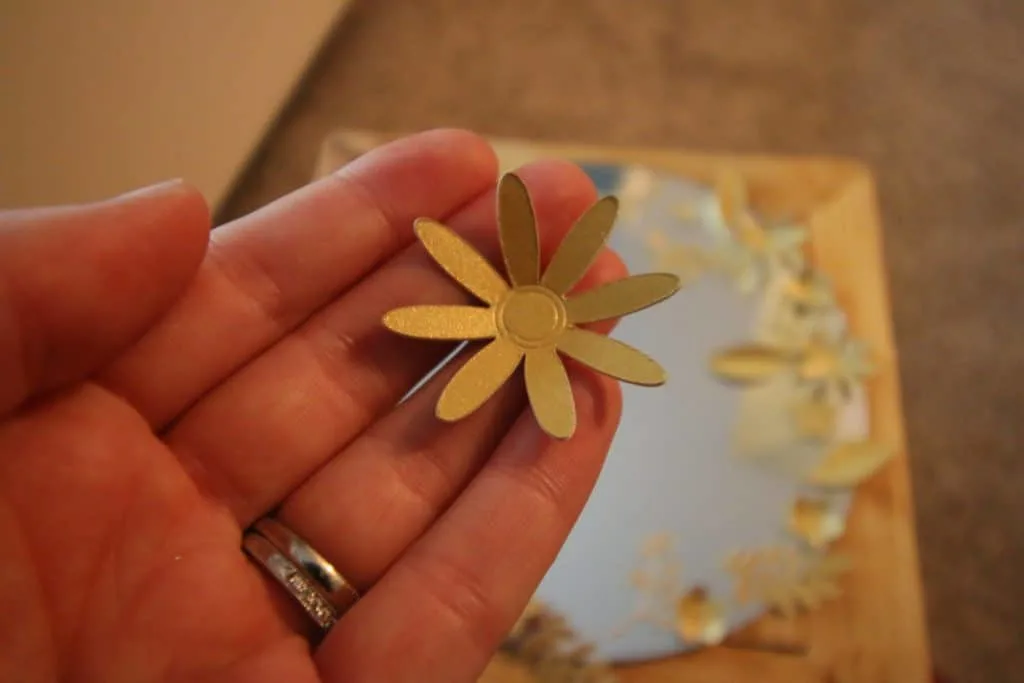 In addition to cuts, my cut file features scoring with the scoring wheel. This scoring gives the paper a 3D feel. Once they are cut, you gently fold along the score line to give the leaves and flowers that extra pop.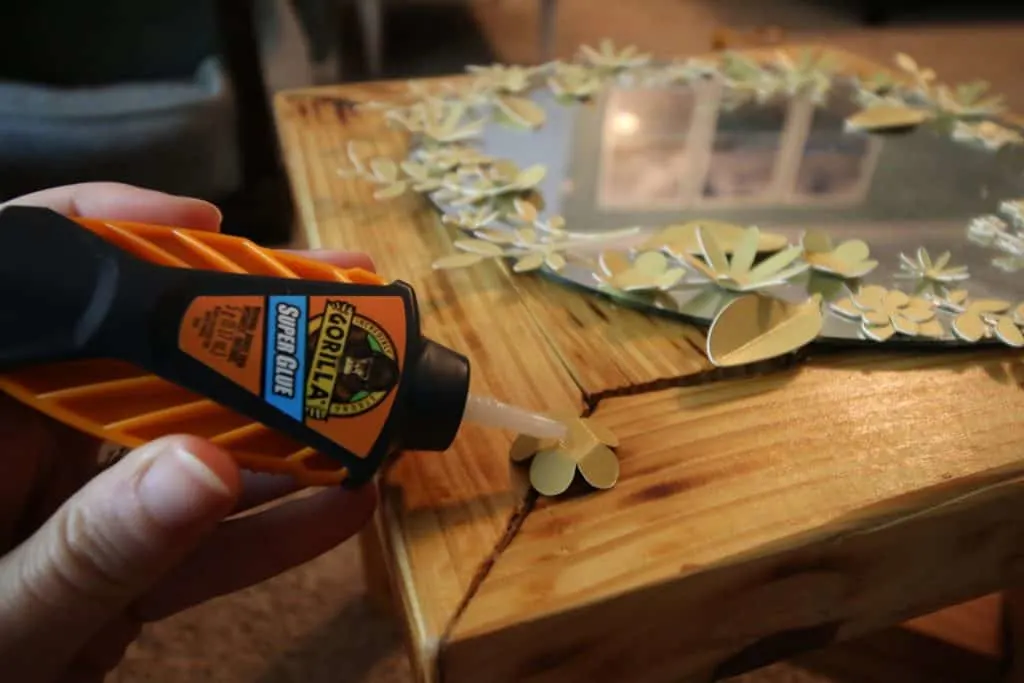 I used super glue with a precision point to add the flowers to the mirror. Tip – I used my weeding tool (but any straight item would work) to push each flower in while the glue was wet to stick more securely.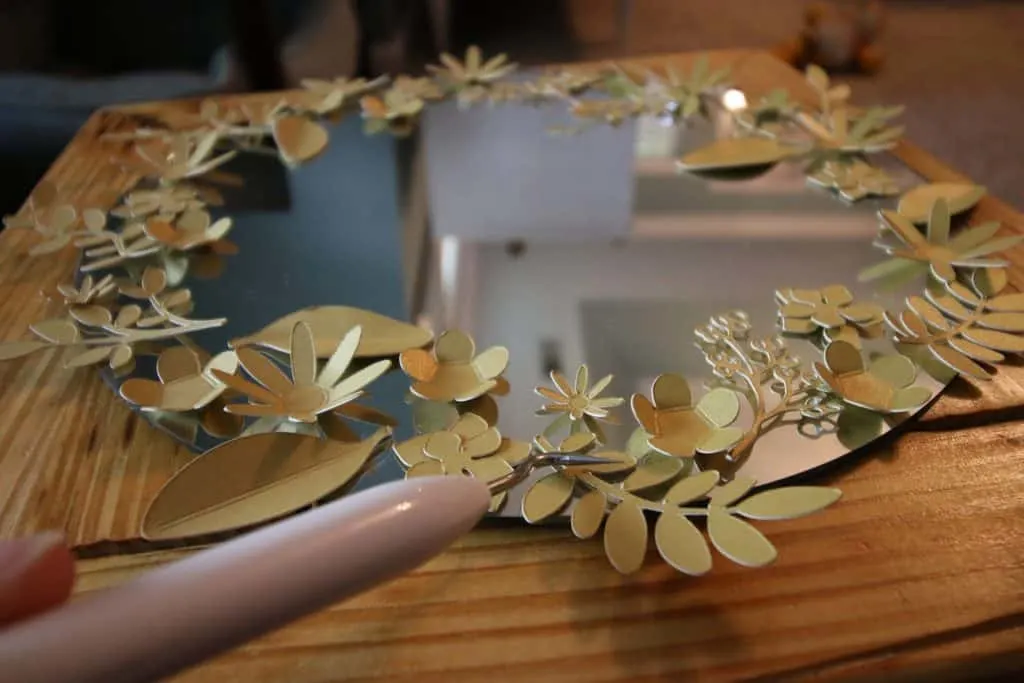 The results
I love how this mirror turned out!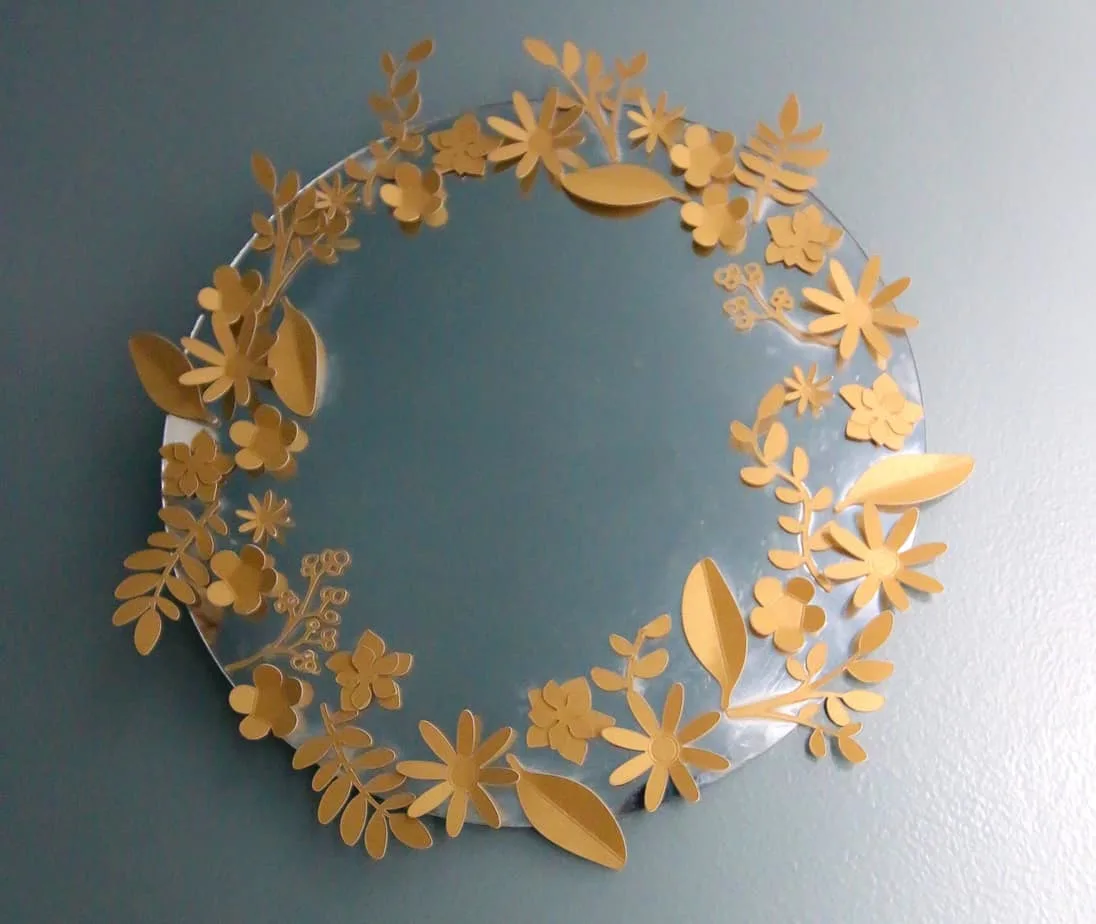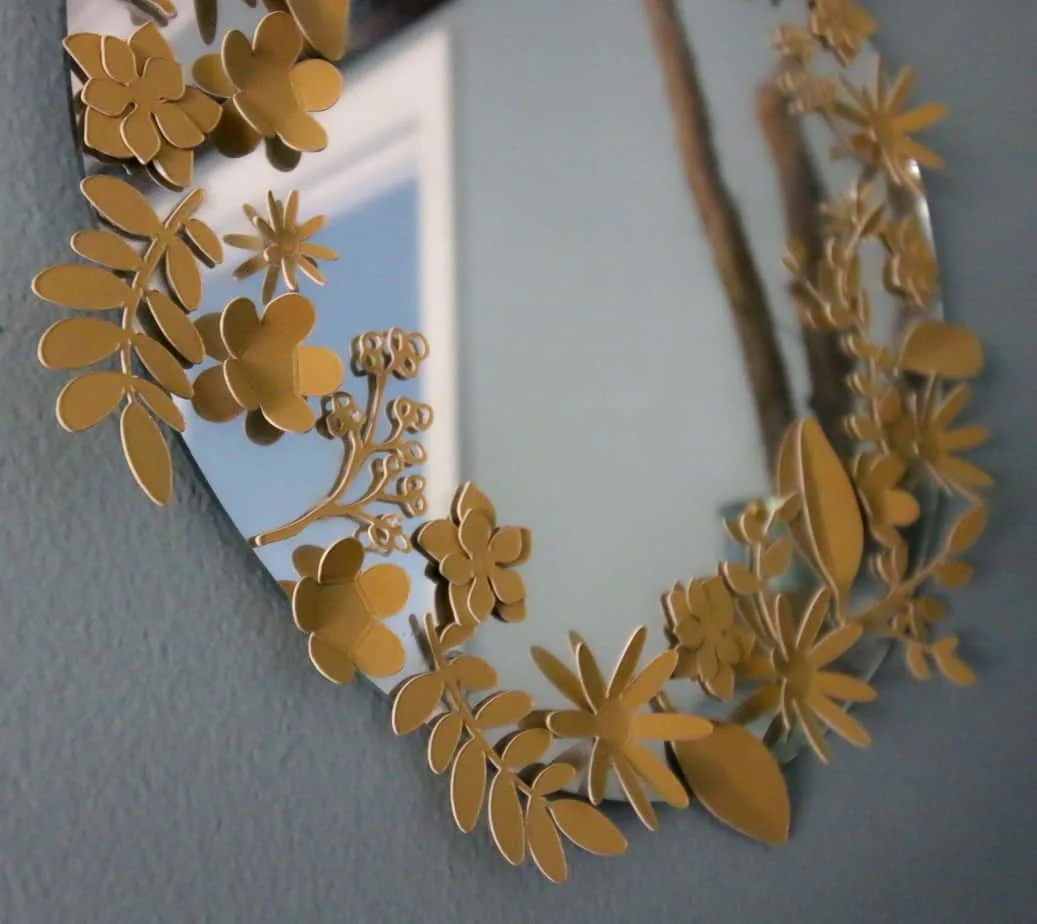 To be fair, there are some major differences between my mirror and the anthropologie version. Their mirror is 36″ and mine is only 10″. Their mirror is metal and mine is paper (I tried!) But, I think that I evoked the feeling and style of their mirror on a serious budget!
Yield: 1 mirror
DIY Gold Flower Framed Mirror (made from paper flowers cut with my Cricut!)
Active Time: 2 hours

Total Time: 2 hours

Difficulty: Medium

Estimated Cost: $10-50

Get this high end looking mirror by making it out of PAPER using your Cricut!
Materials
Gold cardstock
Super glue
Mirror
Tools
Cricut
Fine point blade
Scoring wheel
Blue Cricut mat
Cricut weeding tools
Instructions
Add hanging hardware to the back of your mirror in advance if it does not have any.
Download my cut file and upload to Design Space
Cut on card stock using the metallic poster board setting. I needed 2 copies to complete my mirror. You could do more or less depending on the size mirror you used.
Weed excess paper and carefully peel paper off of mat.
Gently fold along score lines.
Lay out flowers on mirror until you are happy with the layout.
Use super glue to attach to mirror.
Let dry.
Hang & enjoy!
Recommended Products
As an Amazon Associate and member of other affiliate programs, I earn from qualifying purchases.

This post contains affiliate links, which means if you click through and make a purchase, I receive a small percentage of the sale. Thanks so much for your support!