It's holiday season and it seems like half the conversations I've been having with people lately have involved "what do you want for Christmas?"
We are really hard to shop for for the most first world reason. If we want something, in general, we buy it. If there's something that we want but haven't bought, it's probably expensive enough that it's not really in a great gift range.
So, I figured that some of you may feel the same way. I wanted to share some gifts that you might not realize that you want yet, but are really cool. We decided to focus the guide on 4 of our passions which are shared through this blog. If you read here, you might love these things too! They are Food, DIY, Pets, and Travel. For each category, we have highlighted 6 items that we have and love. Underneath each list is an Amazon shopping widget with lots of other goodies in that category that inspire us!
FOOD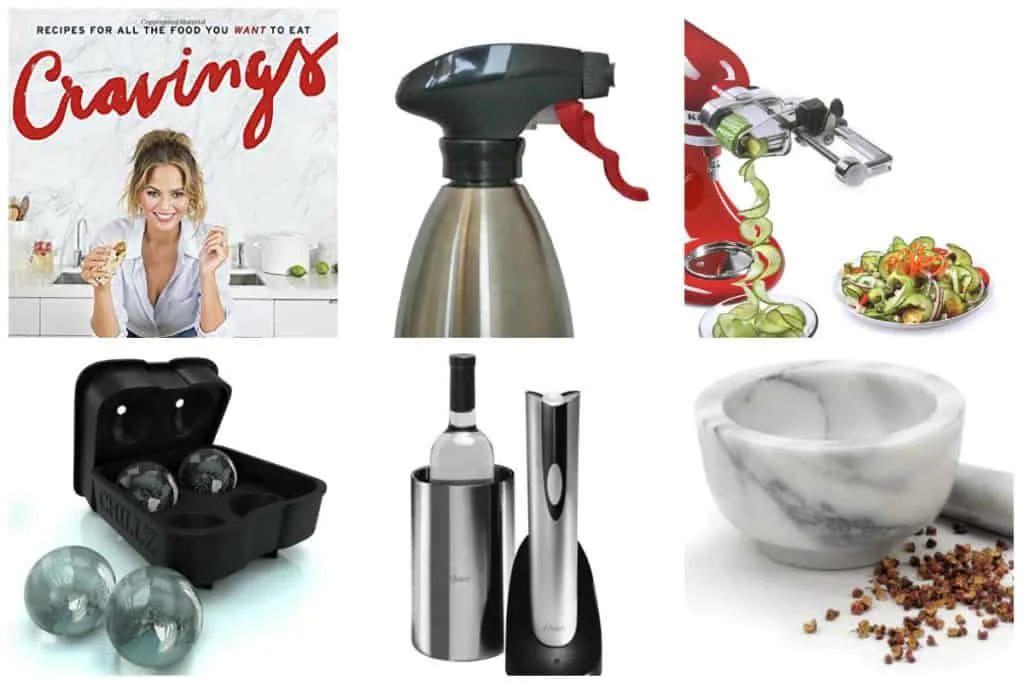 Cravings Cookbook – this was one of the biggest cookbooks of the year! The recipes are really indulgent, but packed full of flavor! Great for any foodie or fan.
Olive Oil Sprayer – An olive oil sprayer is a big step up from a can of Pam and a way to really cut down on unknown ingredients and preservatives. I use ours daily!
KitchenAid Spiralizer – This was my favorite gift last year. If you are trying to eat more veggies, spiralizing is the easiest way to do it. I love that this tool works with the kitchen aid mixer I already have and is so simple!
Ice Ball Mold – Sean loves these big ice balls for his scotches. It's a great stocking stuffer!
Wine Opener – I feel so fancy every time I use our electric wine opener. It's really an inexpensive indulgence and perfect for any wine lover.
Mortar and Pestle – When we have fresh herbs, I love to muddle some for liquor drinks or recipes. This marble version is gorgeous!
DIY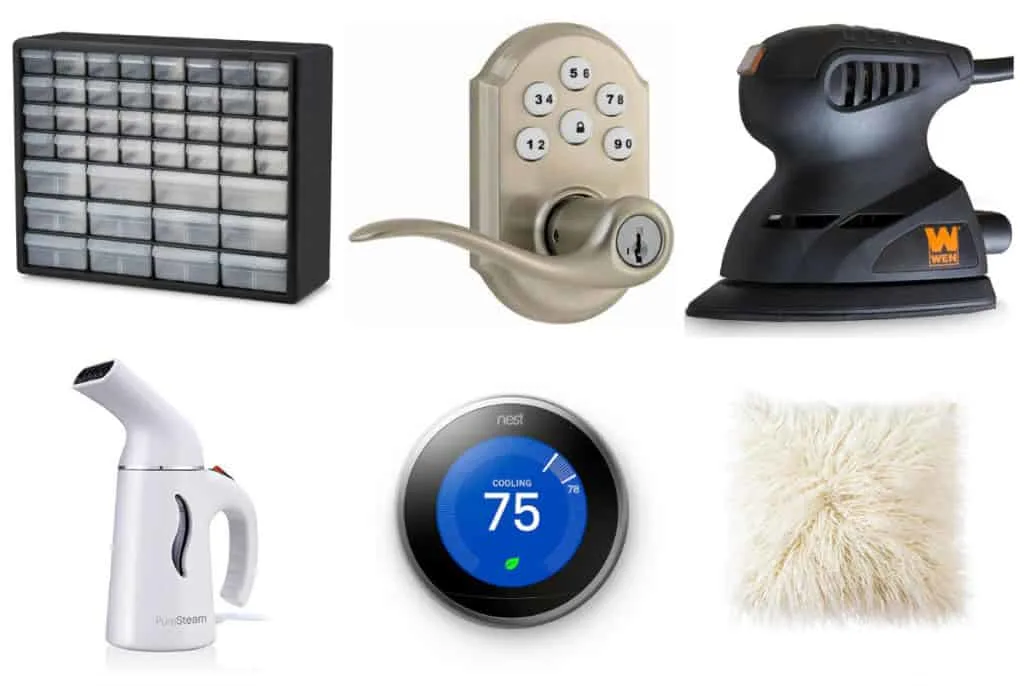 Craft Organizer – I have one of these to organize my beads and Sean has one for screws. It could work for so many hobbies!
Smart Lock – I really feel like I live a keyless lifestyle since adding this lock to our garage door. It's really convenient and impressive to our guests!
Palm Sander – Sean loves a good sand and this is a step up for anyone getting into DIY who might be sanding by hand.
Steamer – It's not sexy, but this tool is a workhorse in our house. It's so much easier to steam fabric (especially curtains) than ironing, plus it's great for traveling with nicer clothes that wrinkle easily!
Nest – We love our Nest thermometer and how much energy it helps us save. This would be great for anyone looking to go green.
Furry Pillow – A little texture is fun for any room, and I know that a big furry pillow is a gift that makes an impact!
PETS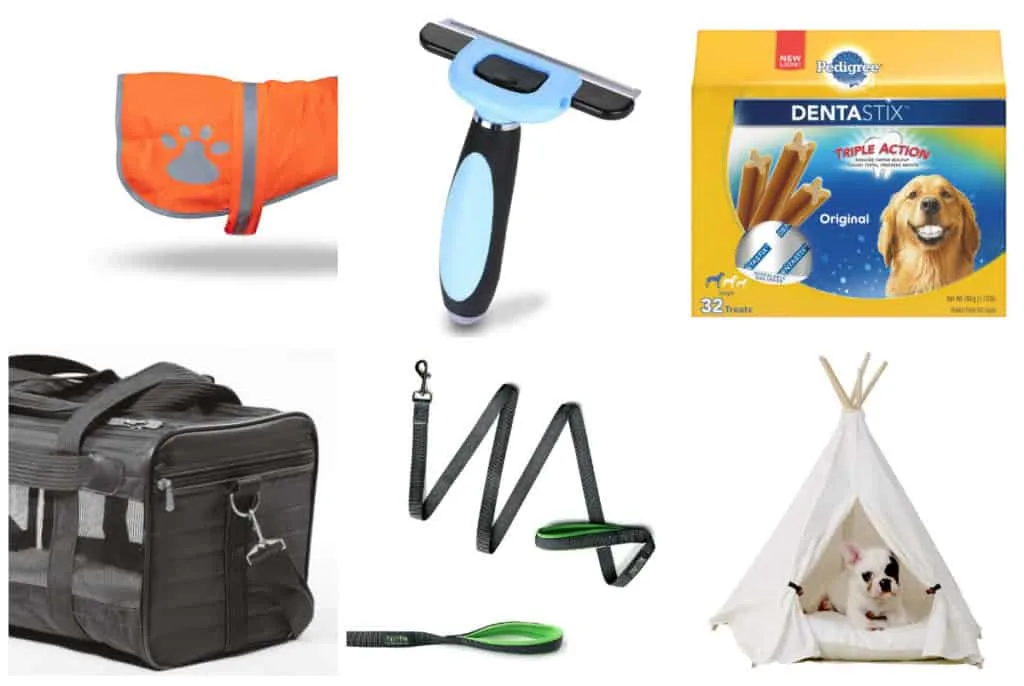 Reflective Vest – It gets dark outside so early this time of year! CiCi's reflective vest is awesome now that we have to walk when it's dark out – no one will miss her!
Grooming Brush – This brush is great for dogs and cats and is amazing at de-shedding them, like nothing I've used before!
Dentastix – Hands down CiCi's favorite treats! I love that they take longer to eat than a regular cookie, and they're great for her breath!
Soft Pet Carrier – This pet carrier is airline approved, but we use it when taking Bear on car trips. We love that it folds flat for easy storage and doesn't necessarily look like a pet carrier.
Deluxe Leash – This leash has been a game changer this year! It is reflective, is padded for human comfort, AND has 2 handles. I don't think I could ever go back to one handle again – I love being able to grab close to CiCi when we go near other dogs.
Pet Tipi – Ok, to be fair, we don't own this. Sean won't let me get or make one because "they'll never go in there". Bah Humbug. I need y'all to get this so I can live vicariously!
TRAVEL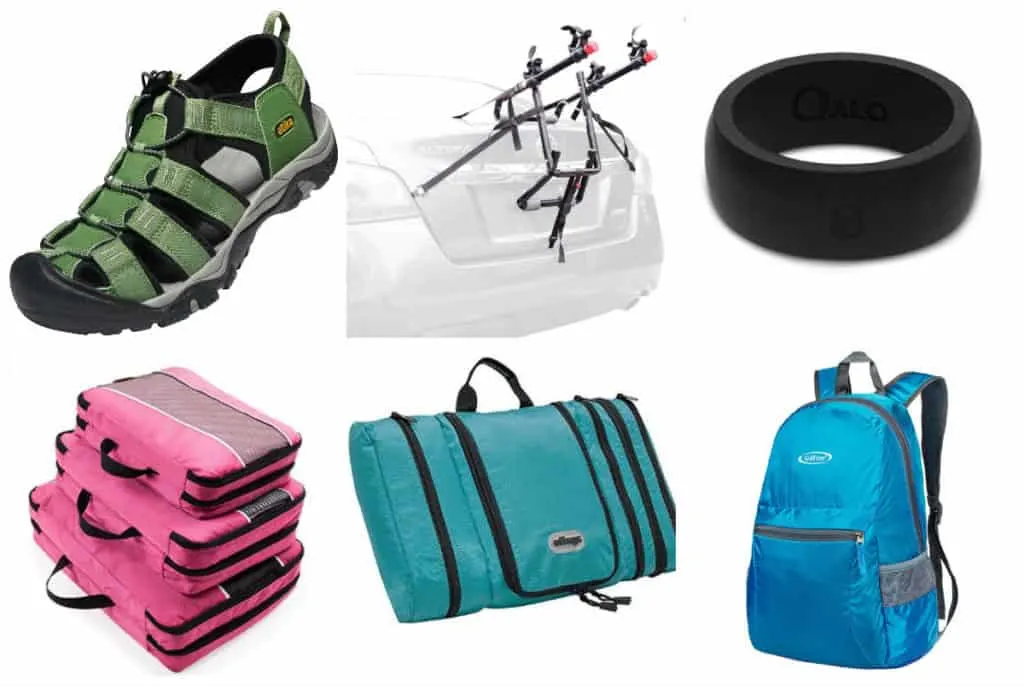 Hiking Sandals – These sandals are versatile and perfect for hiking and walking a lot on adventure trips! Plus they pack easily and dry quickly. They are available for men and women.
Bike Rack – If someone likes to bike, they need a bike rack! Ours has enabled Sean to drive his bike to safer areas to ride and to take it along on trips.
Qalo Ring – If your man is active and frequently taking off his ring, consider a Qalo ring. A lot of athletes wear them and Sean loves his for triathlons!
Packing Cubes – Think of these as a more permanent way to pack in ziplock bags. I love being able to separate items like socks and underwear or entire outfits into individual zippered bags. It makes packing and unpacking easy!
Hanging Toiletry Bag – I love having a toiletry bag always packed and stocked – all I have to do is grab this bag! I also love that this unfolds to have tons of room and can hang from any hook or rod – I feel a lot cleaner with it off the counter and floor!
Packable Backpack – This easily packable backpack folds up into a tiny pouch and is perfect for taking on trips. We loved it as a daypack in Italy but it's great for any trip where you may or may not need a small day bag!
All of these gifts are available via Amazon, which is my favorite way to shop. I also love that they let us use affiliate links – meaning that if you click through and make a purchase, we receive a small percentage of the sale. Thanks for supporting the brands that make Charleston Crafted possible!
Happy shopping!