Want to create an easy Thanksgiving centerpiece without breaking the budget? Here are a ton of cheap Thanksgiving centerpiece ideas!
Hosting Thanksgiving is a lot of fun, but it can get pricey really quickly.
If you are hosting this year but don't want to spend any extra, you might want some cheap Thanksgiving table decor!
Be sure to check out all of my Inexpensive Thanksgiving Table Decorating Ideas!
It's actually easy to make a DIY Thanksgiving centerpiece.
Let's talk about Thanksgiving centerpieces and what goes into them, and then look at some great Thanksgiving tablescape examples!
Don't miss my best DIY Thanksgiving Wall Decoration Ideas!
What is the traditional Thanksgiving centerpiece?
Traditional Thanksgiving centerpieces will incorporate Autumn themed elements. This might include:
Fall foliage
Pumpkins
Gourds
Woven, natural colored materials
Brown, red, orange, yellow, or gold colors
What floral arrangements are used for Thanksgiving?
Traditional Thanksgiving flowers include:
Mums
Sunflowers
Yellow or orange roses
Wheat
Pampas grass or other similar grasses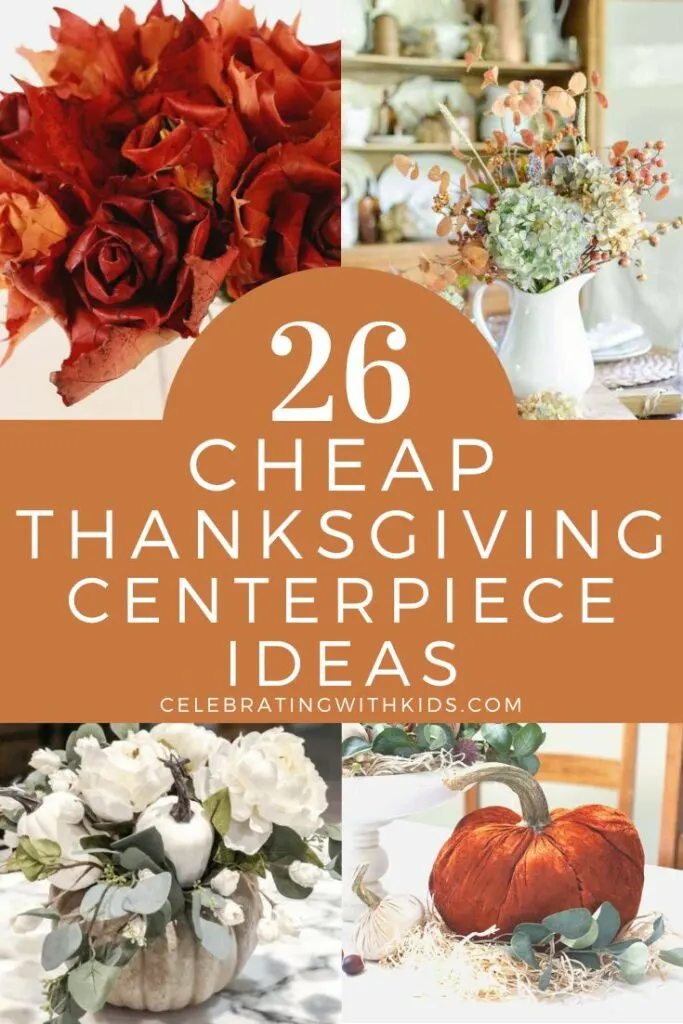 How to save money on a Thanksgiving centerpiece
There are a few ways to save money on your centerpiece for Thanksgiving.
Make something yourself
Making a centerpiece is almost always going to be cheaper than buying one at the store. Get creative with free finds from nature (sticks, pine cones), dollar store finds, and small craft supplies or items already around your house.
Re-use something from the past
We all kind of good-naturedly tease my mom that she has a full craft store in her attic. She has wreaths and fake flowers, centerpieces and mantel decor, for every possible holiday and season.
She stores them really well and now even decades after buying them they still look good with a little fluffing.
All this to say, re-use what you already have or if you buy something, save it to re-use next year.
Keep it simple
Simple Thanksgiving centerpieces can be just as powerful as something elaborate. Instead of trying to add a dozen little things to the table, focus on 1-3 larger or bolder items.
Here's my tutorial on how to make a THANKFUL interactive wall hanging!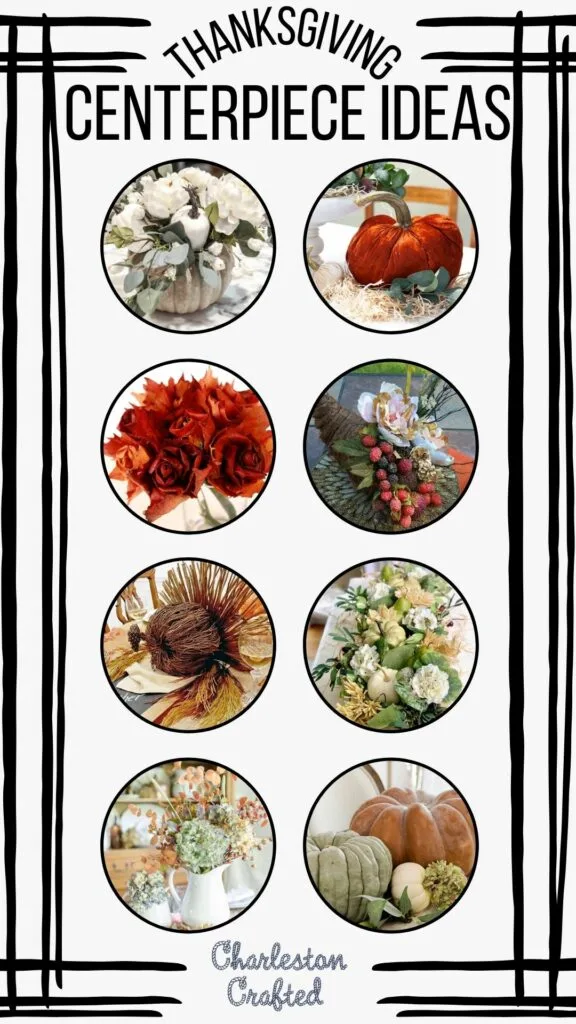 How do you make a cheap Thanksgiving centerpiece?
When you are designing a Thanksgiving table centerpiece, you want to keep it simple but still have a variety of levels and elements to your DIY Thanksgiving centerpiece.
A centerpiece usually has 3 elements:
Something flat on the table – tray, table runner, lazy susan, etc
A show piece
Small accent pieces
I suggest starting with the showpiece – the thing that you want at the center of the table. Pick something eye catching that goes with your color scheme.
A showpiece could be:
A large pumpkin
A bouquet of fall foliage
Potted plant
Woven cornucopia
Then, choose something to go under the showpiece. I suggest a tray, platter, or table runner. Pick something that fits your table and goes with your color scheme.
Finally, add accent pieces. For a centerpiece for Thanksgiving this might include:
Candle holders
Mini pumpkins
Small branches
Faux fruit (or real fruit!)
Here are some of my favorite ideas for thanksgiving centerpieces!
Inexpensive Thanksgiving Centerpiece Ideas
Looking for the perfect Thanksgiving centerpiece that won't break the bank? Here are a ton of budget friendly Thanksgiving centerpiece ideas!
What are your favorite inexpensive Thanksgiving table decorations?