Have you heard of the Barbiecore aesthetic? Let's talk about what Barbiecore is and how to get the look in your home!
Have you heard the term Barbiecore and wondered what on earth people are talking about?
Yes, in fact, people are talking about barbie-inspired fashion and barbie decor for your home.
Barbiecore is trending in a big way with Gen Z – which means that it is soon to be trickling out across the country – and the world – at stores and in magazines.
Let's talk about what Barbiecore is and share some barbiecore ideas for your home!
What is barbiecore?
Barbiecore is a trend inspired by the bright, colorful, and happy aesthetic that is the classic Barbie doll.
This trend was kicked off by the new Barbie movie being filmed (directed by Greta Gerwig, starring Margot Robbie and Ryan Gosling), and the resurgence of 90s trends in general.
The 90s barbie aesthetic is bright, colorful, and cheerful. It's a bit of an escape from some of the more depressing times and themes of the past few years.
See all of the biggest home decor trends for 2023 here.
Truly, it seems like gen Z likes to add the phrase "core" to the end of anything and call it an aesthetic. As a grumpy old millennial, I surprisingly don't hate it.
The barbie aesthetic is popular for clothes and fashion, but it's also on-trend to have barbie home decor. Who doesn't want an aesthetic barbie house?!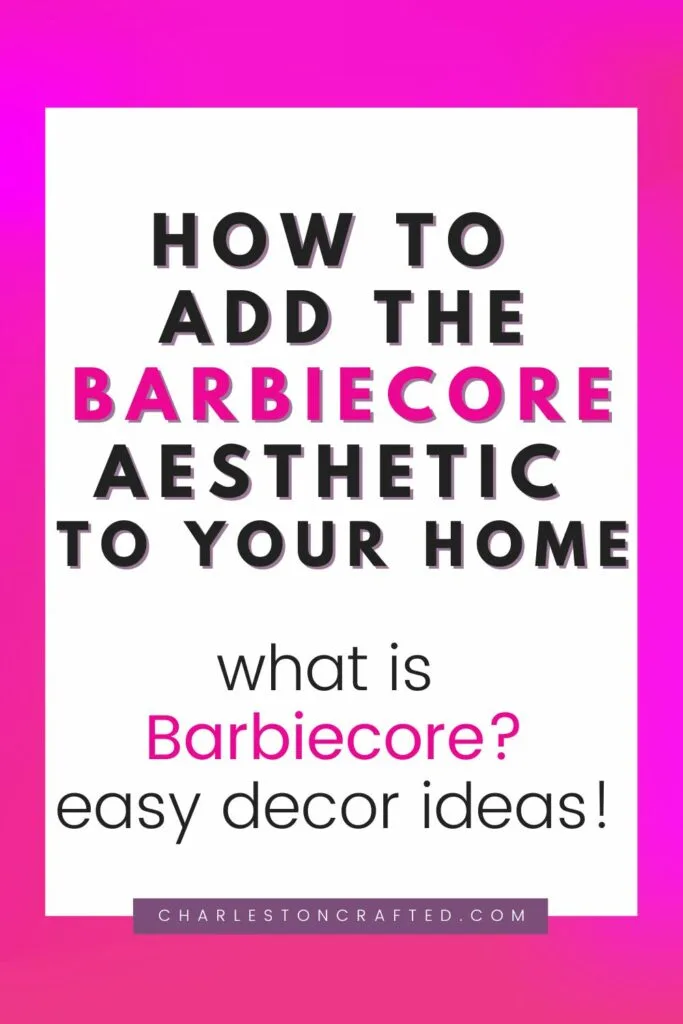 Barbiecore home ideas
Here are some ideas for barbie room decor for your home.
Pink everything
No surprise here, but the cornerstone of Barbiecore fashion & decor is the color pink. Hot pink is preferred, but a blush pink shade can be layered in for good measure.
Pink is perfect for the girlie-girl Barbie aesthetic.
You could paint a pink home – here are my favorite pink paint colors – but you can also keep your neutral paint colors and instead choose pink for throw pillows and accessories.
If you're shopping for something that you need anyways – like a new toaster – and it comes in pink, grab that version for an easy taste of the barbiecore look.
Use white as your neutral
Ok, so pink everything could be a bit much for your real life home. The best neutral for the Barbiecore look is white. Steer clear of gray or beige or taupe – that's not a Barbie vibe.
Instead choose a crisp white for contrast. For a softer look, stick to white walls with pink accessories. For a more bold look, use more pink, but keep plenty of white to balance it out.
Choose gold for metallics
Barbie is more than a little bit glam and the glamest metal finish is definitely gold. Choose gold in small accents for knobs, pulls, lighting, and accessories to bring that extra girlie glam.
Rounded shapes
Rounded shapes and curves have been trending for a minute, but they are especially perfect with barbiecore.
These soft lines have a distinctly feminine feel and are perfect for the 90s barbbie doll dream home look.
Looked for sofas with curved backs or arms, art featuring circles, and lamps or candles made in an arched shape.
Flower power
Flowers are in general giving vintage barbie feels. Think of a 60s color block daisy. You can also look for furniture with a daisy type shape to it to bring the look in a more subtle way.
Shop Barbiecore decor
Use the widget below to shop some of my favorite Barbiecore inspired home decor!
What are your favorite barbiecore decor ideas?!