The biggest project that I wanted to undertake for Bathroom Week was updating the walls by adding Board & Batten. This look is huge right now & Sean and I agreed that it would look fabulous in the guest bathroom. Also, this room doesn't have much wall space, so we knew it would be a great way to make a big impact in this small space.
*NOTE: I'm going to say "We" a lot in this post. Probably, that means that Sean did it while I watched. Though this was my "vision," the nature of the sawing, hammering, and measuring meant this project fell into the "blue jobs" category, aka Sean did most of the work while I watched. And motivated *
Adding Board & Batten to a Bathroom
Here's how the room looked before we started: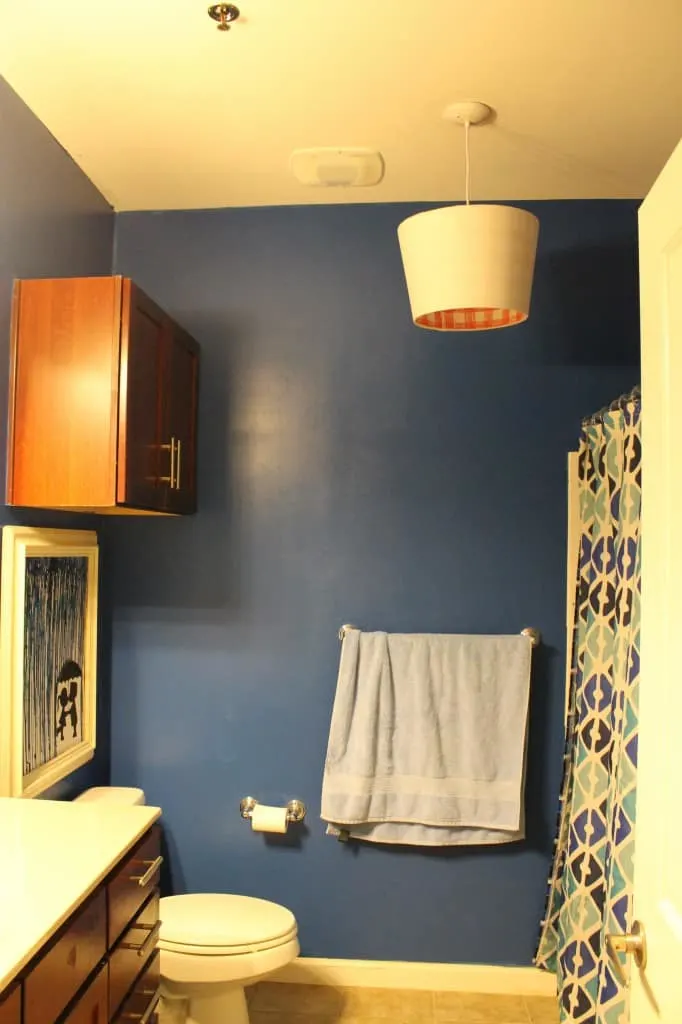 Sean started by taking everything off the walls and measuring. We moved the framed art and hanging towels into another room to have better access to the main wall in the room.
We decided to have the horizontal line of the top of the boarding line up with the counter top. This would give us a nice clean line around the room.
So, Sean measured the width of each of these 2 visible walls, as well as the height of the counter. Then we headed to Lowes. We picked up:
8′ long x 2″ wide x 1/2″ thing boards
48″ long, 2″ wide thin slats
White semi-gloss paint (paint & primer in one)
clear paintable caulk
box of 200 nails (with small heads)
We got home and started cutting. First, make sure to measure again. Then measure AGAIN. You don't want to cut a board too small and then have to buy another one.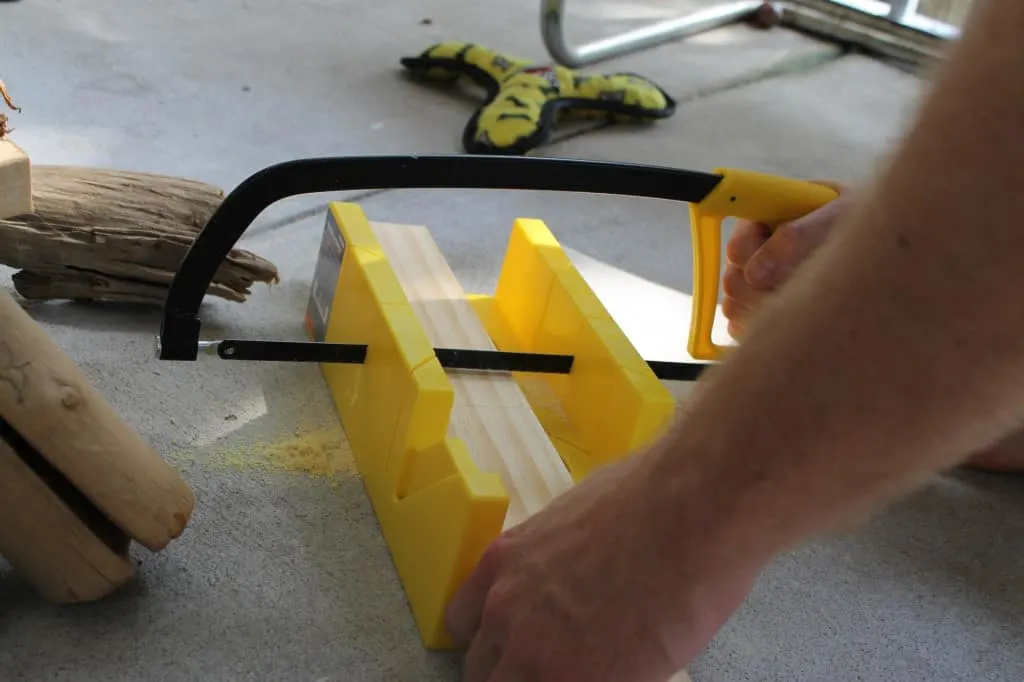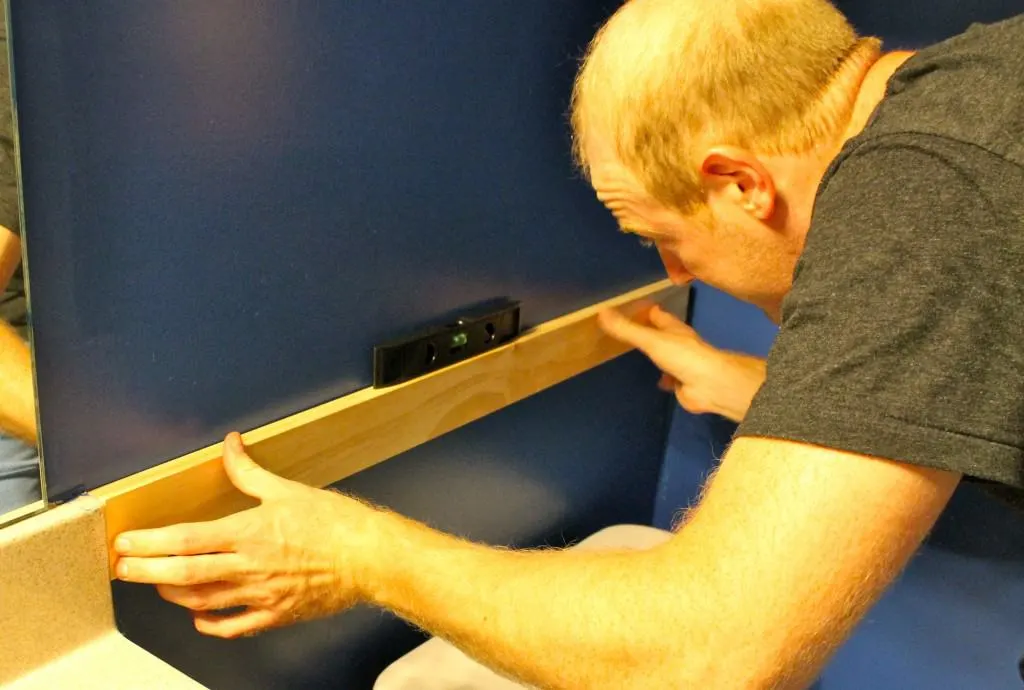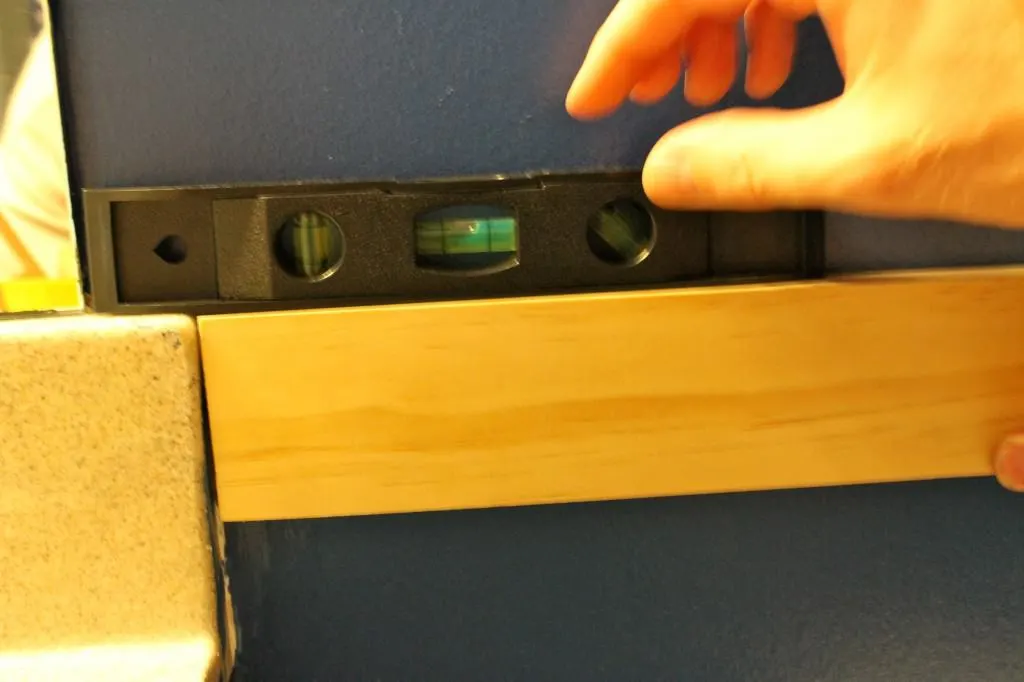 Sean got cutting and held things up to the wall along the way. For the corners, if it's an "inside" corner (like behind the toilet) you have to subtract the thickness of your board from one of the sides.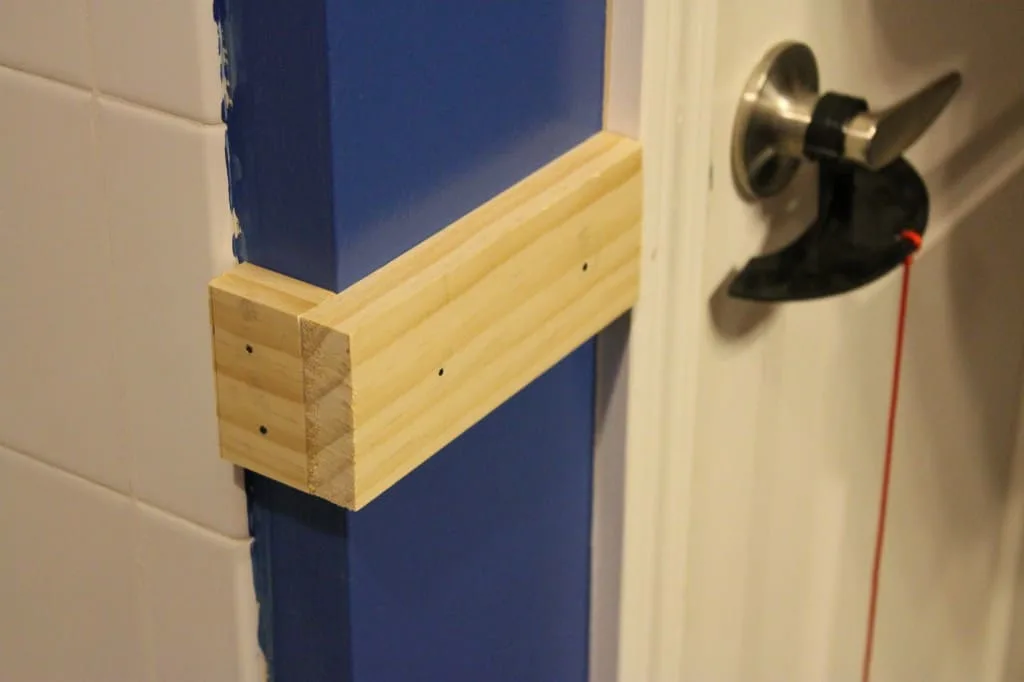 If it's an "outside" corner, you add the thickness. We had both, yay math!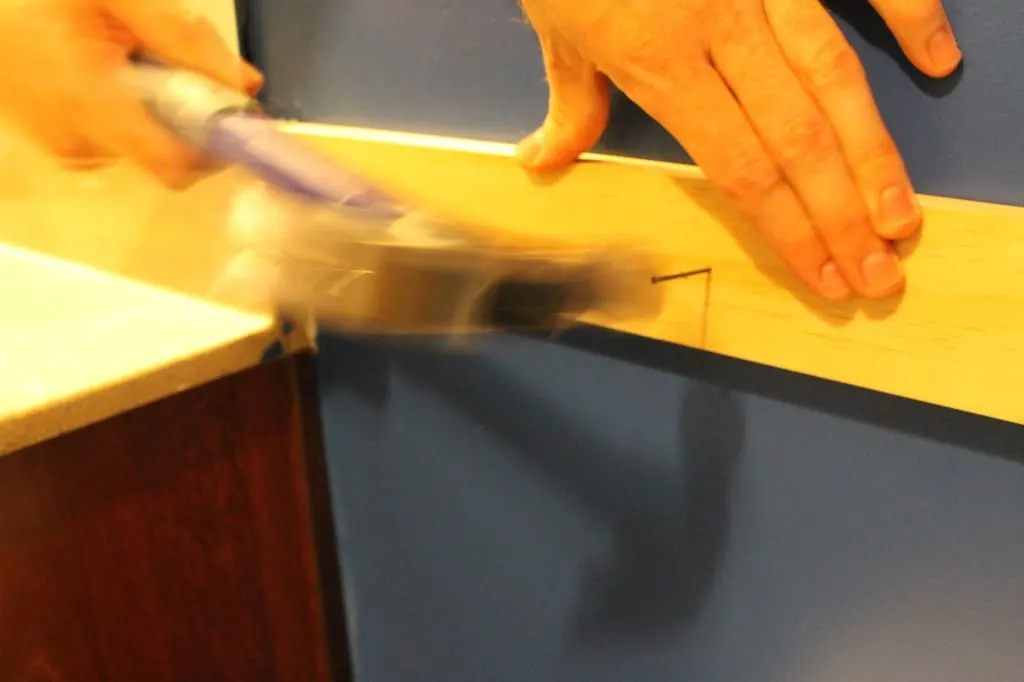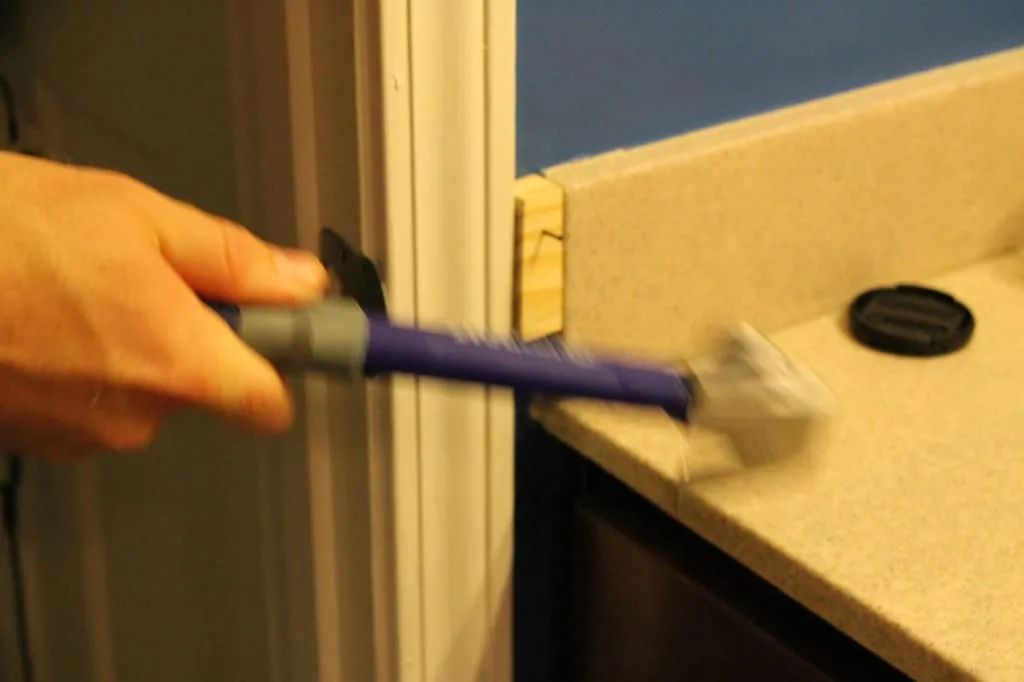 Once we had the horizontal pieces cut, we went ahead and nailed them to the wall. This way, we could measure the vertical pieces and hang them without it moving and changing. This hanging process involved hammering in the long nails about every six inches. We also did a LOT of leveling- its better to check twice now than regret later!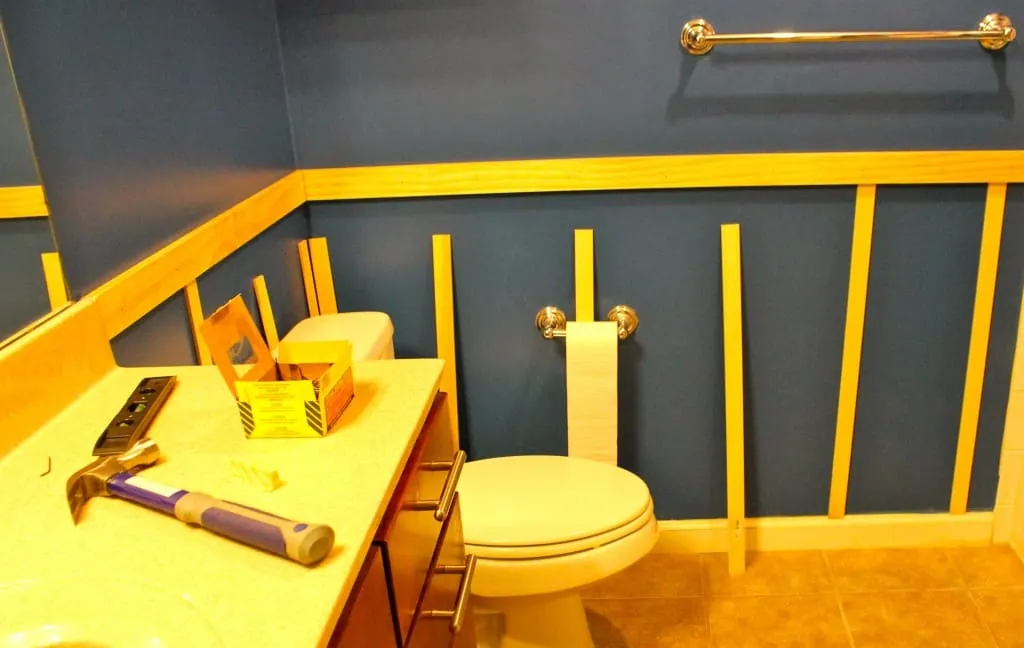 Next Sean got cutting the vertical pieces. He measured that they should be 32 inches high. However, after a lot of cutting and placing and leveling and measuring, he concluded that the floor boards are slightly uneven! He ended up having to progressively shave a little bit off each board to get them to fit, while I made bagel bites and proclaimed "that really stinks babe." Always the supportive girlfriend!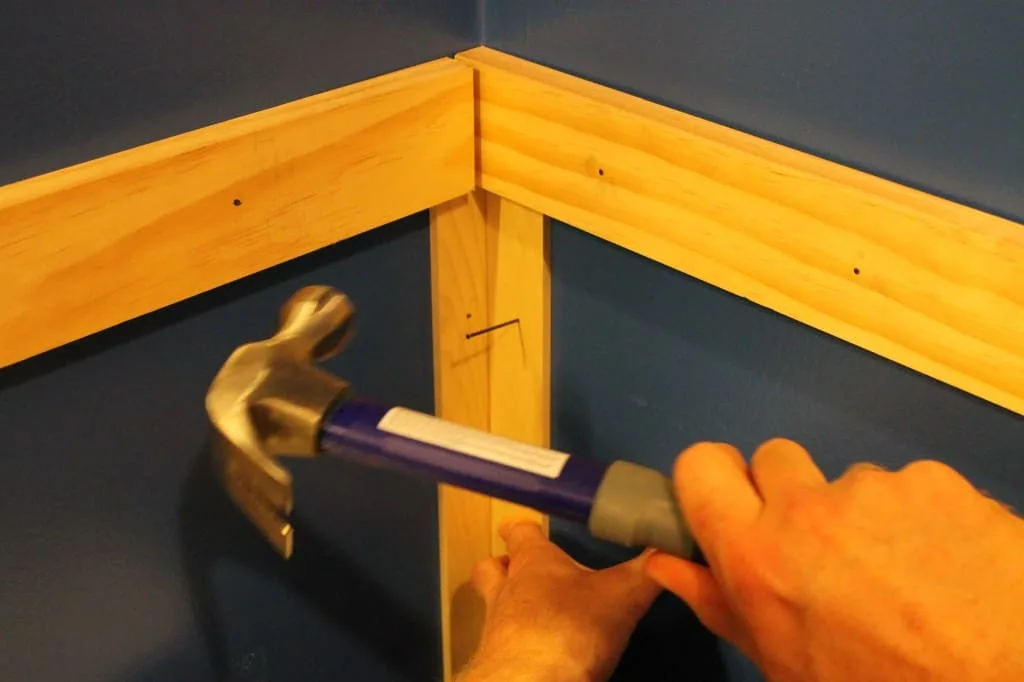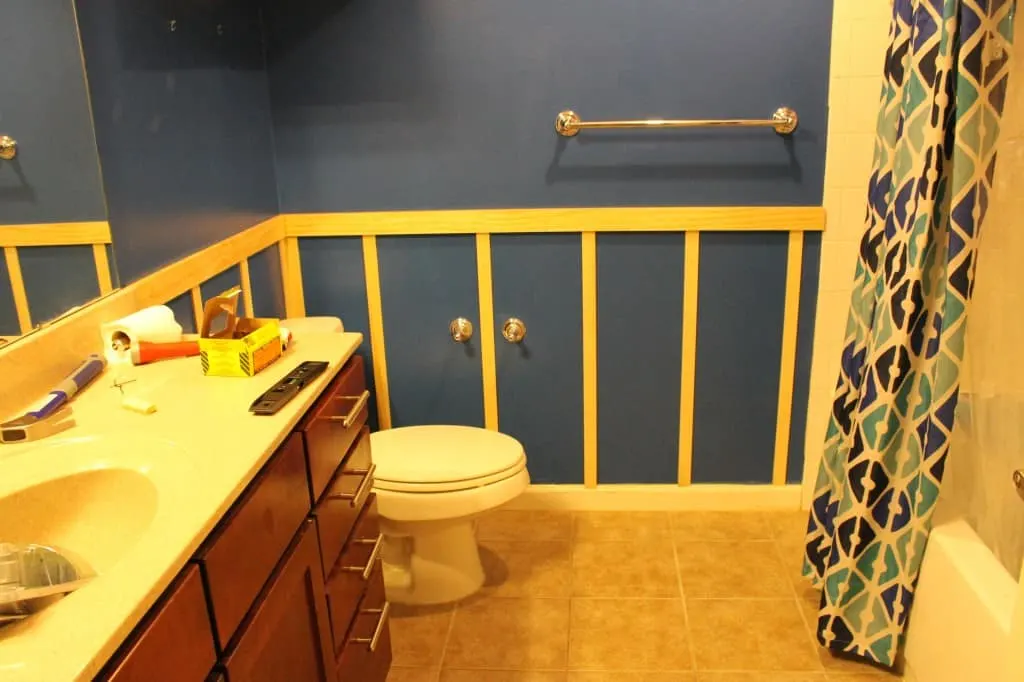 We ended up placing the boards 12 inches apart from each other, for a total of ten in our small room. We liked this spacing, but you could make them closer together or farther apart.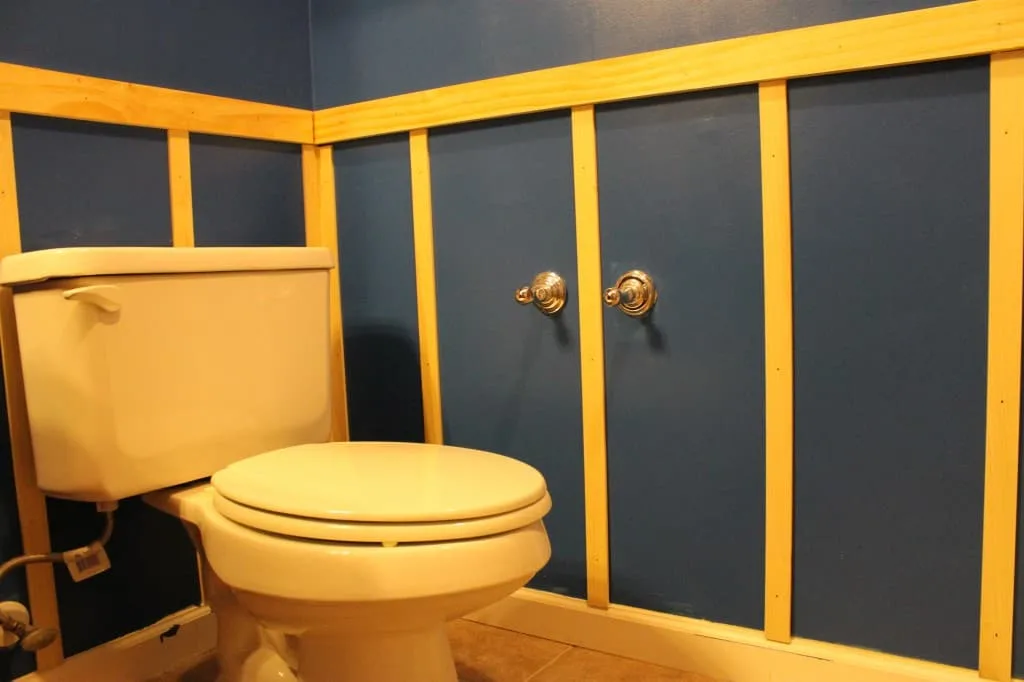 Then we nailed those boards into place. They each got at least 3 nails- the ones behind the toilet were a little bit hard to get to. We did a lot of leveling (again!)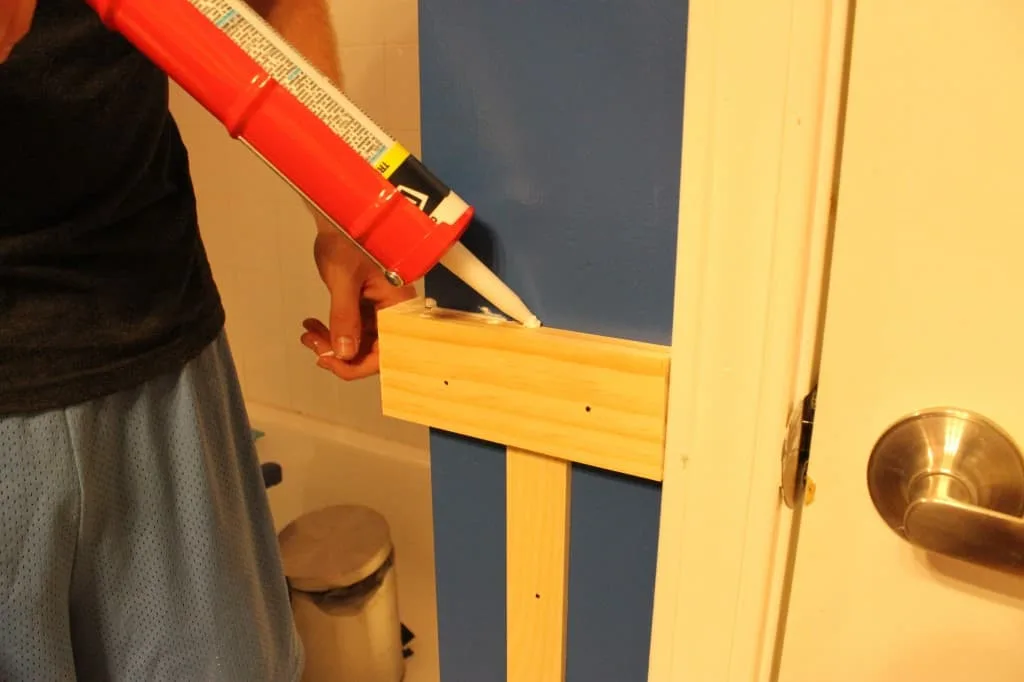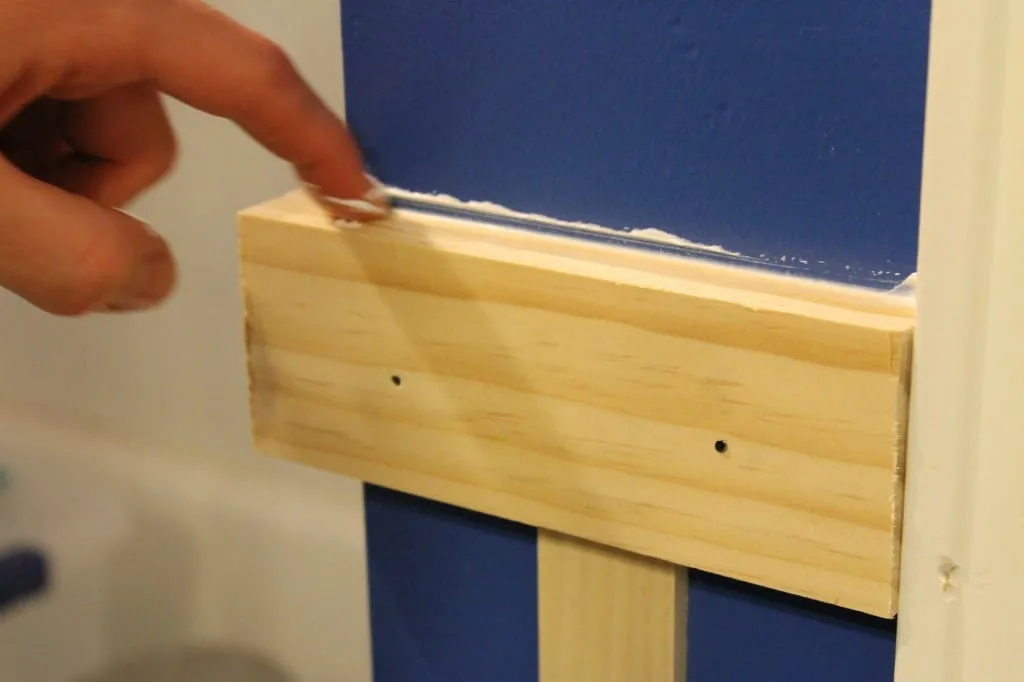 Next, we caulked all of the seams.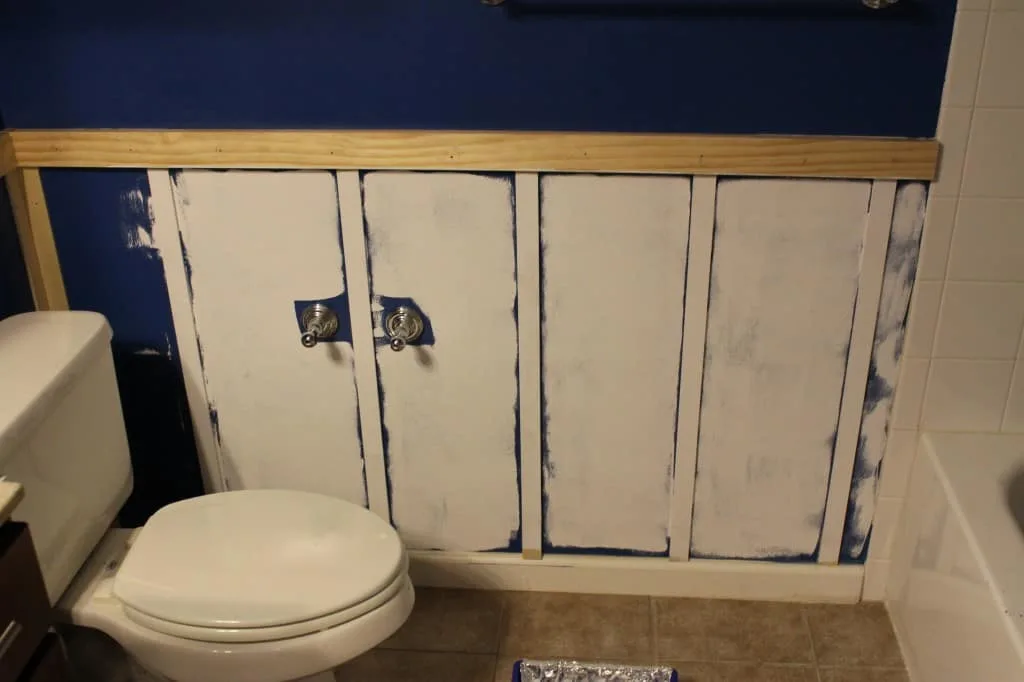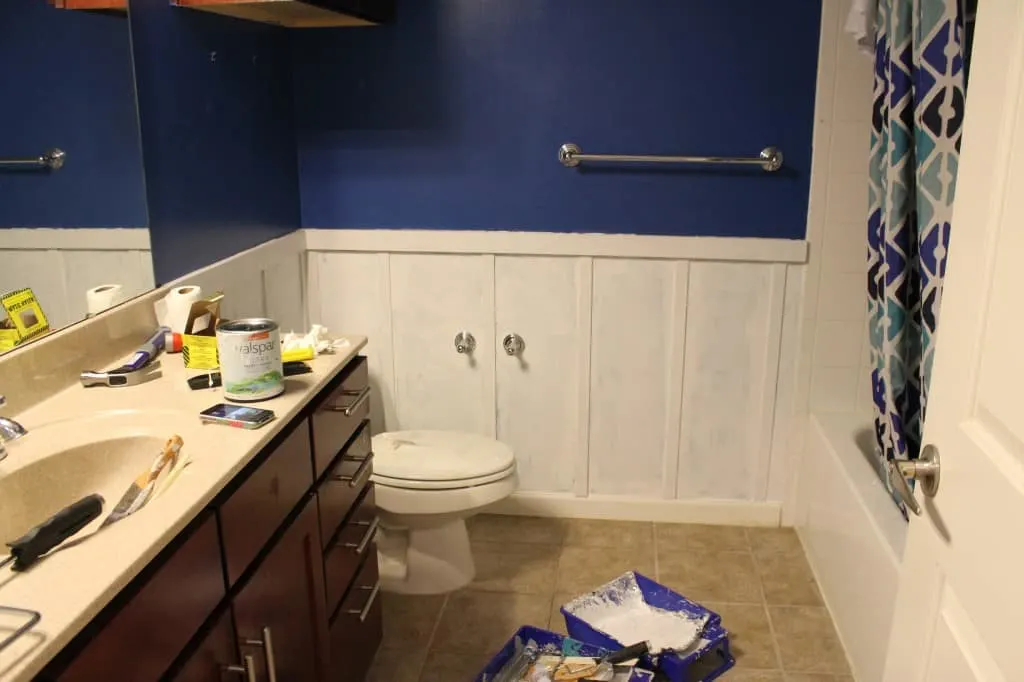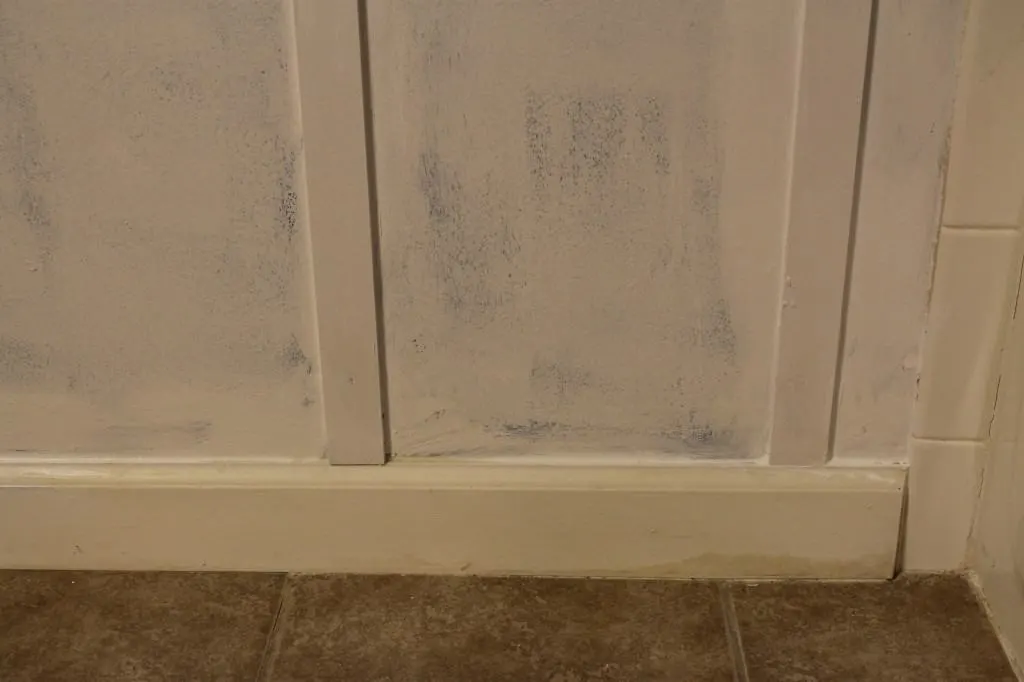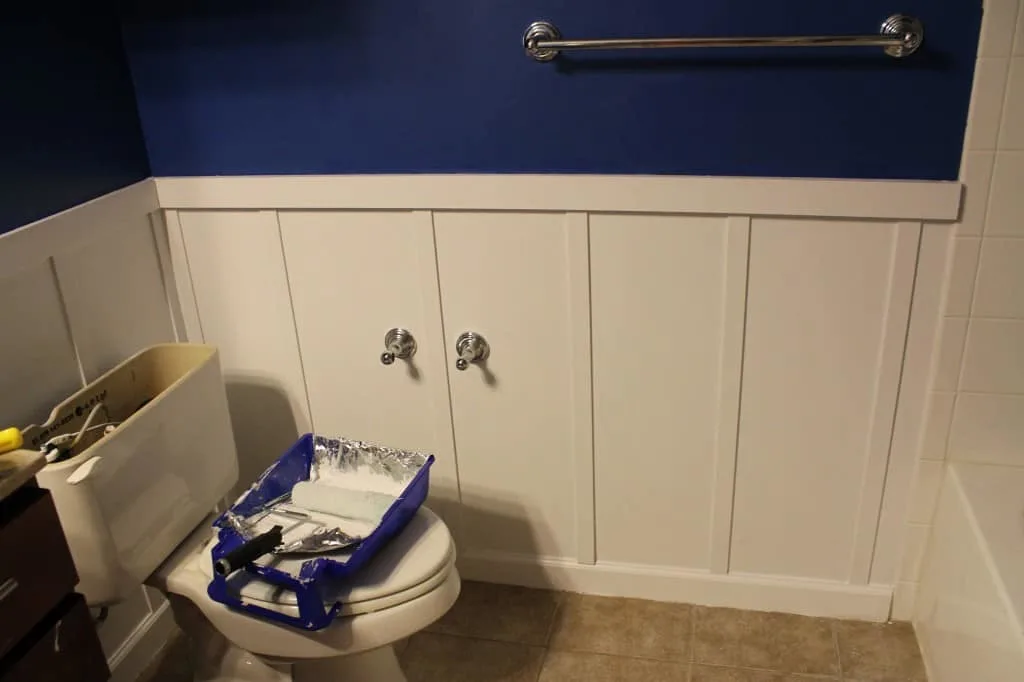 Once that was dry, we painted the whole thing glossy white. It took four coats and a lot of brush work, but it made all of the difference in the world!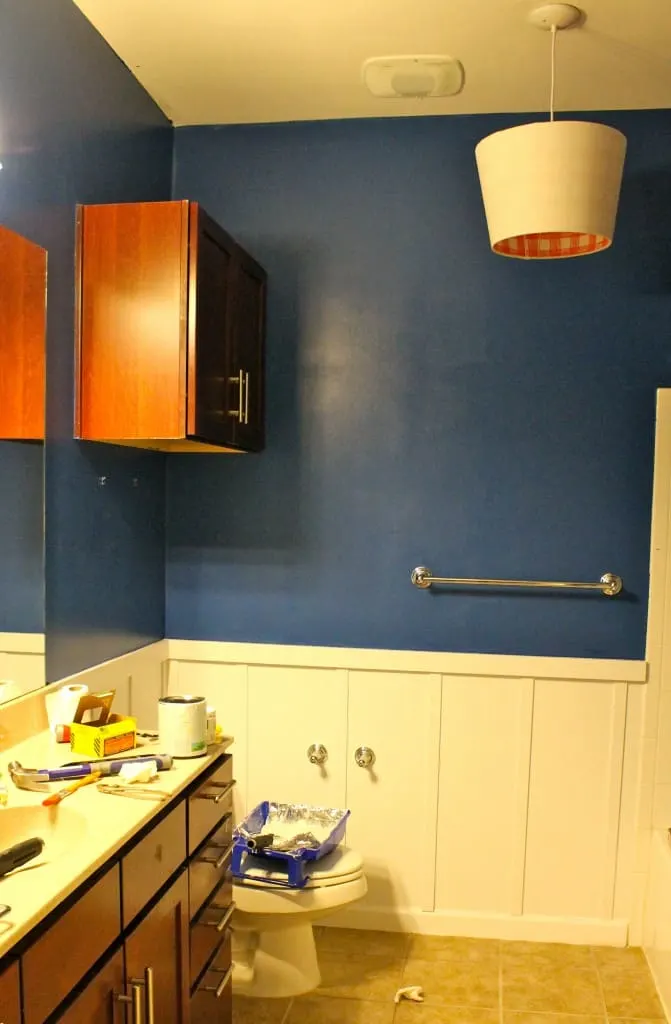 Oh my gosh, I am beyond in love with it. It looks clean and fresh and makes me feel like I'm in a spa! and even though this was a big project, it really wasn't that hard. It took a while, but it really was a fairly simple project. At least for me, Sean did most of the work!!
Check out our other favorite bathroom makeovers here!
I'm so excited that this room is almost complete… check back in tomorrow to see how we finished it off!