Hey y'all! I am so excited to announce today that we will be once again participating in the $100 Room Challenge! What is this challenge? We are teaming up with a ton of fantastic home and DIY bloggers to completely make over a room in only 4 weeks. The only catch? Your shopping budget is $100! This tiny budget really sets this challenge apart from other room makeovers. It forces us to get creative, get thrifty, use what we have on hand, and do projects that are totally attainable and re-creatable.
This season we are making over our upstairs hallway. It is half painted (I painted one wall because I wanted to quickly throw up a gallery wall for a blog post and so I painted just what would show in the picture!) We already replaced the light fixture (thanks says the budget) but really the space lacks personality and just doesn't look finished. We are going to change that in the next month.
$100 Hallway Redesign Plan
The most drastic part of the hallway redesign plan is happening to the ceiling. Our whole home has popcorn ceilings and this hallway is no exception. We had our downstairs popcorn ceilings drywalled over and we scraped the popcorn ceilings in our bed and bathrooms. So, we decided to try something different in this space: we are going to beadboard over the popcorn ceilings. I was super inspired by the ceiling makeover that Amber Oliver did for the One Room Challenge, and we will be going for a similar look. Hopefully we will be able to keep the cost down since this is a small space and we have some of the supplies (but not the headboard) on hand already.
Otherwise, we will be flowing the paint up from the rest of the house – it is a grey color called Sherwin Williams Online (sexy, right?) We will continue with the white paint on the bottom half of the existing chair rail, like you can see in this shot. I have plans to update the railing with stain and the balusters with iron – luckily I found a really inexpensive source for these that I can't wait to share! Finally I have a plan for an interesting chandelier to hang in the stairwell – fingers crossed that it turns out good – and cheap!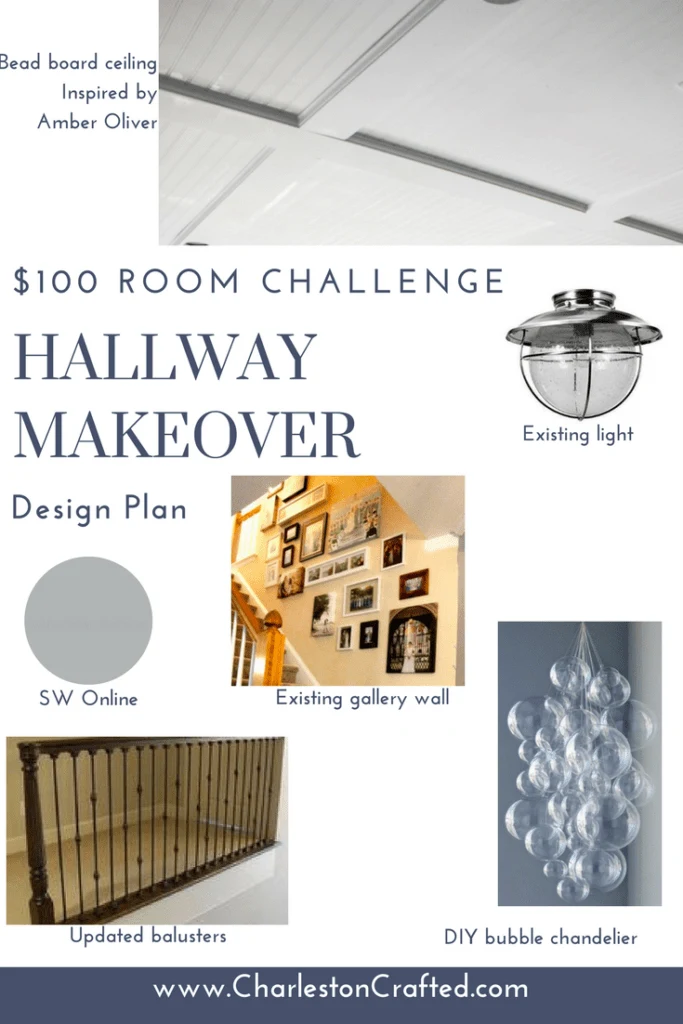 How are we going to manage all of this under $100? By the skin of our teeth, and by really using things that we already have on hand. I kind of debated back and forth whether it was "cheating" the $100 Challenge by using mostly things we've already bought, but I finally decided that no, that's the whole point! I'm not saying like oh we randomly bought three sheets of beadboard for no reason and now we have it wink wink free! (Beadboard will be 70% of our budget, lol) But we won't have to buy things like wall paint because we bought it, in bulk, a year ago. I might even write a whole blog post about this idea – but repeating colors and materials and things in general throughout your home allow you to buy in bulk and make projects down the road free. So, most of our budget will go to the ceiling. Here is my rough plan:
Ceiling – $75
Wall paint, ceiling paint – have on hand $0
Balusters – $20
Bubble Chandelier – $5
Gallery wall – already existing $0
Light fixture – already existing $0
Total = $100 exactly, zero contingency.
Be sure to use the link up below to check out all of the fabulous bloggers participating in this 4 week challenge. This is one of my favorite DIY challenges EVER and so I hope that you will join me in following along!
[inlinkz_linkup id=736365 mode=1]
What room would you love to makeover for $100?