One of my very favorite pieces of furniture that I own (along with my vanity) is my living room side table. It's a broyhill piece with 16 little square drawers and a nice dark stain. I found it at the Habitat for Humanity Re-Store in Cary, North Carolina and seriously debated the purchase – I think it was $150. Now, both Sean & I are so in love with it and know that we will have it forever.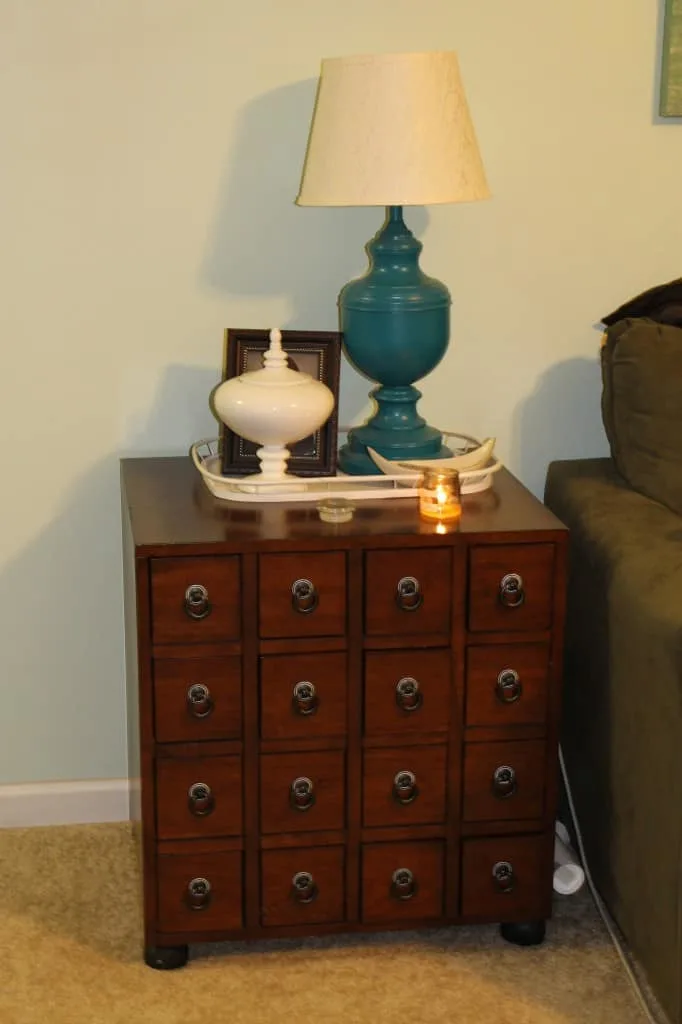 It's been chilling in an unstyled state for the year that I've lived here. And I totally didn't hate it. But 2 things have changed lately.
1) We got this awesome, beautiful, perfect entertainment center. To accessorize that, I stole the side table lamp and the white "genie" jar. So the table was looking pretty bare.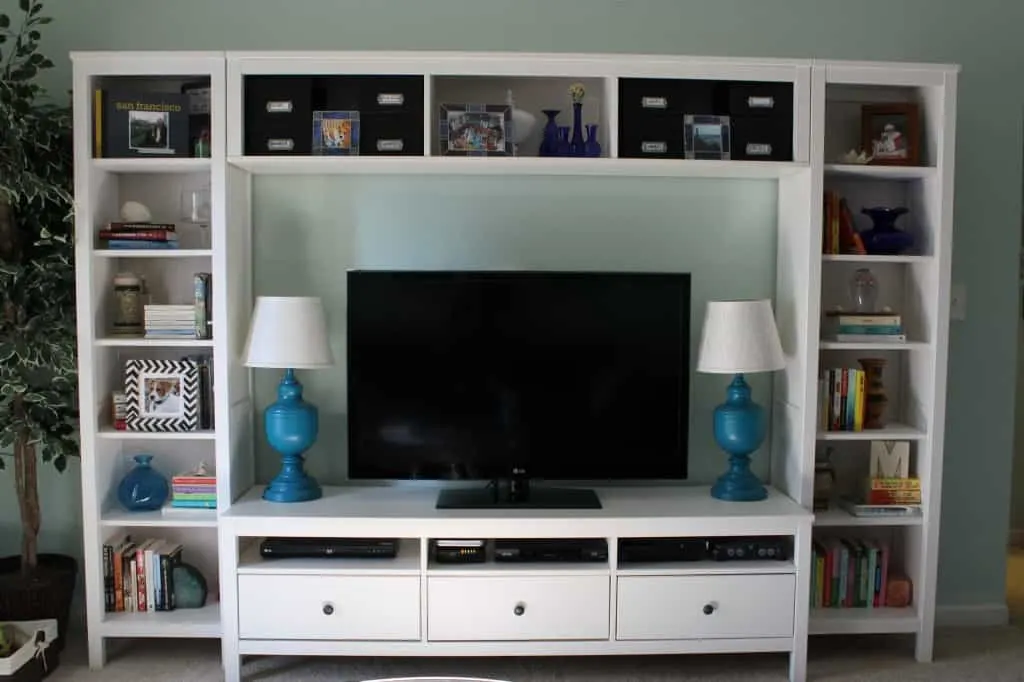 2) I got addicted to the awesome blog, Teal and Lime. She really sucked me in with her October blog series- 31 Days of Styling. I suddenly realized how much of a difference that deliberate styling can have on how put together a room or piece looks! Whenever you look at a magazine spread, half of what gets the oohs and ahhs is the styling. I love how Jackie often shows "picture perfect" styling and then shows something that's more realistic to live with.
So, I decided to get on it already and style the side table!
My suggestion for someone trying to style a new surface is to play with what you have. Grab a bunch of different objects, in different sizes, and play with the layout. Don't worry about colors yet- just focus on shape and size. Once you decide that, you can purchase, scavenge, or customize things to fill in the blanks.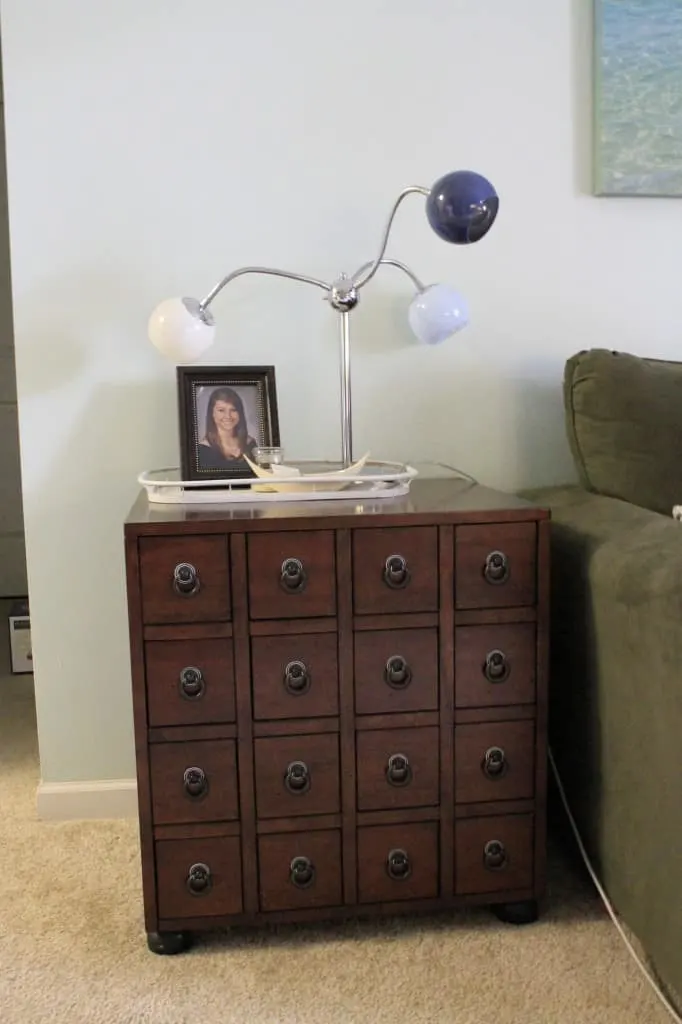 Here's how it's looked for the last month. Messy & sloppy. I knew that the best way to start is with a clean slate.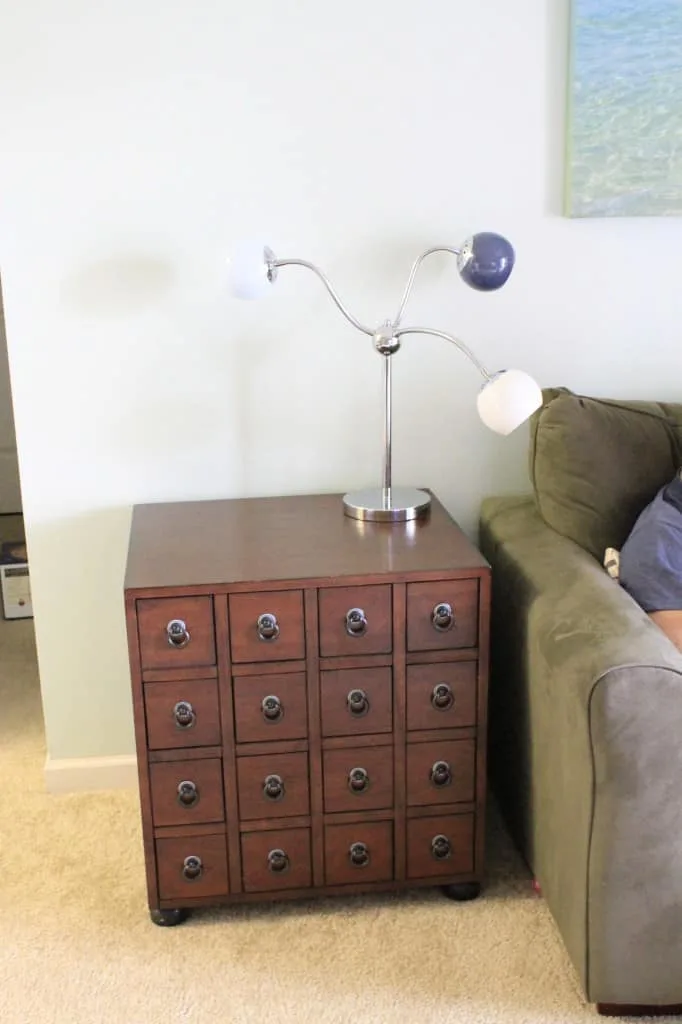 I knew that I wanted to use this tri-gooseneck lamp. I picked it up at Goodwill when I was looking for Halloween costumes. I love the colors of the shades and love that they remind me of the movie Monsters, Inc. (the Eyeballs on Boo's monster costume!)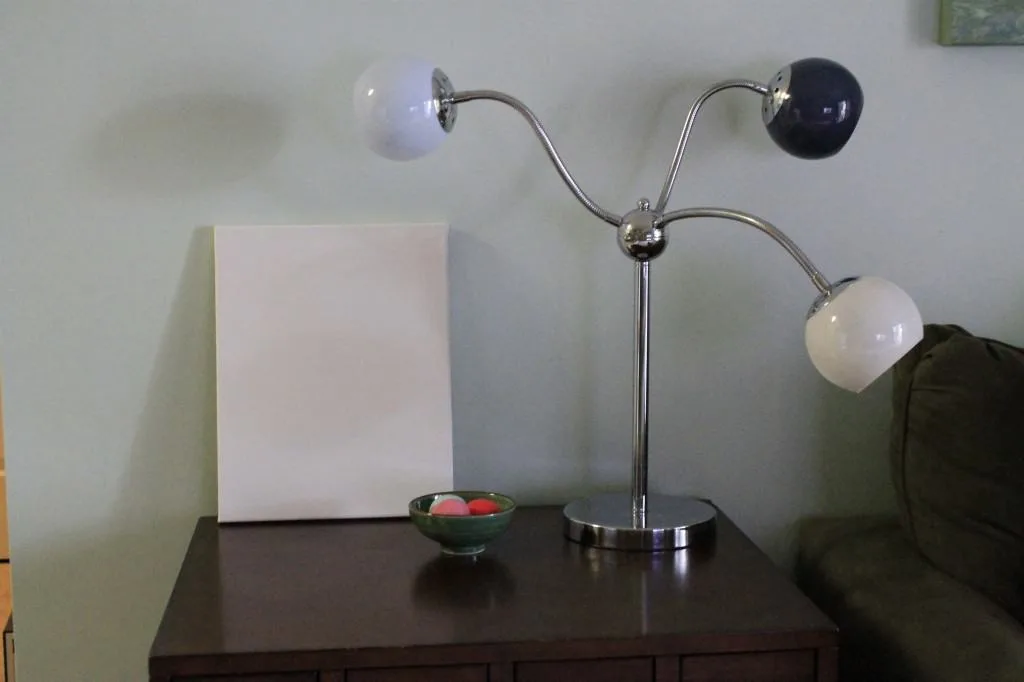 One of the biggest differences between this lamp and my old one is that this lamp has a narrow base that takes up very little space. So, it's important to have something else to fill in the empty space. My first idea was this rectangular canvas. I paired it with this small ceramic bowl because of the "Rule of Threes" – things usually look better in 3's. In this case – 1) the lamp 2) the canvas and 3) the bowl. However, this canvas and this bowl seemed too small to me.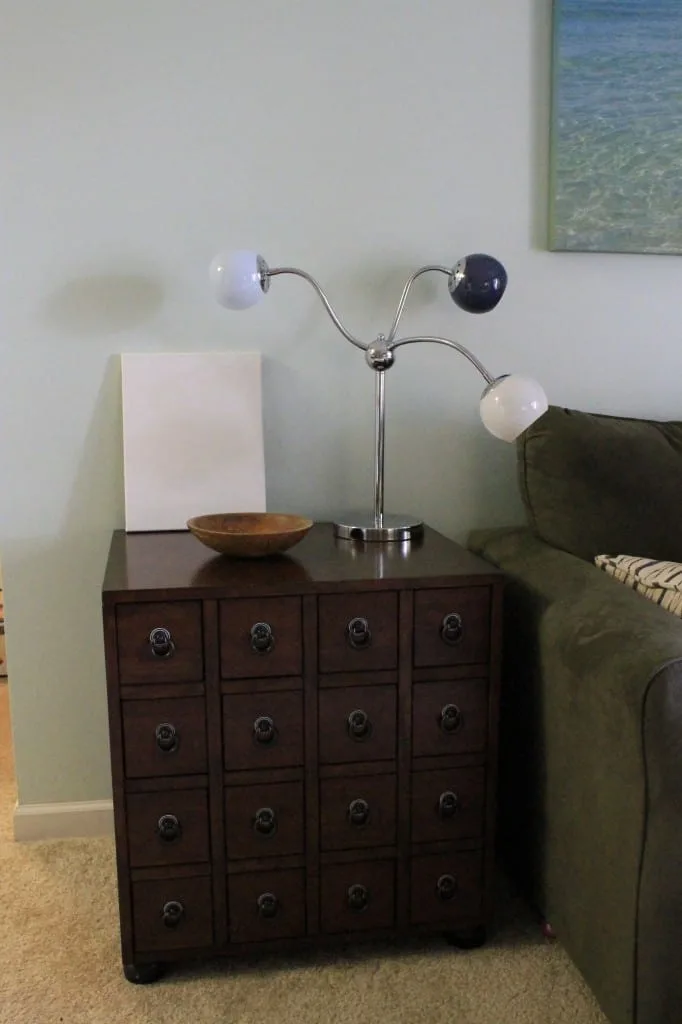 Next, I tried rotating the canvas (to seem taller) and a larger wooden bowl. I liked the bigger bowl, but the canvas still seemed too small.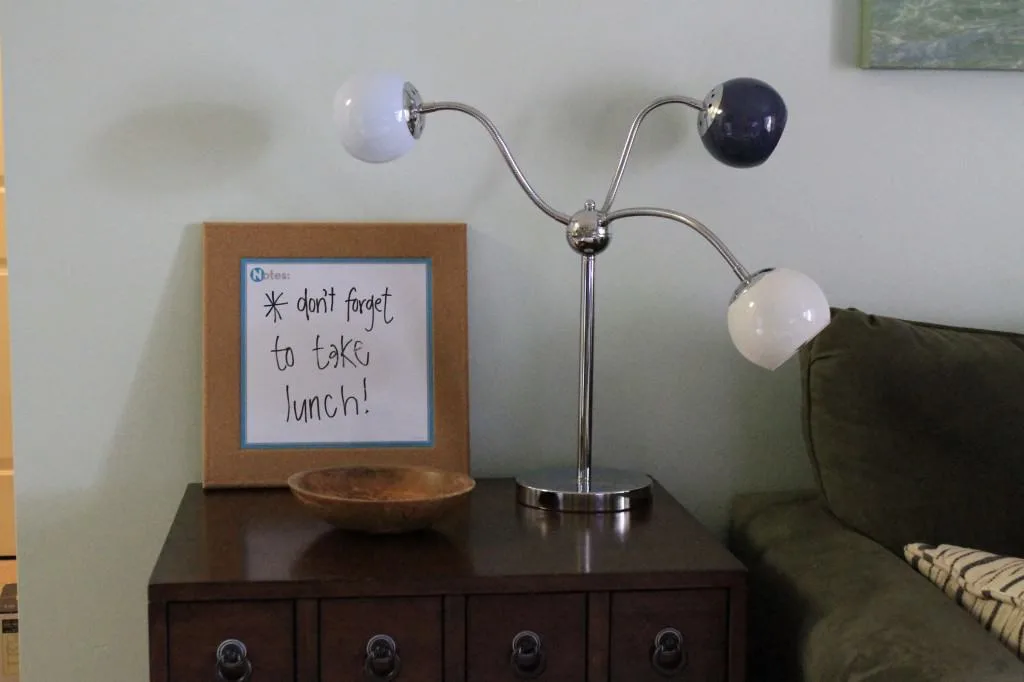 This cork board is bigger than the canvas, and square. I liked the size, but didn't like that it was square.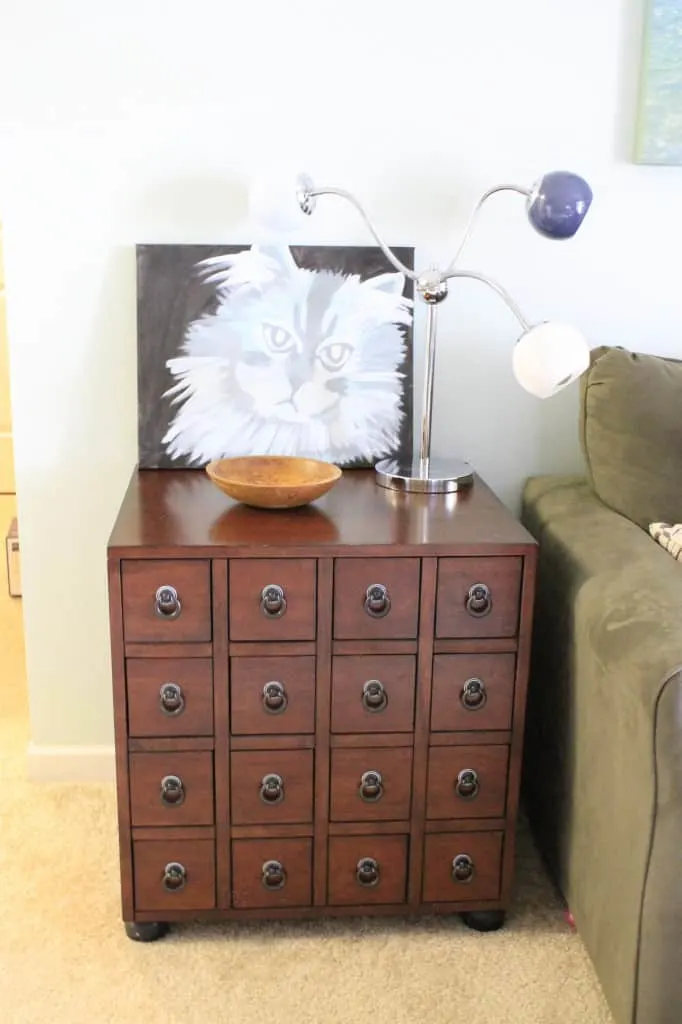 I pulled this larger canvas off the hallway wall. The size was much better for the space! But it looked kind of boring to me.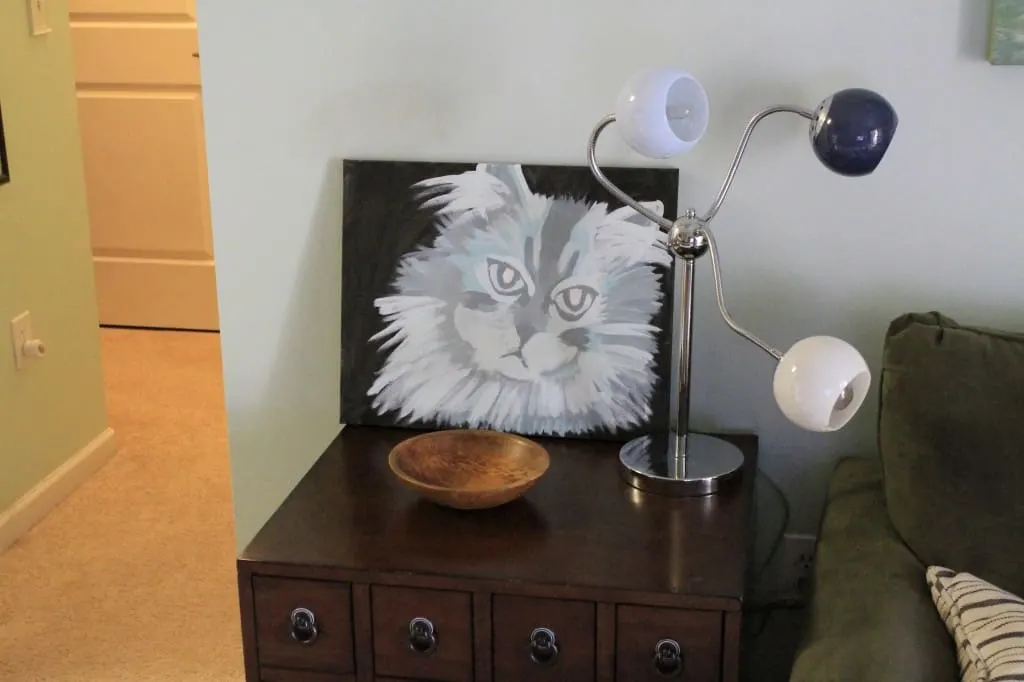 I decided to rotate the legs of the lamp so that they were all pointing towards the couch. This makes the lamp more useful, but also changed the balance of the table. I definitely wanted something more on the left.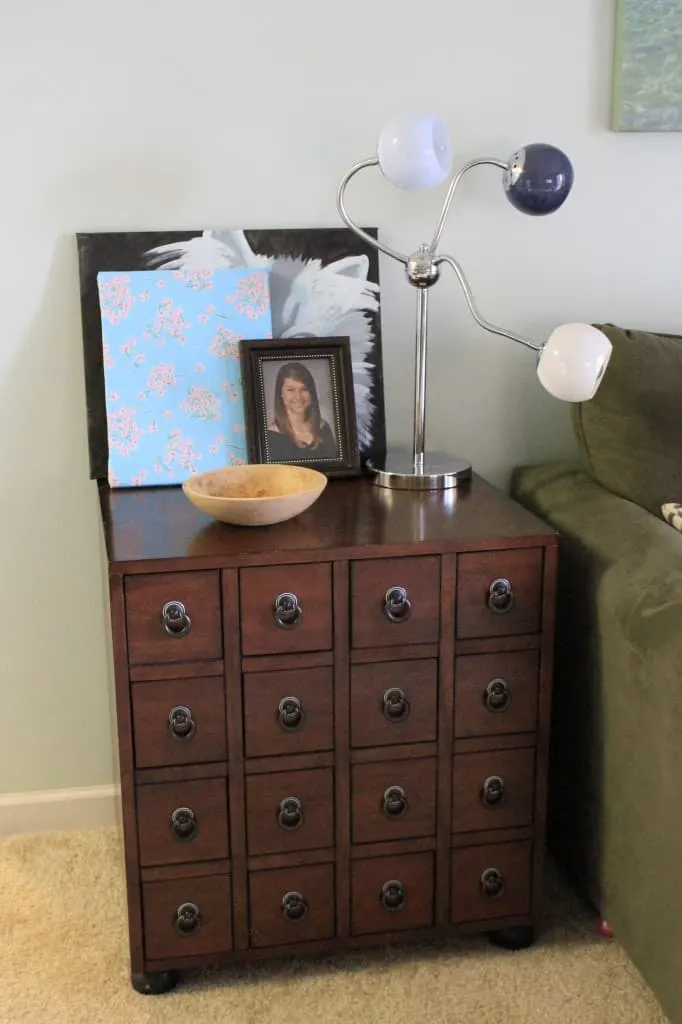 So, I decided to layer some smaller canvas and frame in front of the larger canvas. This, I liked. However, the third frame made it a little busy.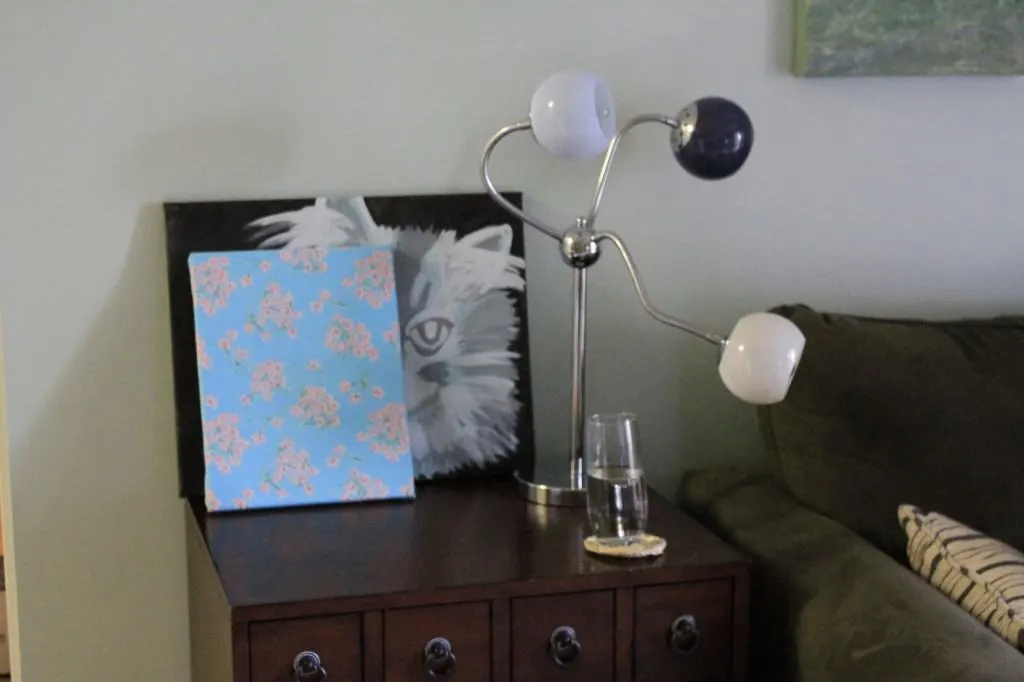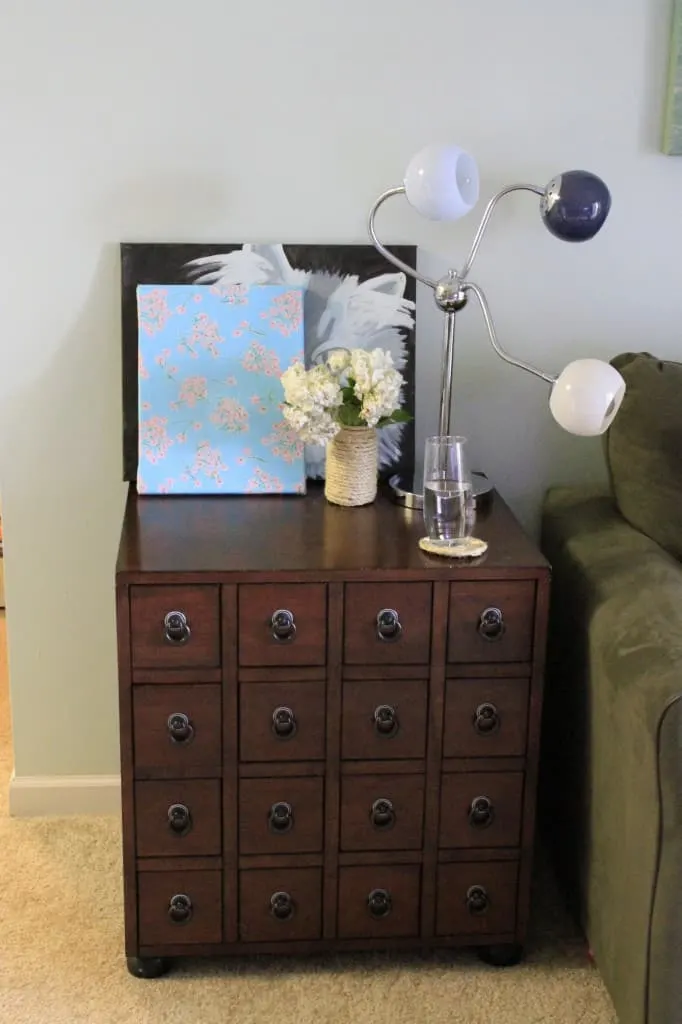 Sean pointed out that we had nothing to put in the bowl, so we decided to swap it out for the rope vase. This also left more surface area on the side table for us to use it in real life.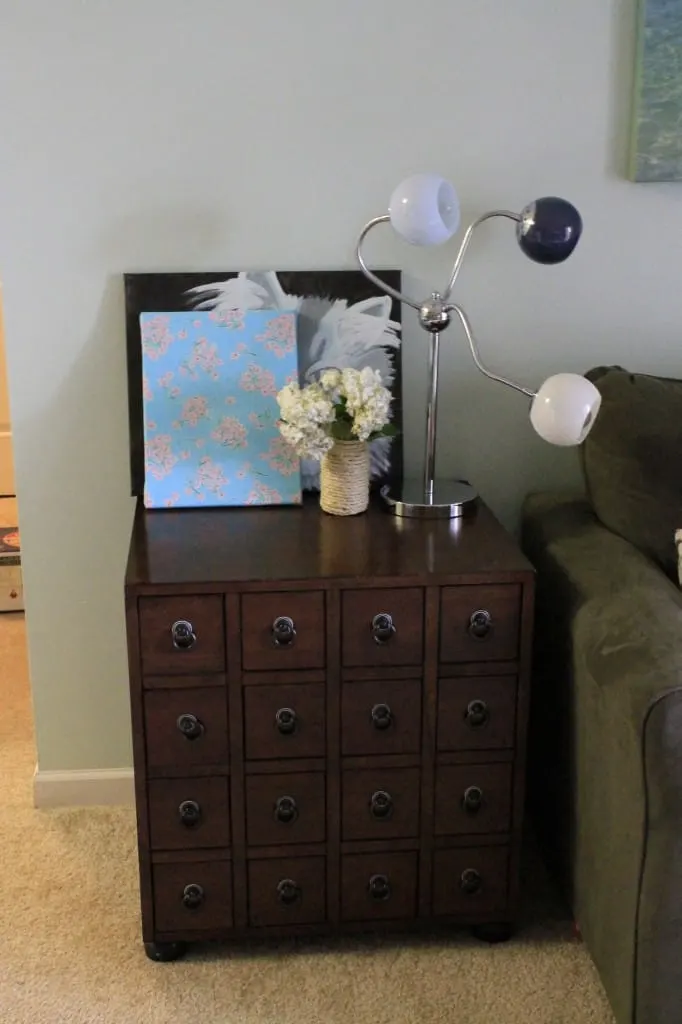 Now came the time to update those canvases. I decided to wrap them both in fabric for easy pops of color. I used a piece of fabric from a sample book for one and a piece of a pillow case for the other.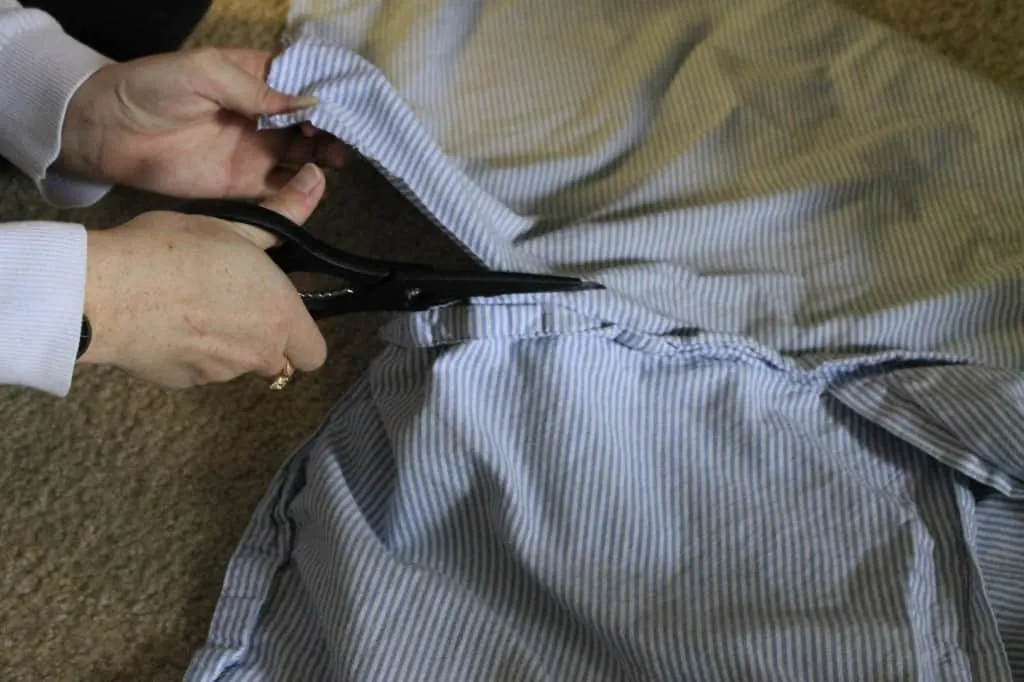 I simply used hot glue to attach it tightly around the frame of the canvas. I always do the first side, then the side across from it, before doing the last two sides.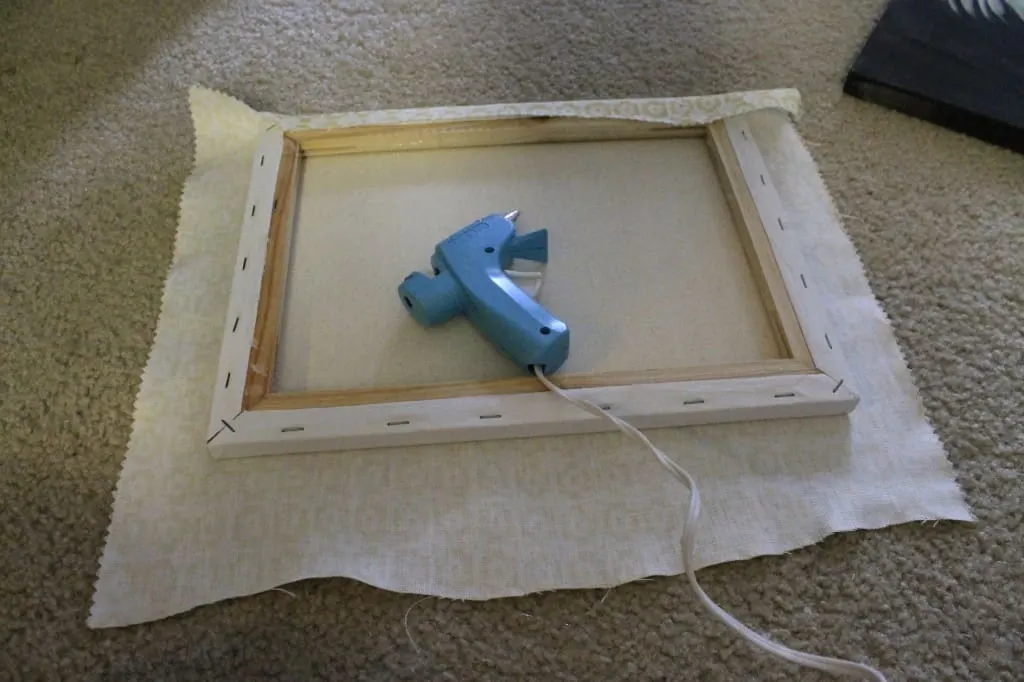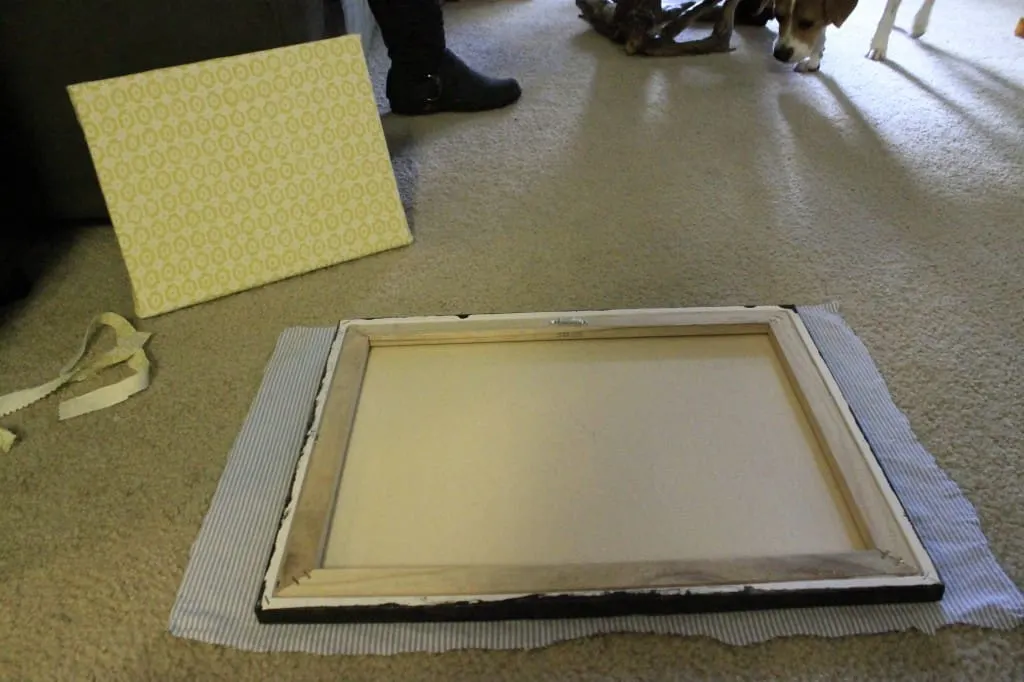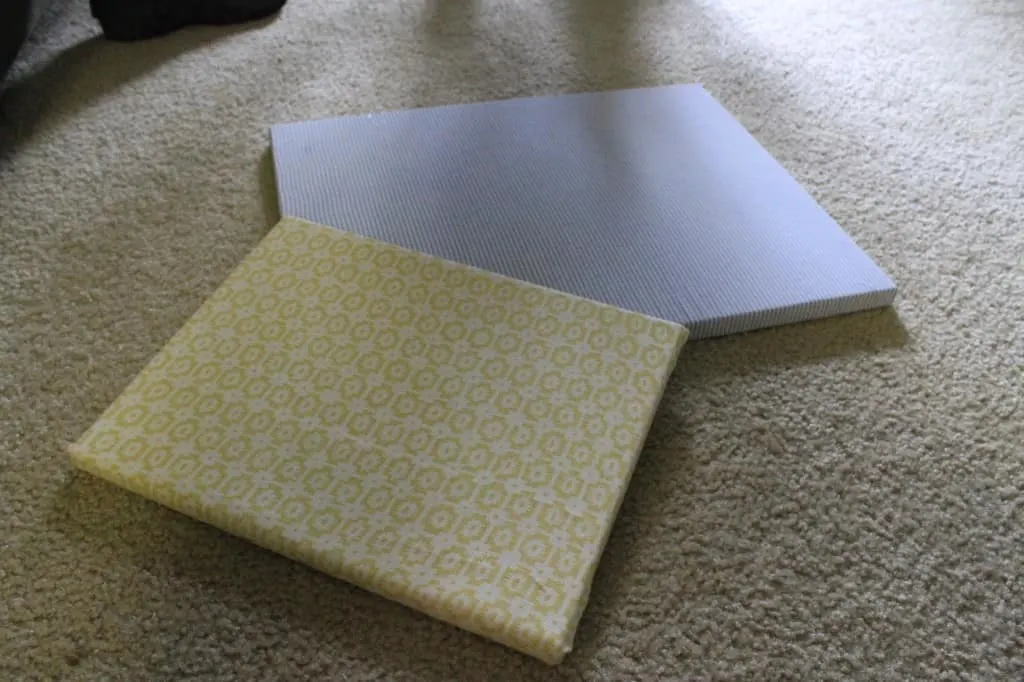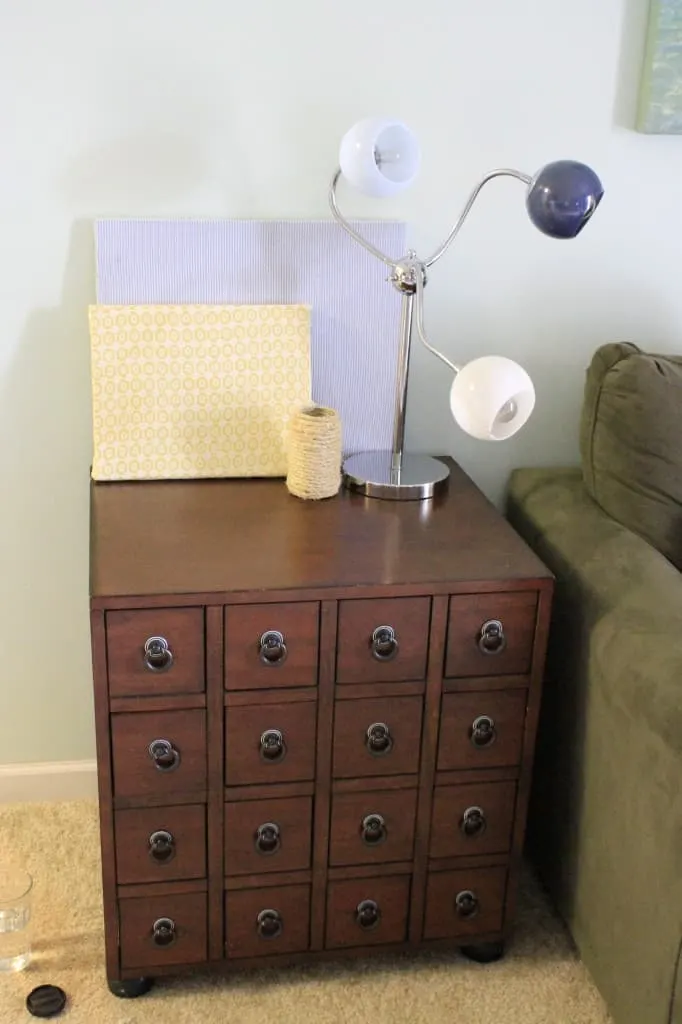 Here they are with the empty vase. How much better does it look?!?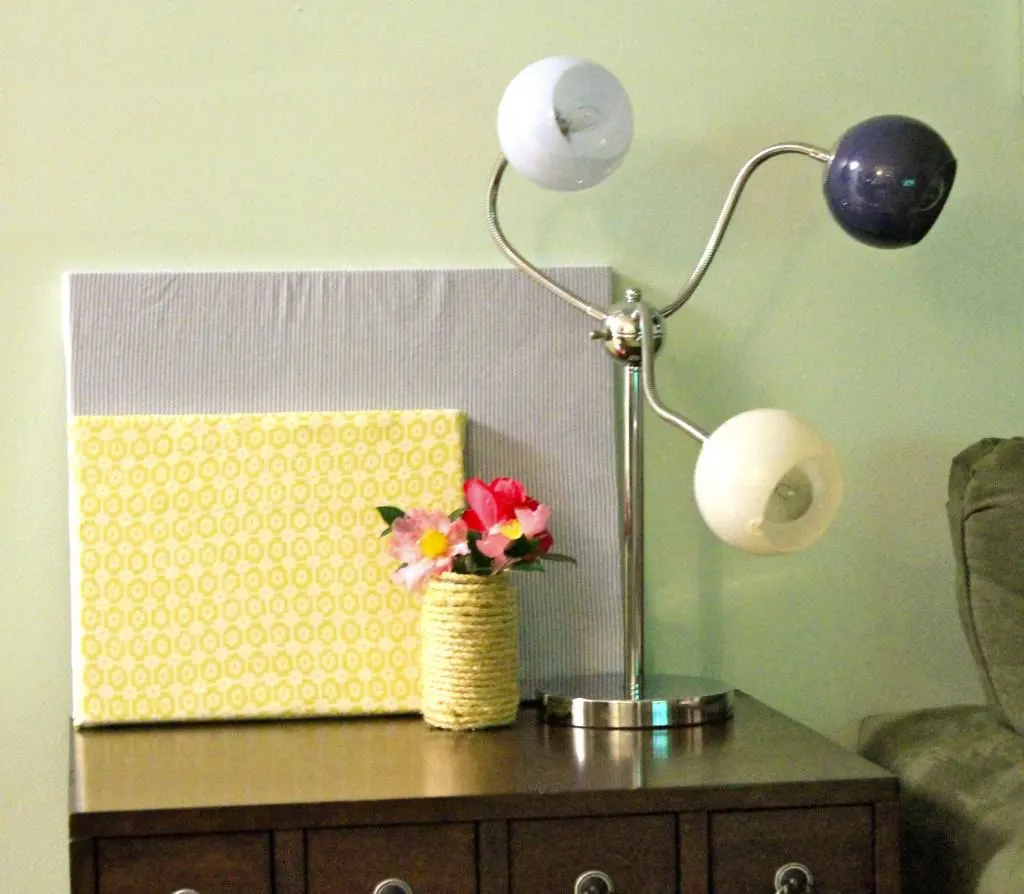 (The cat knocked the striped canvas off the table and made it wrinkly… now i have to fix it!)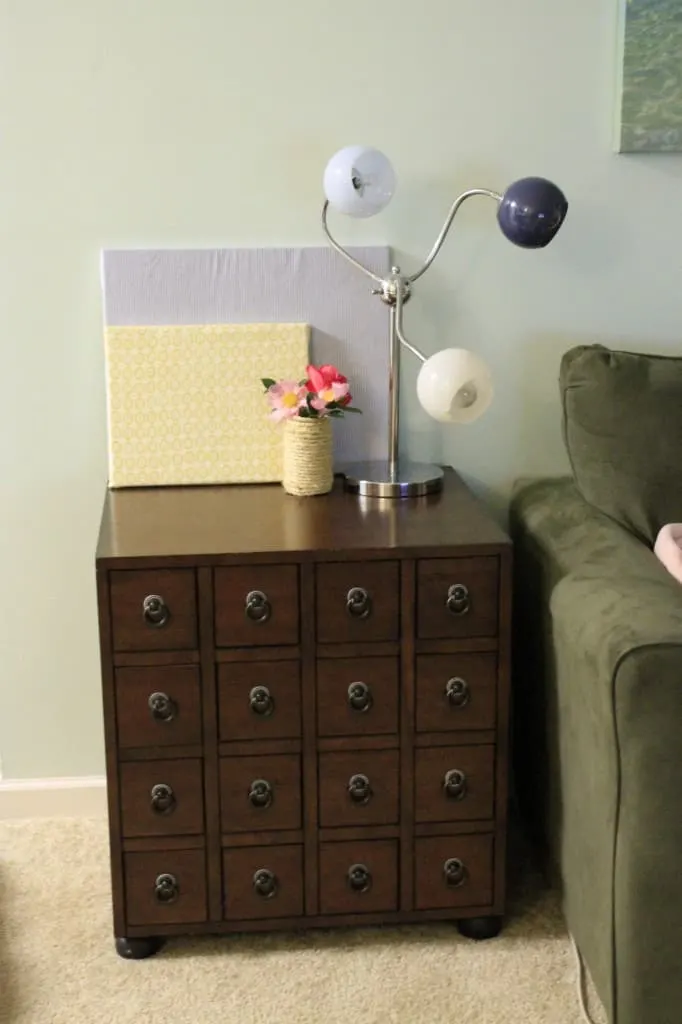 Do you style any surfaces in your room?