Today I just wanted to round up a few of the little projects that we have been working on in our new home. Alone, they aren't quite blog-worthy, but they do sort of add up to something. On that note, we really thought that we would have so much more done by now. I had grand visions of our timeline and, frankly, it was way off base. Since day one moving in, everything has just taken longer than I imagined (like, twice as long at least). We've had to do and redo and redo and redo things. We've had to return things to stores and online. We've needed something mid-project and had to go buy it. We've broken things. I guess I've had a glamorized view of DIY and moving and projects made in part by the fact that it's really been a long time since we've done this stuff. On top of that, we haven't been in town for a weekend since we moved in, so we only have a couple hours each night to do anything. So, I appreciate your patience as we work to get to "the good stuff" – we want to get there too, I promise!
That being said, here are some of our recent little updates: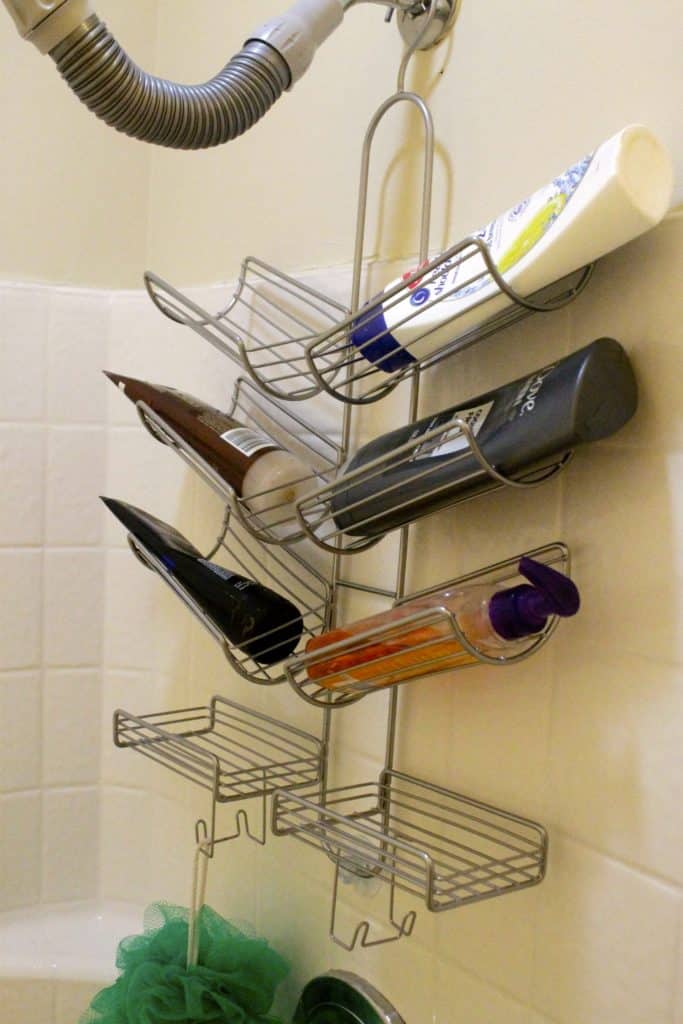 Our master shower is really a bit like a space ship – narrow and tight. Sean quickly said that reno-ing this room needs to move ahead of the kitchen because he is frankly too large for this shower. We will see how that shakes out (we have some mental layout sketches we'll share down the line) but in the meantime we had to get some sort of storage in there other than the tiny built in ledge. I ordered this caddy off of Amazon because I liked the look of it and the fact that the bottles were at an angle. Once I used all the pieces in the box (including the important tiny metal piece that keeps it from falling on your head while you shower) we were very pleased with it and it's ability to hold all our stuff. Not ideal, but definitely good enough for now.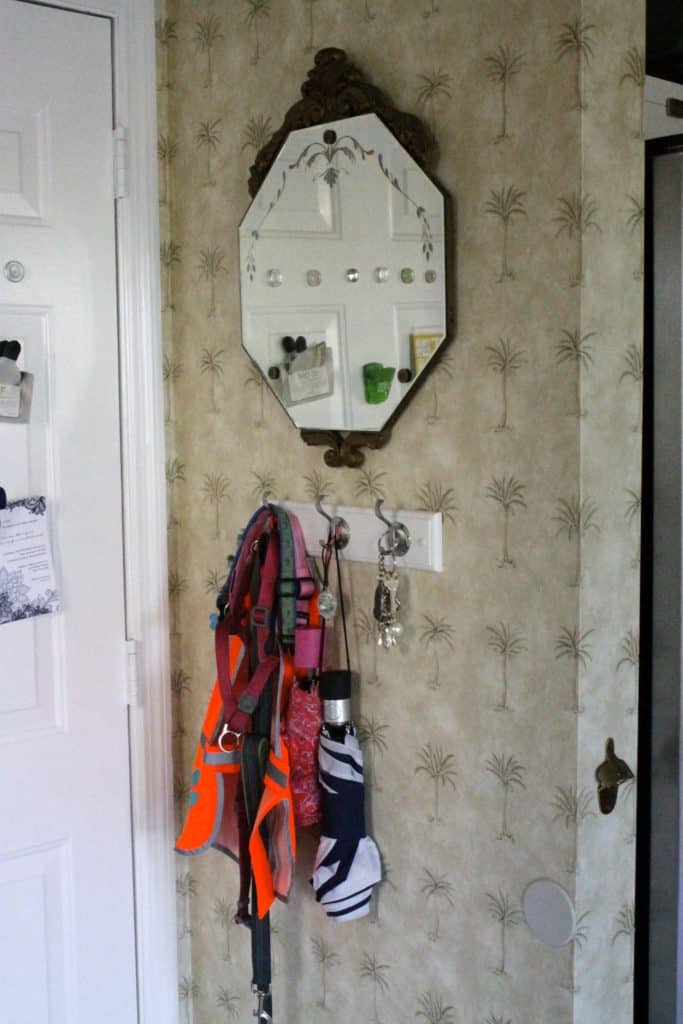 We have found ourselves coming in and out through the garage a lot. To deal with this, we decided to set up a bit of a landing spot right inside the door. We hung an old set of hooks to hang the dog leash and umbrellas and also hung an old mirror. It really makes it feel like more of a functional entrance.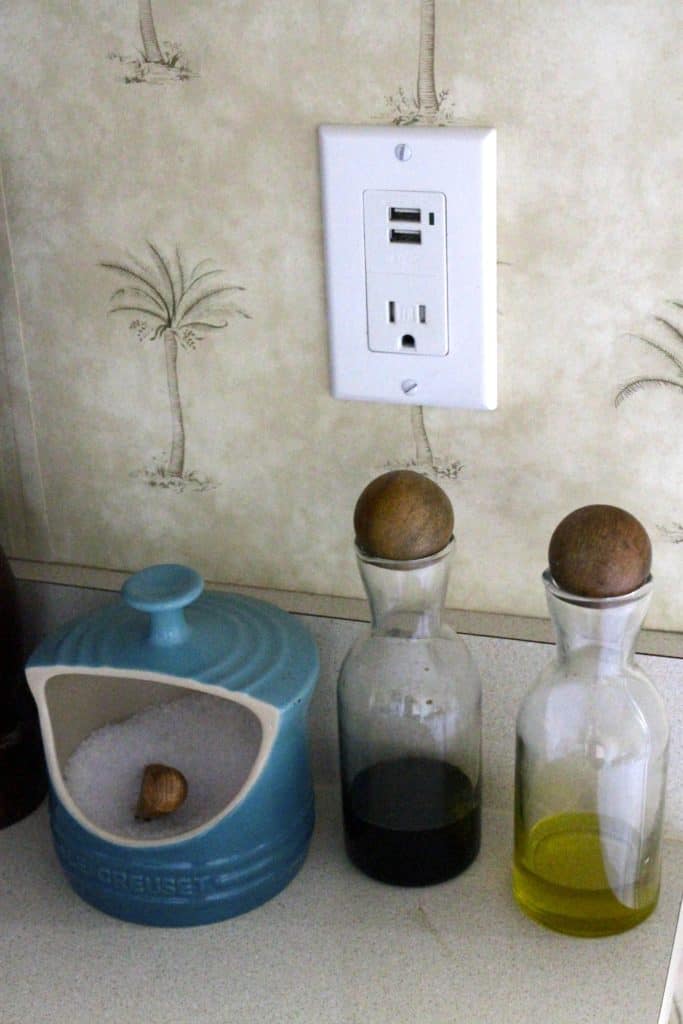 Also in the kitchen, we went ahead and installed our old USB outlet. We only went about a week without it but we sure did miss it and are glad to be able to easily plug in our USB cords again.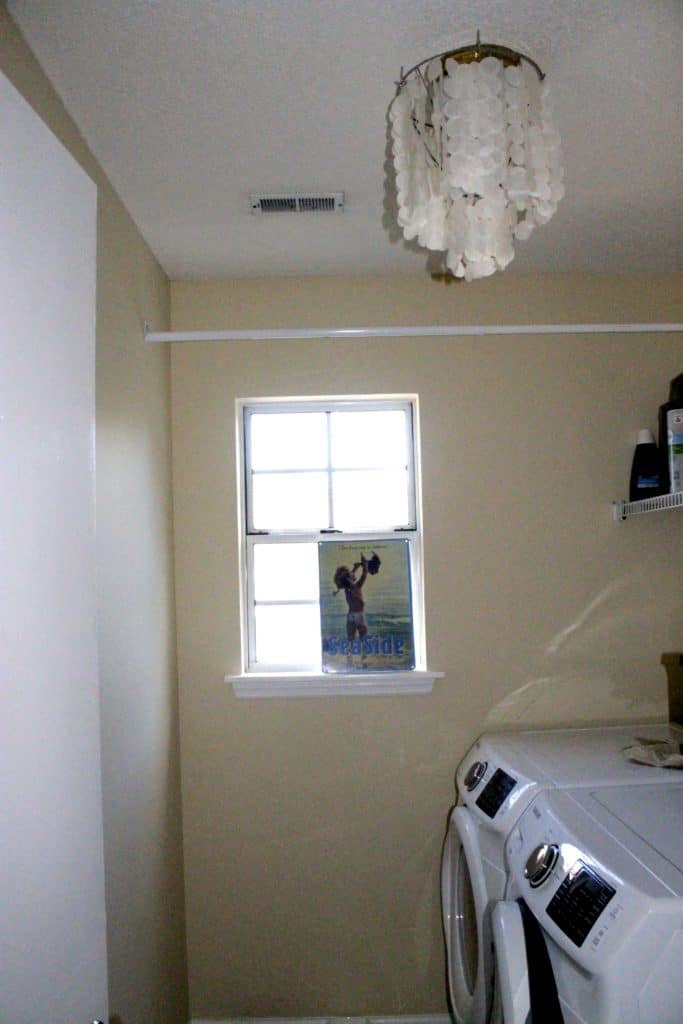 Another quick update was to hang this diy faux capiz lampshade over the boob light in our laundry room. It might not live here forever, but I spent a lot of hours on that dang thing ironing and I didn't just want to throw it away when it had a potential home.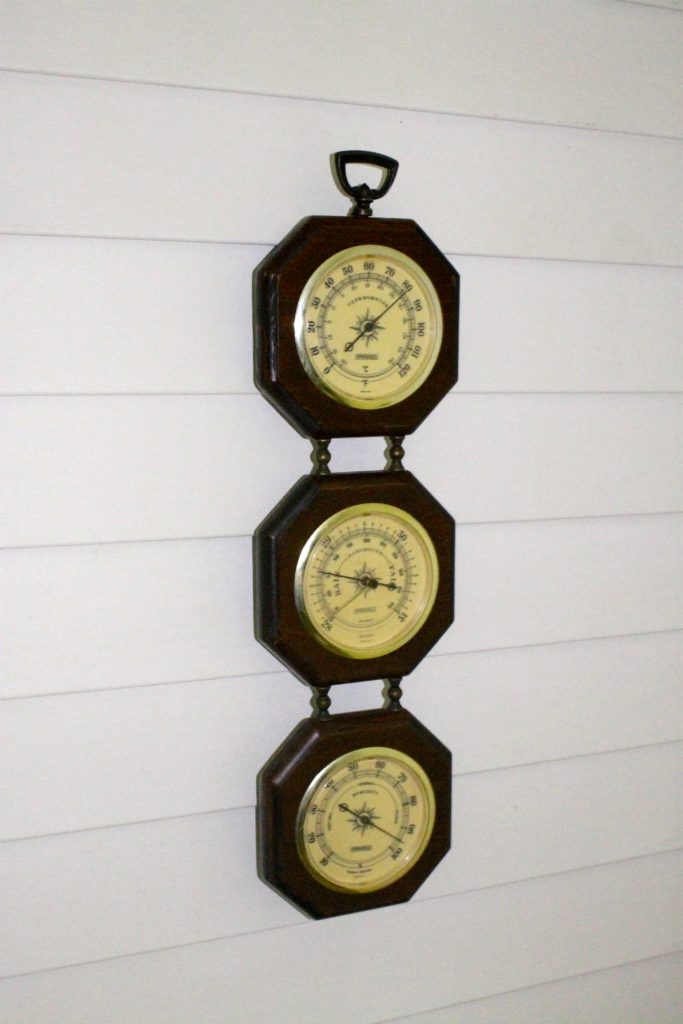 I've had this old wooden thermometer-barometer set for years – it was a Goodwill find that I liked because of its nautical vibe. It used to be hanging up inside as a decoration until one day near the end of our condo run we realized it actually worked. Well, we decided to finally put it to use by hanging it (with a command hook) on the screened-in porch. It's 7 feet away from the screen in each direction, so hopefully it stays dry, but I'm just excited to see that it actually works.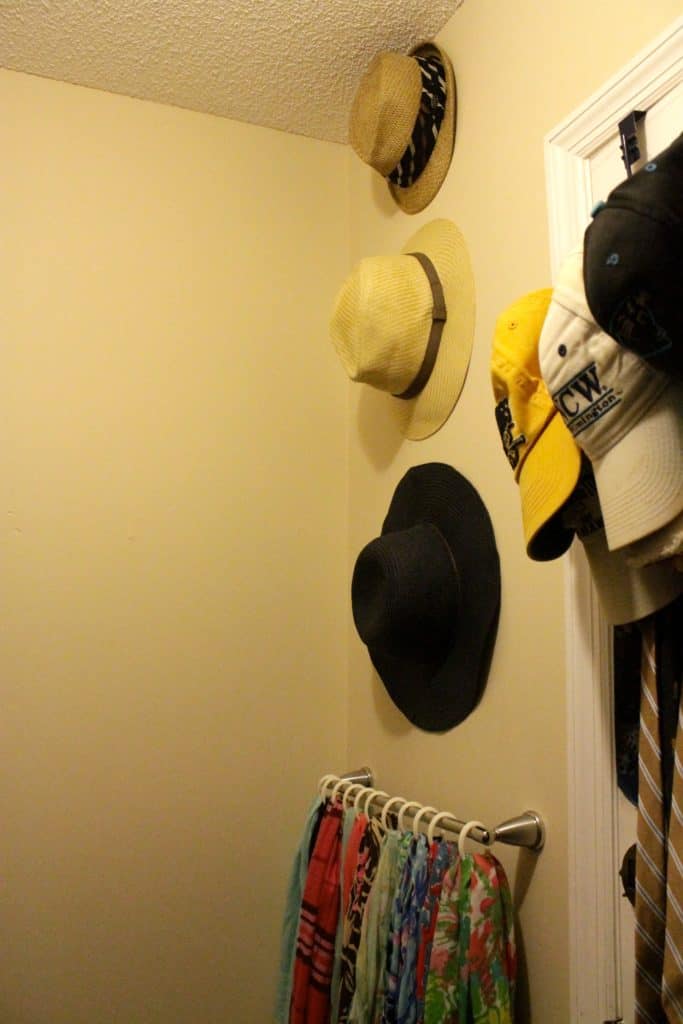 The master closet is definitely at the top of our to do list – the current system is one rod and it's a super inefficient use of the space. It's in the bathroom, so coupled with the shower being tight, we are thinking more and more about moving that up the list. So, while it's really cramped at the moment, we do have a nice space behind the door. I quickly filled it with 3 nails to hold straw hats and a towel rod paired with shower curtain rings to hold my scarves. At this point it is just nice to get things out of suitcases and where we can see them.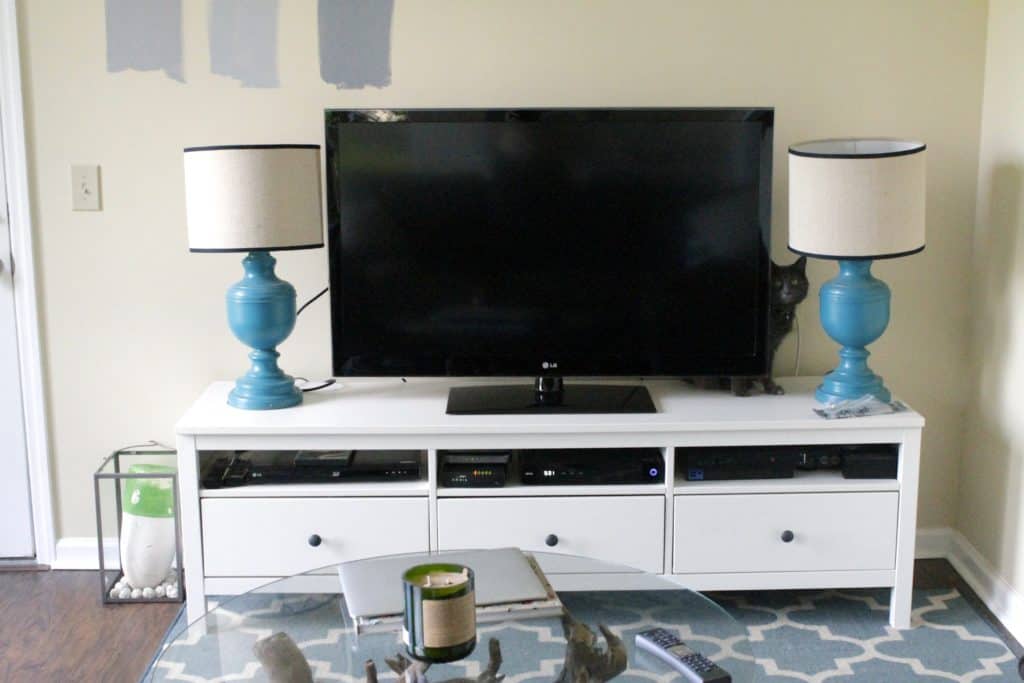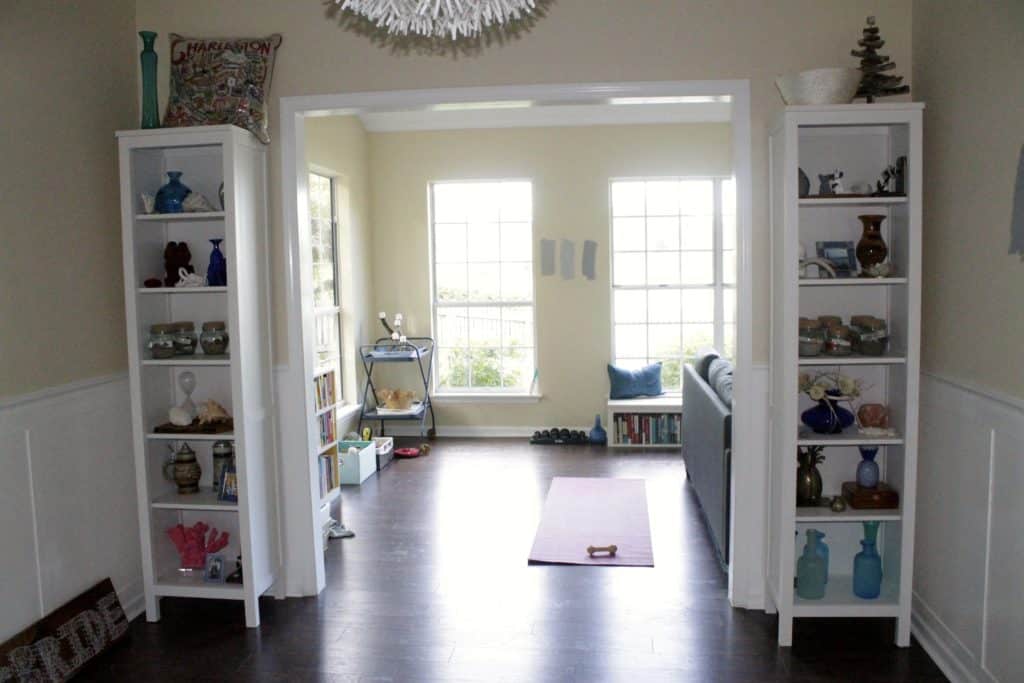 We were super bummed to not have a spot where our entertainment center could live. Instead, we have had to separate the pieces. The TV stand is in the sun room and the horizontal piece is functioning very temporarily as a fake window seat until we figure out if we can hang it on it's own as a sort of floating shelf. The vertical bookshelves have been moved to the dining room where they are flanking the sunroom entrance. We are still playing with the styling, but it's nice to have all of our nick-knacks out of storage and I'm so glad to still be using these pieces.
Whew, I think that's all for now. As always, much more to come soon!