King sized beds are beautiful and grand – especially if you decorate the bed with pillows! Here are some of my favorite king sized bed pillow arrangement ideas!
Now that we have had a king bed for five years, I don't know if we could ever go back to a smaller bed! Sleeping in queen beds on vacations feels so tight.
But having a king bed can mean a LOT of pillows. I mean, these are big beds, with lots of room for pillows. Today I wanted to chat about how to arrange pillows on a king bed and give you some ideas to try!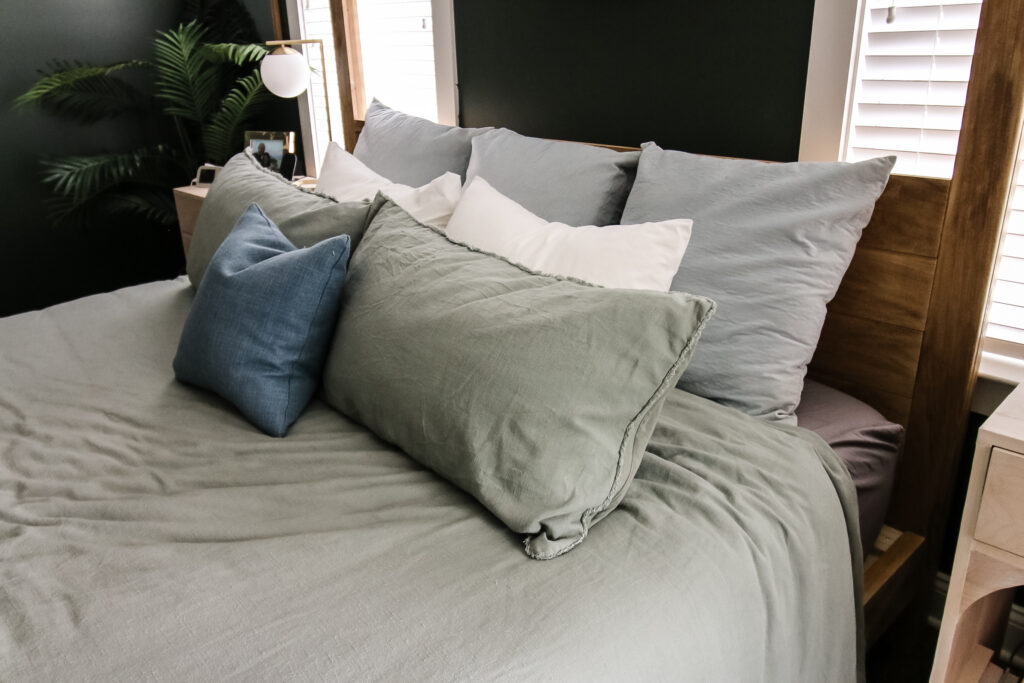 How can I make my king bed look pretty?
Having a full, layered effect of pillows usually makes a king bed look nicer. This is a nice big bed – one or two pillows will look small and insignificant. Adding extra pillows helps to keep the pillow area proportional to the rest of the bed.
How do you stage a king size bed?
King beds are usually staged with 3 layers of pillows – either euro or king pillows in the back, standard pillows in the middle, and one or two throw pillows in the front.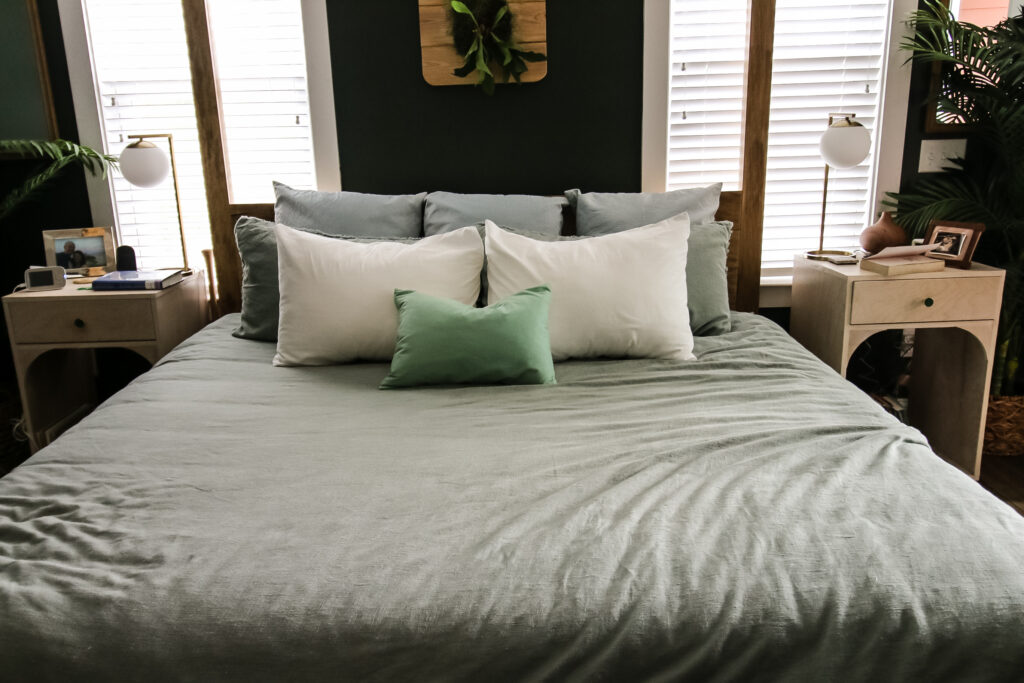 How many pillows do you put on a king size bed?
How many pillows on a king bed will depend on what size of pillow you prefer to use and how you want to arrange the pillows on the bed.
First you need to understand the sizes of pillows available:
| | |
| --- | --- |
| Pillow size | Dimensions |
| Standard pillow | 20″ tall x 26″ wide |
| Queen pillow | 20″ tall x 30″ wide |
| King pillow | 20″ tall x 36″ wide |
| Euro pillow | 26″ tall x 26″ wide |
Then decide what look you want. Simple? Modern? Intricate? Layered?
Do you like to sleep on one standard pillow or two? Do you like a lot of extra pillows that are purely decorative pillows or no?
Your style will help to determine how to style the pillows on your king bed.
How many euro pillows on a king bed?
It takes three Euro pillows to span the width of a king sized bed.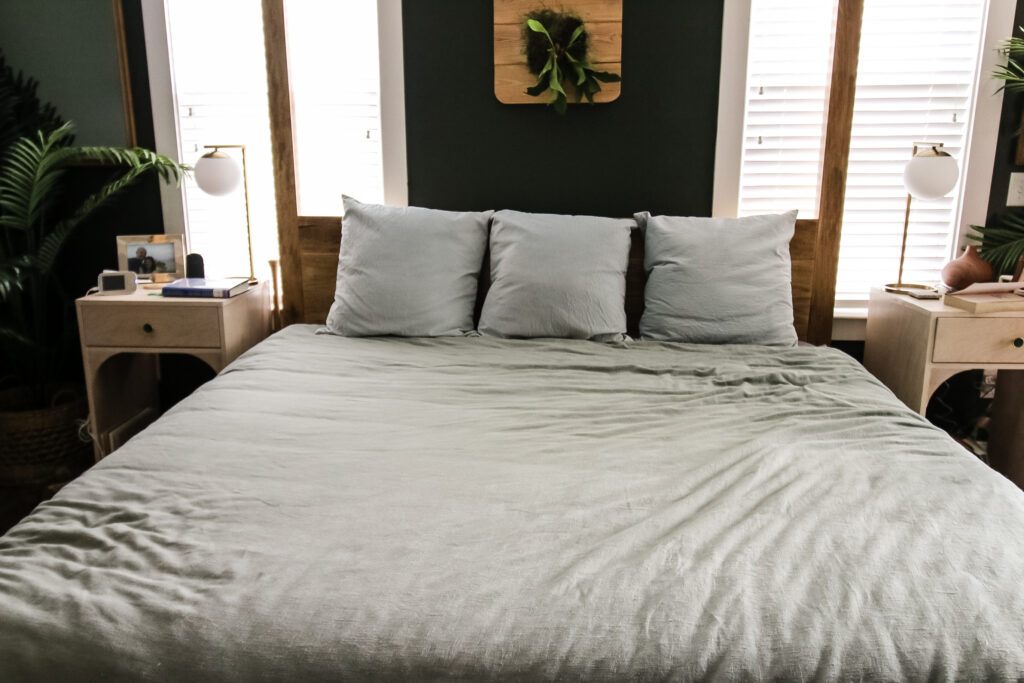 Are king size pillows worth it?
I love how king sized pillows fill the width of the bed. Two pillows makes for a clean, simple look.
However, I don't prefer to sleep on a king pillow. In that way, they are purely decorative.
In my experience, most king sized duvet covers or comforters come with two king sized pillow cases. So, you will have them on hand already!
Standard pillowcases usually have to be bought separately, though they come standard with queen sized bedding.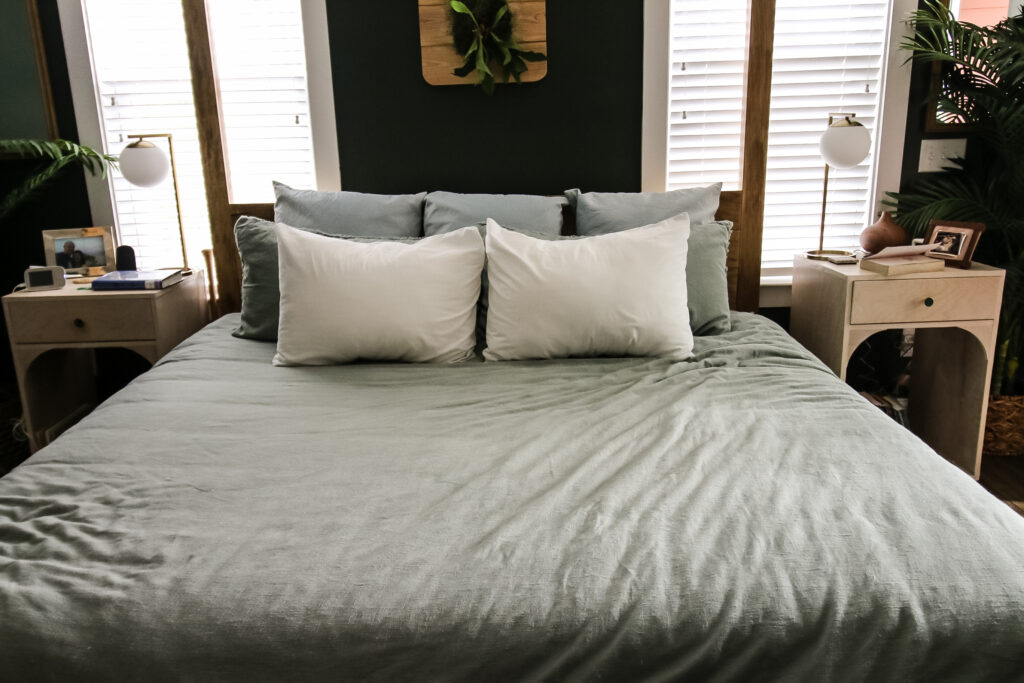 What is the correct way to place pillows on a bed?
How do you arrange pillow sizes on a bed?
Typically you want your pillows to go from largest in the back to smallest pillows in the front, forming a triangular shape.
Euro pillows are typically the largest, so if you use them, you will want 3 lined up in the back.
Then, if you have king sized pillows, they would go next. 2 side by side should match the width of the euro pillows, but be slightly shorter.
Standard or queen sized pillows go next – usually 2 side by side.
Finish with any throw pillows in the very front. They should be smaller than the sleeping pillows – one centered or two total, one on either side.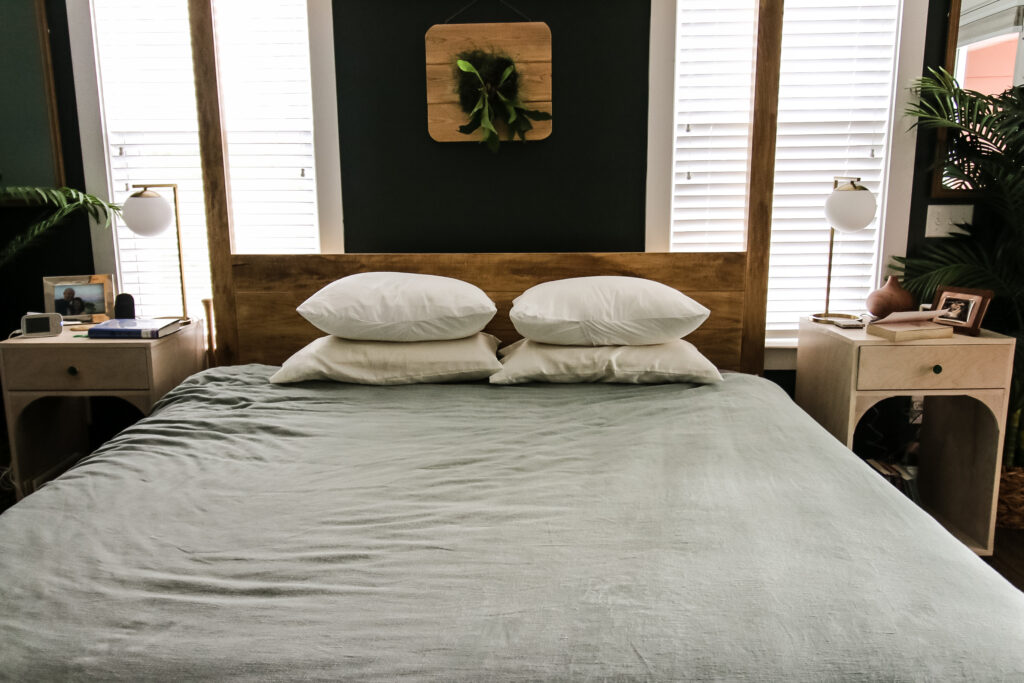 How do you stack pillows for sleep?
You might choose to stack 2 pillows on top of each other to reach a more comfortable height for sleeping. It's better in my opinion to get a firmer pillow because it's hard to keep 2 pillows together all night!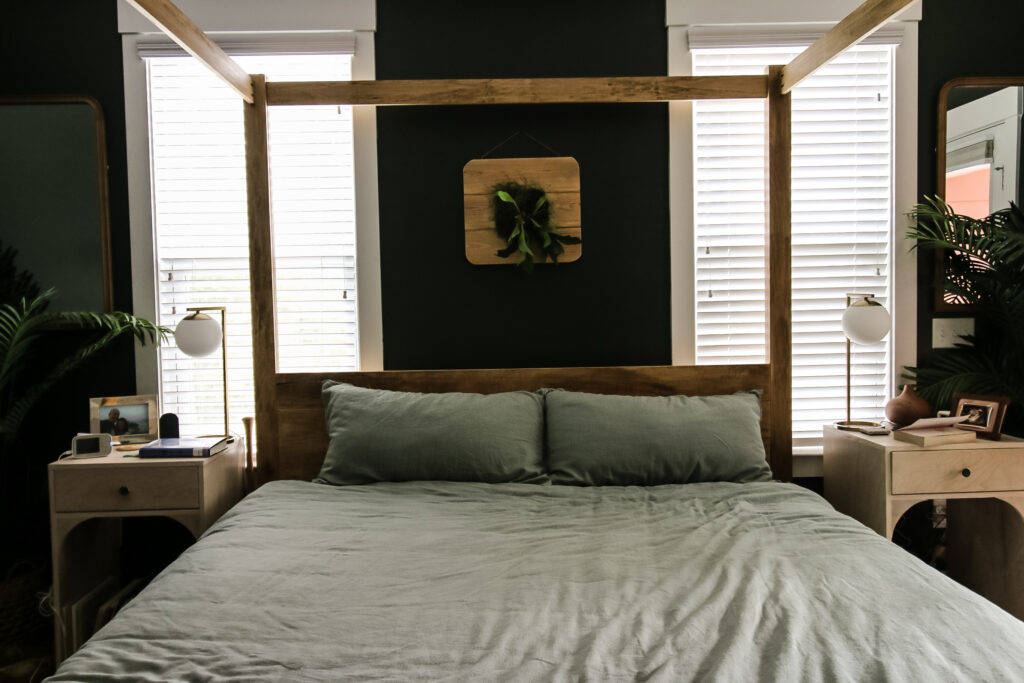 Are pillow shams meant to be slept on?
Pillow shams are usually decorative in nature and often match the duvet cover or comforter. However, you can totally sleep on them! They are just as washable as any other pillow case.
How do you arrange pillows without a headboard?
No headboard, no problem. You will want to add some larger pillows to the back to give the bed a defined back. You can use a body pillow, a XL lumbar pillow, or three euro shams for a solid back.
Also consider hanging art over the bed to give the eye a place to settle and focus on in lieu of a headboard!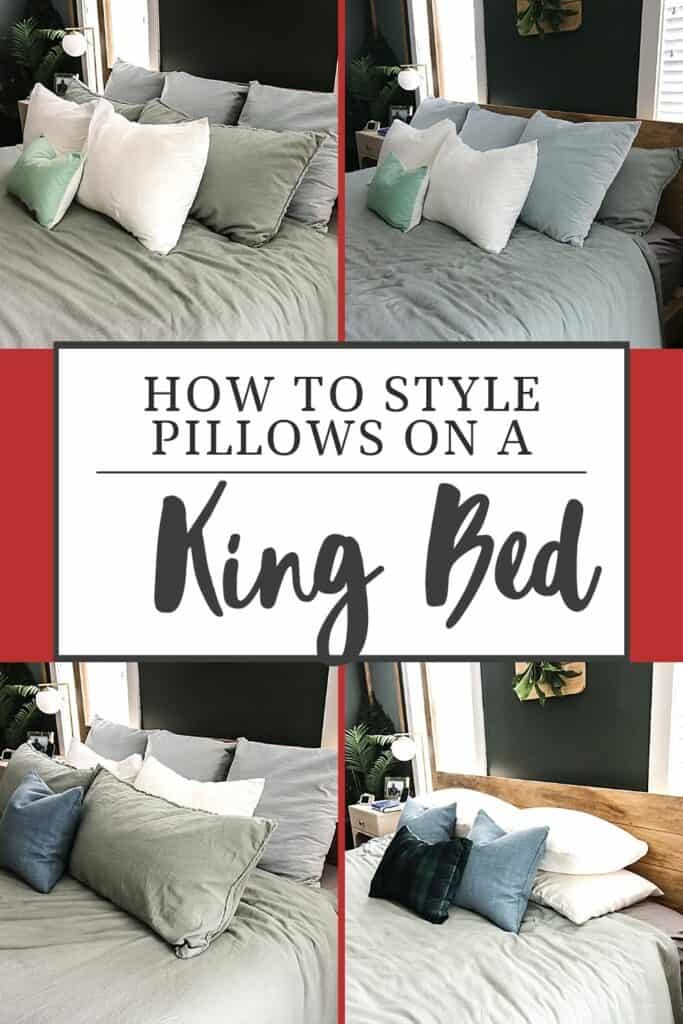 King Bed Pillow Arrangement Ideas
Wondering how to make a king sized bed? Here are my favorite pillow arrangements!
Traditional way to style our king bed pillows
The traditional way to style your pillows on a king sized bed is with the largest in the bag, triangling forward.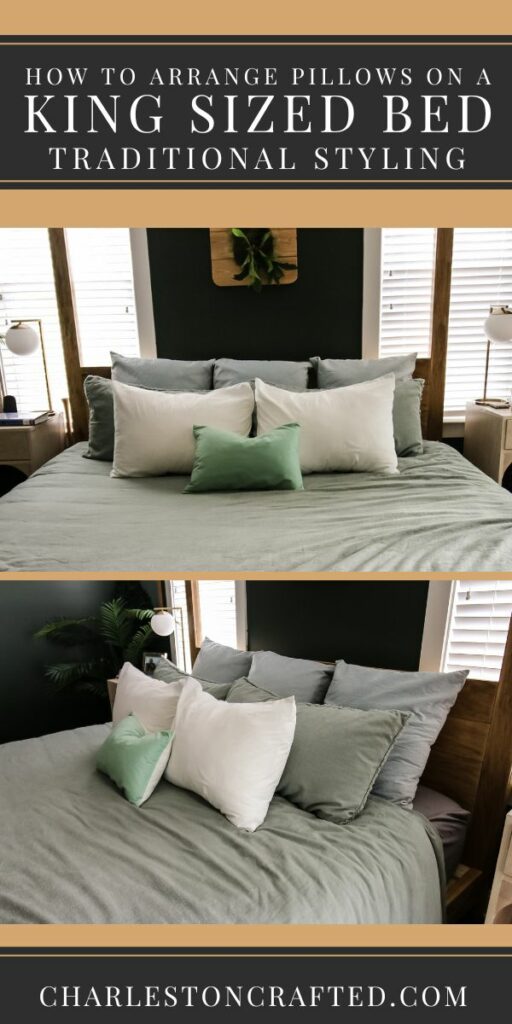 Back row – 3 square euro pillows
2nd row – 2 king pillows
3rd row – 2 standard/queen pillows
Front row – throw pillow
Alternative king bed pillow arrangement
Alternatively, you can tuck the sleeping pillows behind the decorative king sized sham pillows. This is ideal if your sleeping pillows look drooly or gross, haha.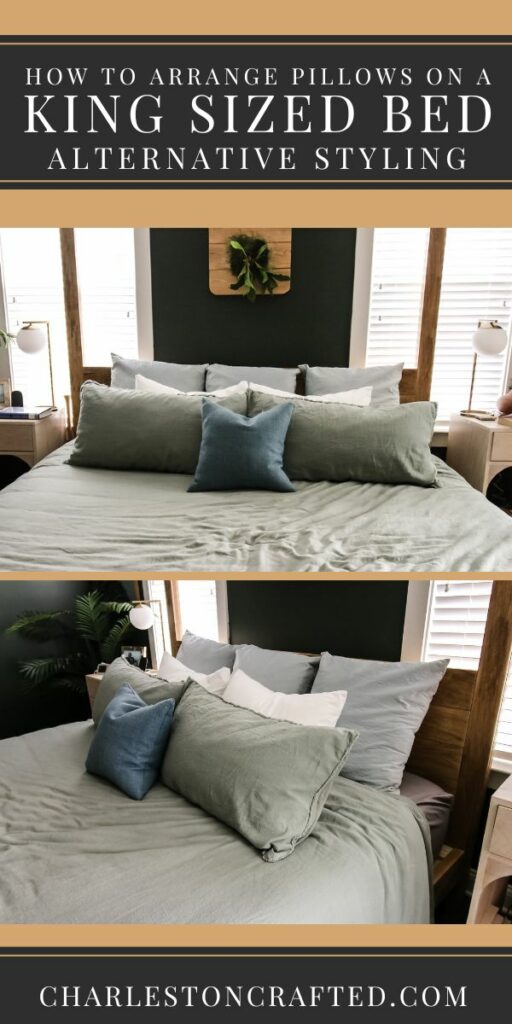 Back row – 3 euro pillows
2nd row – 2 standard sleeping pillows
3rd row – 2 king pillows
front row – throw pillow
King bed with all standard pillows
No king pillows? If you have 4 standard pillows, they can look an awkward width on the king headboard. I instead suggest stacking them!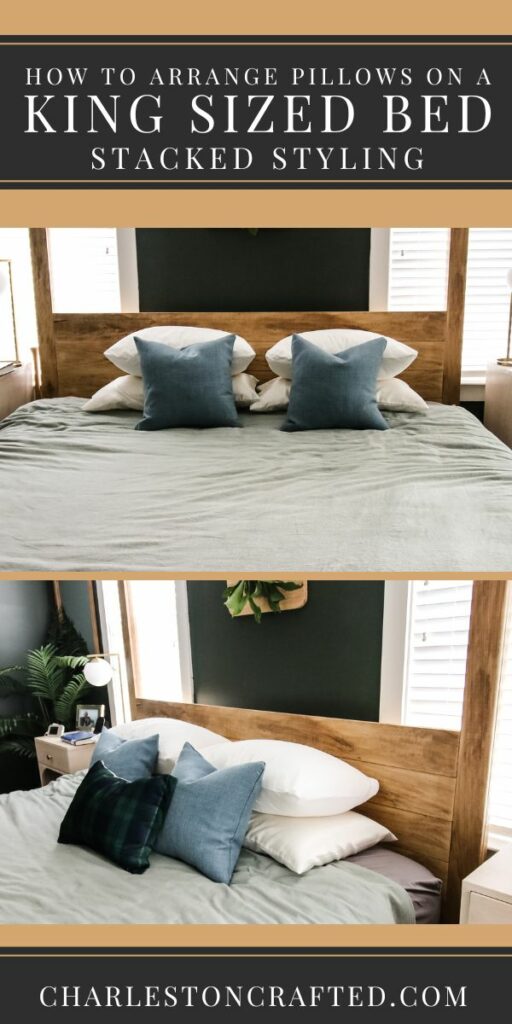 Back row – 4 standard pillows, stacked in 2 stacks of 2
Front – throw pillows of choice
Modern styling of king bed pillows
If you prefer to put the focal point on the larger square euro pillows, bump them up a bit to make sure they are what catches the eye.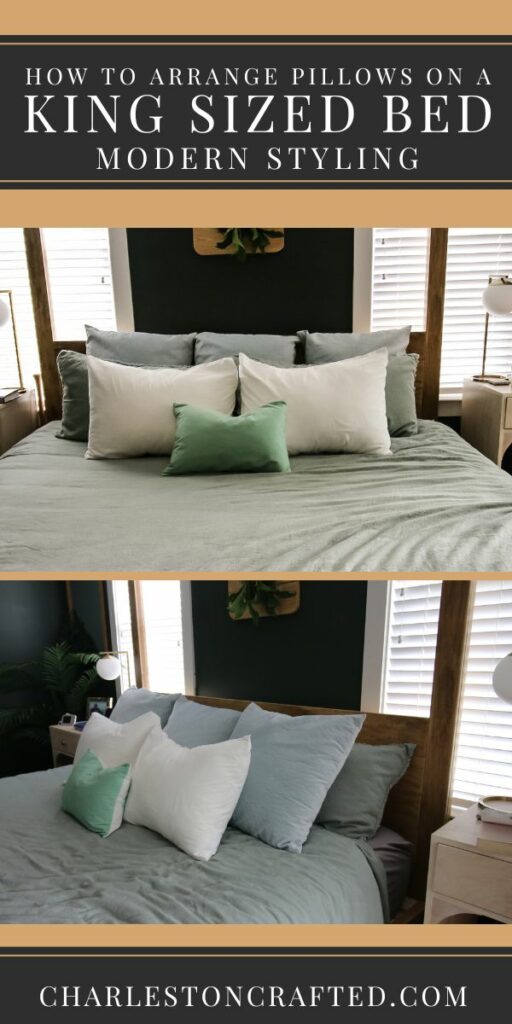 back row – 2 king pillows
2nd row – 3 euro pillows
3rd row – 2 standard pillows
front row – throw pillow
Any more questions about how to arrange pillows on a king sized bed?