We are starting to get some warm weather here in Charleston and I am getting really excited for our spring planting. I recently shared how I am planning our raised bed vegetable gardens this year on my Instagram stories and got a lot of questions about my process. So, I thought that it would be fun to share with you today how to plan a vegetable garden!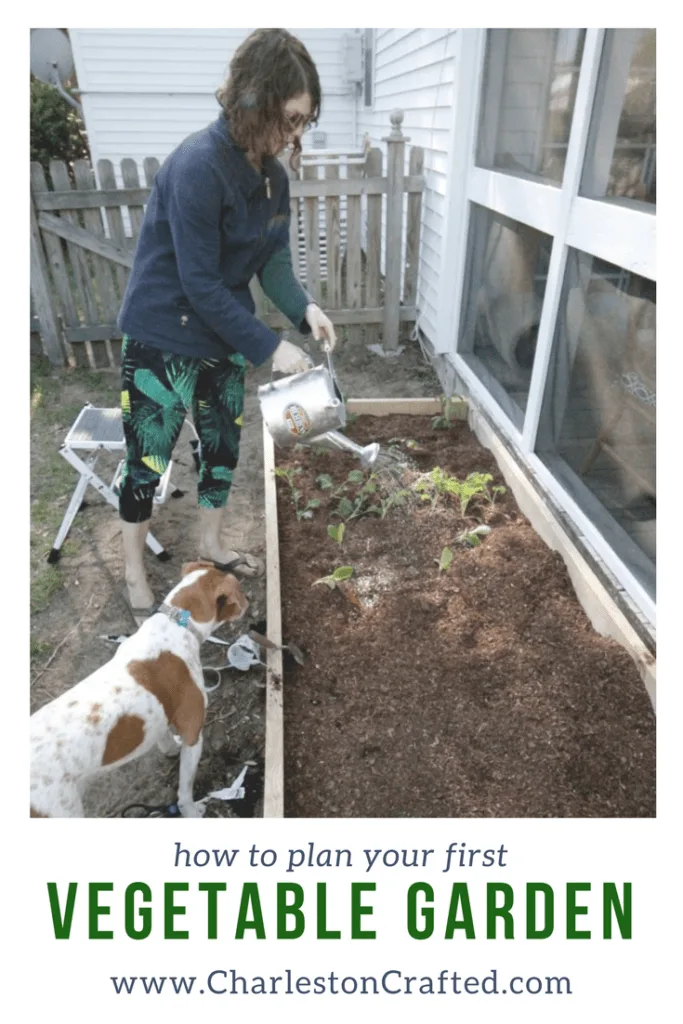 Decide where to plant
In my experience, most vegetable or herb plants need at least 6 hours of full sun. So, look in your yard for a space that gets at least that much sun. Also remember that this much sun means it will need a lot of water, so make sure you have easy access to the hose.
Once you select a spot, you will want to assess the amount of space that you have. If you have a large space, consider creating a simple DIY raised bed. Raised beds are basically wooden outlines that you fill with dirt. This is a great solution if your natural soil is not particularly plant friendly (for example, our soil is almost 100% sand while my parents have red clay. Neither is ideal for veggie growth!)
If you have a smaller amount of space, you might want to consider a container garden. My dad always plants his tomatoes in large plastic buckets. The benefits of a container garden include that they don't take up too much space and that they are movable.
Decide when to plant
The timing of your garden will vary based on your region. I highly recommend speaking to someone locally – a garden store employee, a neighbor, or your local agriculture university (for locals – Clemson Extension) for advice on when to plant. In general, try to wait until after the last freeze to plant any spring plantings.
Decide what to plant
Deciding what to plant is my favorite part of gardening. With my first garden, I just grabbed plants off the garden center rack based on if I liked the item and didn't pay much attention to anything else. While it is probably a good rule of thumb that your local garden center most likely only sells plants that will grow in your area during the time when they are in season, you can plan your garden a bit better than that.
Ask around. Your neighbors and other locals will have the best advice for what grows well in your area. Every yard has slightly different climate, soil conditions, and weather patterns. The closer you can get to home, the better! Our next door neighbor was an invaluable resource in getting our first garden growing!
Consider companion plants. Did you know that different plants use + release different nutrients? If you plant too many plants that need the same nutrients, there might not be enough to go around. Or, if you plant a plant that releases a certain nutrient that damages it's neighbor, you might not have great results. This is where companion planting comes into play. I love this chart for knowing what plants are companions.
Decide on your layout. The easiest thing to do is to make a list of all of the plants that you would like to plant and what you'd like to do with them. This year, since we have 2 raised beds, I decided that I want a "salad garden" and a "salsa garden," which split the plants that I was interested in planting pretty well. From there, I sketched out each garden and selected placements based on height. If your garden is up against a wall or fence, you will definitely want to have the tallest plants in the back. I made sure that all of the plants in each garden were good companions and that was it! Now I am just waiting for it to be warm enough to get these plants in the earth!
Are you planning to plant a vegetable garden? How do you plan yours out?