Before I get started, I know what you are thinking: half bathroom design plan? But you are in the middle of a kitchen renovation?
I know.
I am a crazy person.
But not really. We are kind of almost at a standstill with the kitchen as we wait for our counter tops to be poured and installed. It ended up taking us a bit longer than anticipated to lock down an installer, so we are a week or so behind our intended schedule.
So why not take a week off? Well, we kind of are. But at the same time, I heard about the March $100 room challenge and wanted to participate, of course.
What is the $100 room challenge? We will be tagging up with a big group of bloggers who are all making over one room in one month for $100!
I will be updating you on our half bath progress for the next four Wednesdays, ending with a reveal.
I knew that this space would be great for the $100 challenge because all it needs is cosmetic work. We just had the new flooring run in here and it is the only room on our first floor that is unpainted.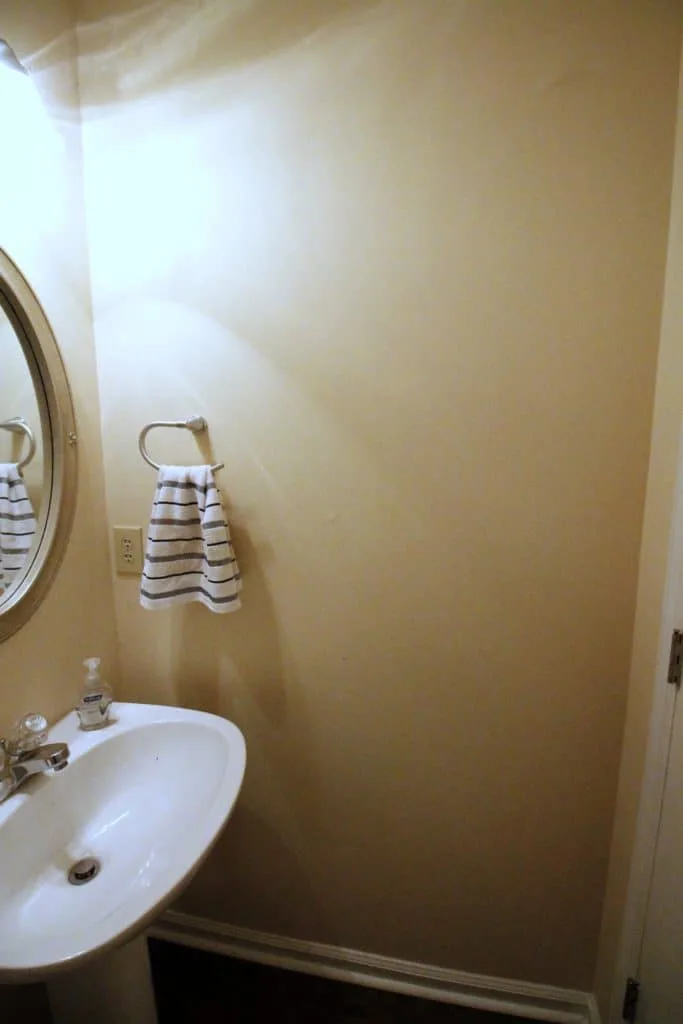 The biggest problem with this room, other than lack of decor, is lack of storage. It's a pedestal stink and so we are going to have to be creative about a spot for extra toilet paper and cleaning supplies.
Here is our vision for the space.
paint color – I took an Instagram story poll the other day (if you don't watch my stories, you should. I post a lot!) and asked if we should continue the Online gray in there or match the island with Watery blue. 100% of the responders (and I had a bunch!) said watery. I was glad to have my idea confirmed!
storage – the biggest problem that we need to fix in here is storage. There is none. We don't need a lot, but I would like to be able to tuck away some extra toilet paper and air freshener, just to make guests more comfortable. We are leaning towards shelves but haven't settled on a design yet. (shelving inspiration)
art – It's a small space, but I think that a beautiful piece of art could do wonders. Of course, once you subtract out the wall paint and the shelving I will have about $10 to work with, so I will have to get creative! (art inspiration)
faucet – the faucet inspired a lot of the finishes in this makeover. The previous owners actually left an ORB bathroom faucet in the box in the garage. I guess they never got around to installing it? I am glad to have it tie to the lights on the rest of the first floor! (faucet in collage)
light fixture – in the spirit of the challenge, we are going to work with what we got and update it with a coat of paint. We learned in our bedroom how much changing the glass shades can update the space, so that is the plan here, as well.
towel bar – I'm going to steal one of these pineapple rings from my Etsy shop inventory. Shhh don't tell Sean, I'm supposed to not be hoarding this stuff 🙂
mirror – we currently have an oval mirror in there that is fine but nothing special. I've been swooning for a rope mirror for a while now so you know that I will have to DIY my own. via decor pad
Keep tuning in – we can't wait to share how to goes! And be sure to check out all of the other blogs that are linking up!
[inlinkz_linkup id=699234 mode=1]