If you're planning a wedding, you probably set a budget. But, did you remember to budget for the little things? What about a garter to complete your wedding look? Wouldn't it be nice to get one for free?
I think that the garter toss is a really fun and funny tradition and this is an easy way to make that happen at your wedding.
I'm so excited to be giving away a garter today! We have teamed up with Tania at Wedding-Garter.net to give away a free garter – a $33 value! It's actually a set of two garters – one to keep and one to toss! How very perfect!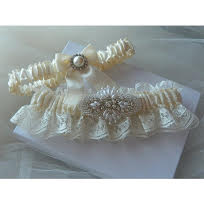 I love the gorgeous pearl detailing and the rhinestones.
There's a code for everyone to get 15 percent off their order here.
Entries will be accepted until 5pm Eastern Standard time on Monday, February 2nd. If you have any friends who are getting married, please share the giveaway with them! Use the widget below to enter.
I hope that you win!