I am always looking for ways to mix up the lunches that I take to work. I love meal planning and try to pre-make at least 4 lunches every Sunday night. However, that often results in me having 4 or 5 identical salads or hot meals in a row. By 3 (or 4 at the very least) I am really sick of it and probably dreading it. Last week, I had the idea to try to make lunch wraps – with a different filling each day!
The thing that makes that tricky is that I clearly had to watch the ingredients. 5 different wraps could mean 5 different sets of things to buy to put in them! A major point of bringing my lunch to work is saving money, so I had to be creative in ways that I could repeat ingredients between the meals without them seeming similar. I think I did a great job!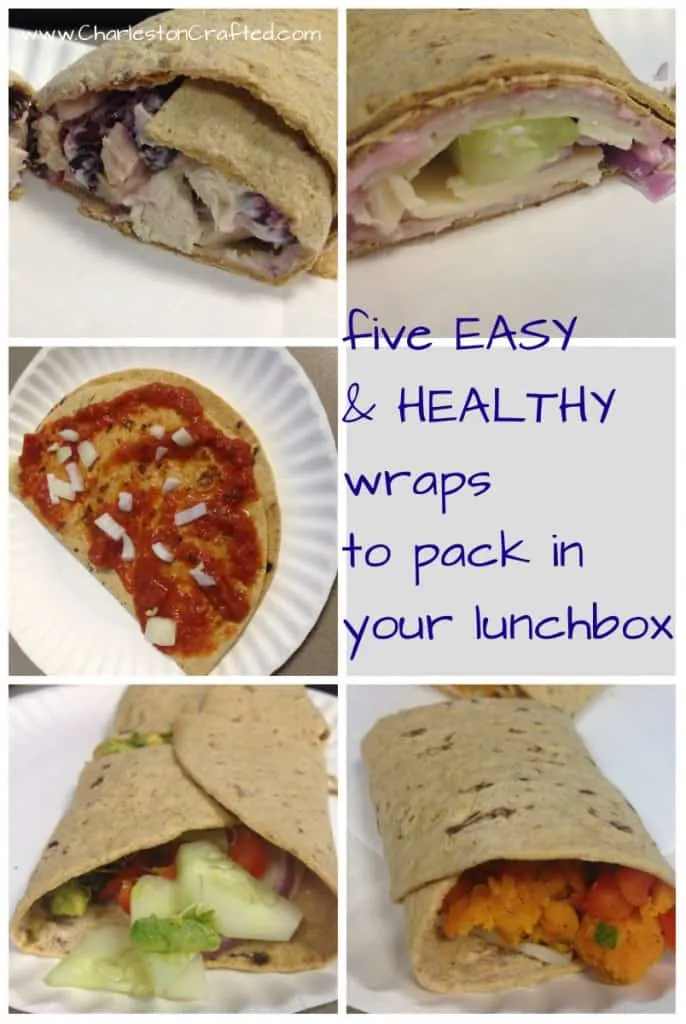 I started each wrap with these Flat Out Light Original Flat Breads. I found them with the pita bread in the produce section at publix. Each one has only 90 calories, plus 9 grams of protein and they're whole wheat. Bread can be a real calorie killer, so finding low calorie wraps was key to my plan. I love that these are rectangular, instead of round, making them perfect for rolling. I was also very happy with the softness and taste. Six came in a pack.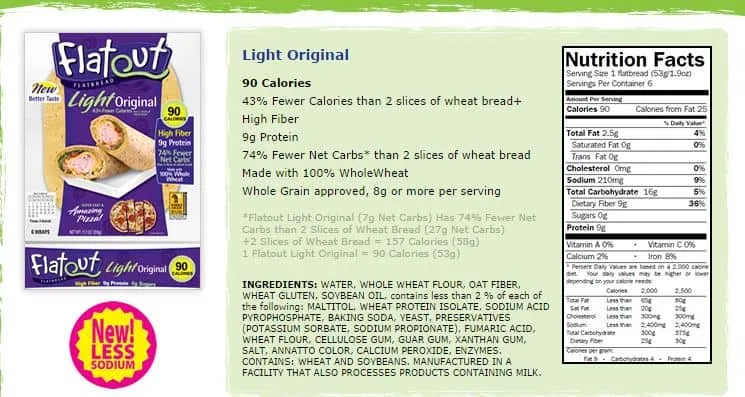 It's worth noting that I paired each wrap with a side of fruit. I got pineapple, watermelon, and raspberries and made mixed fruit bowls that I ate throughout the week. I like having a side with any sandwich, and fruit is sweet and satisfying. I also love doing veggie sides – carrot sticks, cucumber slices, and red pepper strips –yum! I took the pack of wraps to work on Monday and just left them in my drawer all week, and just packed the fillings in my lunchbox.
Here's what I came up with:
Monday – Chicken Salad Wrap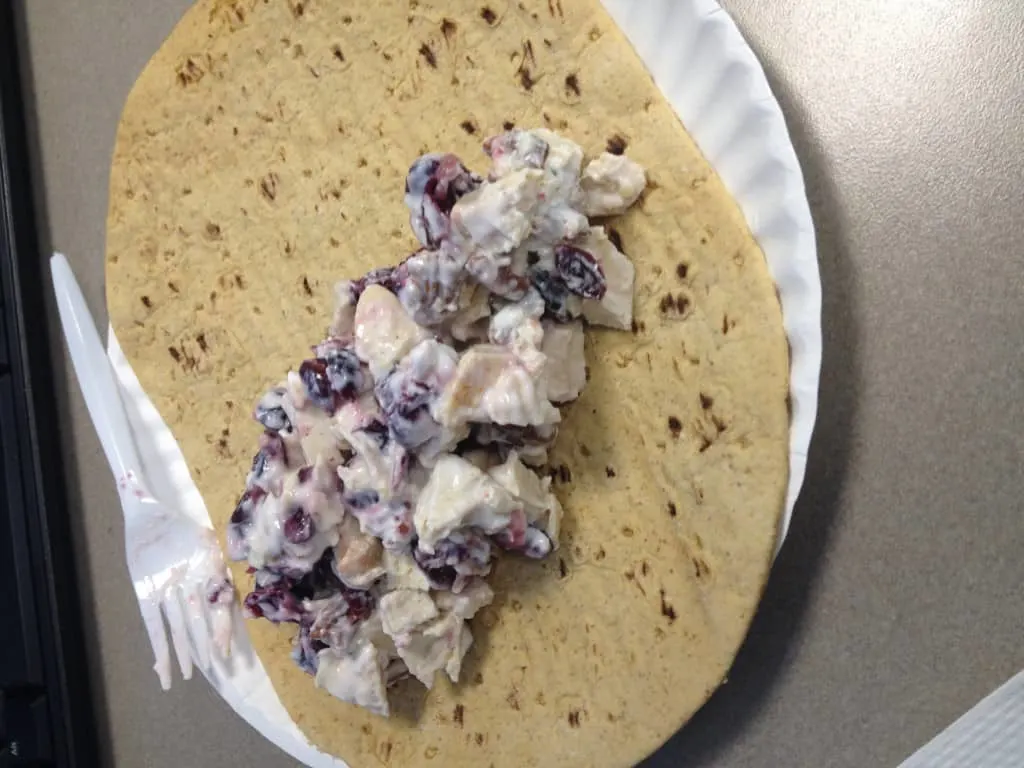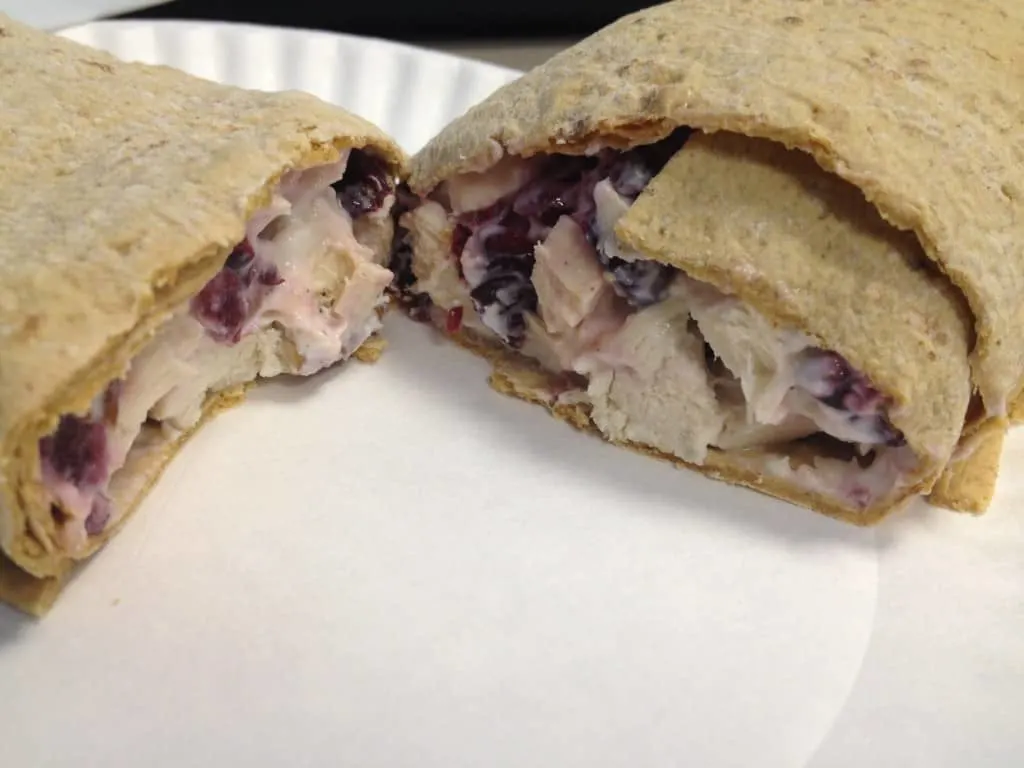 This was a play off of my favorite Waldorf Chicken Salad. We had some grilled chicken left over from Sunday's dinner, so I whipped that up the night before.
What you need:
2-3 chicken tenderloins, grilled and cooled
2 T plain greek yogurt
2 cloves minced garlic
1 t lemon juice
1 T pecans, chopped
1 T crasins
Salt, pepper to taste
Flatbread or wrap of choice
What you do:
Chop your chicken into bite sized pieces.
In a bowl, mix the yogurt, garlic, lemon juice, and salt and pepper.
Add the chicken, crasins, and pecans. Stir.
Let sit in the fridge to get extra flavorful.
When you're ready to eat, simply dump the salad on the wrap, roll, and enjoy!
Tuesday – Microwave Pizza Quesadilla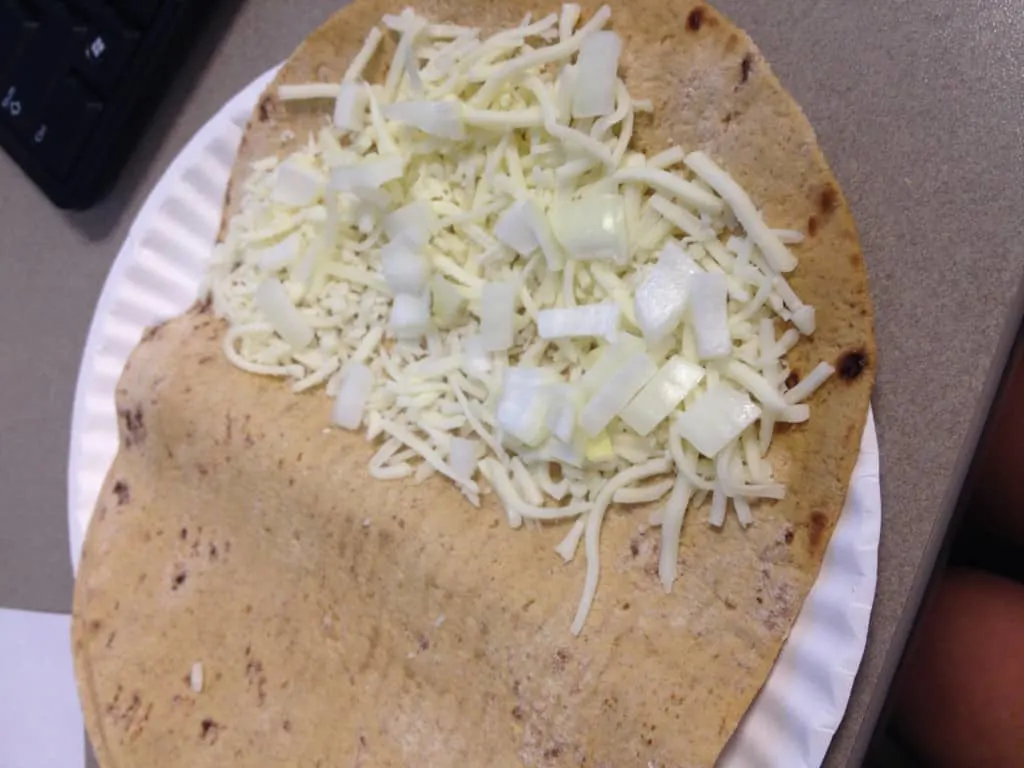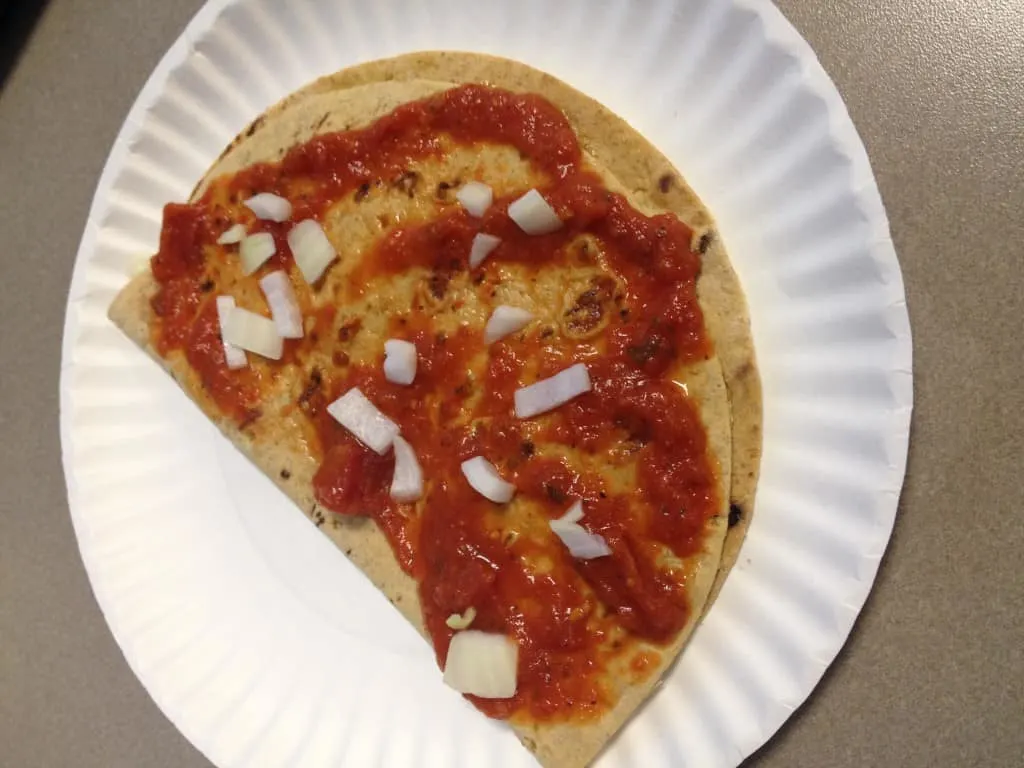 This wrap was invented at the very last minute. And man, it might be my favorite of the week! Add your favorite pizza toppings – I think pepperonis or peppers would be delicious! I don't have a stove or oven at the office, so I just made this in the microwave. It turned out great!
What you need:
¼ cup shredded cheese
¼ cup marinara sauce
Veggie pizza toppings – onions and peppers are my favorites!
Flatbread or wrap of choice
What you do:
Spread the cheese out on half of the wrap. Top with onions or whatever veggies or cooked meat you want.
Fold in half. Place a damp paper towel (get it wet, wring it out, then lay flat) over the quesadilla to keep it from getting dry.
Microwave for 30 seconds – 1 minute. 45 seconds was perfect for me!
Top with marinara sauce or use as a dipper. I sprinkled extra onions on top because, yum onions!
Wednesday – Green Veggie Wrap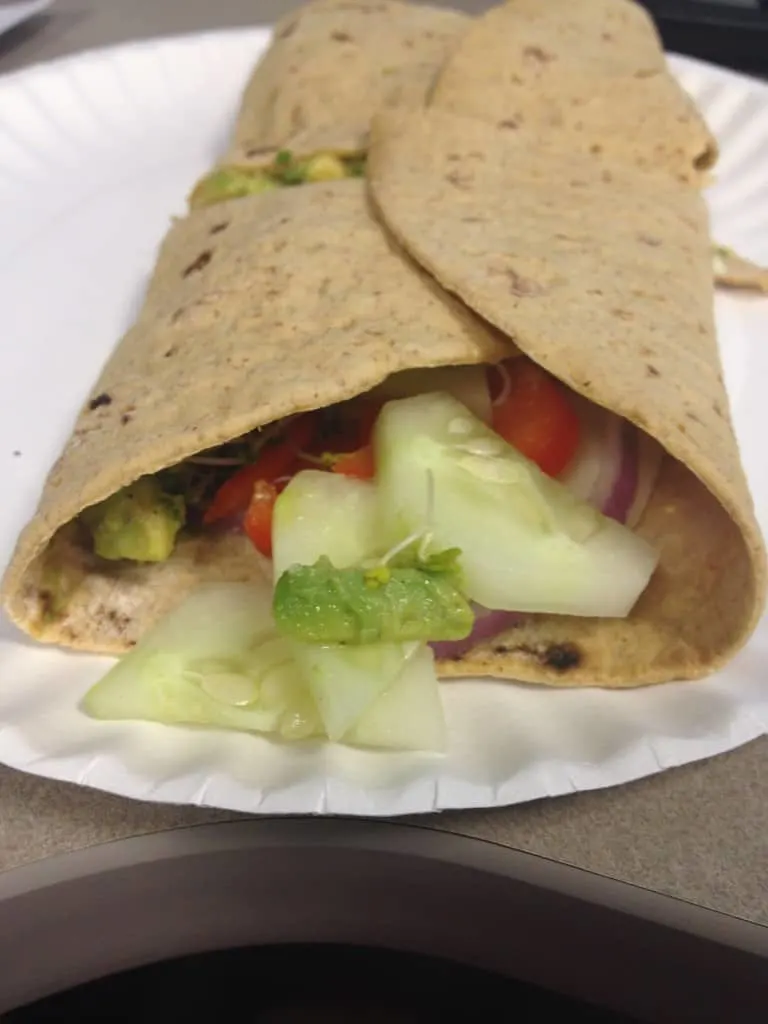 After chicken salad and pizza, I was ready for some veg. This is one of my go-to veggie sandwich combinations, and I guarantee that you will love it as well!
What you need:
½ avocado
1 t lemon juice
1 clove garlic, minced
Salt, pepper to taste
½ T sliced red onion
1 T diced red bell pepper
¼ large cucumber, sliced
2 T sprouts (optional)
2 slices white cheese (I used low fat provolone)
Flatbread or wrap of choice
What you do:
Dice and peel your avocado half. Scrape into a bowl (tupperware is ideal).
Gently smash with a fork. It doesn't have to be 100% smooth – some chunks are good.
Mix in lemon juice, garlic, salt and pepper.
In a separate Tupperware, place the cheese and veggies. Pack in the fridge.
When you're ready to eat- place in a line on the wrap: cheese, then avocado spread, then top with veggies.
Roll and enjoy!
Thursday – Southwestern Sweet Potato Wrap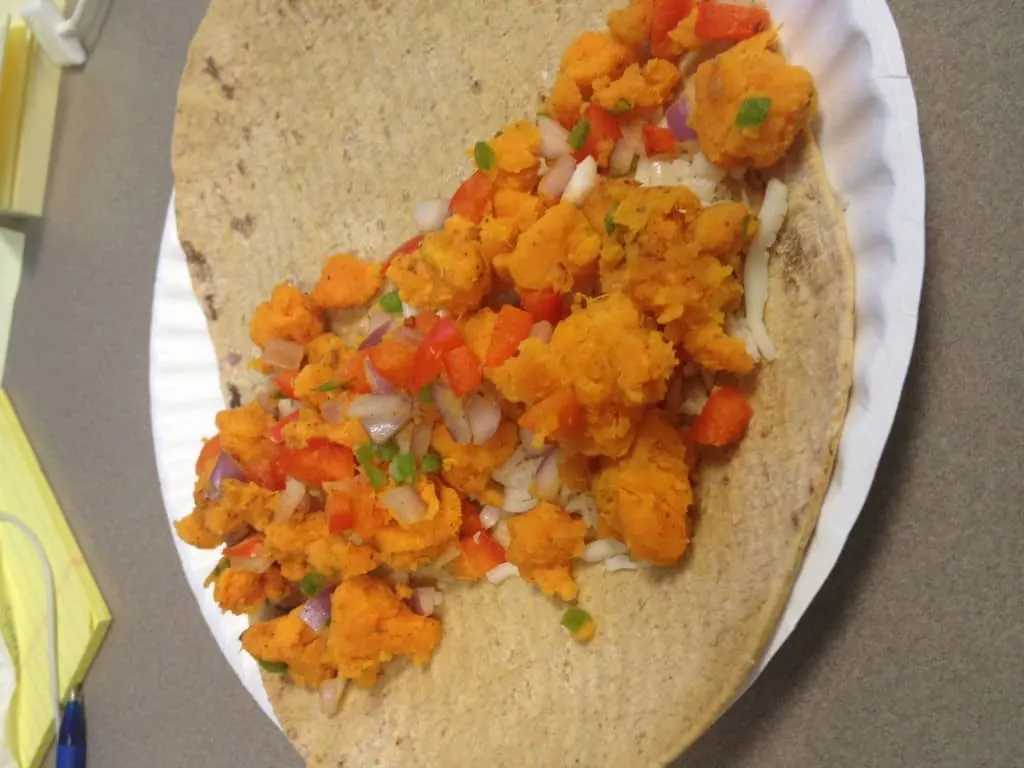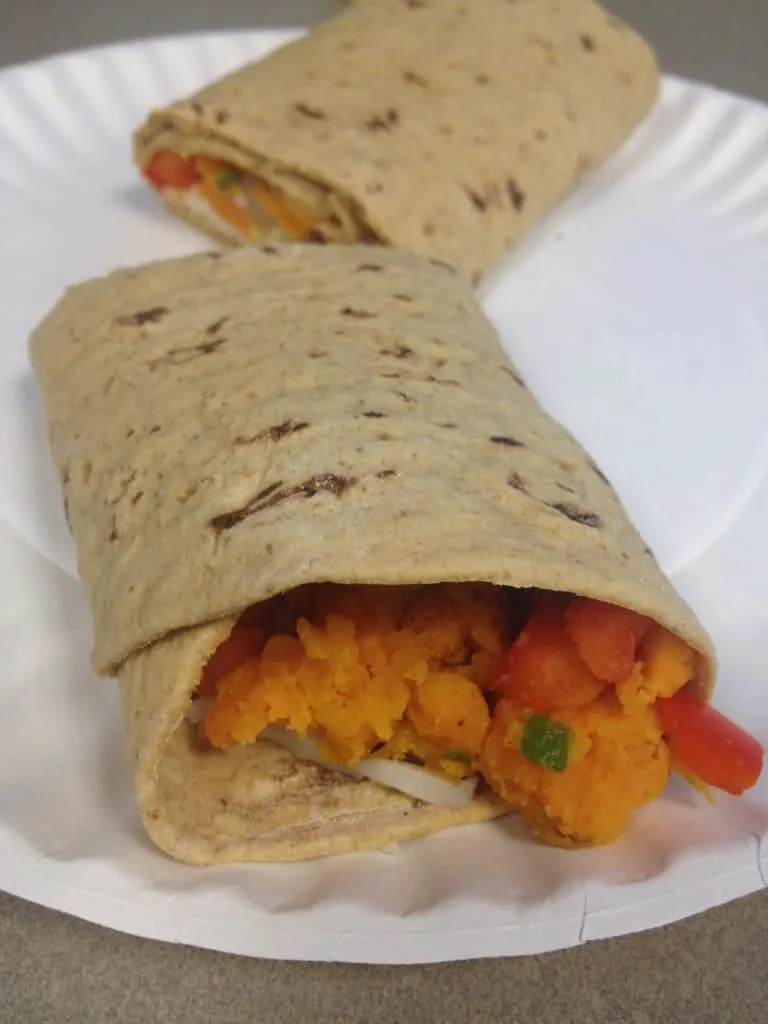 Gosh this might be my OTHER favorite wrap of the week. So simple, yet so good! It very closely resembles our Sweet Potato Burrito Filling recipe – and for a good reason!
What you need:
1 very small sweet potato or ½ a regular sized potato
1 T diced red pepper
½ T diced red onion
½ jalapeño, de-seeded and diced
1 teaspoon taco seasoning
¼ cup shredded cheese
Flatbread or wrap of choice
What you do:
Stab the potato several times with a fork or knife. Wrap in a damp paper towel and microwave until cooked. This was a VERY small potato and took 6 minutes. Regular size takes more like 8.
Dice your veggies while that cooks and cools.
When it's done, let it cool, then scrape all the meat away from the skin. It should come easily. Scrape it into a Tupperware.
Add the red pepper, onion, jalapeño, and taco seasoning. Stir together. Place in the fridge.
When you're ready to eat, start by putting a line of cheese on your wrap then topping with the potato mixture. I microwaved mine (mixture only) for 1 minute first. Roll up and enjoy!
Friday – Raspberry Turkey Wrap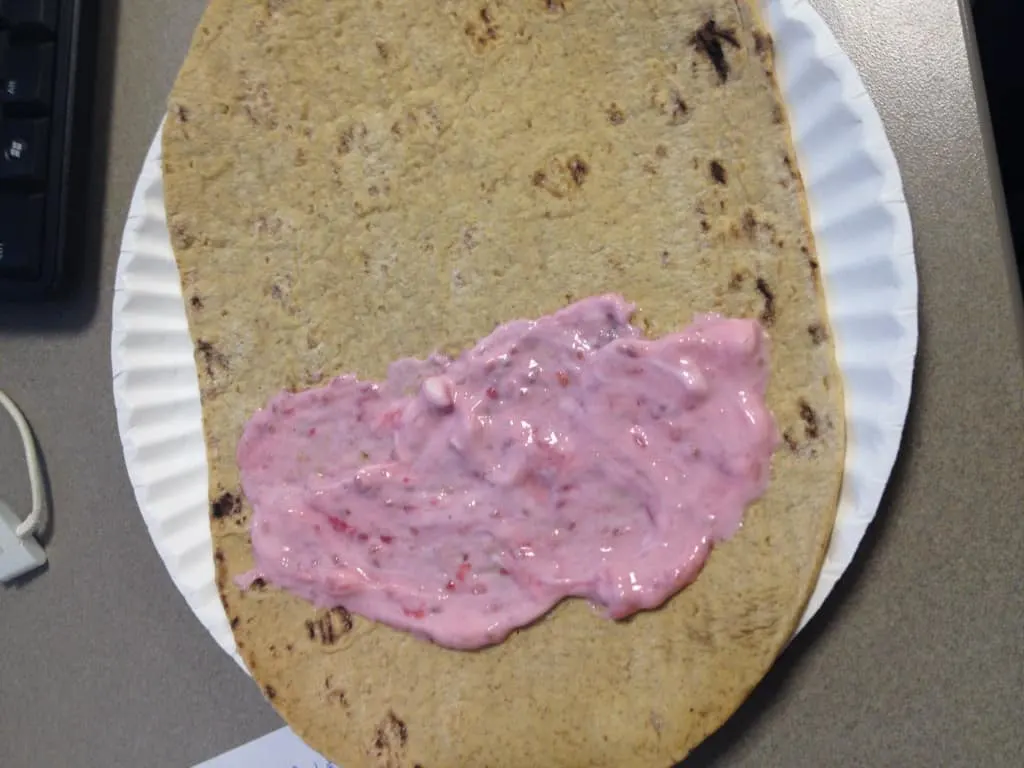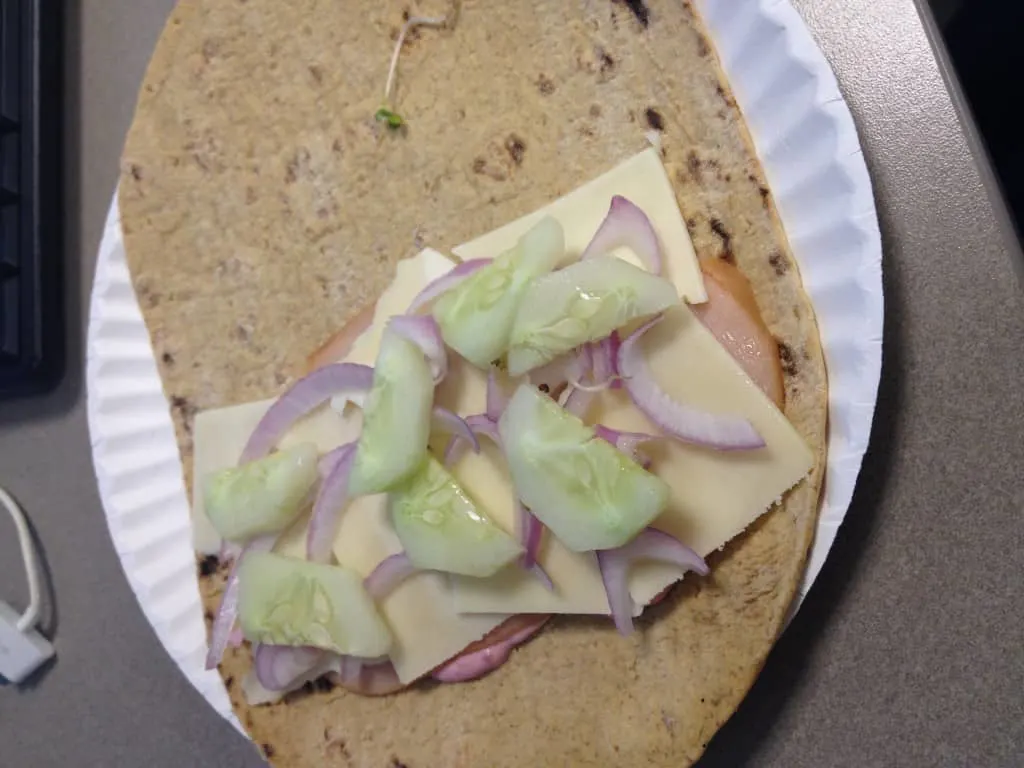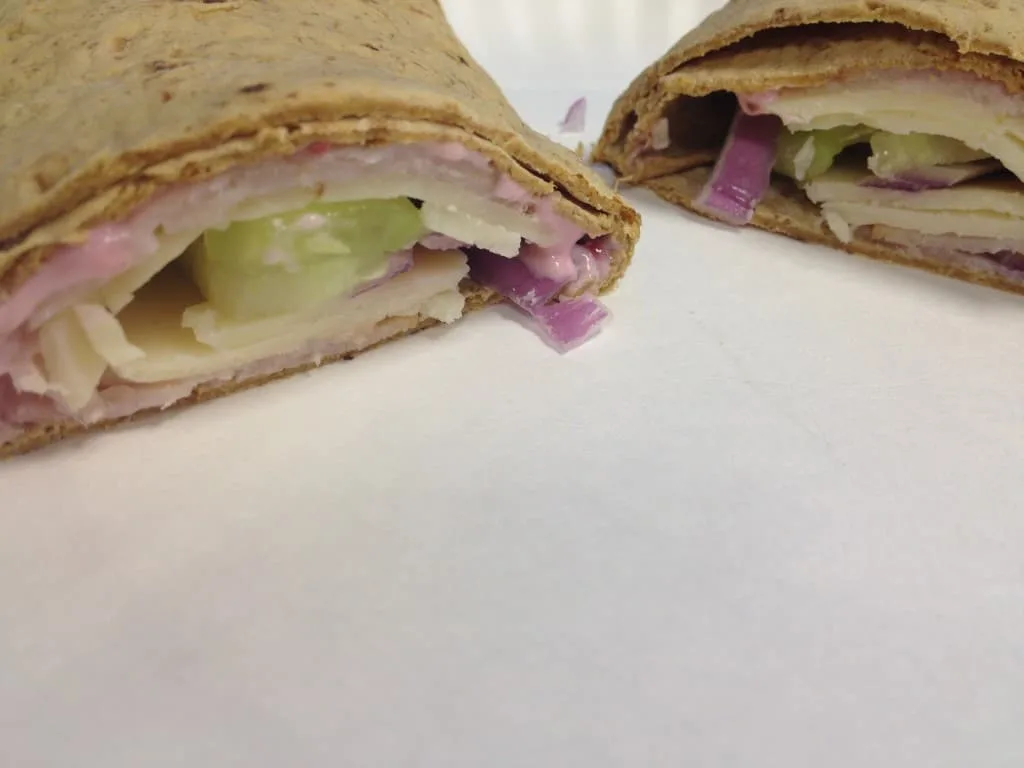 Friday mornings are pretty lazy in our house, and this makes a great grab and go lunch.
What you need:
1 T plain greek yogurt
1 T raspberry jam (I used homemade)
¼ cucumber, sliced
½ T diced or sliced red onion
3 slices of deli turkey
2 slices of cheese
Flatbread or wrap of choice
What you do:
To prep, simply mix the jam and yogurt.
When you're ready to eat, spread the jam mixture on half the wrap. Top with cheese, meat, and veggies. Roll up and enjoy!
So I really hope this helps show you – sandwiches DON'T have to be boring. Eating healthy can be fun and varied! Don't get stuck in a rut. Mix it up and get excited about lunch again!!
What's your favorite lunch??!
PS – This was not sponsored by Flat Out by the way… I just found them at the store and totally love them!
PPS – sorry these are all iPhone pics. I'm not about to bust out my camera at work, haha! Ditto the paper plates. Gotta go with what ya got.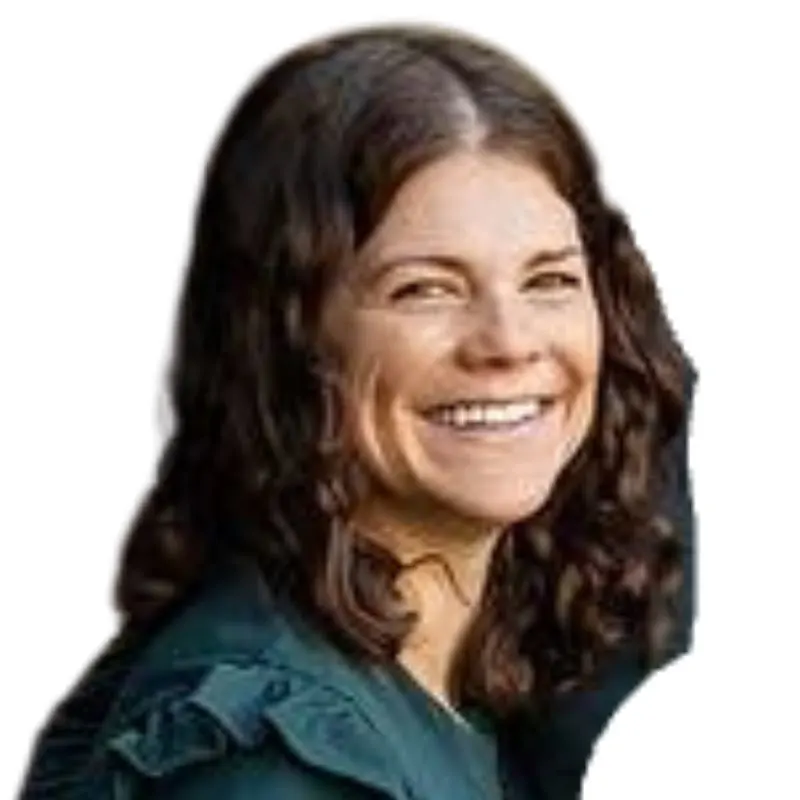 Hello, I'm Morgan, half of the creative force behind CharlestonCrafted.com! With a passion for DIY that dates back to 2012, I've transformed three homes and now I'm dedicated to helping others craft their dream spaces. Let's turn your house into a home together!