Looking for a DIY Taylor Swift Look What You Made Me Do? You are in the right spot!
Y'all might know that I get super hype for Halloween. I love decorating and making costumes and this year I made an effort to have my costume early in advance to share with you before Halloween. You're welcome.
This year I am obsessed with the new Taylor Swift single Look What You Made Me Do and I was of course in love with the cat burglar look from the vault of the music streaming service. You know the one! So, I had to figure out how to DIY it myself. It was so much fun!
I also shared some of my other ideas for Taylor Swift Look What You Made Me Do costumes. Click over and check them out!
Some of my past favorite blogged DIY Halloween costumes:
Britney & Justin at the VMAs denim costumes
Lightning Strike & Victim costumes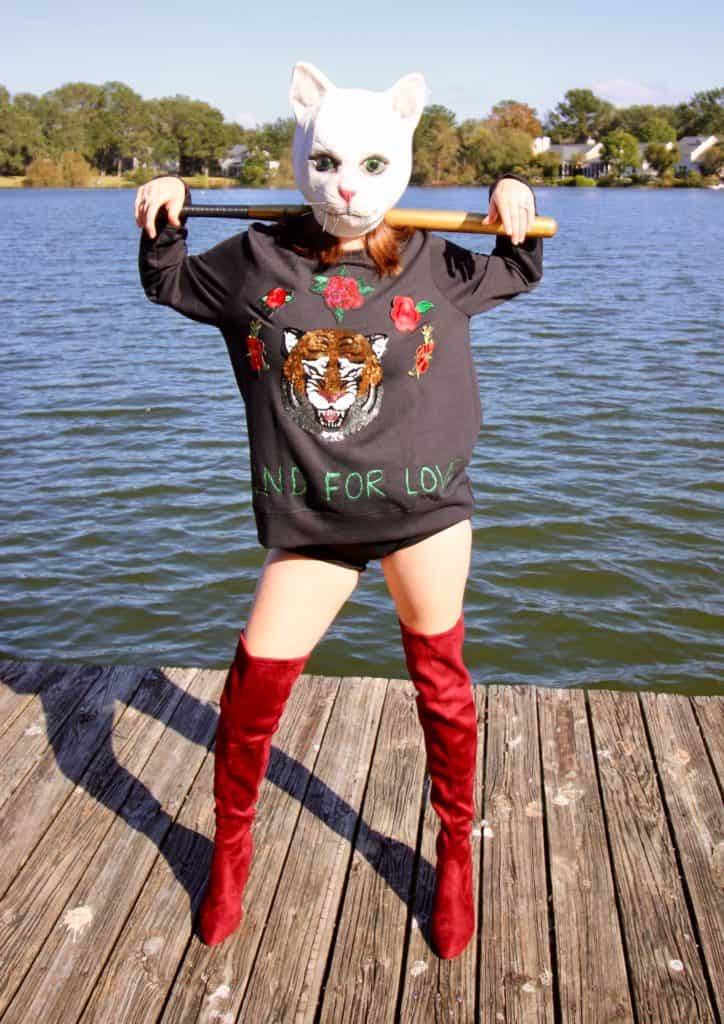 DIY Taylor Swift Look What You Made Me Do Cat Mask Halloween Costume
Supplies:
There were 2 main DIY aspects of the costume – the sweatshirt and the baseball bat.
The sweatshirt and the mask are what will make any Swiftie instantly recognize this look, so definitely focus there.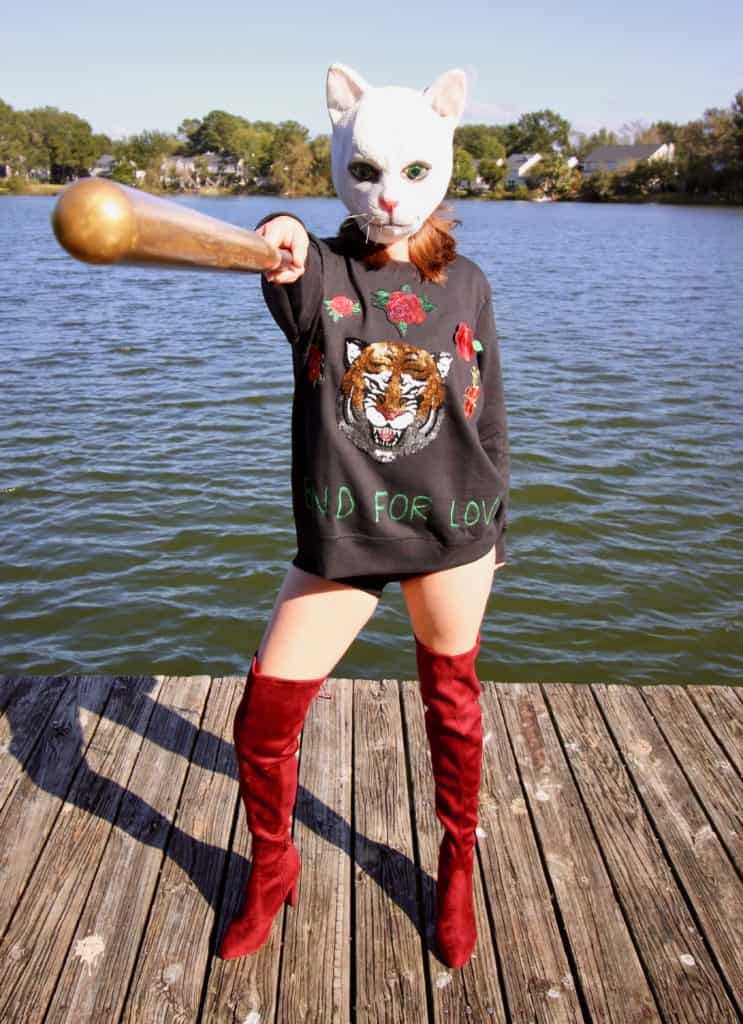 The sweatshirt is just from Walmart and I used fabric glue to attach a tiger patch and some rose patches. The patches claimed to be iron on, but I had better luck when adding glue.
I then used green glitter glue to write BLIND FOR LOVE on the bottom part of the sweatshirt. This glitter can be kind of thin so do a few coats to make it really pop.
The bat is plastic and I just painted it using gold craft paint. It took a lot of coats with dry time in between. I then used black electrical tape on the grip. Easy!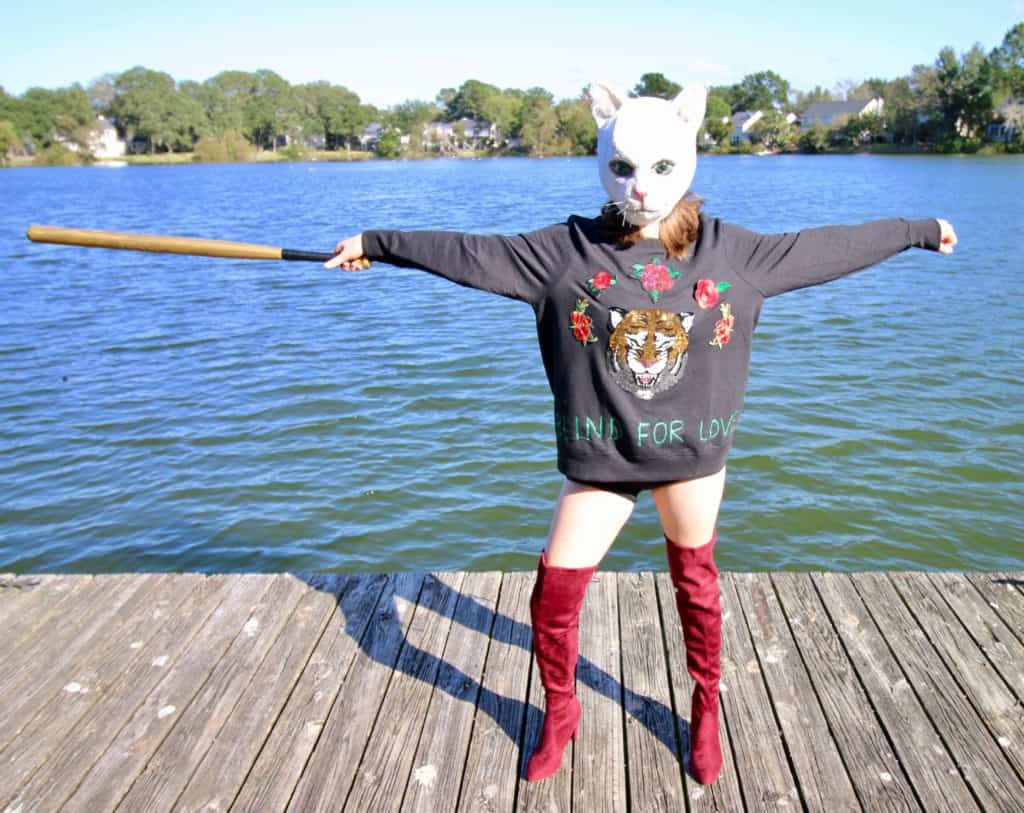 The boots are from Charlotte Russe, only because I could get them under $30. I was shocked that I actually really like them!
Other inexpensive alternatives would be knee high red socks or painting old thrifted boots. You just want something red and knee high, and preferably, hot!
Here are a TON of Burgundy over the knee boots on Amazon, starting under $20!
The cat mask is from eBay and is honestly really hot and very sweaty. But, it is a bomb look with pretty cool whisker details. Don't wear this and drive, folks.
I like a costume with a mask because you don't have to bother with elaborate hair and makeup. No one wants to see your face with this look!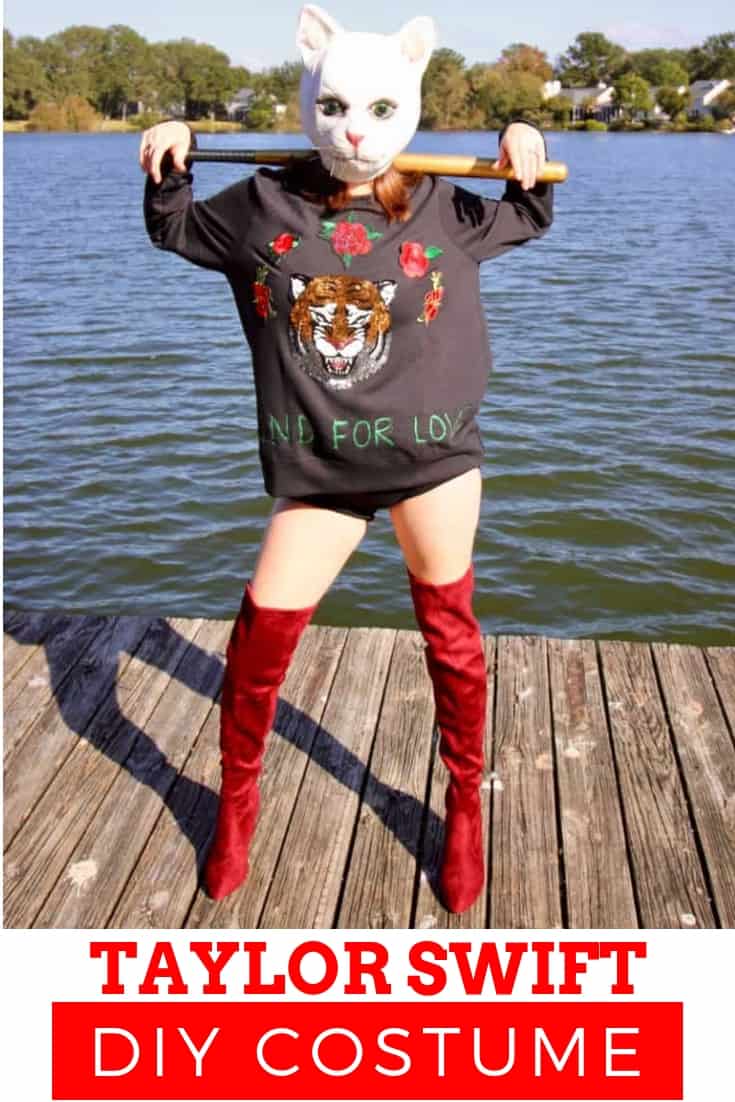 Of course I made a video for y'all sharing the whole DIY process. Enjoy!
What are you being for Halloween? Any front runners? Leave me a comment and let me know if you try to DIY this costume!
This post contains affiliate links. That means that if you click through and make a purchase, I receive a very small percentage of the sale. Thanks for supporting the brands that make Charleston Crafted possible.