Hey y'all! Are you doing any decorating switch ups around your home lately? I love decorating and re-decorating spaces throughout the seasons. One of the easiest ways to do that is to just swap out small decor items. Whether you are swapping it out for the season or decorating with a more long term duration in mind, colored glass balls are a beautiful way to bring a pop of color and glossy texture into any space. I DIY these all the time because they are so inexpensive and simple. Here is how you can make them yourself.
DIY Colored Decorative Glass Balls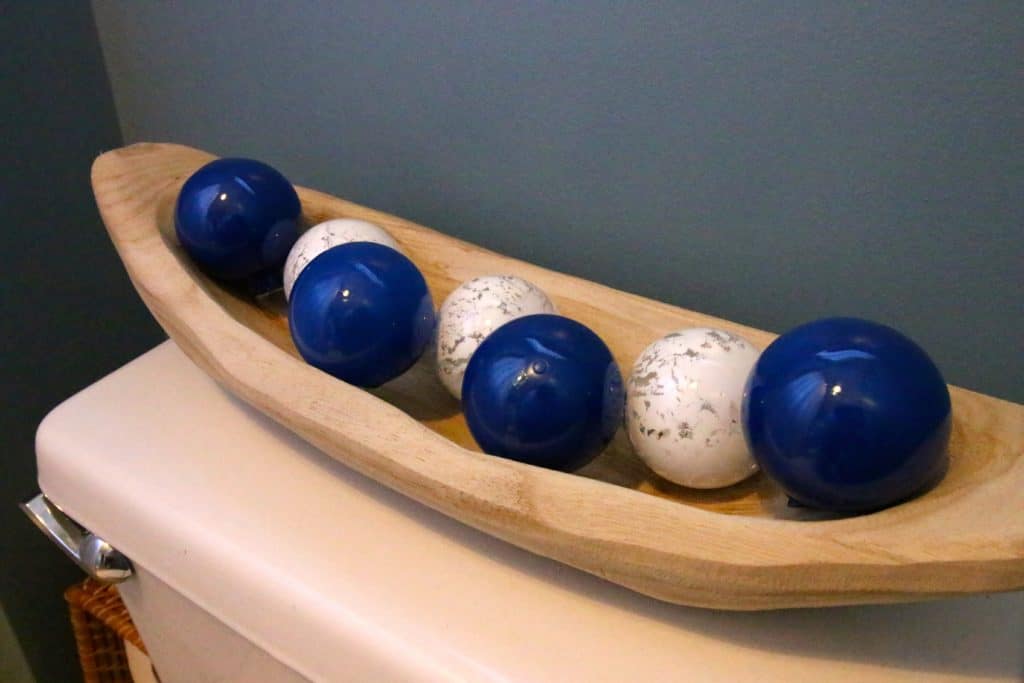 What you need:
Clear Christmas ornament balls – widely available in craft stores from October – December, year round on Amazon
Water
Scrap cardboard (for dripping paint onto)
What you do:
Remove the cap or lid from the ornament if it has one. Squirt about a teaspoon (eyeball it) of paint into the ornament.
Rotate it in your hand to swirl the paint around the ornament. You can go for a swirl pattern or a solid look. If the paint does not move easily, consider adding water, just a tiny bit at a time, seriously, 3 drops, shake it a bit, try again. It should still be pretty thick.
Once you are satisfied with the coverage, flip the ornament upside down to drip dry. Sit it on thick cardboard. If there is a ton of excess paint or water inside, consider flipping it over a trash can or sink first so you don't end up with a huge mess on your table or floor.
Let the balls dry over night. I suggest picking them up off the cardboard and moving them to a new spot on the cardboard after the first 15 minutes. This helps keep them from getting stuck to that spot!
Once they are dry, you can arrange them in any bowl or tray for a very simple and inexpensive decor look!
As you can imagine, the possibilities for these really are endless. I have these in a wooden bowl on the back of the guest bathroom toilet. I also have a whole set that I display in a variety of vessels at Christmas time. I'd love to hear where you might use colored glass balls like these!