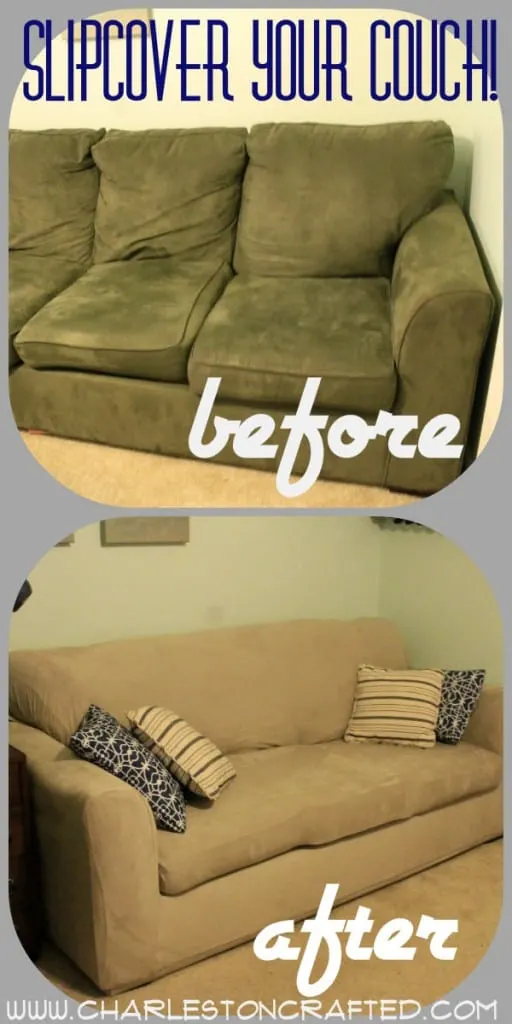 I love our condo and the open layout between the kitchen, dining room, and living room. However, the living room has never really felt "finished" to me. (Now- I really think no room is truly ever finished. There's always tweaking. But, finished "for now" is more like it.)
One of the biggest reasons for this is that I hate our couch. Well – it's actually pretty comfortable and a good size for our room – I just hate how it looks. It is what I affectionately call Poop Green and shows pet hair and drool spots terribly.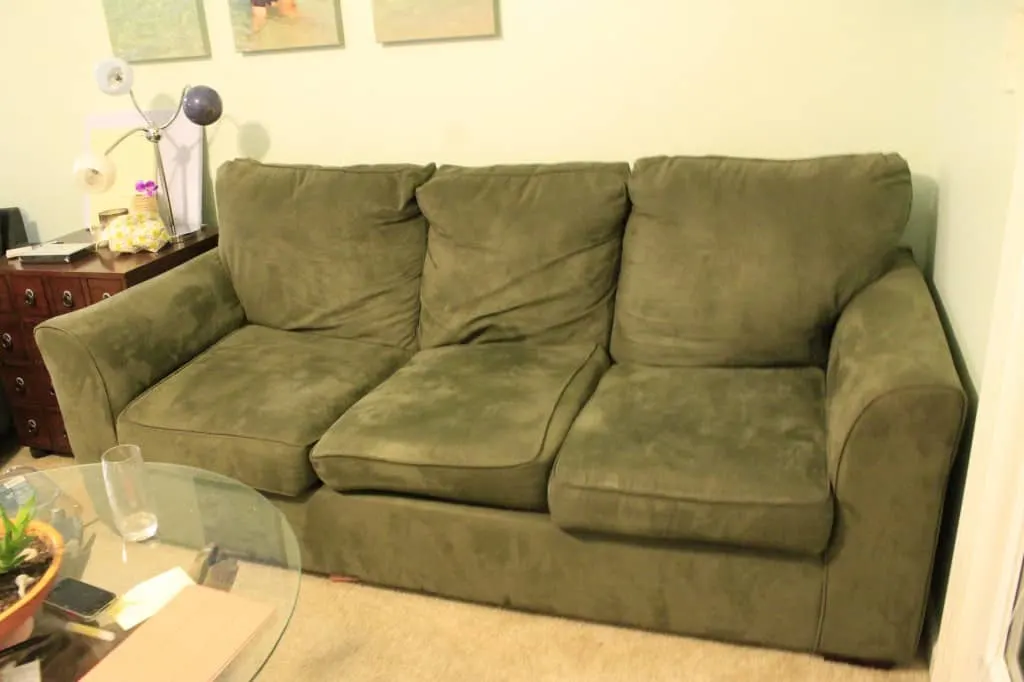 To be fair, it was Sean's couch from before we met. I would have never let him get that color otherwise. I had a very similar couch in a light green color that we had to get rid of after the (old) cat peed on it literally a hundred times.
We've been debating getting a sectional couch for a while now, but because of the porch doors, haven't been able to find one to fit our space. So, recently we caved and decided to get a chair instead.
We spent a couple of Saturday afternoons driving to furniture stores and looking at chairs. I wanted something comfy, with arms, and preferably in a dark grey or navy color. Sean wanted clean lines and no skirt or flaps on the bottom. We were pleased enough to find the Abbott chair at World Market on sale. It was less expensive than anything else we'd seen, very comfy, and the perfect color.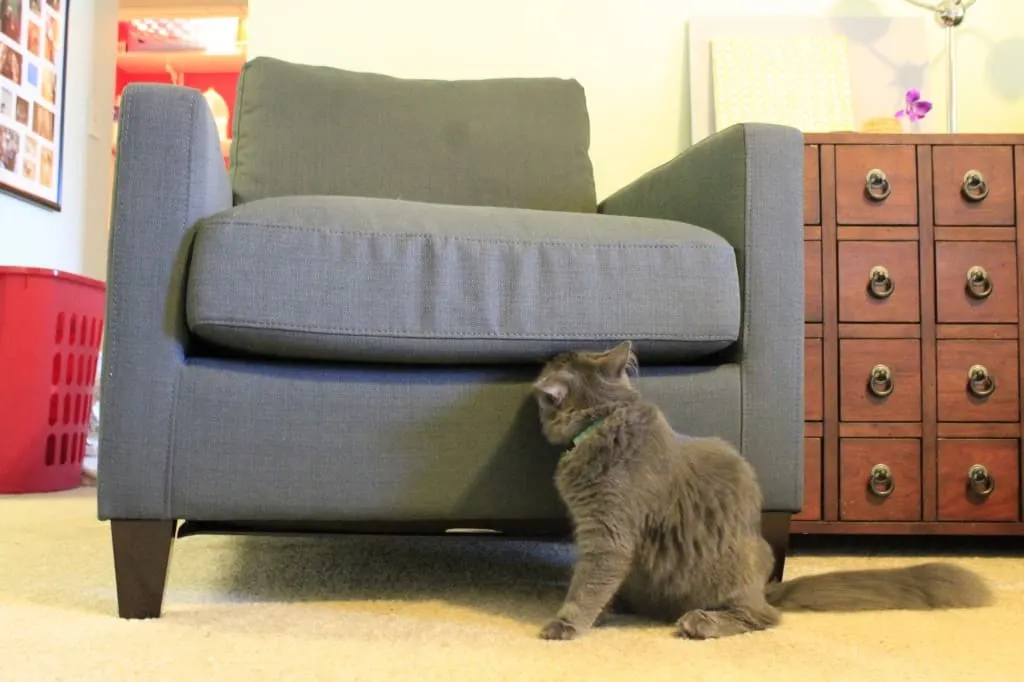 However, when we got it home I realized how bad the couch looked next to it. Like you think a guy at the bar is OK looking and then his hot friend walks up and the first guy just isn't looking so good anymore? Yeah it was like that.
The World Market sale was going on 2 more weeks, so we debated getting the matching Abbott sofa for that time. It wasn't perfect for our space (If I was getting a sectional, I didn't want a chaise without a back) but I was sold on the matchy matchy aspect.
We finally went back to World Market the last day of the sale to be told they were on back order til the end of February. I sighed and accepted a rain check. Sean suggested we pop in next door at Bed Bath and Beyond. I thought he just wanted to sit in the massaging chairs. Apparently, he had another idea.
Bed Bath and Beyond actually carries a decent selection of slipcovers for chairs and couches. I was pleasantly surprised to see that the selection included some without the flappy skirts or ties that I generally associate with slipcovers.
The one that I was drawn to was Sure Fit brand in the taupe microsuede. I knew that the light color would hide white dog hairs a lot better than our current couch. It's important to note that these covers come in "T" cushion and regular cushion, as well as several different sizes. If you're looking into it, be sure to examine and measure your couch first.
They were sold out of the one we needed in the color I wanted, so we had to get it shipped to our house, but they offered us free shipping. I also had a 20 percent off coupon (duh!) so that made the cost very reasonable. (They are $130 full priced for the option we chose. We ended up paying $104.) We were told that if we were dissatisfied for any reason, we could return it to the store.
It came in only 3 days and I was very excited to put it on the couch. However, I wanted to make sure to do it right so we only had to do it once.
So, we decided to clean the couch. I took off all the cushions and dusted everything with Glade Carpet Deodorizer, let it sit for 10 minutes, and then vacuumed it all up. This would get up dirt, pet hair, and help with any odors (it didn't really smell but I wanted it to feel almost like a new couch.)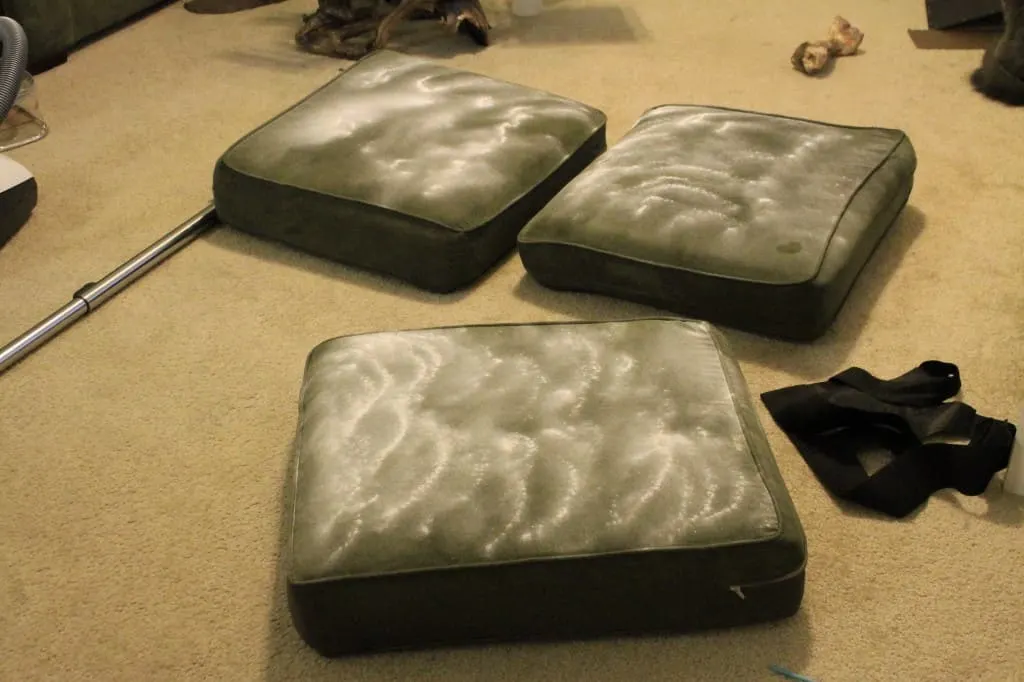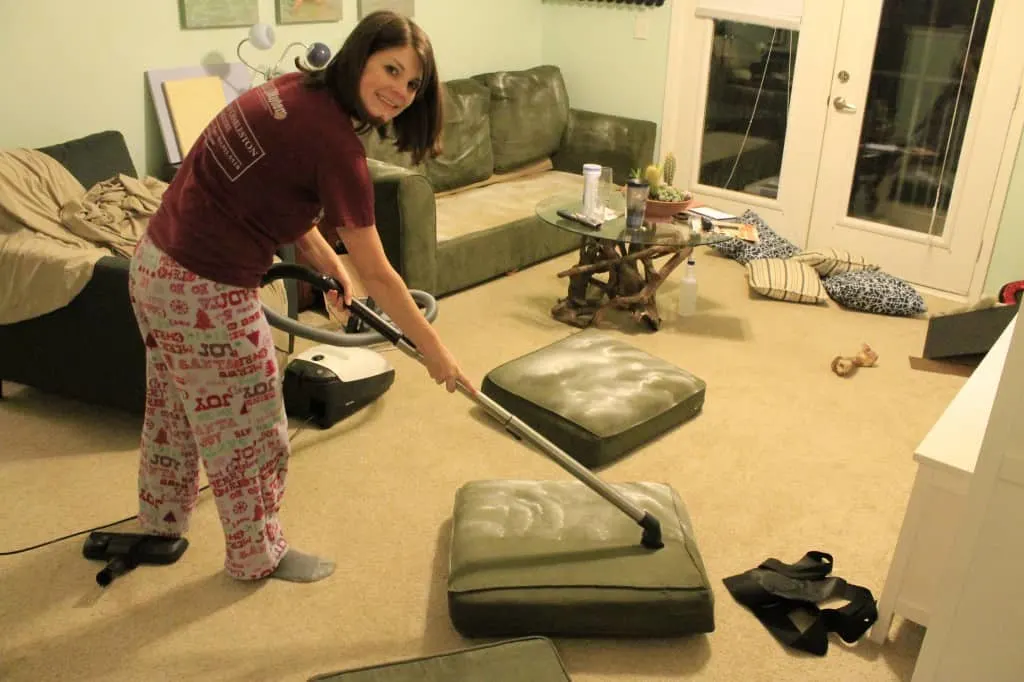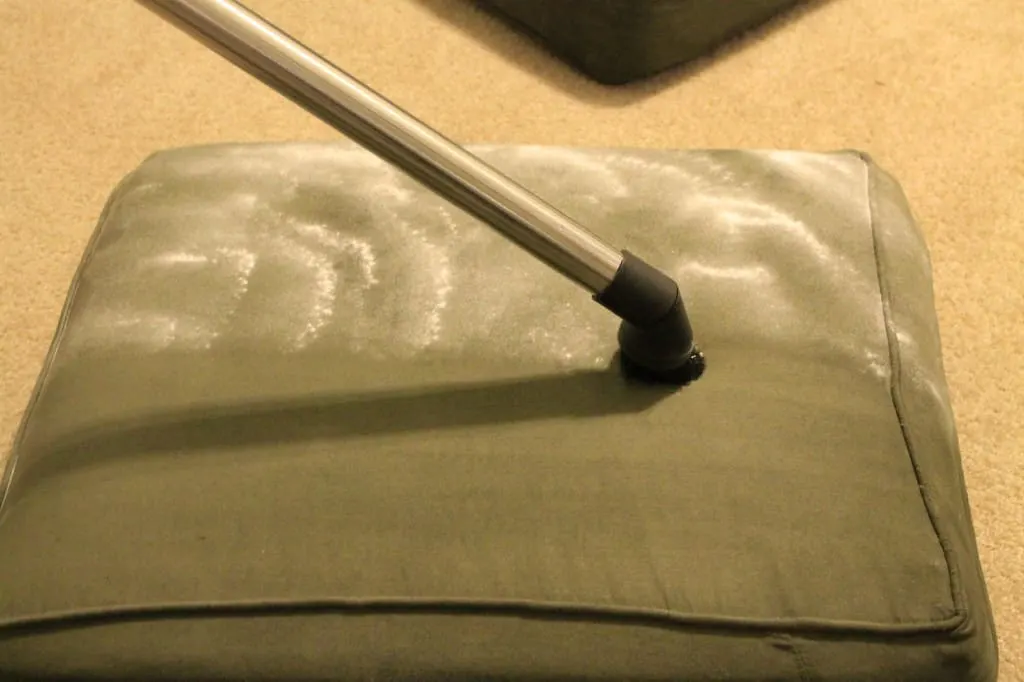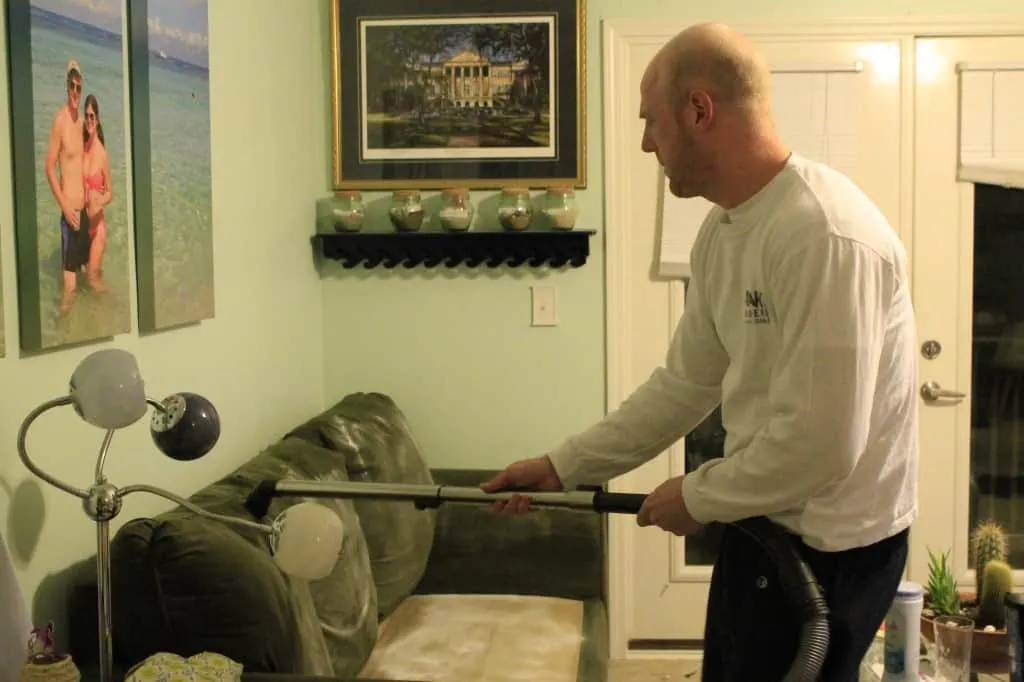 Then we put the cover on. It came with simple, straight forward directions. There are tags inside the cover indicating the front center and back center. First, you drape the cover over the couch in the right direction. Then, you hook the left side under the bottom, and finally the right. It was very simple.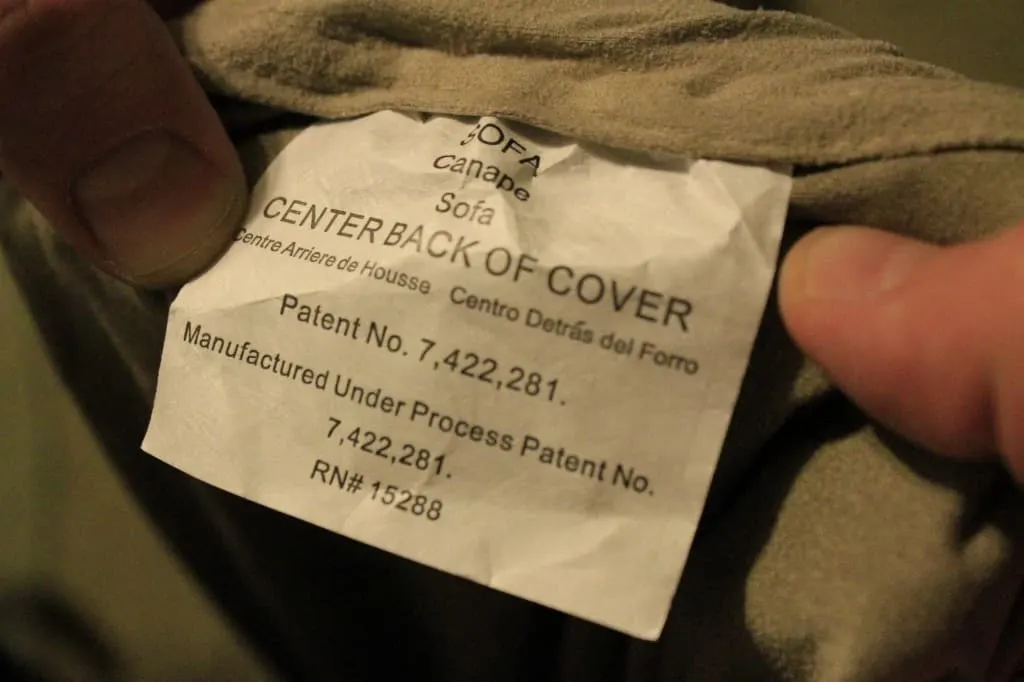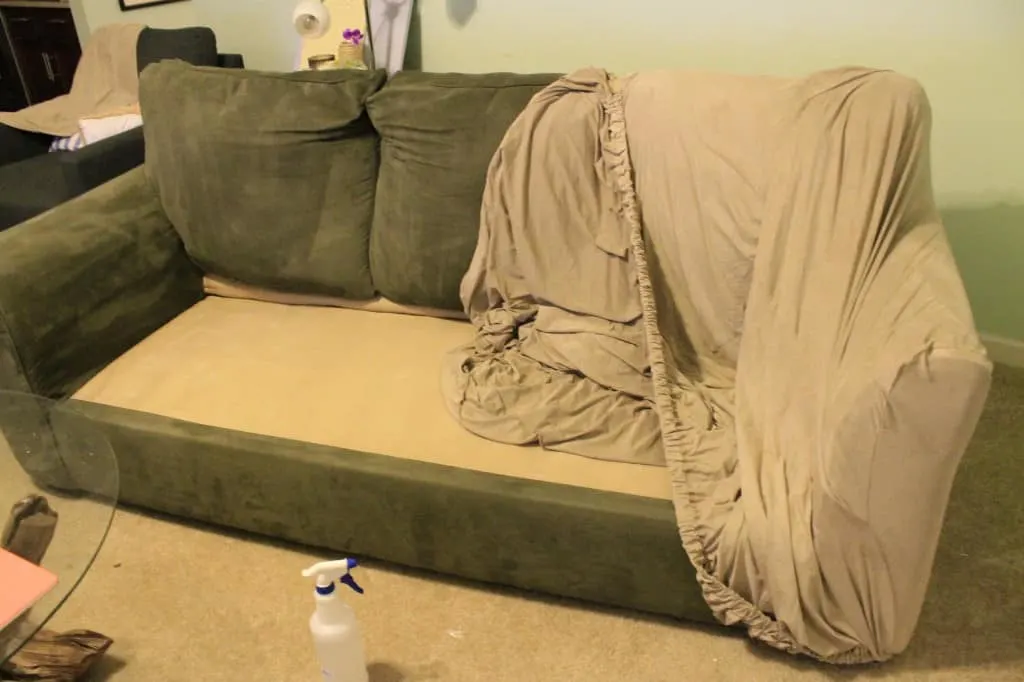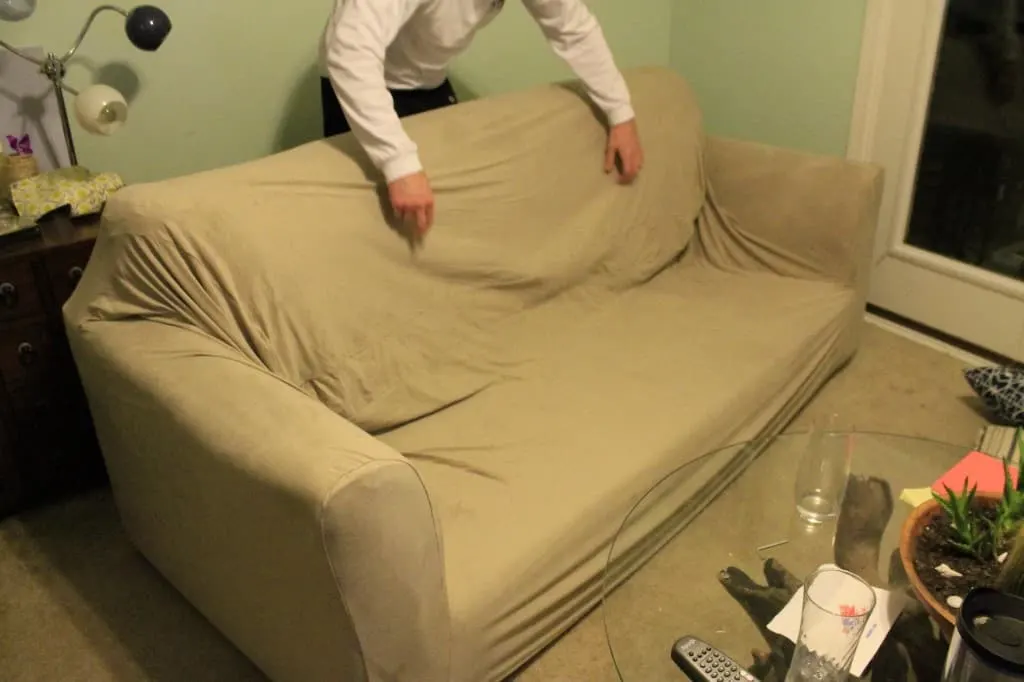 The three cushions go in one big pillowcase, essentially.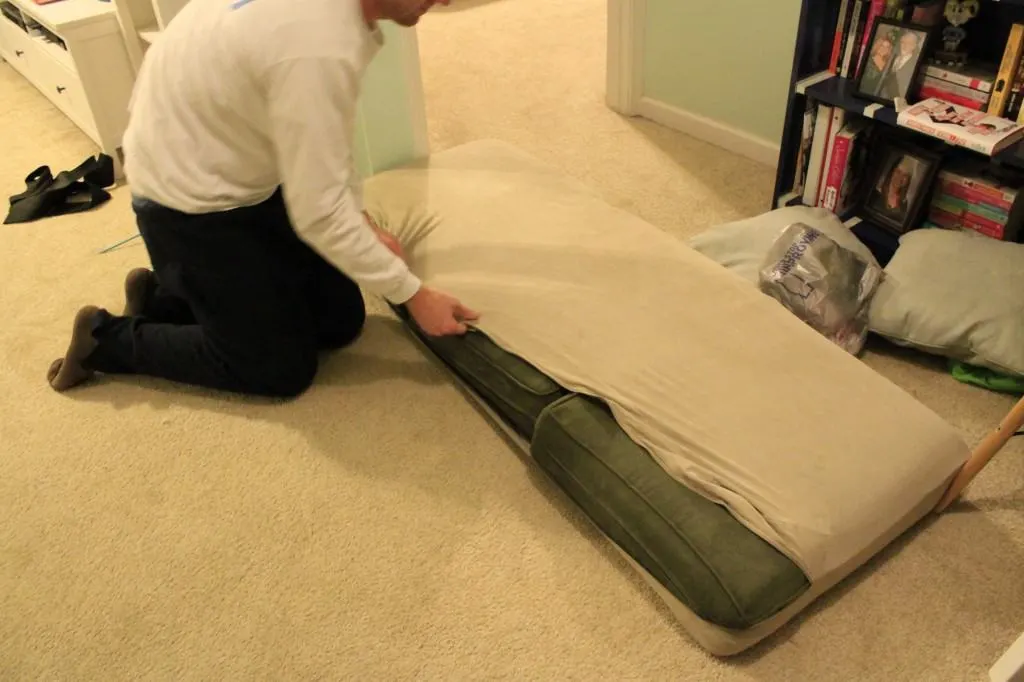 I really am pleased with how it looks. The cover is very stretchy and very tight. You really would not know it was a cover at first glance. I think that it looks so much better than the dirty green.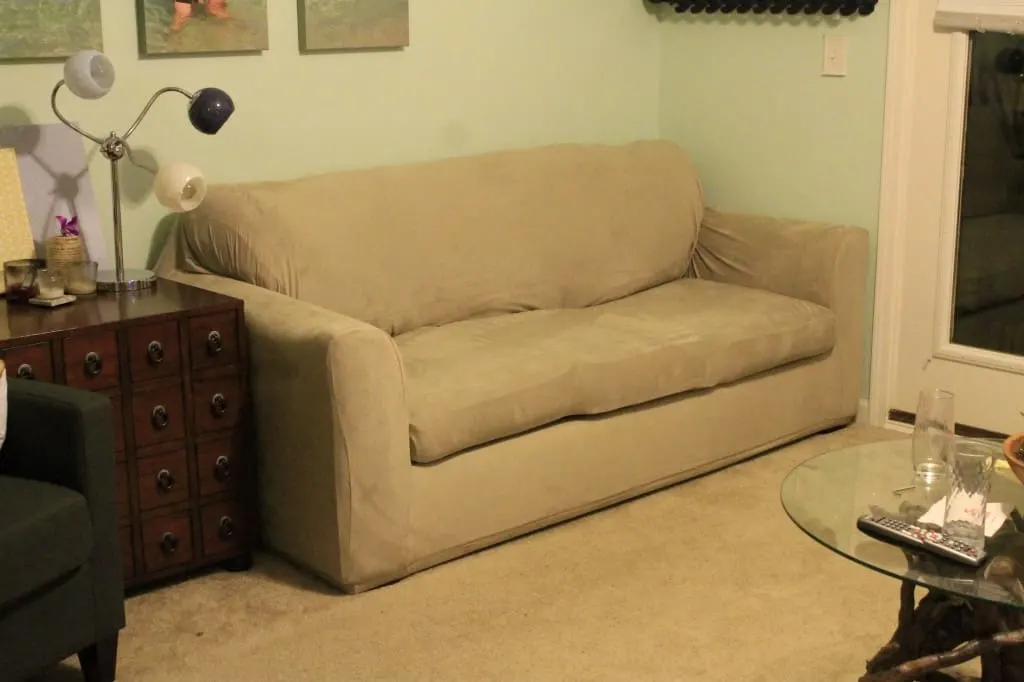 The biggest pain now is that it's reading a bit crocodile hunter (khaki-on-khaki) for me. However, I think a nice rug (navy?) would really take care of that. Sounds like a shopping trip is necessary!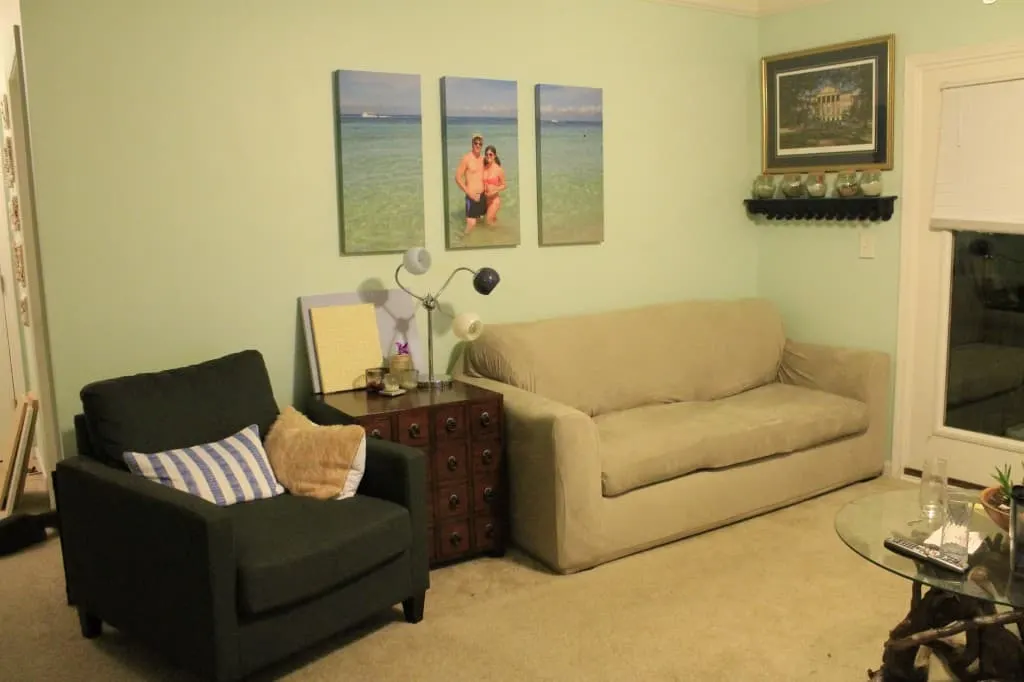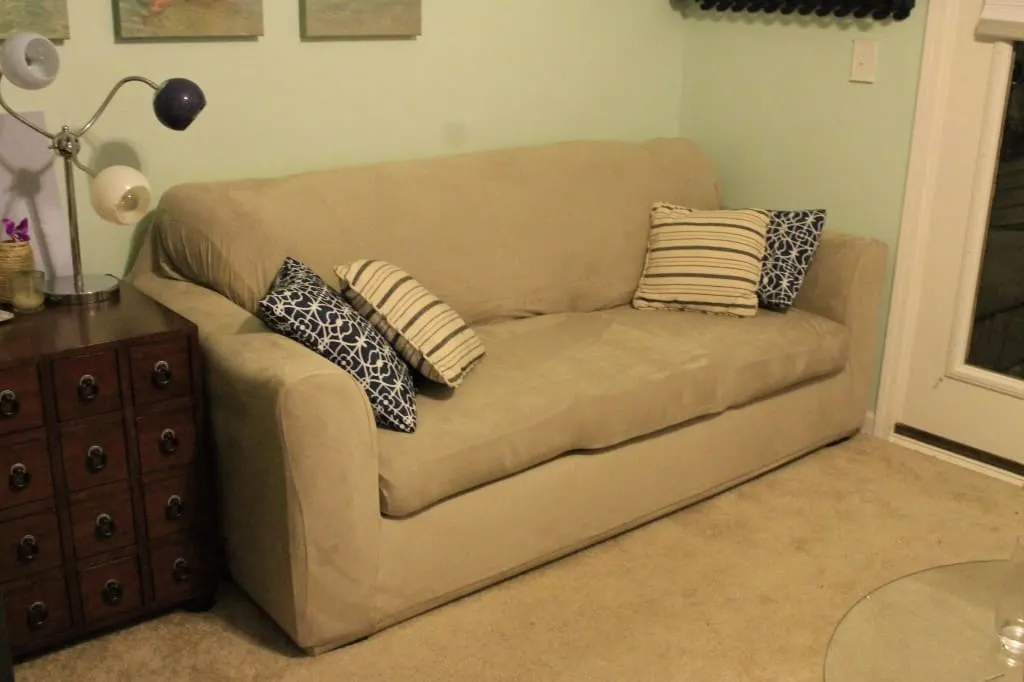 I really do want to get a sectional couch, but I think that with this cover, we will be OK for the foreseeable future in this condo, and I will be able to save my "couch fund" until we have a house with a bigger living room.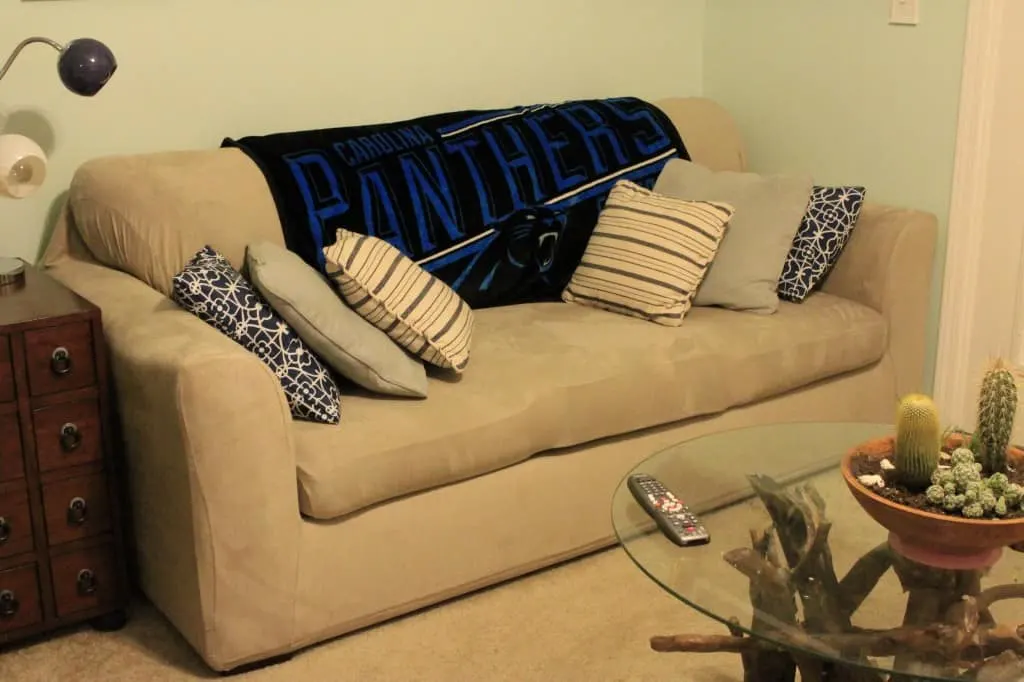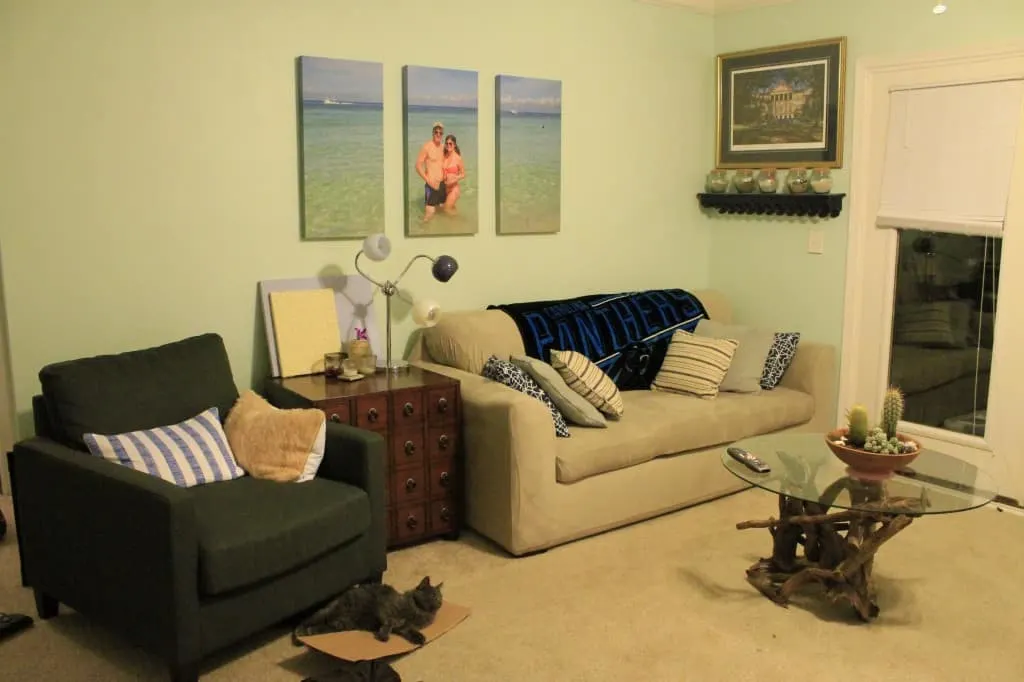 Have you ever slipcovered anything? What were the results?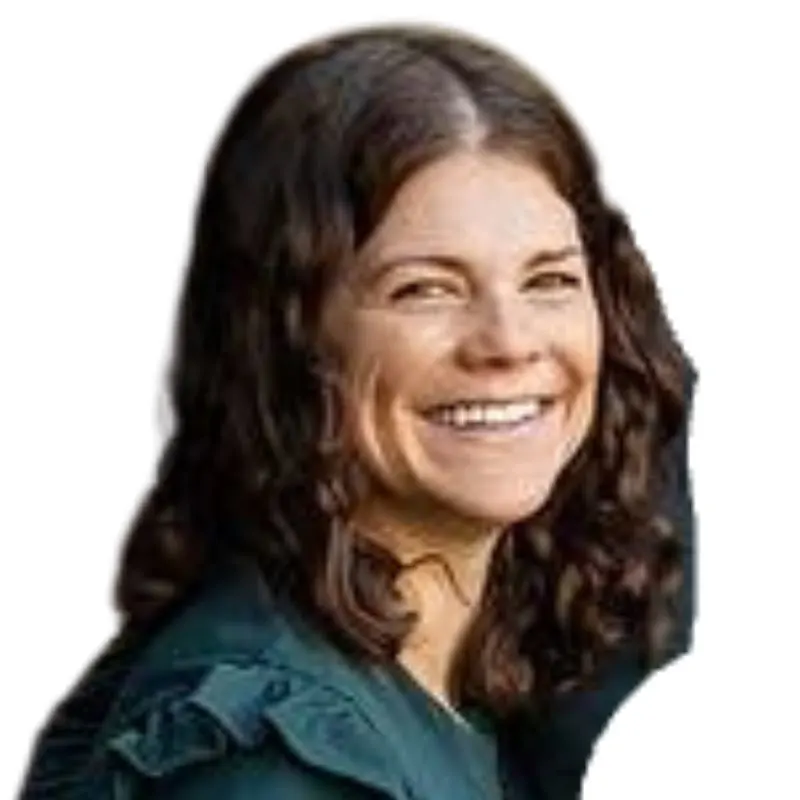 Hello, I'm Morgan, half of the creative force behind CharlestonCrafted.com! With a passion for DIY that dates back to 2012, I've transformed three homes and now I'm dedicated to helping others craft their dream spaces. Let's turn your house into a home together!