String lights a tangled mess? Get them untangled once and for all with these DIY Christmas light storage ideas!
Christmas lights are a big part of the holiday season. But, untangling strands of lights is one of my least favorite parts of Christmas decorations.
So, I sought out to find the perfect storage solution for holiday lights.
It's actually quick and easy to store Christmas lights – if you do it correctly. Putting them away properly when you pack them up for the season will make pulling the holiday decor out next year much less stressful!
How do you keep Christmas lights untangled?
The best way to keep Christmas lights from getting tangled is to store them correctly!
What is the best way to store Christmas lights?
The best way to store Christmas lights is wrapped around something! Wrapping lights around a solid base works great to keep them from getting knotted or tangled.
Then, wrapped lights can be staged in a storage bag or box. But, be sure to separate them in the box to keep the reels of lights from getting tangled to each other!
Should Christmas lights be stored inside?
It is ideal to store Christmas lights indoors in a climate controlled space. However, I get that many storage spaces such as sheds, garages, attics, and basements are not climate controlled.
The most important thing is for your holiday light storage to be somewhere dry and away from the elements. Ideally, it will be away from pests that might nibble at the cords, too.
How to wrap Christmas lights for storage
The most important part of wrapping Christmas lights is that you want the plug to be on the OUTSIDE of the roll.
This insures that when you go to pull the holiday decorations from storage and put them up, you can plug the strand in, start wrapping around your Christmas tree, and go!
If you have to unroll the whole thing to find the plug, it's probably going to get tangled anyway! Don't do that!
Buy Christmas light storage reels
If you don't want to DIY your Christmas light storage, you can purchase storage reels! These are great and ready to go.
However, we have lots of more budget-friendly ideas, too!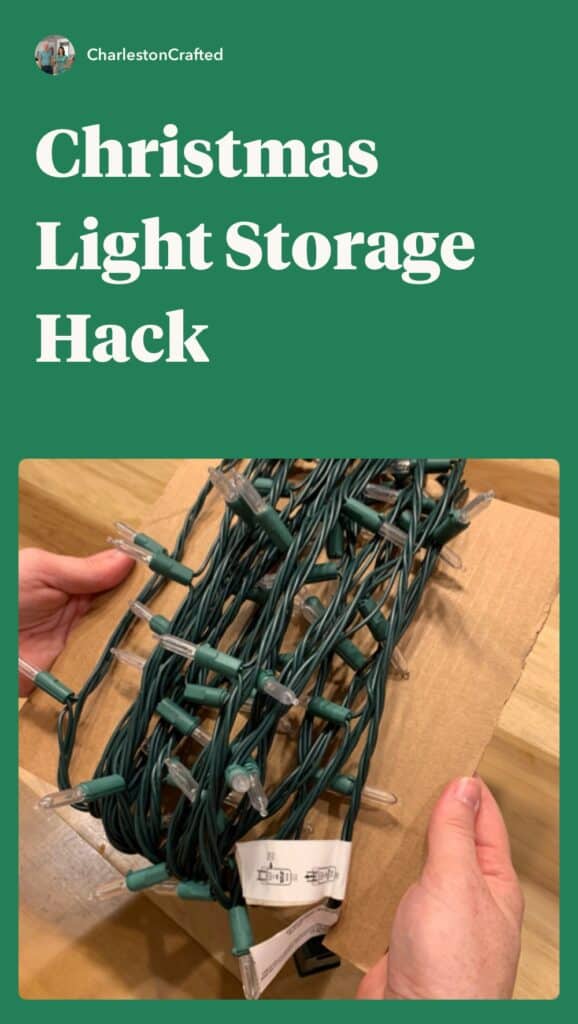 DIY Christmas light storage hacks
Like I said, the big thing is that you want something to wrap your lights around.
Then, ideally you would put each reel of lights in its own bag. You can use plastic bags – I like to re-use old grocery bags.
Worst case scenario, if you stack them in a storage bag or box, place a layer of newspaper or similar in between the reels to keep them from getting tangled.
Cardboard
The easiest thing to use is a piece of cardboard! Grab an old shipping box and cut a rectangle. You might want to cut 2 slits for the 2 plugs.
Start by putting the female end of the plug into a slit, then wrap the wire round and round, Make sure the male plug is on the outside!
Wrapping paper tube
You can do the same thing with a section of empty wrapping paper tube! Tuck one end into the end, wrap the cord around, and tuck in the other end. Quick and easy!
Clothes hanger
Finally, if you have a hanging rod in your storage space, you can wrap your lights around hangers! This allows you to hang your lights to store in the off season. Super convenient if you have the space.
DIY string light storage
Supplies needed:
Cardboard or cardboard wrapping paper roll
Scissors
String of holiday lights
STEP 1: Untangle your lights if needed
You need to start with a clean string of lights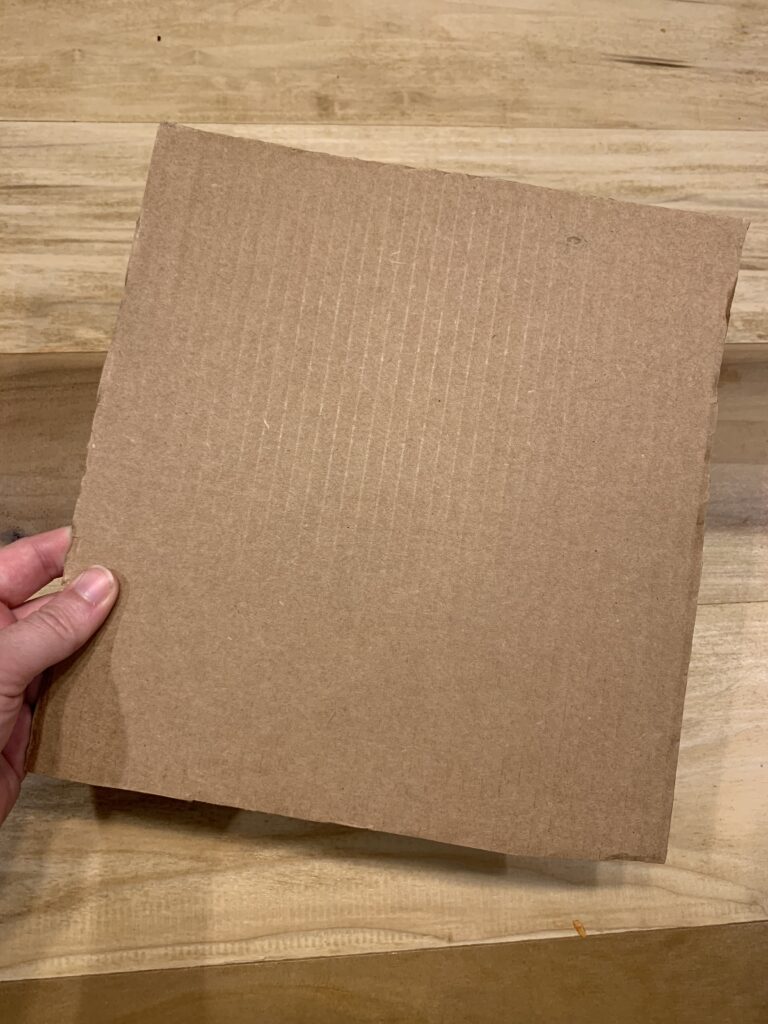 STEP 2: Cut a notch in your cardboard
Just an inch or two long!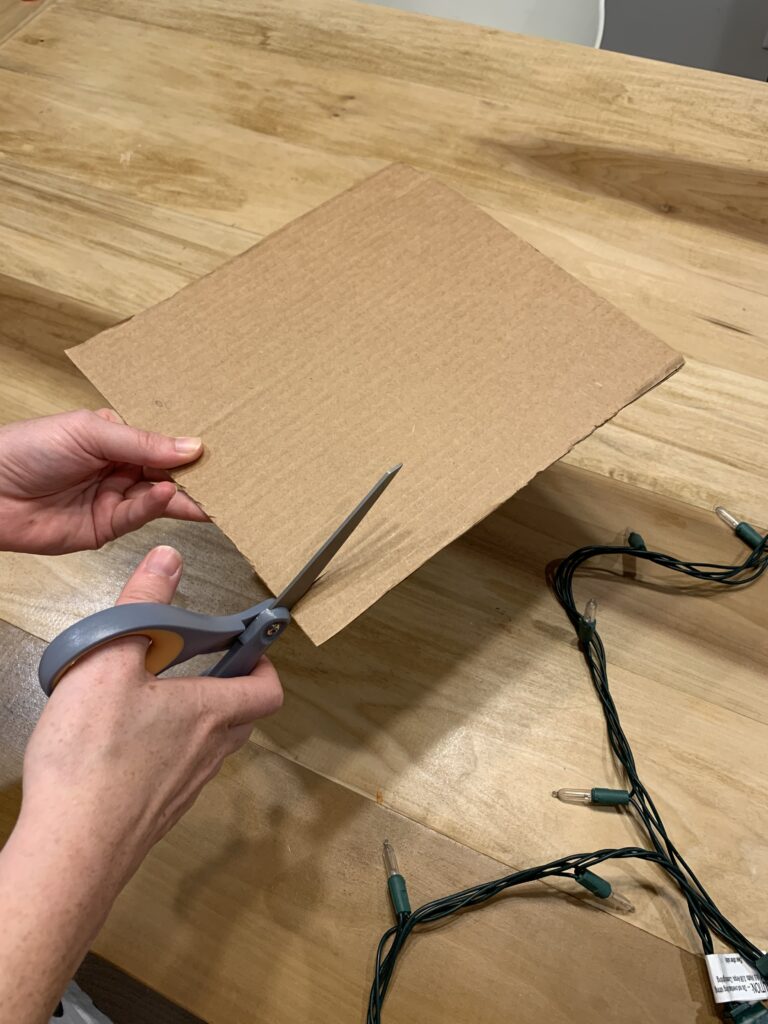 STEP 3: Place the female end of the plug in the notch
This keeps it snug in place as you wrap.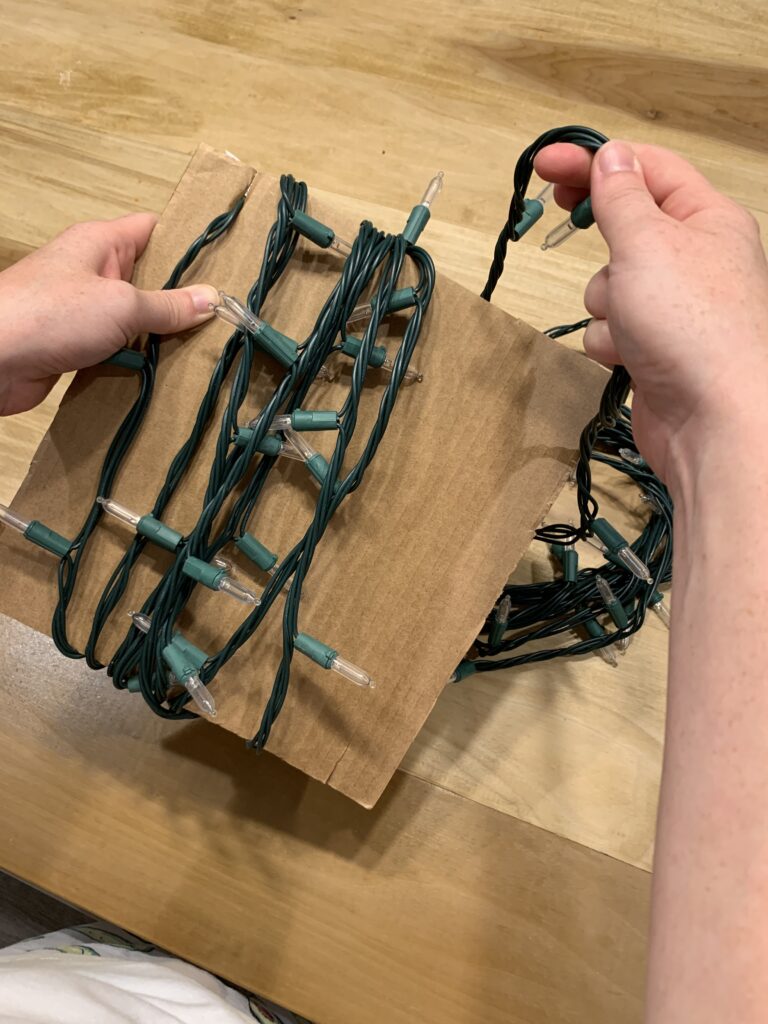 STEP 4: Wrap the lights around the cardboard
Round and round and round!
STEP 5: Cut a second notch in your cardboard
Just an inch or two again.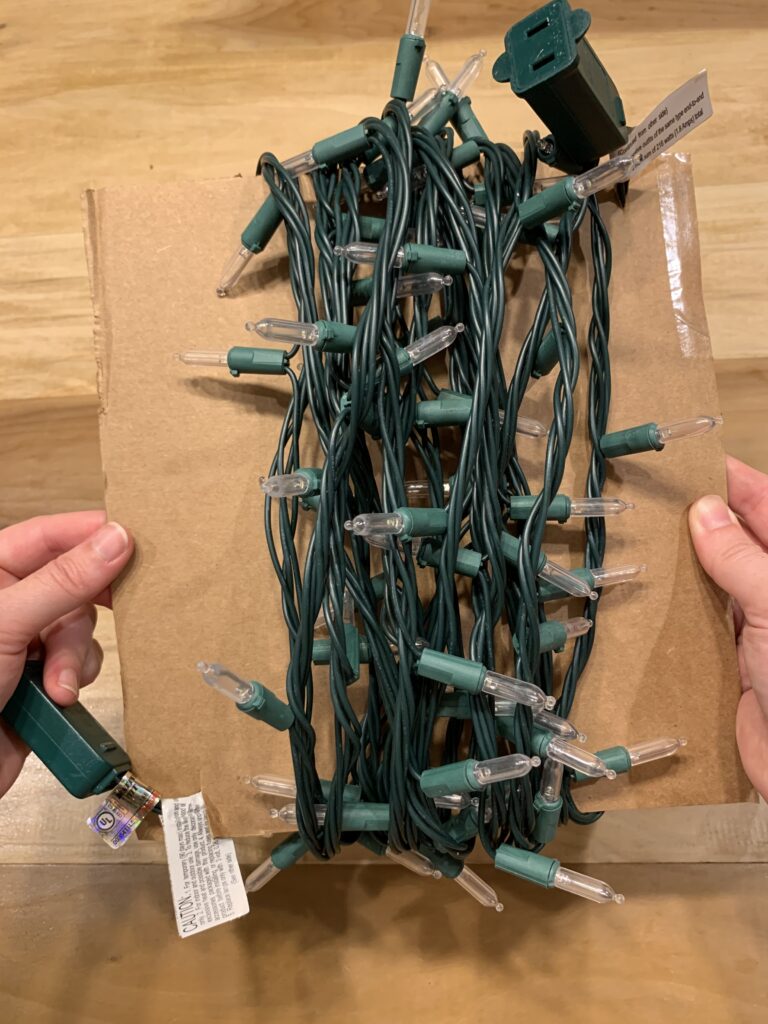 STEP 6: Place the male end of the plug in the second notch
Place it in the slit to keep it securely wrapped!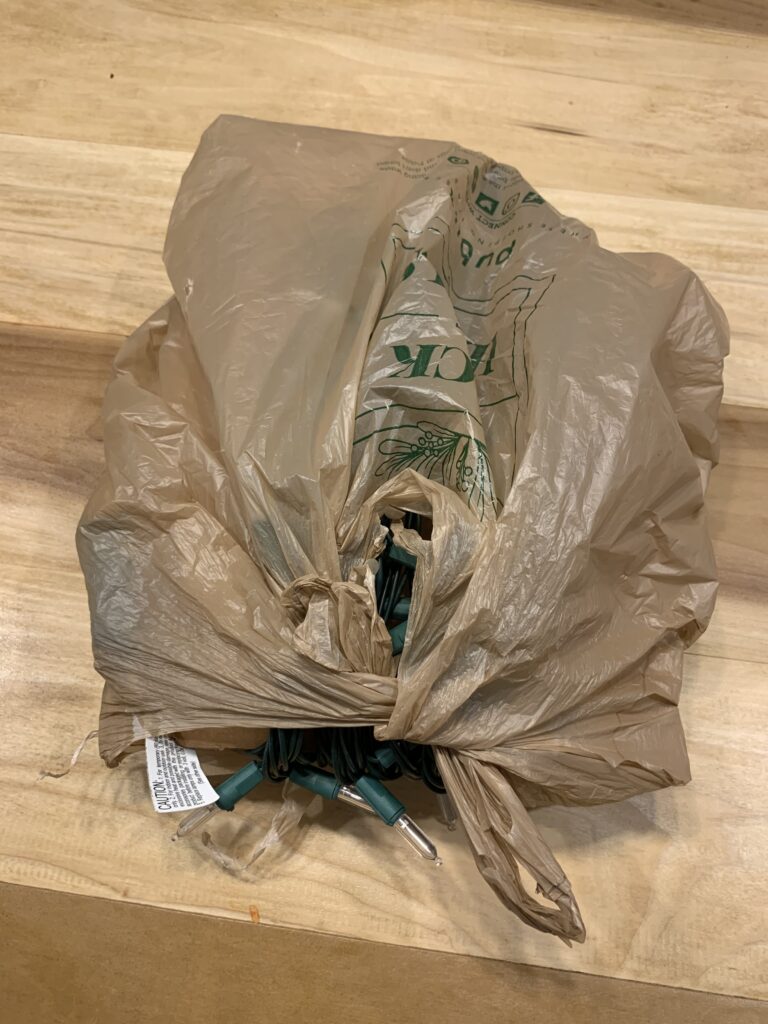 STEP 7: Place in a bag
Store in a box or bin for next year!
Love Christmas? Click here to get FREE printable funny gift tags sent to your inbox!
How do you store your Christmas lights?
Facebook | Instagram | Pinterest | Twitter | YouTube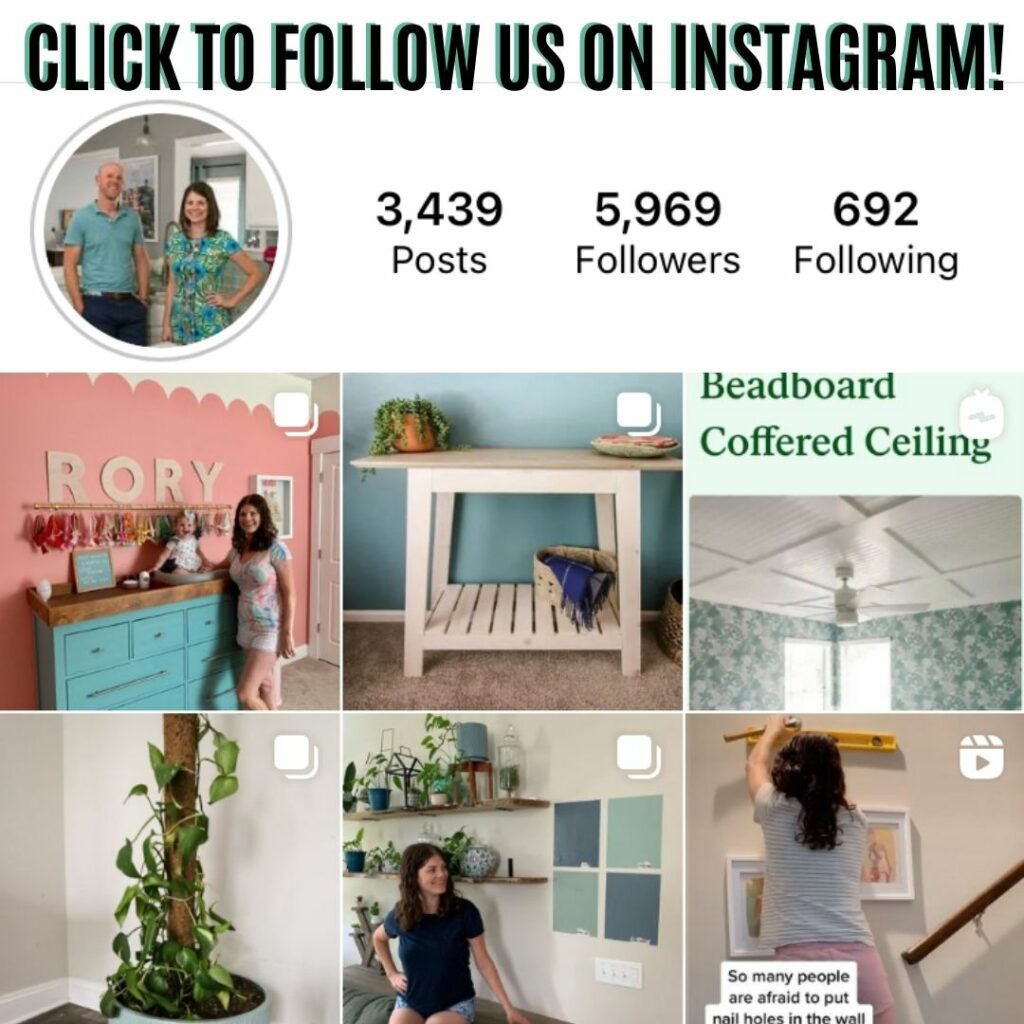 ---
Can we send you our newsletter?
Another great way to keep up with out latest projects is by joining our weekly newsletter! Get alerts of our latest projects and special peeks behind the scenes!
Follow along on Instagram
Join our online community where we share real time behind the scenes looks at our DIY projects and peeks inside our home + family!
---