Our wedding is ten months away, but you better believe I've already gotten a fitness plan going. I'm not one to crash diet or cleanse (the cabbage soup diet was a huge fail for me) so it is slow and steady all the way! I actually started this regime March 1st as part of my bikini prep program. I've renamed it Wedding Weight Loss, but the truth is that I'm not really trying to lose a ton of weight. My goal was to lose about ten pounds (of fat) and then really work to build up some lean muscle. My main goal is to "tighten" (as they say in Knocked Up). Once I pick my dress I'll know what body parts to focus my weight training on (arms, shoulders, back, waist, depending on what my dress shows), but that's not for a while. Until then, here is what I'm doing.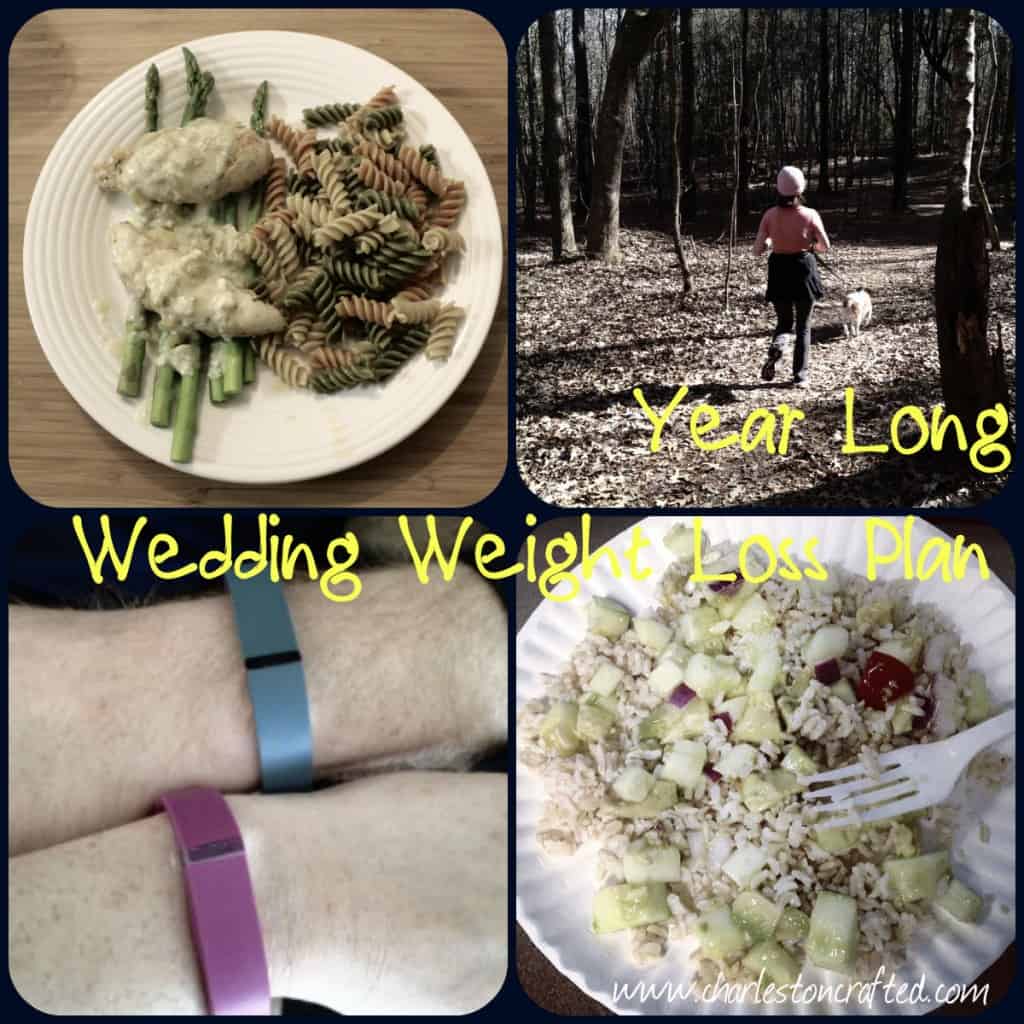 Meal Plan

My eating is one of the biggest things that I have changed so far, and I attribute a lot of my success to it. I didn't eat terribly before, but I am making a much more conscious effort now to do and not do certain things. My general rules are:
Whole grains only – brown rice, whole wheat pasta, whole wheat bread
Eat vegetarian as much as possible – I basically don't eat meat except at dinner. I was vegetarian for 7 years so this is easy for me. I focus on beans and egg whites for protein. We eat meat for dinner about 3 times a week, and even then it is skinless, boneless chicken breast, lean ground turkey, or white fish or shrimp.
Eat more often – I have always eaten a morning snack (

10am

) but I have added a

3pm

snack as well. We eat dinner pretty late (usually

8pm

) and I would often snack after work. Especially when I work out, I need that extra meal to keep me on track.
Quit with the ice cream – we usually eat ice cream every night at

9pm

. I have done this my entire life, since I was a little kid, my dad would always bring me a bowl of ice cream every night. I've even gotten Sean hooked (not that ice cream is a hard sell). Now, we only have it maybe twice a week, and even then, I don't get a bowl. Sean puts a little extra in his bowl and feeds me bites. It sounds wacky, but it really limits how much I eat and I still get the satisfaction (I usually have about 5 large bites).
Keep it to five beers a week – this is the goal at least. Beer is basically empty calories so I try to skip the one or two with nightly dinners and save them for when I will really enjoy them!
I allow myself to cheat once during the week (like a naughty dinner) and then basically all weekend. As we get closer to April, I will probably cheat less on the weekend, but for now I am letting myself enjoy it to the fullest, plus we walk and do a lot more on the weekends so that helps cancel it out.
Here is a typical work day meal plan for me:
7:30am – Breakfast – Sean makes protein smoothies that we drink while we get ready
10:00am – Snack – special K protein bar (or whatever brand is on sale)
12:00 noon – Lunch – I rotate my lunch between 4 things:
3:00pm – Snack – Greek yogurt parfait with fresh fruit (berries usually) and nuts (almonds are my fave)
8:00pm – Dinner – Dinner is the biggest variety in the house. It's the only meal (except for smoothies) that Sean and I eat together and we love to cook so it's often slightly elaborate, hence the late eating time. We try to eat salads every other week (3 heads of romaine come in the bag) and then focus on non- salads (but with lots of veggies) the next week. Here are some of our favorite healthy recipes:
Salads:
Non-Salads:
Check out our recipe page for more!
I usually prep 4 lunches and 4 parfaits on Sunday nights, and then take them easily each morning. Once a week I usually end up taking leftovers of some kind, and one Friday a month my team goes out to lunch.
Exercise
My exercise has really been minimal so far – I plan to step it up each month. For the months of May and June, I am doing Jillian Michaels 30 Day Shred (Level 1) 3 days per week immediately after work. It is hard to motivate myself – I will come up with any excuse to skip it – but it is less than 30 minutes and truth be told, there is not a single time that I have finished it and said, "Wow I really wish I didn't work out today!" It's concentrated time and then it's over. I would love to increase my sessions per week, but the only way that will happen is if I start working out in the morning!
I also do 50 crunches every morning while I wait for my straightener to heat up. It only takes a minute, but I can see and feel a serious difference in my core!
"Cardio"
I put cardio in quotes because I do not, not, NOT run. (Though the Bridge Run is on my 101. And it's 2 weeks before our wedding next year. So I might make some of my bridesmaids do it with me as my training gets more intense!)
However, I did get a Fit Bit in March. I love it – especially for the awareness it brings me. The daily goal is 10,000 steps – 5 miles – but that's not always possible during the work week. My personal goal is 60,000 steps per week. A weekly goal leaves for wiggle room if its super-hot or rainy one day or if I just have meetings after work and can't fit in.
To hit this, I really need to walk 1 hour per day outside of my normal walking around, day to day activities. We usually walk for 30 to 45 minutes per night with the dog. In March, I started walking on my lunch break. I get 30 minutes and always eat at my desk in about 10 or 15. Now, instead of diddling on my phone for the rest of my "break", I go outside. It makes me feel great to get fresh air and an actual break from the cube farm. I walk laps around the parking lot. I keep flats and headphones in my desk drawer and listen to music on my phone while I go. The 15 minutes goes too fast but I always get at least 1,500 steps. 15 minutes doesn't seem like a lot but it makes 7,500 steps a week, or 3.75 miles!
I am confident that these extra steps have helped me lose weight. Having the fit bit has made me aware of how lazy I can be sitting on the couch some nights, and how much of a difference an extra few minutes of walking can make!
My results so far
From March 1 to June 1 I lost 6 pounds! That's more than halfway to my goal. I put this almost entirely on my eating, extra steps at lunch time, and just the sort of excitement I've built up towards getting fit!
I'm excited to continue this plan until April and really hope that by then it just becomes my healthy lifestyle! I also am working on developing skin and hair care beauty regimens (I suck at washing my face every night and I need to step it up) and I will definitely share once I find what works for me.