I've been a HUGE fan of Veronica Mars ever since it was on the CW back in the day. When I heard they were going to make a Veronica Mars movie, I freaked out. I didn't freak out enough to contribute money toward the Kickstarter campaign to fund the movie, but I was extremely excited.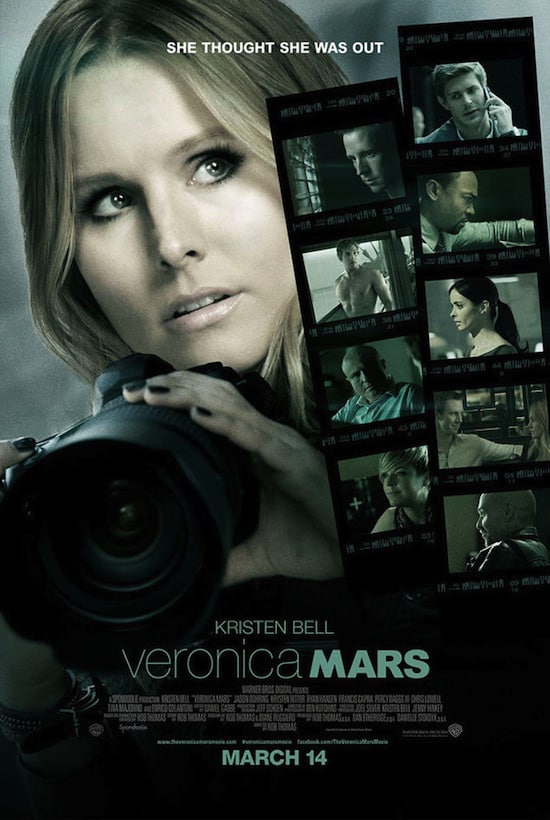 Then, for Christmas, Sean bought me all three seasons of the show on DVD! Ever since, we've been cranking through them and we finished the series the same night the movie came out! Sadly, the movie wasn't released in any theaters near us (the closest was 2 hours away!), but we read about the ability to download it through a variety of apps. We first downloaded the Flixster app onto Sean's Xbox and then rented the movie for 30 days for $7.99 (cheaper than going to the movies!).
**WARNING- the rest of this post contains spoilers.**
The movie was really, really good. It was a tribute to the Marshmallows everywhere, bringing back so many old characters from the TV show and wrapping their roles together very well. They could have easily gone without many of the characters, but they brought them in for the fans. It was such a great movie, but it left so many unanswered questions, many of which lead Sean to believe they have left open the opportunity for a sequel. So, if you've watched the Veronica Mars movie, scroll through and see if you have the same questions we have!
Why did Weevil ride off with a motorcycle group at the end? – we're starting at the end here, because this is a huge question. Weevil said earlier in the movie that he hadn't been on a bike since his daughter was born. Then, he gets accused of a crime and gets acquitted and immediately is back on a bike in the front of a biker group? Seems fishy.
Who won the election in the TV series finale? – the series ended with an emergency election between Keith Mars and Vinny Van Lowe. Well, now old Sheriff Lamb's brother is sheriff. There was no mention at all of who had served as the sheriff before him. Who won?!? Come on, we've been waiting for years to find out!
Why was it so easy for Veronica to get over Piz? – don't get me wrong, I wanted Veronica and Logan to end up together, but considering that Veronica and Piz had been dating for a year, she sure wasn't too upset when they broke up.
How come they never mentioned Logan's deployment during the movie? – at the end, he just straight up leaves for a six month deployment. Convenient timing with getting cleared of the murder.
Is there a thing going on between Wallace and Mac? – just saying, they seemed to be pretty buddy buddy.
How did Wallace become a teacher? – he was studying mechanical engineering in college and now he is teaching in high school? I know they don't have mechanical engineering as a class in high school, so what happened to him?
Who killed Sax? – we can assume that Sheriff Lamb ordered Sax to be killed so he didn't spill the beans on the corruptness of the department, but there was a truck that slammed into their car twice and killed him. Then there was nothing else on that.
What's going on with the Kane family? – why was Mrs. Kane randomly driving through the hood? Why did her and Jake Kane get a divorce? What is happening with Jake since he was running a secret society in the series finale? And where are Duncan and baby Lilly?
Why didn't Vinny get in trouble for illegally filming celebrities? – he hacked into tablets and planted them with celebrities and filmed them. One of those videos was used as evidence for murder. And somehow, nothing happens to him.
Is Veronica really throwing away her pursuits to live in Neptune? – is she really leaving New York and giving up her job at a law firm? What about taking the bar? Is she throwing away her Columbia law degree to go back to the job she was doing in high school?
Bonus- Why does James Franco have to be in every movie? – he is seriously showing up in everything. Sometimes he is playing a character, but he also plays himself a lot.
We loved the movie, but there are definitely a lot of questions in our minds. The Weevil thing really is the biggest question from the movie. It was odd how they ended the movie with that scene. Really makes us think that they were leaving it open for a sequel.
Have you seen the Veronica Mars movie? Got any answers to our questions or questions of your own? I'd seriously LOVE to discuss it with you!!!!