Black Friday is almost here! Some stores have already started their sales, not wanting to wait until Friday. I know that people have very split opinions on Black Friday but here's what I think – stores are offering really good prices all week long! As fun/funny as it is to be at Walmart at midnight, we prefer pre-shopping. Here are some of the gift sales that popped up early: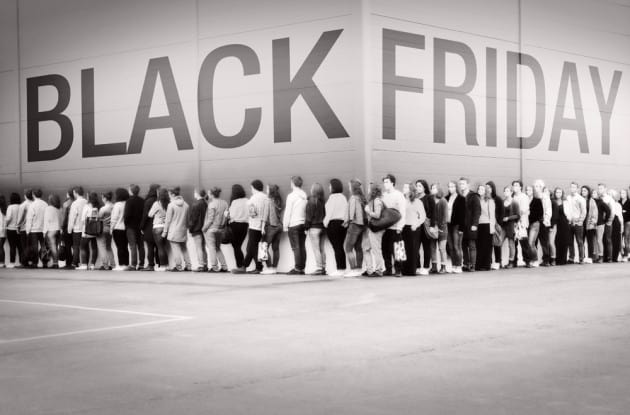 Of course, Amazon has great deals. I bought my TV on Black Friday 2011 and that's how Sean and I met (indirectly…) They are having special deals every day leading up to Black Friday – check them out everyday to see what's newly on sale!
Lowe's is offering 40% off select major appliances – so if you are looking for something, this is a great week to buy it!
Saks Fifth Avenue is offering buy one get one free men's denim! And starting now, take 40% off your purchase (not just denim!) with code GOBBLE!
Haverty's is having some great price cuts on pieces of furniture – if you're looking for a couch, this  is a great time to buy!
Big Lots (one of my guilty pleasures) is having BOGO 50% off on a lot of their stuff! They also are having great prices on a lot of Christmas decor, including trees.
The Limited is having 50% off your entire purchase and free shipping! It's a great time to stock up on work clothes and sweaters.
Wedding Paper Divas is offering 25 percent off site wide with coupon code EARLYFRIDAY25.
Macy's will have great deals including $10 off $25 and $20 off $50 as well as sales on many items.
GroopDealz is offering special promos each day – you know they're going to be good on top of their already awesome prices on cute clothing, jewelry, and decor.
Mark and Graham is offering 30% off your order plus free shipping.
It should be a crazy week at Kohls – you get $15 Kohls Cash for every $50 spent. *Santa* got my Kitchenaid mixer at Kohls on this sale last year – so think outside the clothing box on this one!
Michaels has a ton of coupons out – including a 40% off your whole purchase Friday after noon. THIS IS HUGE PEOPLE!
Old Navy is offering 30% off starting NOW with code EARLYBIRD.
Nordstrom will have in store sales including 20% extra off sale items.
Kate Spade is having a surprise sale until Saturday- there's lots of great gifts to be had there!
There are already tons of doorbusters listed on sale at Overstock – if you are looking for furniture or home goods, they are a great place to check.
And of course you have to check out Walmart and Target – there's too many deals to list there!
A great website resource for all Black Friday sales this year is actually BlackFriday.com. This website compiles all the Black Friday sales as they come out, as well as keeping an archive of sales in the past. You can search by store and browse their circulars from previous years to get an idea of what type of sales might be going on again this year. Sean is doing that with Jos. A. Bank and hoping the suits he picked out for the wedding will be on sale like they were last year and him and his groomsmen can get them for cheap!
I also love Brad's Deals' Black Friday page! Check it out!
Another thing about Black Friday this year is a trend that we have noticed with a lot of stores that we think will become the new trend over the next few years. Remember how it was all the rage when the mall opened at midnight for two hours and then closed until regular business hours began on Black Friday? Well, then stores started trending toward opening earlier and earlier, so that they were then opening at four or five in the morning. Then a couple years ago, big chains started opening for a few hours in the evenings on Thanksgiving Day! After that, what more could stores really do besides being open for "Black Friday" all day Thursday? Well, what we've noticed is that a lot of stores are trending toward a Black Friday Week and offering their sales all week. We both think that this is going to be the trend in the coming years in order to get customers into stores before the traditional rush on Friday.
So be on the lookout for Black Friday sales going on all week and be careful out there on Friday. There will be a lot of madness, so make sure to hang on to your bags and your children walking around the mall.
What are your thoughts on Black Friday?
Portions of this post contains affiliate links. That means, if you make a purchase that we link to, we make a very small percentage. Click here for our full affiliate policy and thank you for supporting Charleston Crafted!