"Hey, Morgan. I have to go to Charlotte this weekend for my dad's 60th birthday. Would you like to come with me?"
"Only if we can go to IKEA."
"Sigh…"
And so it was. I grew up in Charlotte, but IKEA didn't begin injecting itself into the community until after I had moved away for college, so I myself had never been subjected to the home furniture shopping mecca that is IKEA. I stalk on Facebook all my high school friends who still live in the area and they are always posting about going to IKEA to furnish their new apartments and condos, but I couldn't believe that it was that impressive. So since it was important for me to have Morgan come to the birthday party and it was important to her to go on her inaugural trip to IKEA, we made the deal. And boy did I not know what I was getting into.
We followed directions to IKEA and when we turned the corner of IKEA Boulevard, I would have thought we were at the airport. A huge yellow and blue warehouse towered next to a parking lot big enough to host the Olympic Village. As we were getting in our daily 30 minutes of exercise by walking from the back of the parking lot, Morgan just kept singing, "IKEA! IKEA! IKEA!" I expected it, and even I was getting a little excited at that point to see what wonders were spread behind the doors.
We walked in and immediately made our first mistake. As we would learn later, IKEA has strategically developed their layout with a guided path for shoppers to follow. You are supposed to start by heading up the stairs and into the bedding and furniture. But, being the foodies we are, Morgan and I smelled pizza and went that direction thinking that had to be the start.
So we walked backwards through the checkout lane and started heading through what looked to be the shelves of Home Depot. I was confused, because IKEA was supposed to be this grandiose home furniture store, but everything was in boxes. Little did I know that is where you actually pick up your furniture you want to buy. Continuing to wander, we eventually found the end of the map and began our journey in the lighting section. Lots of paper lamps guided our way through the herds of people we were walking against and even one caught my eye. It looked like a dandelion and spit cool images on the walls.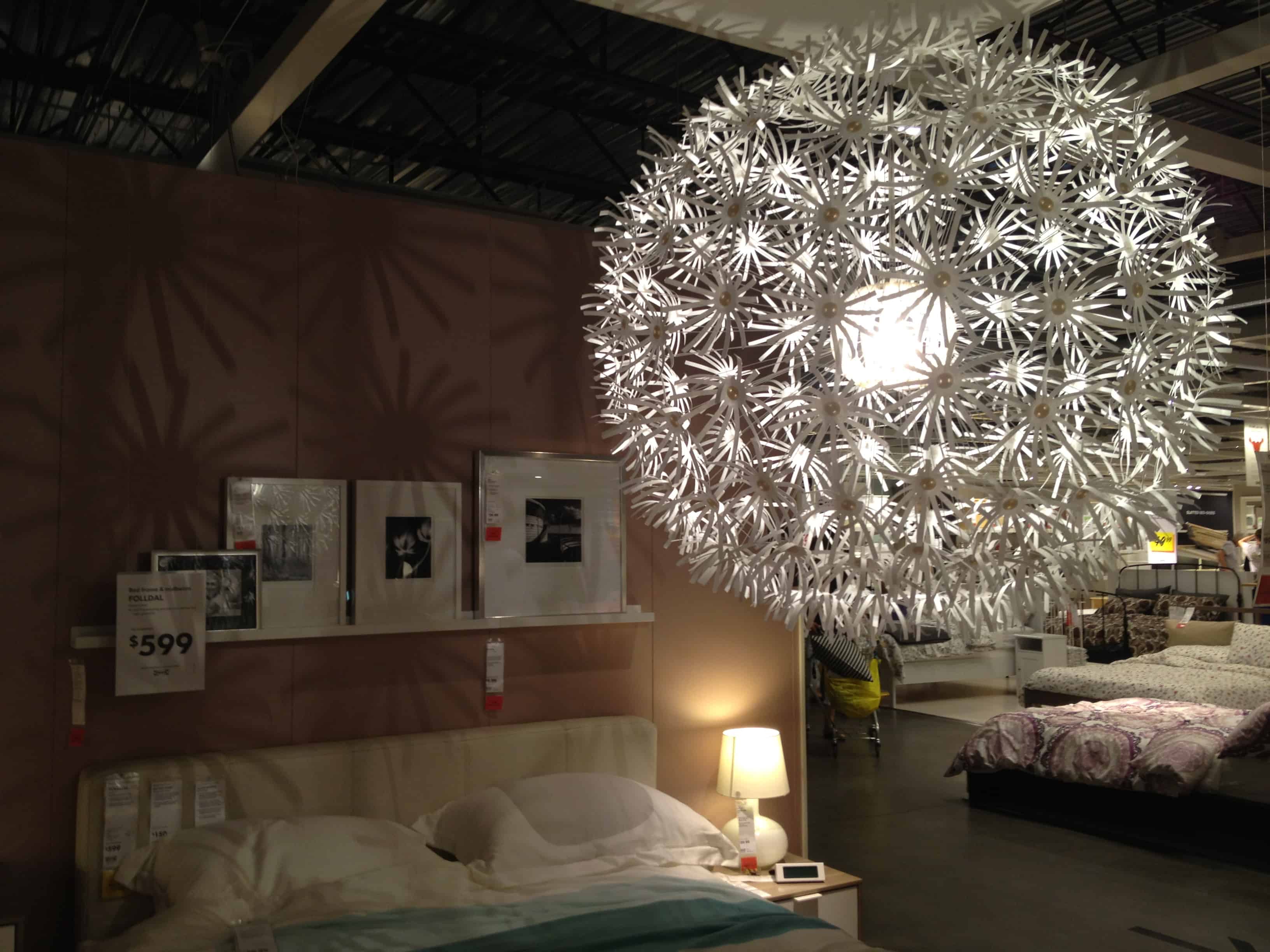 We continued our journey past Tupperware, plates, utensils, cooking supplies and everything else that made up the kitchen area. We were awed by the display kitchens that could have only been available to the 1%. We had visions of cooking meals for parties before we realized that before having a kitchen like that, you have to have a house to fit it and jobs to pay for it… sigh.
Eventually, we worked our way into the furniture sections, which were the coolest. Several display bedrooms gave us ample opportunity to envision the types of people that would live in one of those. For instance, there was the all black and gray modern room that clearly belonged to Barney Stinson. There were nautical rooms for by the beach. They even had models for people who had apartments with smaller square footage than mine and I found myself jealous of the seemingly too-good-to-be-true living arrangements of these imaginary people.
After picking out the type of bed that would most suit our chiropractic needs, we moved into my favorite area- living rooms. I gazed upon the numerous entertainment centers that would host my future 75 inch hologram television. I sat back on each couch that caught my eye. Morgan is really obsessed with L-shaped couches, so I tried to focus on those. One of the oddest things to me about IKEA was its lack of legitimate couch selection. They didn't seem to have a wide variety, and many of them looked old and frilly, and I hate that look. I settled upon the tan one that Morgan showed you in her post as the only L-shaped couch I would be alright with.
As a man, I had gotten pretty tired at this point of walking around looking at stuff I knew I was not yet planning to buy. Luckily, the couches offered me some relief before we got to the first of two food bars. We opted to pass on the more substantial meals and opted for two pieces of pizza and an Icee to share for $5.
In the end, I was surprisingly pleased with the world behind the doors of IKEA. I couldn't have imagined how many different options there were for every individual category of home items. I can definitely see this as a place to load up on furniture for a newly purchased home for a young couple (just like the people we saw loading a UHAUL in the parking lot)…
Plus it made Morgan happy, so it was worth it.