Thanksgiving is a arguably the holiday with the most diverse traditions for people. It's pretty much the only day of the year that all people in the United States gather with their families, since some other major holidays are religious-based. With so many people getting together, there are lots of different Thanksgiving traditions based on where you grew up and who you grew up with. Many of these Thanksgiving traditions focus on food or activities. We both grew up eating with our families, but we have different traditions that we have followed.
Sean's Traditions
For a long time, my family would usually get together with my aunt, uncle and cousins that live in Atlanta. It was about a five hour drive, so we would go down for the weekend and eat with them. Some years it was just us and them and some years we had several families. As time went on, we stopped going down there, mostly because the cousins in the families were all getting older and going off to college, making it more difficult to travel to different places for a short period of time. So, my family started having Thanksgiving back home in Charlotte every year.
But one thing never changed- the food. We are a traditional Thanksgiving meal kind of people. There is nothing better to me on Thanksgiving than spending the whole morning preparing food for a huge mid-afternoon meal. This includes a big turkey, mashed potatoes, green bean casserole, stuffing, rolls, and, most importantly, cranberry sauce from a can. I'm talking the cranberry sauce that you have to open and then shake upside down for about 10 seconds while the blob slowly works its way out and onto the plate. If the cranberry sauce you serve on the table doesn't look exactly like the can itself, we have a problem. After dinner of course is pumpkin and pecan pies. Nothing goes better on top of three or four plates of food like a few slices of pie!
After dinner, it's time for the annual Football Walk. That's when me, my dad and my brother go for a long walk around the neighborhood throwing the football trying to make great catches and no throw up all over the street. It's great. When we're thoroughly worn out, it's back inside to watch all the NFL games on TV that year. It's a great day of Thanksgiving Traditions!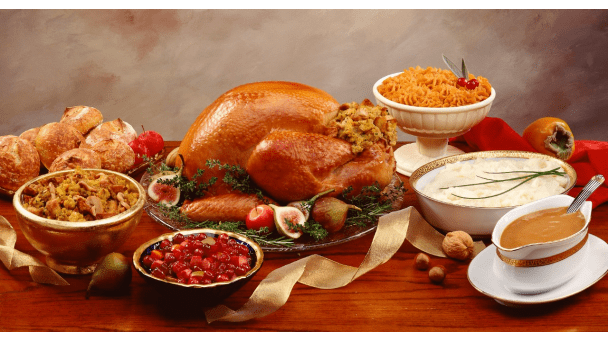 Morgan's Traditions
I'm not as in to Thanksgiving as Sean is. Don't get me wrong – I love a day off work. I'm just not really into Thanksgiving foods. I'm such a salad eater that heavy food really isn't my thing.
We usually go to my Granny's on Thanksgiving Day. We only have one first cousin on that side and he is married and they both are local to Raleigh and have divorced parents and end up doing multiple Thanksgivings in one day – so my Aunt makes lasagna and salad for Granny's! It gives him a break from turkey and is great for me, since I'm not all about the turkey.
We usually go to Wilmington to see my mom's family the Friday or Saturday after Thanksgiving. There we have a more traditional meal. My favorite is always the hawaiian rolls and mac and cheese. My aunt sells Pampered Chef and makes some pretty elaborate (but classic) dishes – it's very yummy.
This year is a strange one. Sean and I are spending actual Thanksgiving with his family. It'll be strange having such a small, traditional meal with them, and even stranger to watch football. My family is all girls (sorry, dad) and we usually watch the parade while baking before lunch.
We're going to my parents house the day after Thanksgiving and will do dinner with them then. They decided to skip Wilmington since we will already be driving in from Charlotte and didn't want to totally criss-cross the state.  My mom is very into homemade foods – she is an excellent cook – and so I'm really excited for that. I don't exactly know what she is making, but it will be traditional-ish. We usually go more crazy at Christmas – one year everyone got their own baby chicken, last year we did a feast of fishes. And lots of baked from scratch (actual scratch, not my boxed cupcake creations) goodies. So, Thanksgiving should give us a feast of homemade from scratch goodness!
———————
We'll be getting married next year and will have to start hosting our families for holidays at our house someday and will probably come up with our own Thanksgiving traditions to share with our children in the future. Hopefully we will soon(ish) have a house and can have everyone come to us.
Tell us about your Thanksgiving Traditions below!