How long have you been blogging? Do you enjoy it? Do you get a lot of viewers? How serious are you about enhancing your blog and its presence online? If you're looking to take your blog to the next level and start reaching new viewers and making money off your blog, you have to take your hosting seriously. This starts by buying a domain name for your blog (instead of having it say www.charlestoncrafted.wordpress.com ours is www.charlestoncrafted.com) and using a hosting service to support you. One great company to do that with is HostGator Optimized WordPress.
Once you choose a name for your blog, we recommend that you purchase the domain name as soon as possible. This is the only way to guarantee that someone else doesn't snatch it up, which could be a bummer for you and confusing for your readers.
Once you purchase your domain, you will want to move your blog from wordpress hosting to self hosted. This enables you to personalize your blog further with more personalized layouts and templates, and qualifies you for ad programs such as Google Ads. It's so important to self-host your blog if you want to take your site to the next level.
HostGator helps manage your web hosting for you while you do what you do best, produce content.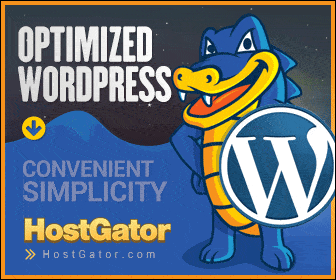 About HostGator
HostGator provides:

24/7 live support via chat, phone, and email – you're not alone. We're here to help.
One click WordPress installs – no messy downloading and uploading of files.
One click and start easy to use website builder – drag and drop tools that make building a site super simple.
Design services – don't want to build your site? Let our pros do it for you.
Marketing services (SEO and PPC) – want to generate traffic? Our in house experts want to help.
Domains – HostGator is your one-stop-shop for domains!
What is Optimized WordPress?
HostGator Optimized WordPress is a new hosting platform that is specifically built for an optimized and managed WordPress environment. Optimized WordPress hosting packages will come pre-loaded with PHP 5.6 by default (the most recent PHP version offered). HostGator will handle all of the core, theme, and plugin updates without the need for any action on your part. In other words, you won't have to worry about logging into your WP-Admin panel to handle common updates. Additionally, Optimized WordPress does not provide cPanel access, allowing you to install and access your WordPress sites without needing to access or navigate an extra control panel to do the things you want to do.
Additional information about HostGator Optimized WordPress can be found here.
Benefits/Features of HostGator Optimized WordPress
Automatic updates of plugins/theme/WordPress
Sitelock malware scanning and removal
Sitelock Content Delivery Network (CDN)
CodeGuard daily backup and restores (down to the file level)
HostGator Optimized WordPress is a new premium product and just a small extension to existing products provided by HostGator
HostGator Optimized WordPress takes the guesswork out of self-hosting and really takes your blog to the next level. If you are looking for a new way to host your blog, be sure to click over and check them out!
I was selected for this opportunity as a member of Clever Girls and the content and opinions expressed here are all my own.